A customized print-friendly version of this recipe is available by clicking the "Print Recipe" button on this page.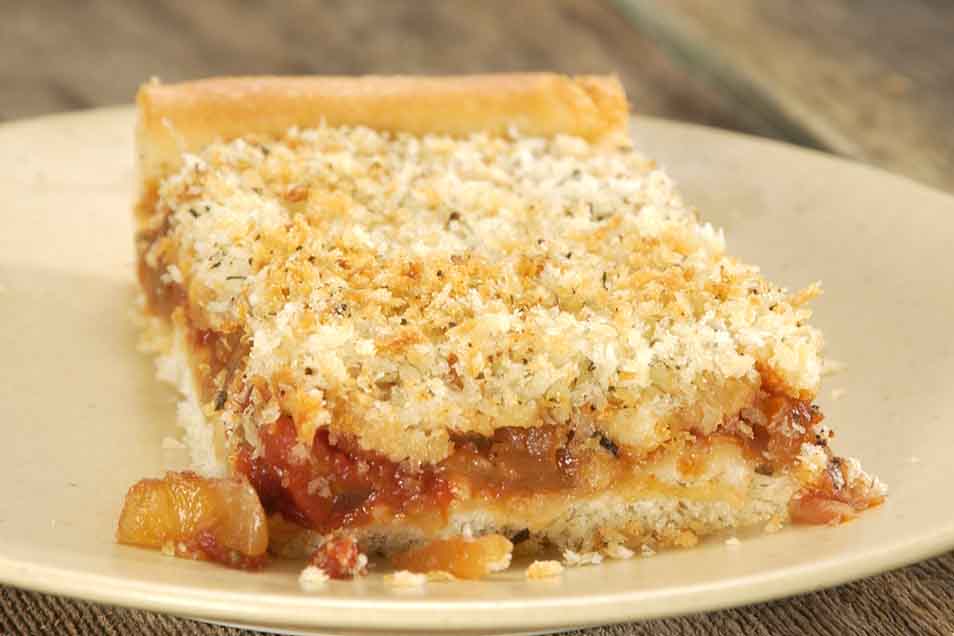 This thick, Sicilian-style pizza — "Pizza Sfincione" — is filled with a simple mixture of tomato sauce, onions, and cheese. Sounds familiar so far, right? Here comes the twist: it's sprinkled with bread crumbs bathed in olive oil, which bake into a crunchy, tasty topping.
Sfincione, loosely translated as "thick sponge," refers to the pizza's thickness and texture. Soft and just mildly chewy, it's a Sicilian tradition on Christmas Eve, New Year's Eve, and Good Friday. The rest of the year, it's a staple at bakeries, where it's prepared in large rectangular pans, and sold by the square.
Ingredients
Crust
3 cups King Arthur Unbleached All-Purpose Flour
1 1/4 teaspoons salt
2 teaspoons instant yeast
4 teaspoons Pizza Dough Flavor, optional but delicious
2 tablespoons olive oil
3/4 cup + 2 tablespoons to 1 cup + 2 tablespoons lukewarm water*
*Use the lesser amount in summer (or in a humid environment), the greater amount in winter (or in a dry climate), and somewhere in between the rest of the year, or if your house is climate controlled.
Topping
2 large sweet onions
28-ounce can chopped or diced tomatoes
2 teaspoons Pizza Seasoning, optional
2 cups shredded mozzarella
4 ounces provolone, shredded
3/4 to 1 cup freshly shredded Parmesan cheese
3 cups coarse dried bread crumbs, such as Panko
6 tablespoons olive oil
1 tablespoon Pizza Seasoning, optional
Instructions
To make the crust: Combine all of the ingredients and mix and knead to make a smooth, soft dough, using a stand mixer, bread machine, or your hands.

Place the dough in a lightly greased bowl or large 8-cup measure (or leave it in the bread machine), and let it rise till it's very puffy, about 90 minutes.

While the dough is rising, prepare the toppings. Start by peeling and slicing the onions, and frying them with a bit of olive oil till they're golden brown. This will take about 20 minutes. Midway through, add salt and sugar to taste, if desired; about 1 tablespoon sugar will heighten their flavor.

Add the tomatoes to the fried onions, along with the Pizza Seasoning, if desired. Simmer and stir for a couple of minutes. If the sauce seems overly liquid, continue to cook till it's firmed up a bit. You don't want it totally dry, like scrambled eggs, but neither do you want it swimming in liquid. Use your judgment. Turn off the heat, and let the mixture cool while the dough rises.

Stir together the bread crumbs, oil, and Pizza Seasoning, if you're using it. Set it aside.

Spray a large rimmed baking sheet (a 13" x 18" half sheet pan is perfect) with non-stick vegetable oil spray. Drizzle it with olive oil, tilting the pan so the oil spreads out a bit.

Gently deflate the risen dough, and stretch it into an oval in your hands. Plop the oval onto the baking sheet, and press it towards the edges. When it starts to fight back, walk away for 15 minutes. When you return, you should be able to press it to the edges and nearly into the corners. If you can't, give it another short rest, and try again. You want the dough to cover as much of the pan's bottom as possible (without making yourself too crazy about it).

Cover the dough, and let it rise till puffy, about 90 minutes. Towards the end of the rising time, preheat the oven to 425°F.

Uncover the dough, and sprinkle it with the shredded mozzarella and provolone. Then spread the tomato/onion sauce over the cheese.

Top with the Parmesan, then the bread crumbs.

Bake the pizza for 35 minutes, or until the crust and crumbs are brown. Remove it from the oven, and serve it hot or warm. Hint: to prevent a soggy bottom crust, cut the pizza in half crosswise, then lift each half onto a cooling rack. Cut individual slices with a pair of scissors.

Yield: about 12 servings.