A customized print-friendly version of this recipe is available by clicking the "Print Recipe" button on this page.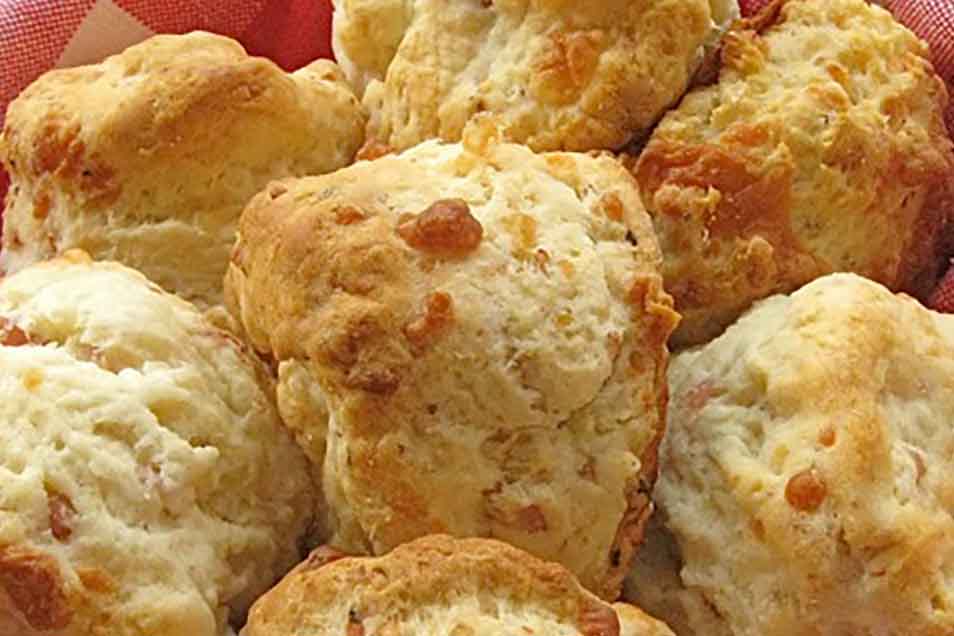 Ham biscuits are a staple of Southern celebrations. Traditionally, biscuits (either tall, light, and tender; or thin, crisp, and flaky) are cut in half and layered with flavorful country ham. These days, some cooks have adopted an easy shortcut: adding chopped ham (and cheese, if you please) right to the soft biscuit dough, then simply dropping the dough onto a baking sheet, rather than rolling and cutting it. The result: a tasty, all-in-one breakfast or brunch treat.

Ham biscuits are suitable for any occasion, from elegant to down-home. For that reason they're often found on the sideboard or table on New Year's Eve, or New Year's Day. Our northern version of this Southern treat uses King Arthur Flour, Vermont cheese, and Original Bakewell Cream, the leavener Mainers love most for their biscuits.
Ingredients
4 cups King Arthur Unbleached All-Purpose Flour or Pastry Flour Blend
4 teaspoons Bakewell Cream*
2 teaspoons baking soda
1 teaspoon salt
¼ teaspoon mustard powder, optional
¼ teaspoon onion powder, optional
½ cup (8 tablespoons) cold butter
1 cup finely diced ham
1 cup grated or shredded cheddar cheese, with additional for topping, if desired
1 cup to 1 cup + 2 tablespoons cups cold milk**
*NOT Bakewell Cream Baking Powder; just plain Bakewell Cream.
**Use the greater amount of milk if you use all-purpose flour; the lesser amount if you use Perfect Pastry Blend.
Instructions
Preheat the oven to 475°F. Line a baking sheet with parchment (for easy cleanup); if you don't use parchment, there's no need to grease the pan.

Whisk the dry ingredients together in a bowl.

Work in the butter until the mixture is crumbly; some larger, pea-sized pieces of butter may remain intact.

Add the ham and cheese, stirring until well distributed.

Add the milk, mixing until everything is moistened.

Turn the dough out onto a clean work surface (a silicone mat works well), and fold it over once or twice. Divide the dough in half, and pat each half into a ¾"-thick circle, about 6" across.

Cut the biscuits with a 2" round cutter, or the cutter of your choice. Place them on the prepared baking sheet.

Brush the biscuit tops with milk or melted butter. Sprinkle with grated or shredded cheese, if desired.

Bake the biscuits for 6 minutes, then turn off the oven. Leave in the oven for an additional 7 to 10 minutes, until they're golden brown.

Remove from the oven, and serve warm; as is, or with butter.

Yield: about 2 dozen big 2" biscuits.
Tips from our bakers
To make easy drop biscuits, drizzle in enough additional milk, as you're mixing the biscuit dough, to make the dough sticky: about 4 to 5 tablespoons milk should do it. Drop the dough by 1/4-cupfuls onto the prepared baking sheet; a level muffin scoop works well here. Bake as directed.
You'll find that you may need to use more milk in the winter, when the air is dry; and less in summer, when it's humid.