A customized print-friendly version of this recipe is available by clicking the "Print Recipe" button on this page.
No-Knead 100% Whole Wheat Bread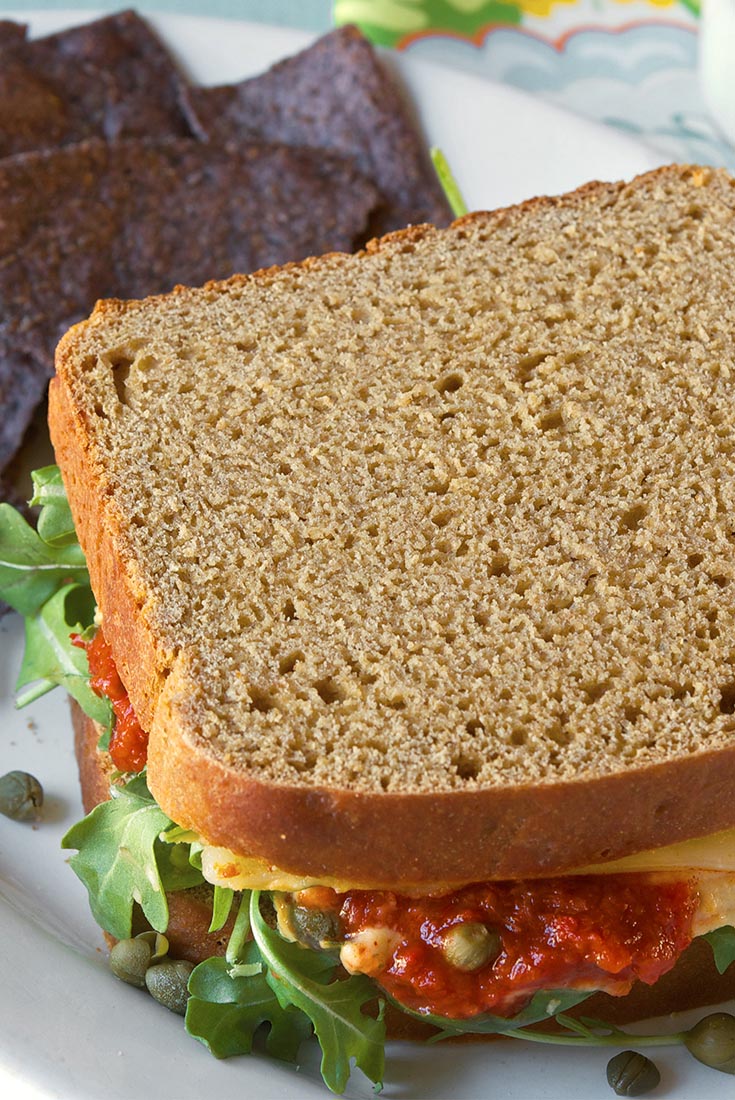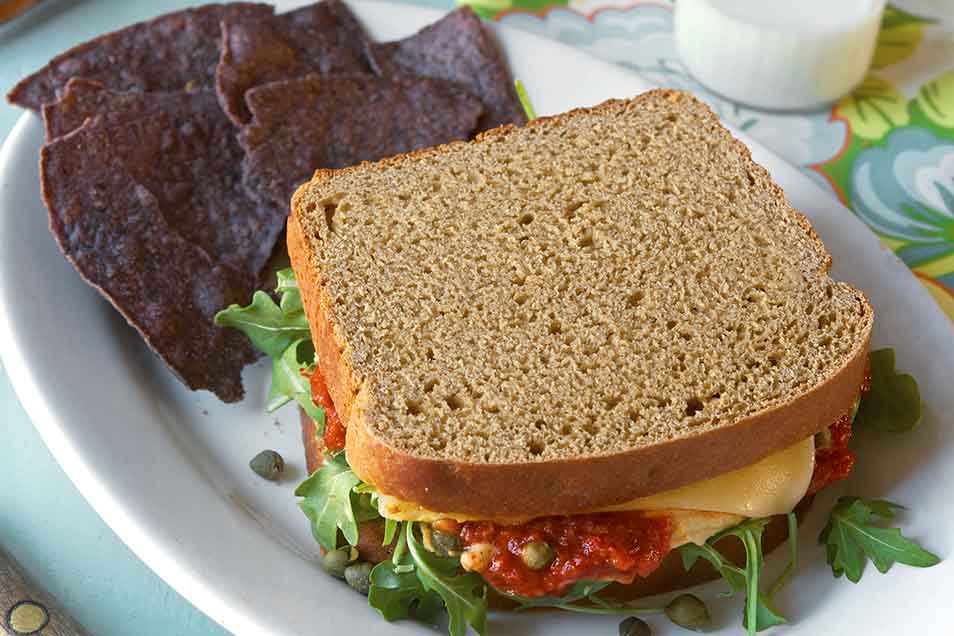 If you've never baked yeast bread but want to make your own homemade whole wheat loaf, this is a great place to start. Unlike most yeast breads, this one isn't kneaded; instead, the soft dough is simply beaten in a bowl for several minutes, then scooped into a bread pan. An hour later, it's ready to pop into the oven. The result: A dense, moist, easy-to-slice loaf, ideal for sandwiches, toast, French toast, and grilled cheese.
Ingredients
1 cup lukewarm water
1/4 cup orange juice
1/4 cup melted butter or vegetable oil
3 tablespoons molasses, maple syrup, dark corn syrup, or brown sugar corn syrup
2 teaspoons instant yeast
1/4 cup Baker's Special Dry Milk or nonfat dry milk*
1 1/4 teaspoons salt
*See "tips," below.
Instructions
Heavily grease an 8 1/2" x 4 1/2" loaf pan. This loaf tends to stick, so be sure to grease the pan thoroughly with non-stick vegetable oil spray.

Combine all of the ingredients in a large bowl. Beat the mixture vigorously for about 3 minutes; an electric mixer set on high speed works well here. You should have a very sticky dough. It won't be pourable, but neither will it be kneadable. Scoop it into the prepared pan. Wet your fingers, and smooth out the top of the dough.

Cover the pan with lightly greased plastic wrap; or better yet an elastic shower cap, "poofing" up the top to give the rising loaf plenty of room. Let the loaf rise for 60 to 90 minutes; it should just about rise to the rim of the pan, perhaps just barely cresting over the rim. While the dough is rising, preheat the oven to 350°F.

Uncover the bread, and bake it for 40 to 45 minutes, tenting it with aluminum foil after 20 minutes. The bread is done when it's golden brown on top, and a digital thermometer inserted into the center registers between 190°F and 195°F.

Remove the bread from the oven, and after 5 minutes turn it out onto a rack. Brush with melted butter, if desired; this will keep the crust soft. Cool the bread completely before cutting it.

Store the bread, tightly wrapped in plastic, at cool room temperature for 2 to 3 days; freeze for longer storage.
Nutrition Information
Serving Size

1 slice

Servings Per Batch

16 per loaf
Amount Per Serving:
Calories

120

Calories from Fat

30

Total Fat

3g

Saturated Fat

2g

Trans Fat

0g

Cholesterol

5mg
Sodium

190mg

Total Carbohydrate

18g

Dietary Fiber

2g

Sugars

5mg

Protein

4g
* The nutrition information provided for this recipe is determined by the ESHA Genesis R&D software program. Substituting any ingredients may change the posted nutrition information.
Tips from our bakers
No dry milk in your pantry? Substitute 1 cup lukewarm milk for the 1 cup water and 1/4 cup dry milk.
For best results, use an 8 1/2" x 4 1/2" loaf pan. If you use a 9" x 5" pan (measure the inside/top dimensions, to see what size you have), your loaf will turn out shorter and flatter.
Reviews
I didn't have OJ so used some apple cider I had on hand, which worked well to balance out any bitterness of the whole wheat flour (I did not have access to white whole wheat so just used regular). Overall very tasty bread. It was very tender so did crumble a bit when used for sandwiches, but I would definitely make again to use for toast given how quick and easy the recipe is.
Made a loaf..... It was exceptional and so simple to make.....made another one in 12 hours!
Used milk instead of juice n skipped the milk powder. Used 1 cup of finger millet flour and 2 cups whole wheat flour. I kept it for proofing around 2 hours. I think it's needs more proofing time.
hi...can i make this bread without adding any honey, syrup or sugar as orange juice has a lot sugar contain...

You're welcome to leave the sugar out of the dough if you like, but you should expect a slightly paler loaf that doesn't stay fresh for quite as long. The flavor may also be less complex. If you're okay with those adjustments, then feel free to leave out the sugar entirely or consider reducing it to just a few tablespoons. As for the orange juice, you can use 1/4 cup of water instead if you prefer. The orange juice helps cut any of the potential bitterness of the whole wheat flour without making the loaf taste orangey. If you're looking to cut back on sugar, a 1:1 swap with water will be just fine. Happy baking! Kye@KAF
These no-knead recipes depend on extra water & either more time or, as with this recipe, more yeast to facilitate gluten production. The 'traditional' no-knead recipes also used a 2nd rise, at which time I could make up for what was usually too-wet dough (perhaps due to Florida humidity) with a little flour. If the dough is too wet, I guess it's too heavy to rise properly and/or too loose to hold the CO2. So, you end up with a poorly formed loaf that's a bit dense. With this recipe skipping the 2nd rise, I did indeed fail to create a proper loaf (even with adding vital wheat gluten). I was hoping for an easier recipe due to a bad back, but it looks like I'll have to go back to my mixer or a double rise no-knead recipe.
This is the BEST bread! A little crumbley but the taste is SO delicious. I used fresh squeezed OJ cuz thats what I had. Can I double this recipe, has anyone done this?

While in theory this dough could be easily doubled by using 2x all of the ingredients listed, we'd be worried that your mixer may not be able to handle mixing such a large volume of sticky, thick dough. You might be able to more effectively mix the dough if you make two single batches instead of a double batch, but you're welcome to give it a try if you're feeling adventurous and have faith in your mixer. Good luck! Kye@KAF
Wow...I still can't believe the bread I made using this recipe turned out so great. It's my first time baking bread, and generally when I try to bake something new it never turns out so great. Maybe it's because I actually stuck to the recipe mostly this time besides increasing amounts for a 9.25*5.25 pan, using only 2 tbsp of maple syrup, and reducing the salt just slightly. Make sure to watch the dough rising closely once it's been around 45 minutes. The dough still looked like it had a ways to go to reach the top of the pan at 40 minutes for me. I got busy with something then, and when I came back at around 55 minutes it had already risen a little too much. This resulted in the loaf collapsing a bit in the middle. I've never made fresh bread before...it just tastes so good. Again wow. I also thought making 100% whole wheat bread at home without adding vital wheat gluten would mean dense bread, but it's so soft and fluffy. Amazing.
This was delicious bread! Great taste. I will definitely make it again.
Great recipe! I measured like a rocket scientist and it came out perfectly. For my future baking, may I use 1/4 cup of soy-milk instead of the nonfat dry milk? Thank you

Mary, to make this recipe dairy-free, you can omit the dry milk powder and then use 1 cup of plain, unsweetened soy milk in place of the water. (Also opt for oil instead of butter.) Be sure to warm it up slightly before adding it to the other ingredients in the recipe if you want the dough to rise in a timely fashion. Happy baking! Kye@KAF