A customized print-friendly version of this recipe is available by clicking the "Print Recipe" button on this page.
No-Knead 100% Whole Wheat Bread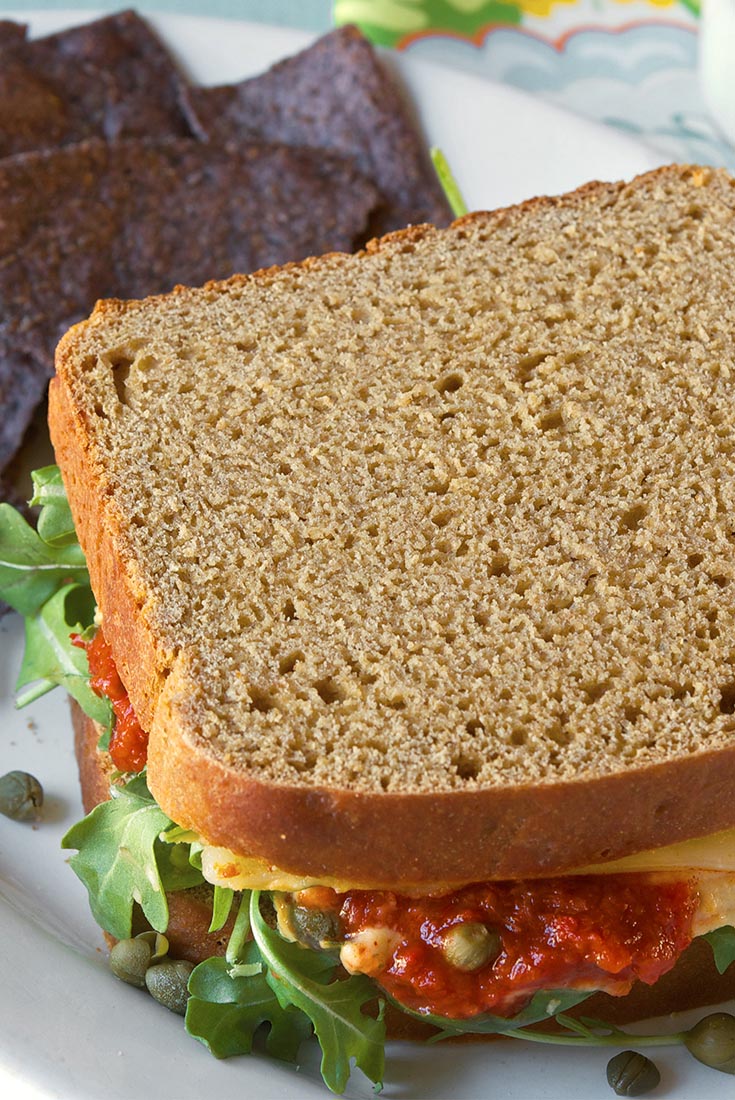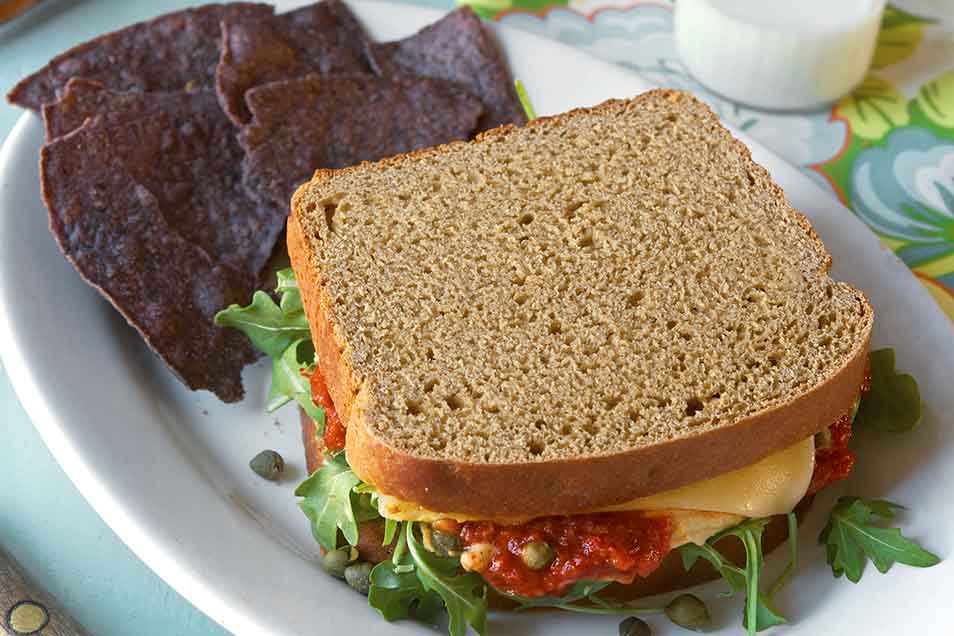 If you've never baked yeast bread but want to make your own homemade whole wheat loaf, this is a great place to start. Unlike most yeast breads, this one isn't kneaded; instead, the soft dough is simply beaten in a bowl for several minutes, then scooped into a bread pan. An hour later, it's ready to pop into the oven. The result: A dense, moist, easy-to-slice loaf, ideal for sandwiches, toast, French toast, and grilled cheese.
Ingredients
1 cup lukewarm water
1/4 cup orange juice
1/4 cup melted butter or vegetable oil
3 tablespoons molasses, maple syrup, dark corn syrup, or brown sugar corn syrup
2 teaspoons instant yeast
1/4 cup Baker's Special Dry Milk or nonfat dry milk*
1 1/4 teaspoons salt
*See "tips," below.
Instructions
Heavily grease an 8 1/2" x 4 1/2" loaf pan. This loaf tends to stick, so be sure to grease the pan thoroughly with non-stick vegetable oil spray.

Combine all of the ingredients in a large bowl. Beat the mixture vigorously for about 3 minutes; an electric mixer set on high speed works well here. You should have a very sticky dough. It won't be pourable, but neither will it be kneadable. Scoop it into the prepared pan. Wet your fingers, and smooth out the top of the dough.

Cover the pan with lightly greased plastic wrap; or better yet an elastic shower cap, "poofing" up the top to give the rising loaf plenty of room. Let the loaf rise for 60 to 90 minutes; it should just about rise to the rim of the pan, perhaps just barely cresting over the rim. While the dough is rising, preheat the oven to 350°F.

Uncover the bread, and bake it for 40 to 45 minutes, tenting it with aluminum foil after 20 minutes. The bread is done when it's golden brown on top, and a digital thermometer inserted into the center registers between 190°F and 195°F.

Remove the bread from the oven, and after 5 minutes turn it out onto a rack. Brush with melted butter, if desired; this will keep the crust soft. Cool the bread completely before cutting it.

Store the bread, tightly wrapped in plastic, at cool room temperature for 2 to 3 days; freeze for longer storage.
Nutrition Information
Serving Size

1 slice

Servings Per Batch

16 per loaf
Amount Per Serving:
Calories

120

Calories from Fat

30

Total Fat

3g

Saturated Fat

2g

Trans Fat

0g

Cholesterol

5mg
Sodium

190mg

Total Carbohydrate

18g

Dietary Fiber

2g

Sugars

5mg

Protein

4g
* The nutrition information provided for this recipe is determined by the ESHA Genesis R&D software program. Substituting any ingredients may change the posted nutrition information.
Tips from our bakers
No dry milk in your pantry? Substitute 1 cup lukewarm milk for the 1 cup water and 1/4 cup dry milk.
For best results, use an 8 1/2" x 4 1/2" loaf pan. If you use a 9" x 5" pan (measure the inside/top dimensions, to see what size you have), your loaf will turn out shorter and flatter.
Reviews
I baked the bread. It was delicious. No Knead. Less time. Accurate ingredients. Great Flavor. Tastes much better than store bought breads. Definitely a keeper!
Love it. Used 3 table spoons of brown sugar, pineapple juice and regular yeast as substitute based on what I had around. Proved the yeast using one of the three tablespoons of brown sugar in the water. Other than that followed it exactly. Perfect. Smelled so good while it was baking it filled the whole house.
This was a very quick and easy recipe, which is what I was looking for. I used black strap molasses and the flavor was a little strong, so next time I will try maple syrup.
This bread it awesome! It is moist, rises to create a nice dome and smooth appearance (in an 8x4 pan), has a lovely airy texture, it's moist and flavorful--perfect for sandwiches or toast, sweet or savory. Best yet, my son (12) was able to make it with little guidance. This is the perfect need-bread-in-a-pinch recipe that really is enjoyable. Notes: I used 100% fresh-ground whole white wheat, honey, half safflower oil/half applesauce (for the fat), non-instant dry milk powder, and 2 Tbs. vital wheat gluten. I microwaved my water 25 sec. to get it to 110 temp. Followed the recipe. :) It took 38-39 min. for it to be perfect and 190 internal temp. Let it rest before slicing.
Question: my loaf fell in the middle. What did I do wrong? I used molasses. I did add an additional 2T of agave and traded that out with the water. Bread rose for 1 hour when it was just coming up to the top of the pan. Put it in the oven at 350. Covered at 20 minutes. Other than that didn't open the oven. At 40 minutes it was at temp but the top had sunk in. I doubled the recipe. In the second pan I added 1c raisins and 3 layers of cinnamon filling alternating with dough. Baked them at the same time in the same oven and the raisin load did not sink. Have not tried for flavor/texture yet since it just came out of the oven

Elizabeth, while a number of things may have happened here, it may help to know that the most common cause of sinking during baking is over-proofing. This can be the result of the kind of yeast used or the temperature in your kitchen in addition to timing. Using a 9" x 5" loaf pan, it would be especially easy to over-proof, given that the dough shouldn't reach the same height due to the larger area it has to fill. If it would be helpful to troubleshoot with one of our experienced bakers directly, please feel free to give us a call at 855-371-BAKE. We'd be happy to continue the conversation! Mollie@KAF
This is so easy and bakes up beautifully. Great PB toast. I used juice from a Cara Cara orange and the loaf turned out a really pretty colour. If I want to try it with slightly less sweetening next time (say 1 TBSP of maple syrup) do I need to increase other liquid or do anything else to make up for it? Will it throw the recipe off?

Lucy, you should be able to adjust the sweetener to taste without any negative impacts on the texture of the bread. Sugar does act like a liquid in case, so you might need to increase the other liquids slightly to compensate for this. Only make this adjustment if the dough feel dry after mixing. Happy baking! Kye@KAF
This is so tasty! I made this today and used 3 mini loaf pans. I used honey instead of molasses and I couldn't be happier with the results! Since the dough is scooped into the pans, any suggestions for getting the smooth top that needed breads have?

We're so glad you're enjoying this recipe so much, Andrea. Usually the tops even out as the dough rises, but if you're having trouble, you could try using a bowl scraper or offset spatula to even out the dough when you first scoop it into the pan(s). Hope this helps and happy baking! Mollie@KAF
Amazing recipe, I baked my loaf with molasses and the results were outstanding. Light, with a nice crust though stayed relatively soft. Highly recommend.
I weighed all the ingredients. Omitted the dry milk, but otherwise followed the recipe. It took a very long time to rise, and eventually i ran out of time and put it in the oven anyway. It needs a very warm place to rise. I baked it until it reached 198 degrees F and it was not cooked all the way. It was very doughy and dense and although the flavor wasn't bad I've had better from 100% whole wheat.

We're sorry to hear you had trouble with this recipe, C. All of the concerns you had seem to point to too much flour being added to the dough. To ensure you're using the right amount of flour, we recommend either measuring your flour by weight using a scale, or fluffing and sprinkling the flour gently into your measuring cup one spoonful at a time before leveling off with a knife. This will help you measure light cups of flour that weigh about 4 ounces per cup. The result should be a lighter, higher-rising loaf that bakes all the way through nicely. Kye@KAF
The density of the bread is great, but tastes bitter!

Aggi- some people really don't care for the flavor profile of the whole wheat flour, so we can suggest using our more mild White Whole Wheat flour instead (it's still a whole grain). Another alternative is to use a bit of orange juice instead of water. It neutralizes the bitterness. Try it again with either of this tips and we think you will be pleasantly surprised. Laurie@KAF