A customized print-friendly version of this recipe is available by clicking the "Print Recipe" button on this page.
No-Knead 100% Whole Wheat Bread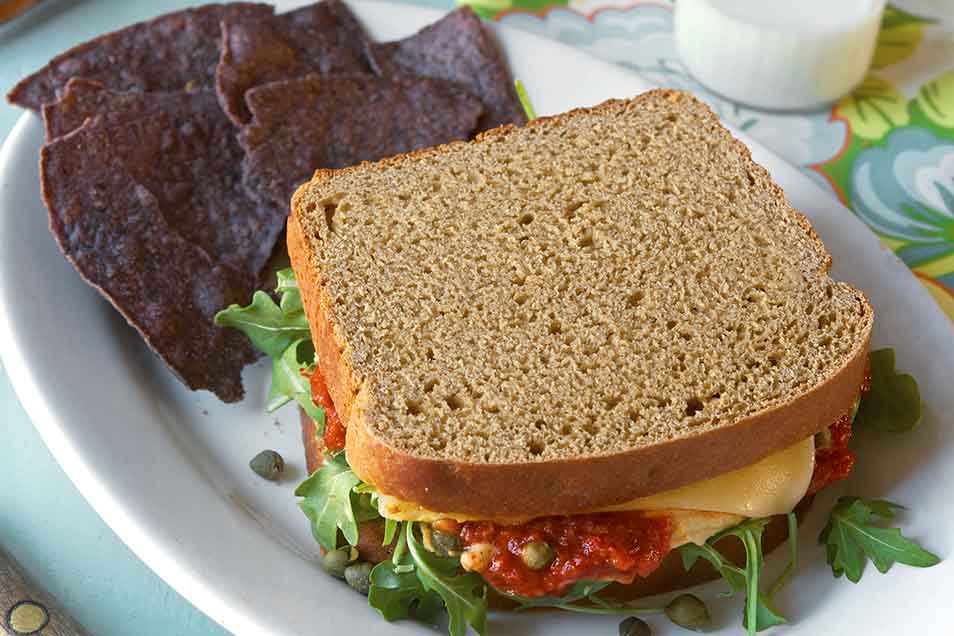 If you've never baked yeast bread but want to make your own homemade whole wheat loaf, this is a great place to start. Unlike most yeast breads, this one isn't kneaded; instead, the soft dough is simply beaten in a bowl for several minutes, then scooped into a bread pan. An hour later, it's ready to pop into the oven. The result: A dense, moist, easy-to-slice loaf, ideal for sandwiches, toast, French toast, and grilled cheese.
Ingredients
1 cup lukewarm water
1/4 cup orange juice
1/4 cup melted butter or vegetable oil
3 tablespoons molasses, maple syrup, dark corn syrup, or brown sugar corn syrup
2 teaspoons instant yeast
1/4 cup Baker's Special Dry Milk or nonfat dry milk*
1 1/4 teaspoons salt
*See "tips," below.
Instructions
Heavily grease an 8 1/2" x 4 1/2" loaf pan. This loaf tends to stick, so be sure to grease the pan thoroughly with non-stick vegetable oil spray.

Combine all of the ingredients in a large bowl. Beat the mixture vigorously for about 3 minutes; an electric mixer set on high speed works well here. You should have a very sticky dough. It won't be pourable, but neither will it be kneadable. Scoop it into the prepared pan. Wet your fingers, and smooth out the top of the dough.

Cover the pan with lightly greased plastic wrap; or better yet an elastic shower cap, "poofing" up the top to give the rising loaf plenty of room. Let the loaf rise for 60 to 90 minutes; it should just about rise to the rim of the pan, perhaps just barely cresting over the rim. While the dough is rising, preheat the oven to 350°F.

Uncover the bread, and bake it for 40 to 45 minutes, tenting it with aluminum foil after 20 minutes. The bread is done when it's golden brown on top, and a digital thermometer inserted into the center registers between 190°F and 195°F.

Remove the bread from the oven, and after 5 minutes turn it out onto a rack. Brush with melted butter, if desired; this will keep the crust soft. Cool the bread completely before cutting it.

Store the bread, tightly wrapped in plastic, at cool room temperature for 2 to 3 days; freeze for longer storage.
Nutrition Information
Serving Size

1 slice

Servings Per Batch

16 per loaf
Amount Per Serving:
Calories

120

Calories from Fat

30

Total Fat

3g

Saturated Fat

2g

Trans Fat

0g

Cholesterol

5mg
Sodium

190mg

Total Carbohydrate

18g

Dietary Fiber

2g

Sugars

5mg

Protein

4g
* The nutrition information provided for this recipe is determined by the ESHA Genesis R&D software program. Substituting any ingredients may change the posted nutrition information.
Tips from our bakers
No dry milk in your pantry? Substitute 1 cup lukewarm milk for the 1 cup water and 1/4 cup dry milk.
For best results, use an 8 1/2" x 4 1/2" loaf pan. If you use a 9" x 5" pan (measure the inside/top dimensions, to see what size you have), your loaf will turn out shorter and flatter.
Reviews
This recipe makes a wonderful, tasty loaf of whole wheat bread--and it's so easy. We are a bit particular about whole wheat bread in this household, and we love this bread.
I was disappointed by this loaf. I may not have been able to mix it vigorously enough because I did so by hand for 3 minutes. The loaf did not crown and its center had a slight depression corresponding to a tunnel near the top surface. The bread seems a bit crumbly and delicate when sliced. I will go back to using the Classic Whole Wheat Bread recipe, which we really love.

Hi there, Delia. We're sorry to hear that this well-loved recipe didn't do the trick for you. We think you're on to something with your thoughts that the dough may not have been mixed enough. It is important to beat the mixture well so that it becomes webby in appearance — this will ensure that a strong structure is created so that the dough will rise and bake through properly. We're glad that you've found another recipe that you really enjoy though! Happy baking! Morgan@KAF
Between a broken stand mixer and arthritic wrist, kneading dough is something of a problem. This recipe is the perfect solution! S-o-o easy! I've been making it with 3 T of maple syrup, and 1/2 t vital wheat gluten. We have warm bread for breakfast without me having to get up at 3AM! Some pulses with my Cuisinart and the dough is ready to go. Texture is perfect, better than mixing by hand with a spoon. I tried a hand mixer, but the dough traveled up the beaters, into the body of the mixer. What I couldn't initially get out, actually rose a little bit in the holes! So glad I found this!
Such an easy bread recipe for someone who did not make bread before, it makes up so well, rises so well, nice crown- little flat, but not to worry, great taste, love it. I measure out recipe for 2 loaves, mix one up w my Kitchenaid mixer, put in pan, immediately mix up other , put in pan, bake both at once according to your instructions..perfect!
I made this recipe using two cups of organic regular whole wheat flour and just one cup of white whole wheat. Fantastic. The bread is dense, moist, slightly sweet -- it's almost cake-like, yet terrific for toasting, sandwiches, slices of cheese, hummus, or even just by itself. So easy, super fast, and delicious. A keeper.
Just made this recipe using KA White Whole Wheat flour. Measuring was done precisely by weight following the recipe exactly since I am still pretty much of a beginner when it comes to bread making. The bread baked up nicely and has a very nice flavor but I, like some others, had a problem achieving a nice crown on the loaf. I mixed the ingredients for 3 minutes in my Kitchenaid stand mixer and it appeared to have just the right consistency. I used the correct pan and allowed the dough to rise until its center was just above the edge of the pan which took 90 minutes. I baked it at 350 for 40 minutes but it never achieved the desired crown; it was basically flat on top. I don't think it was over -proofed. I even proofed some of the yeast (SAF instant) separately prior to mixing the dough and it proofed nicely. Any suggestions would be greatly appreciated. Thanks!

Hello, fellow baker! One way to really make a loaf's rise pop is to use steam. You can do this by baking the loaf in something with a lid or even by covering it with a tent of tin foil, doing your best to make sure the edges are thoroughly sealed. You'll want to leave it on for about the first 2/3 of baking time and then removing it for the final 1/3 so it can brown. It's worth a shot! Annabelle@KAF
S-O-O easy! I'm making turkey sandwiches out of the little that's left. (Today is Friday after Thanksgiving.) The KAF Classic 100% Whole Wheat Bread recipe is great, but this no-knead is so much simpler! I used 2 T maple Syrup, and 1T brown sugar - excellent, mild flavor. And, I used only warm milk. Definite keeper!
I didn't have OJ so used some apple cider I had on hand, which worked well to balance out any bitterness of the whole wheat flour (I did not have access to white whole wheat so just used regular). Overall very tasty bread. It was very tender so did crumble a bit when used for sandwiches, but I would definitely make again to use for toast given how quick and easy the recipe is.
Made a loaf..... It was exceptional and so simple to make.....made another one in 12 hours!