A customized print-friendly version of this recipe is available by clicking the "Print Recipe" button on this page.
No-Knead Amaranth Honey-Nut Bread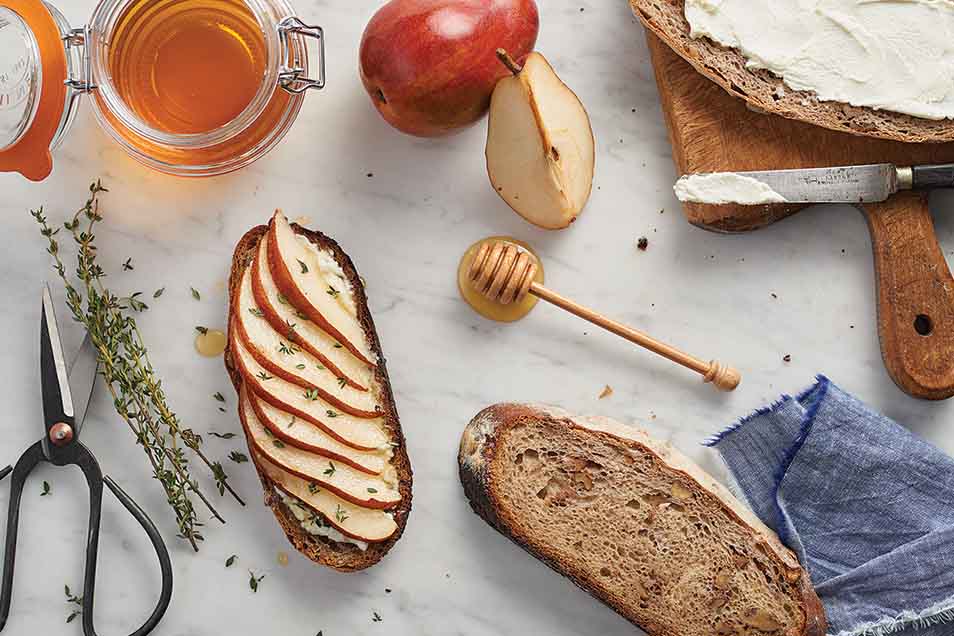 Sweet, nutty, and earthy in flavor, and soft and moist yet crusty in texture, this bread hits all the right buttons when it comes to a hearty loaf. The honey both sweetens and helps to develop the crust's deep-dark brown color; while the amaranth and nuts, along with the dough's long, slow rise, enhance the finished loaf's complex flavor.
Ingredients
1 3/4 cups room-temperature water (about 75°F)
1/4 cup honey
1/4 cup vegetable oil
3 3/4 cups High-Gluten Flour or King Arthur Unbleached All-Purpose Flour
1 cup amaranth flour
2 teaspoons salt
1/2 teaspoon instant yeast
1 1/2 cups chopped walnuts
Instructions
Mix together the water, honey, oil, flours, salt, and yeast in a large bowl. Stir, then use your hands (or a stand mixer) to mix and form a sticky dough.

Work the dough just enough to incorporate all the flour (or mix for several minutes in a stand mixer), then work in the nuts.

Cover the bowl and let the dough rest at room temperature overnight, or for at least 8 hours; it'll become bubbly and rise quite a bit, so use a large bowl.

Next day, lightly grease a 4-quart round lidded baking crock or Dutch oven.

Turn the dough out onto a floured work surface, and form it into a round loaf to fit your pan.

Place the loaf in the pan, smooth side up. Cover the pan with its lid, and let the loaf rise at room temperature for about 1 hour, until the dough has become puffy and fills the pan about 3/4 full.

Place the pan (with its lid) into a cold oven, and set the oven temperature to 450°F.

Bake the bread for 45 to 55 minutes, then remove the lid and continue to bake for another 5 to 10 minutes, until the bread is deep brown and a digital thermometer inserted into the center registers about 205°F.

Remove the bread from the oven, turn it out onto a rack, and allow it to cool before slicing.
Reviews
I began making this recipe last night and finished it up this morning. My husband and I agreed that it's really a winner and will be something that I make frequently. Here's what I did: I toasted the chopped walnuts for only 5 minutes...just enough to perhaps calm down some of the natural bitterness of walnuts. I followed the recipe directions exactly but I used only 1-1/2 cups of High Gluten Flour and the rest the unbleached white King Arthur Flour with the Amaranth Flour. I wanted to see if this would work because I didn't want to use so much of my very precious High Gluten Flour! We ate slices of it with a good cheddar for lunch -- absolutely delicious!
As the previous reviewer mentioned....mine also burnt to the bottom of my Staub Dutch oven. I have also made many loaves in this oven with no sticking or burning whatsoever. However.......I will adjust next time because I will make this again. It is delicious and makes a beautiful loaf.
Although the recipe has the potential to be quite delicious, I was disappointed when I removed it from the oven and it was burnt to the bottom of my Dutch oven. I oiled as recommended and have baked no knead breads many times - never had this happen before. It was an expensive disaster with buying amaranth and high gluten flour.

Different techniques for baking in a Dutch oven work best for different types of pans, and it sounds like your Dutch oven might be a little thin for a cold oven start. Try preheating the oven and putting the room-temp Dutch oven (with the risen dough)on top of doubled up baking sheets once the oven is up to temp. This should help slow the heat to the bottom of the loaf, enabling it to bake more evenly. Happy baking! Mollie@KAF
Question: If I don't have high-gluten flour, should I add Vital Wheat Gluten to my AP? If so, how much would you suggest?
This recipe uses High-Gluten Flour OR All-Purpose Flour, so we'd suggest using the AP flour if you're all out of the High-Gluten. If you're looking for better suspension of the walnuts in this recipe, then consider using a tablespoon or two of Vital Wheat Gluten. Happy Baking! Irene@KAF