A customized print-friendly version of this recipe is available by clicking the "Print Recipe" button on this page.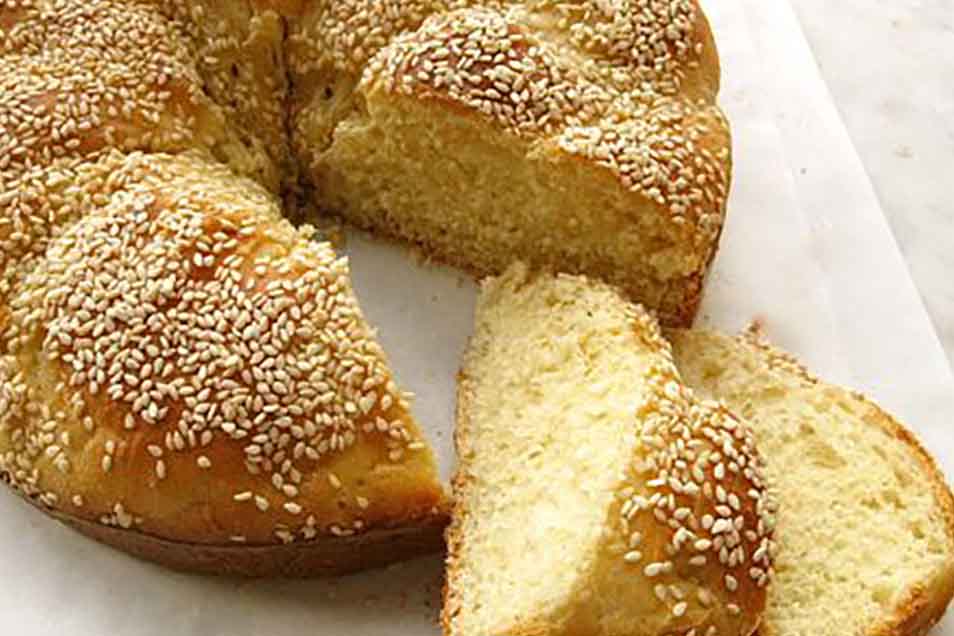 Jeff Hertzberg and Zoë François' wonderful book, "Artisan Bread in Five Minutes a Day," is the inspiration for this challah bread. We took the authors' dough recipe, tweaked it a tiny bit, and made a honey-sweetened, egg-enriched dough that yields a light, tender, golden loaf. Sprinkle with sesame or poppy seeds, if desired.

Another member of the increasingly popular no-knead family of breads, this dough can be stirred together, then stored in the fridge up to about 4 days before using.

Read our blog about this challah, with additional photos, at Flourish.
Ingredients
Dough
6 3/4 cups or 7 3/4 cups King Arthur Unbleached All-Purpose Flour*
1 tablespoon + 1/2 teaspoon salt
1 1/2 tablespoons instant yeast
1 1/2 cups lukewarm water
4 large eggs
1/2 cup honey
1/2 cup melted butter or vegetable oil
*See step #1, below.
Topping
1 egg (any size) beaten with 1 tablespoon cold water
2 to 3 tablespoons sesame seeds or poppy seeds, optional
Instructions
The flour/liquid ratio is important in this recipe. If you measure flour by sprinkling it into your measuring cup, then gently sweeping off the excess, use 7 3/4 cups. If you measure flour by dipping your cup into the canister, then sweeping off the excess, use 6 3/4 cups. Most accurate of all, and guaranteed to give you the best results, if you measure flour by weight, use 33 ounces.

To make the dough: Combine all of the dough ingredients, in the order written, in a very large bowl (at least 6 quarts). Stir to make a sticky dough. You can do this in a stand mixer and then transfer to a larger bowl; or simply use a big bowl and spoon (or dough whisk).

Cover the bowl, and let the dough rise for 2 hours at cool room temperature.

Refrigerate the dough for at least several hours, to chill it and make it easier to work with. It can be refrigerated for up to 4 days before using.

When you're ready to make challah, remove the dough from the refrigerator, and scoop out about one-third of the dough (about 21 ounces). Transfer it to a floured work surface; a silicone mat works well here.

Divide the dough into three pieces, and shape each piece into a log about 24" long.

Braid the logs, pinching the strands together at each end.

Lightly grease an 8" x 2" round cake pan. It's important that the pan is at least 2" deep. If it's not use, a 9" round pan. Coil the braid into the pan.

Cover the pan, and allow the braid to rise for about 90 minutes, till it's quite puffy. Towards the end of the rising time, preheat the oven to 350°F.

Uncover the challah, and brush it with the egg/water mixture. Sprinkle with seeds, if desired.

Bake the challah for 30 to 35 minutes, till it's golden brown and an instant-read thermometer inserted into the center registers at least 190°F.

Remove from the oven, and carefully turn out of the pan onto a rack to cool.

Yield: one 9" round braid. The entire recipe will make 3 loaves.
Tips from our bakers
For a braid with a bigger hole in the center, coil the dough into a 9" round pan, rather than an 8" pan.
Reviews
I forgot to add in my review that I let the eggs come to room temperature. I think that helps, as it keeps the mixture lukewarm. Thanks again for a fantastic recipe.
Thank you so much for this recipe. I have been making this challah for years and love it because it tastes so good and is so easy to make. I usually make half a recipe in my stand mixer using grams for measurement, and run the mixer on high speed for one minute as suggested in the blog. I add the ingredients in the order listed in the recipe, only adding the oil before the honey, as the honey then slides right out of the measuring cup. When I'm ready to make the challah, usually two of them, I separate the dough and let it rest for about 10 minutes, as it's easier to work with then. I've always baked them on parchment, either braided or round, never in an aluminum foil tin. Recently, I've been adding a little honey to the egg instead of water for the topping. The challahs always come out perfectly! I'm very grateful for such a wonderful and easy recipe.
This is a easy recipe to follow but tastes amazing! I followed the recommendation to weigh the ingredients and it came out perfect.
I am delighted to have found such an easy recipe for challah. I live in a rural area where it is impossible to purchase challah, so I must bake my own. Using this recipe, I made a round loaf last evening for Rosh Hashanah. Not difficult at all. The bread was tasty and had a very nice texture. I put some dough in the refrigerator and some in the freezer. Thanks for sharing this recipe!
Like many of the other reviewers I mix the wet and the dry and then combine. Following the order in the recipe left streaks of egg running through the dough until I kneaded it. I also substituted 3/4 of a cup of apple cider for water. It deepens the flavor but does not add a lot of sweetness. I have to admit, even if I have to knead it a bit with my hands, this is much simpler than mixing up a big batch in my stand mixer.
This is great, a delicious loaf that only lasted a few days in my house! After reading the reviews, I did mix the wet and dry ingredients separately, and then combined them. I am not an experienced baker, but did leave the water for last, just before combining wet and dry. Maybe there is a better way of doing this? The bread did rise, but possibly could have risen more. I made half the recipe, braided it, and baked it on parchment on a cookie sheet.

Nancy, we recommend mixing all the ingredients together in the order that they're listed; flour, salt, yeast, water, eggs, honey, then the butter/oil. Using this method will help you mix the dough for just the right amount on time and give you the best texture in your dough. Happy baking! Kye@KAF
I have made this recipe many times now and I have always had a success. But I now have my own style in baking it. I weigh everything and I use the butter version. The weight of the salt is 18 grams and the weight of the SAF instant yeast is 14 grams. The salt is actually about 1 tablespoon plus 1/4 teaspoon since the original recipe seemed a little too salty for my liking. I put four eggs in a large bowl and use the electric mixer and really mix them up for about a minute. Then I add 6 ounces of honey, the melted unsalted butter, and 12 ounces of lukewarm water. I continue to beat with the electric mixer until the liquid is very bubbly, maybe just another minute. In the large dough rising bucket, I put 33 ounces of King Arthur all-purpose flour, the salt, and the yeast and I mix that very thoroughly. Then I pour the liquid into the flour and it takes a few minutes to mix well, using a large plastic spoon, until it is all moistened. I cover with plastic wrap and leave on the counter for two hours, then refrigerate. The amount of dough should be 1800 grams. So the next day I take off as much as I want, or 600 g or 21 ounces per loaf, and I actually knead it by hand for a couple of minutes. It is very easy to knead at this point and does not take much flour to keep from sticking since it is still cold, and just two or three minutes of kneading affords a noticeable improvement. Then I use a 9-inch pie pan instead of cake pan and I make a four-strand braided round challah. Then in a Pyrex measuring cup I put a cup or two of water and bring it to a boil in the microwave. Then I place the braided challah in the microwave with the hot water in the measuring cup and that makes a nice humid and warm environment for the bread to rise. It takes about an hour or so to rise to fill the pie pan. I brush one egg beaten with one tablespoon of water on the bread. I bake in the lower third of the oven which has been preheated to 350. I bake for 15 minutes, rotate the bread, and bake 15 more minutes. It comes out perfect every time and everyone loves this. This is one of the easiest breads to bake without a bread machine, stand mixer, or traditional kneading in the beginning. Kneading refrigerated dough is nothing like traditional kneading at the beginning, which is a total sticky mess. This is much less sticky. I bake this one quite often and highly recommend it. I should mention that I did also try to add the ingredients in the order listed and had a similar problem with the egg not appearing to be thoroughly incorporated, so I decided just to thoroughly combine all liquids first and then add to the dry ingredients and the resulting bread is excellent.
I would not simply add ingredients in the order listed. Once the dough absorbed the water it was very difficult to mix the eggs and oil in (I was using a spoon). I ended up having to knead it a little bit with my hands and there were still bits of unincorporated egg yolk visible throughout. Next time I would mix the salt with the flour and then make a well in the middle of the bowl and dissolve the warm water and the honey in it. I'd then dissolve the yeast in the well of water/honey and let it proof before beating the eggs and oil into the well of water. Only after all liquid ingredients were incorporated together would I then combine the flour/salt into it to make sure there is a more even mix.
I had planned on using a no-knead dough for some stuffed rolls for treats. I liked the idea of the added richness that the eggs in this recipe would give. No, it isn't a traditional challah (I have made them a few times), but it was exactly what I needed and gave a good contrast to the ham and cheese that I rolled in them. I also used about a third of the dough to make some square sandwich rolls for later in the week. The only thing that I needed to adapt was that it can only be in the refrigerator for about 4 days - which is understandable - and I needed to bake it up more quickly than I had planned. I perhaps next time I may make a braided loaf. I was very happy with the stuffed rolls and sandwich buns that I did make with it.
It's a little challenging to work such a sticky dough. Could one get a more workable dough using King Arthur Bread Flour and would any adjustments to the liquid be required?
When a dough has been refrigerated to firm it up, it may help to keep the dough cold when working with it to reduce stickiness. You may also wish to reduce the water by a few tablespoons when you mix it. Laurie@KAF