A customized print-friendly version of this recipe is available by clicking the "Print Recipe" button on this page.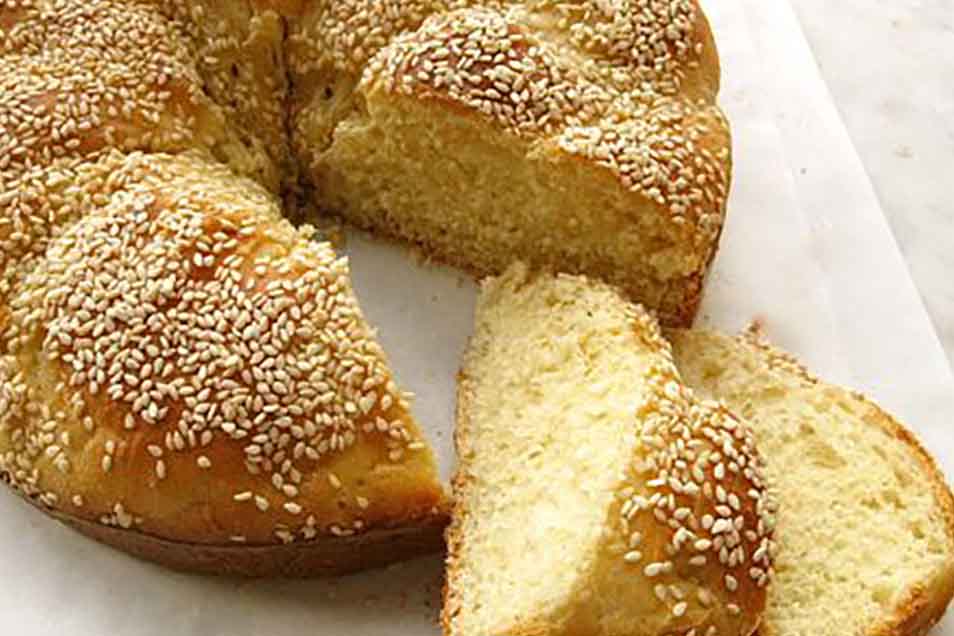 Jeff Hertzberg and Zoë François' wonderful book, "Artisan Bread in Five Minutes a Day," is the inspiration for this challah bread. We took the authors' dough recipe, tweaked it a tiny bit, and made a honey-sweetened, egg-enriched dough that yields a light, tender, golden loaf. Sprinkle with sesame or poppy seeds, if desired.

Another member of the increasingly popular no-knead family of breads, this dough can be stirred together, then stored in the fridge up to about 4 days before using.
Ingredients
Topping
1 egg (any size) beaten with 1 tablespoon cold water
2 to 3 tablespoons sesame seeds or poppy seeds, optional
Instructions
The flour/liquid ratio is important in this recipe. If you measure flour by sprinkling it into your measuring cup, then gently sweeping off the excess, use 7 3/4 cups. If you measure flour by dipping your cup into the canister, then sweeping off the excess, use 6 3/4 cups. Most accurate of all, and guaranteed to give you the best results, if you measure flour by weight, use 33 ounces.

To make the dough: Combine all of the dough ingredients, in the order written, in a very large bowl (at least 6 quarts). Stir to make a sticky dough. You can do this in a stand mixer and then transfer to a larger bowl; or simply use a big bowl and spoon (or dough whisk).

Cover the bowl, and let the dough rise for 2 hours at cool room temperature.

Refrigerate the dough for at least several hours, to chill it and make it easier to work with. It can be refrigerated for up to 4 days before using.

When you're ready to make challah, remove the dough from the refrigerator, and scoop out about one-third of the dough (about 21 ounces). Transfer it to a floured work surface; a silicone mat works well here.

Divide the dough into three pieces, and shape each piece into a log about 24" long.

Braid the logs, pinching the strands together at each end.

Lightly grease an 8" x 2" round cake pan. It's important that the pan is at least 2" deep. If it's not use, a 9" round pan. Coil the braid into the pan.

Cover the pan, and allow the braid to rise for about 90 minutes, till it's quite puffy. Towards the end of the rising time, preheat the oven to 350°F.

Uncover the challah, and brush it with the egg/water mixture. Sprinkle with seeds, if desired.

Bake the challah for 30 to 35 minutes, till it's golden brown and an instant-read thermometer inserted into the center registers at least 190°F.

Remove from the oven, and carefully turn out of the pan onto a rack to cool.
Tips from our bakers
For a braid with a bigger hole in the center, coil the dough into a 9" round pan, rather than an 8" pan.