A customized print-friendly version of this recipe is available by clicking the "Print Recipe" button on this page.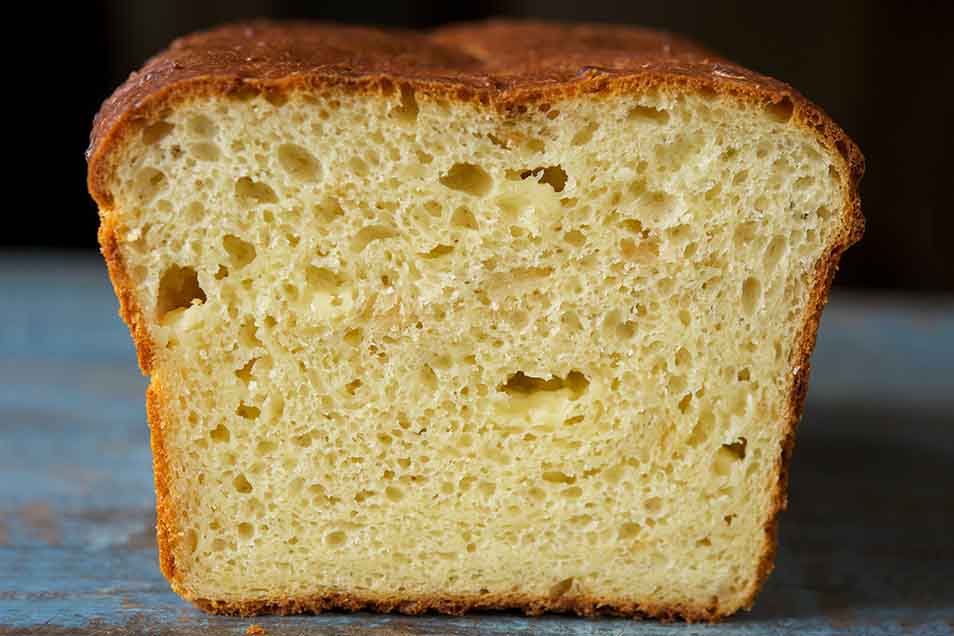 This recipe is a perfect introduction to working with yeast. It goes together in a snap — no kneading necessary — and yields a flavorful, golden brown loaf with a pretty yellow interior. Its slightly chewy texture works well for sandwiches and toast.
Ingredients
1/2 cup finely minced onion OR 1/4 cup dried minced onion
3 to 4 large cloves garlic, minced OR 1 tablespoon jarred minced garlic
1 tablespoon Pizza Dough Flavor (optional, but very good)
2 1/2 teaspoons instant yeast
1 1/2 teaspoons salt
2 cups shredded or diced cheddar, provolone, or Swiss cheese*
2 large eggs
1 1/4 cups milk
*The shredded cheese will disappear into the crumb, while the diced cheese will create little pockets of melted cheese. We used half shredded, half diced.
Instructions
If using raw onion and garlic, sauté them until they're golden brown, then set them aside to cool. You can skip this step if using the dried onions and jarred garlic.

Lightly grease a 2-quart round casserole dish or 9" x 5" loaf pan.

In a large bowl, whisk together the flour, Pizza Dough Flavor, yeast, and salt. Stir in the onions, garlic, and cheese.

In a separate bowl, whisk together the eggs and milk. Add the liquid to the flour mixture and beat well for 2 to 3 minutes (the batter will be thick).

Scoop the batter into the prepared pan. Cover the pan and allow the dough to rise for about 1 1/2 to 2 hours, until nearly to the top of the pan. Towards the end of the rising time, preheat the oven to 400°F.

Bake the bread for 40 to 50 minutes, until golden brown and a digital thermometer inserted in the center reads at least 190°F. This loaf browns quickly; check it after the first 20 minutes, and tent it with foil as soon as it begins to brown.

Remove the bread from the oven, and serve warm, or at room temperature. Store at room temperature, well-wrapped, for several days; freeze for longer storage.