A customized print-friendly version of this recipe is available by clicking the "Print Recipe" button on this page.
No-Knead Chocolate-Cherry Pecan Bread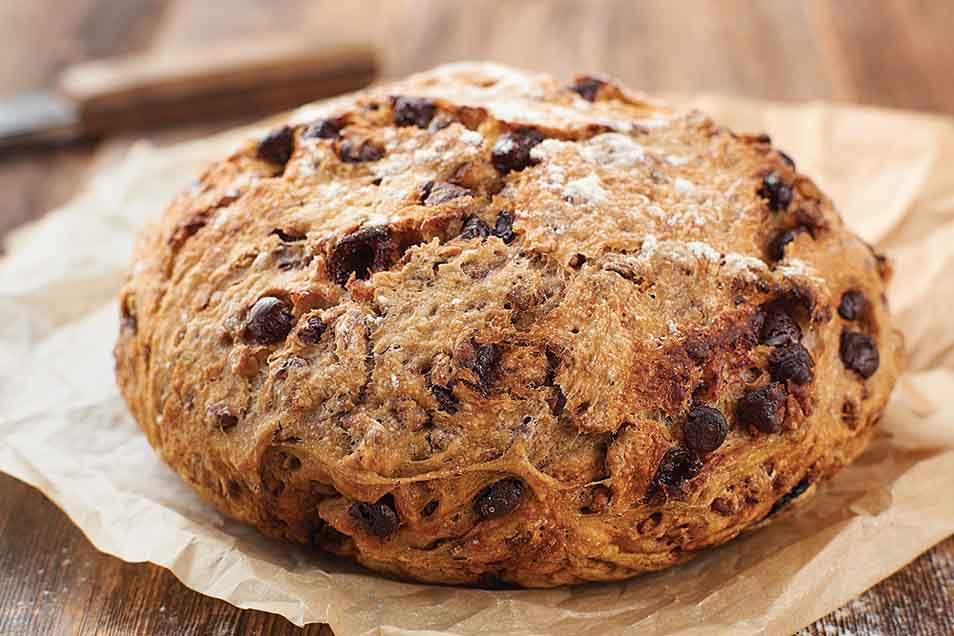 This easy, no-knead loaf features the best crust we've ever obtained using our home ovens. Based on the method from Jim Lahey outlined in The New York Times article by Mark Bittman on November 8, 2006, this bread requires very little effort. But you do have to plan ahead — start it the night before, then bake the next day, or start early in the morning for bread in the evening. Note that this recipe makes a very dark-brown loaf; if you don't like your bread "Continental-style" — just shy of burned — cut back on the baking time, as suggested in the directions.

Recipe updated Jan. 25, 2018; see "tips," below, for details.
Instructions
Mix flours, salt, yeast, and water in a large bowl. Add cherries, chocolate chips, and pecans. Stir well to make a tacky dough, and cover the bowl with plastic wrap. Let rest at room temperature overnight, or for at least 12 hours; the dough will be bubbly and puffy.

Turn the dough out onto a lightly floured surface, and fold it onto itself a few times. Let it rest 15 minutes, then form it into a ball. Place it in a lightly greased bowl, smooth side down. Cover and let rise at room temperature about 2 hours, until a slight indentation remains when poked with a finger.

During the last 30 minutes of rising, preheat the oven to 450°F and place a heavy, 4- to 4 1/2-quart oven-safe pot in the oven while it heats. We've found that black cast iron pots or Dutch ovens don't do well with this recipe, as the bread tends to burn. We suggest, if you're using cast iron, to use a vessel that's coated with enamel. If you don't have a pot that can safely be preheated empty, preheat your oven without your pot inside; and turn the dough into your room-temperature pot before baking.

When the dough is risen, remove the pot from the oven. If you're not sure how seasoned your pot is, you might want to grease it with some vegetable oil, to prevent sticking. Alternatively, place a round of parchment in the bottom. Turn the dough out of the bowl and into the pot; the smooth side will be facing up. Shake the crock gently to settle the dough, then cover with the lid and return to the oven.

Bake the bread for 20 minutes, then remove the lid and continue to bake another 30 to 40 minutes, until the bread is deep brown in color and a digital thermometer inserted into the center registers about 205°F. If you prefer your bread more lightly browned, after its initial 20-minute bake start testing it after an additional 20 minutes, or when it's as browned as you like.

Remove the crock from the oven, turn the bread onto a rack, and cool before slicing.

Store, well-wrapped, on the counter for up to 5 days, or freeze for up to 3 months.
Tips from our bakers
As a result of reader feedback, we've improved this bread's rise and texture by increasing the yeast (from 1/4 teaspoon to 1 teaspoon), and decreasing the water (from 1 3/4 cups to 1 1/2 cups + 1 tablespoon).
Want to use pumpernickel flour (or white/light rye) in place of the medium rye flour in this recipe? Go right ahead.
Lacking a heavy oven-safe pot? Use a greased cake pan for the dough, and invert a heavy oven-safe pan over the top of the dough, creating a dome.
Reviews
Excellent bread with very nice texture. I wasn't happy that I followed the suggestion to roll the fillings inside on the rectangle. They were not distributed like they would have been if I had kneaded them in. I just didn't want any burned pieces on the outside. Next time I will follow the recipe as written. I used a covered cast iron Dutch oven, sprayed with vegetable oil spray and a piece of parchment in the bottom. The loaf was crispy on the outside, and did not become too dark, even in the bottom.
I've made this recipe several times. My husband and I love it.
Love this recipe! It came out perfect and delicious. I was very proud of the taste and texture. Thanks for making me look like I can make bread like a pro!
For step one, for the dough, I used KAF all-purpose flour, and ground my own rye flour and white whole wheat flour (with Komo Fidibus Classic). Per revised recipe, I used 1 and 1/2 tsps salt, 1 tsp instant yeast, and 1 and 1/2 cups plus 1 tbsp cool water (65 degrees). Stirred well, rested 12 hours overnight, in Pyrex bowl with plastic cover slightly ajar. For step two, I turned out the sticky dough, adding a little flour, folded it over couple times, pressed it down into a rectangle, then added the cherries, bittersweet chocolate chips, and pecans. There were a lot of add-ins relative to the dough! Adding a little flour as needed, worked the dough into a ball until 95% of the add-ins were inside, then pressed the boule into a moistened, lightly floured round banneton, and covered it with a tea towel for about two hours. For steps three and four, 35 minutes prior to timer for dough in banneton, I put my empty Emile Henry "La Cloche" into cold oven and turned it on for 450 degrees. Manufacturer advises this is fine, and I have done it numerous times with other recipes with no issues. (Alternative is do the second rising in La Cloche, then put it into cold oven when turning it on for 450 degrees; haven't tried this to date.) La Cloche produces bread with crispy crust as well as if not better than cast iron, I have tried both, and advantage of La Cloche is that it is easier and safer to handle when heated. Just remove the very hot Cloche/cover with gloves, and then place a pre-cut circle of parchment paper on the hot platter, then turn the banneton over onto the platter no need for sling or gloves, no danger of burns if you are careful. Another advantage is that the dough keeps its shape without falling into the hot side of a cast iron dutch oven, and sticking there. For step five, I baked for 30 minutes with the cloche on, removed it and baked another 10 minutes til the crust was the color I wanted, then put the cloche on again for another 10 minutes. Removed the cloche, platter and bread. Measured internal temperature with instant read thermometer, 205 degrees, great. Turned off oven, put bread on rack to cool, threw away the used parchment paper, and picked off a few protruding cherries. Results: Excellent taste, crispy crust, tender flavorful dough, and cherries, chocolate bits melted. and pecans great tasting. A similar recipe I'm fond of is for Cranberry Walnut Boule, total amount of flour is nearly the same, water is slightly less, but adding a quarter cup of orange juice; only a quarter teaspoon of instant yeast, but letting dough rise between 18 and 24 hours! Folding in the add-ins, using the banneton, and baking in La Cloche the same for both recipes.
agree with reviewers, this was kind of fussy.
I rated this in the middle because after looking it up online I see the changes that were made to the recipe. More yeast and less water. And also a shorter cooking time. The recipe in the catalog only called for 1/4 tsp of yeast. It barely rose at all and I gave it 19 hours. In some of your feedback you suggest that this recipe was suggested for a long slow rise. Yet both recipes have the same amount of time. And 19 hours should have been plenty. I too am very disappointed. It was quite burned on the outside. I've baked for years and never had this problem. I may try again with more yeast and less time cooked. The taste of the bread inside the burned shell was nice so I won't give up yet. Just sad for all the waste I had to cut off of it.
If anyone is looking for a bread recipe similar to Zingerman's chocolate cherry bread, give this a try! I added cocoa, vanilla, sweet dark cherries, semi sweet or dark chocolate, and 1 tbsp sugar. A bit more water to hydrate the cocoa and increase the overall hydration. A bit of instant coffee used as flavor booster, and the pecans are optional. Made with half the recipe for a 2 quart dutch oven. Happy baking!
Oops! I used unsweetened dried cherries and dark chocolate so it came out sour and bitter (just like me!). The bread still has great flavor and is delicious with something creamy that cuts all the tart. I still have half the dough in the fridge still so I might try folding something sweet in. Hoping to make it again with SWEETENED cherries next time :)
I used someone's advice to add the chocolate, cherries and pecans after the long rise by patting the dough into a rectangle, sprinkling everything on it, rolling it jelly-roll style, and then forming it into a circle. What happened was that most of the add-ins wound up on one side of the baked loaf. We ate a few slices, and then I made bread pudding with the rest. Best bread pudding ever!