A customized print-friendly version of this recipe is available by clicking the "Print Recipe" button on this page.
No-Knead Chocolate-Cherry Pecan Bread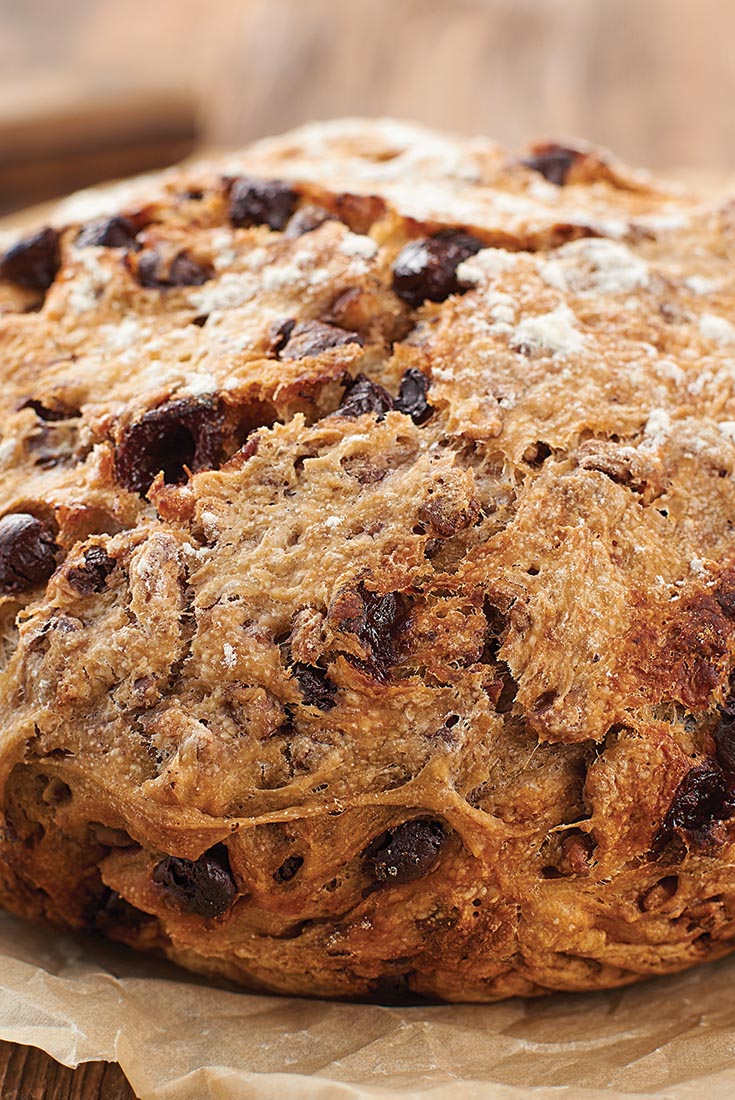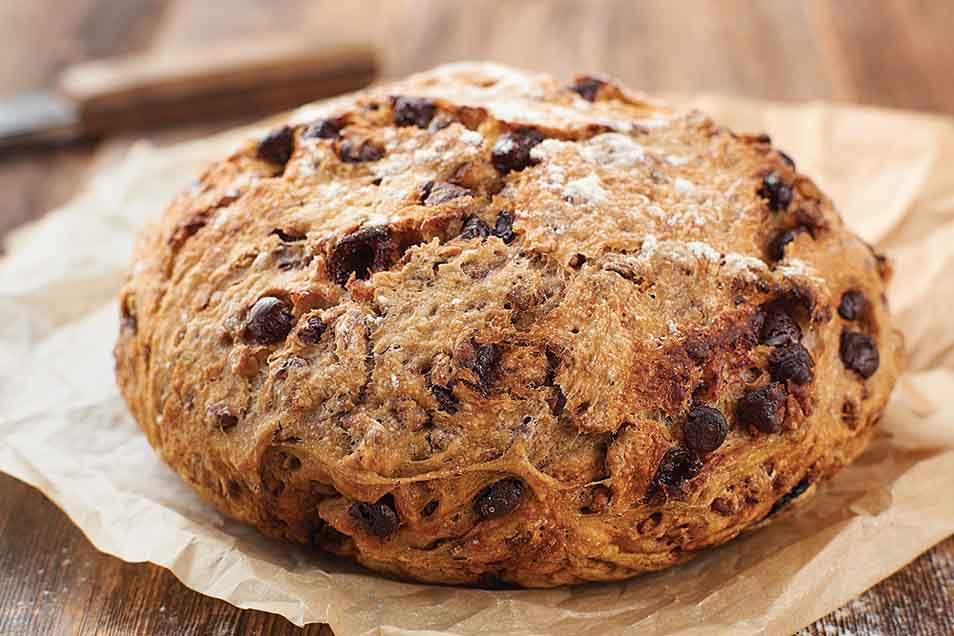 This easy, no-knead loaf features the best crust we've ever obtained using our home ovens. Based on the method from Jim Lahey outlined in The New York Times article by Mark Bittman on November 8, 2006, this bread requires very little effort. But you do have to plan ahead — start it the night before, then bake the next day, or start early in the morning for bread in the evening. Note that this recipe makes a very dark-brown loaf; if you don't like your bread "Continental-style" — just shy of burned — cut back on the baking time, as suggested in the directions.
Instructions
Mix flours, salt, yeast, and water in a large bowl. Add cherries, chocolate chips, and pecans. Stir well to make a very soft dough, and cover the bowl with plastic wrap. Let rest at room temperature overnight, or for at least 12 hours; the dough will be bubbly and puffy.

Turn the dough out onto a lightly floured surface, and fold it onto itself a few times. Let it rest 15 minutes, then form it into a ball. Place it in a lightly greased bowl, smooth side down. Cover and let rise at room temperature about 2 hours, until a slight indentation remains when poked with a finger.

During the last 30 minutes of rising, preheat the oven to 450°F and place a heavy, 4- to 4 1/2-quart oven-safe pot in the oven while it heats. We've found that black cast iron pots or Dutch ovens don't do well with this recipe, as the bread tends to burn. We suggest, if you're using cast iron, to use a vessel that's coated with enamel. If you don't have a pot that can safely be preheated empty, preheat your oven without your pot inside; and turn the dough into your room-temperature pot before baking.

When the dough is risen, remove the pot from the oven. If you're not sure how seasoned your pot is, you might want to grease it with some vegetable oil, to prevent sticking. Alternatively, place a round of parchment in the bottom. Turn the dough out of the bowl and into the pot; the smooth side will be facing up. Shake the crock gently to settle the dough, then cover with the lid and return to the oven.

Bake the bread for 20 minutes, then remove the lid and continue to bake another 30 to 40 minutes, until the bread is deep brown in color and a digital thermometer inserted into the center registers about 205°F. If you prefer your bread more lightly browned, after its initial 20-minute bake start testing it after an additional 20 minutes, or when it's as browned as you like.

Remove the crock from the oven, turn the bread onto a rack, and cool before slicing.

Store, well-wrapped, on the counter for up to 5 days, or freeze for up to 3 months.
Tips from our bakers
Want to use pumpernickel flour (or white/light rye) in place of the medium rye flour in this recipe? Go right ahead.
Lacking a heavy oven-safe pot? Use a greased cake pan for the dough, and invert a heavy oven-safe pan over the top of the dough, creating a dome.
Reviews
Followed exactly and ended up with a brick. Took forever to cook. Used the potato pot and proofer box. Perhaps using volume measurements would help. So disappointing- time consuming and pricey. It's basically a throw-away. I now also have a nasty pot to clean too. Usually bread recipes are very forgiving- a like more liquid or a little more flour. Not this one. Perhaps directions with more description would help. Truly one of the worst recipes I've ever tried.

Yikes, Eileen! We're sorry to hear that you had such a poor experience with this recipe and would appreciate the opportunity to get to the bottom of it with you. We encourage you to give our free Baker's Hotline to troubleshoot for a better next bake, either with this recipe or the next: 855-371-BAKE. Mollie@KAF
I am not a novice baker. This is a terrible recipe. 1. It does not rise hardly at all 2. It disappointing when one invests in all the expensive ingredients; they become expensive when the recipe is a flop. I followed directions EXACTLY. It came out (finally) of the pan like a hard, burned brick. I have tired some KAF recipes and had perfection results. Others have been barely acceptable but this one is CRAP!

We are genuinely sorry to hear you had such a poor experience with this recipe, Gayle. Our goal is to be a baking resource for all levels of bakers, from beginners to professionals. We take feedback like yours seriously and would be interested in troubleshooting with you further. We hope you'll consider speaking with one of our friendly bakers on the hotline (855-371-2253) so we can hear more about your ingredients and methods, and see if we can get you headed in the right direction going forward. Kindly, Kye@KAF
comes out beautifully cooked in a 4qt covered enameled cast iron! we leave out the choc chips . tastes better than Zingerman's version ( I live right around the corner from the famous store.)
Worked beautifully--as promised, definitely the best crust I have ever achieved, and with very little work. I used a cast-iron dutch oven and preheated for 30 min. The bread came out of the pot easily with no special tricks, after 20 min covered and about 15 uncovered. Some of the choco and cherries at the exterior did burn but this doesn't bother me. In fact, when I buy this sort of bread from acclaimed local bakeries it often has that same kind of burn so I choose to see it as a feature not a bug. ;) I look forward to trying out other no-knead recipes on this site. I will definitely bake this one again and try different add-ins. Has anyone tried cheese?

Katie, check out the article on our blog called, "No-knead bread three ways," for tips about how to add tasty mix-ins to your favorite no-knead recipes. One of our favorites includes cheddar cheese and jalepenos! Kye@KAF
This beautiful bread is easy to make and tastes good, but as written it is just a bit too salty, which is why I give it only four stars. I measured the ingredients exactly and deviated from the recipe only in the cooking time. In my hot oven I had good results with 30 minutes in a covered Le Creuset followed by only 10 minutes uncovered. My loaf didn't stick or burn, and I used an 8" parchment round in the bottom of my pot.
IT WORKED!!! I made the full recipe and divided it in half for 2 2.5 qt. bakers and followed the recipe to the letter about baking times and I have 2 loaves. One to eat now and one to freeze!!! I am so excited. This never happens to me. I end up making things the second time to get it right. Woo Hoo!! Thanks KA!! High 5's and fist bumps all around!!
This was interesting. Smells Great!! My question is: could this bread be divided and baked into two loaves? The original recipe is huge..and there are 4 of here to eat it. I would rather have 2 smaller loaves and freeze the second one for later. What do you think?

Sallie, we tend to use a bread baking crock or large Dutch oven to give this bread a crusty exterior. However, if you'd like to try shaping the dough into two smaller loaves on a baking sheet, you're welcome to go ahead and do so. Expect your loaves to be slightly less crusty and a bit shorter than they otherwise would be, but they'll still be very tasty! Check for doneness early, as they'll likely bake through faster than the full sized loaves. Turn down the temperature for 400°F if you're using a baking sheet. Enjoy! Kye@KAF
chaque a son gout. this wasn't my favorite, am not a chocolate fan, but it was pretty and interesting. agree the baking time probably is a bit too long, my crust was too crusty.

As stated in the head notes, this recipe is designed to produce a "Continental-style" or pleasantly dark loaf. If that's not you preference, you can cut back on the baking time as suggested in step number five. Another tip- avoid using black cast iron pots or Dutch ovens, as it tends to burn. Stick with an enameled cast iron or stoneware bread crock. Bon appetit! Kye@KAF
Loved the bread but had the same problem as mentioned by a number of the other reviewers. It was very dark/burned on the bottom. Would it be helpful to divide the dough in half and bake it in two separate containers? It would be a shorter baking time so maybe not get so dark.

Thanks for sharing your feedback with us, Donna. We've added a few notes to the recipe to help prevent a too-dark loaf. The baking instructions in step number 5 now guide you to start checking for doneness after the additional 20 minute bake, or when it's as browned as you like. We hope that helps! Kye@KAF
My bread was slightly too dark and stuck to the baking dish. Sliding some butter underneath helped loosen it so I could remove it without tearing it. The only change i will make next time is to use less salt...likely a full teaspoon less as the bread was much too salty for my taste. Otherwise totally happy with the outcome.

Feel free to be an empowered baker, Sue and remove the loaf from the oven when it looks as fully browned as you could like. You're also welcome to reduce the salt slightly if you want some of the other flavors to come through. Good luck with the next batch--we're sure it will be a success! Kye@KAF