A customized print-friendly version of this recipe is available by clicking the "Print Recipe" button on this page.
No-Knead Crusty Whole Wheat Bread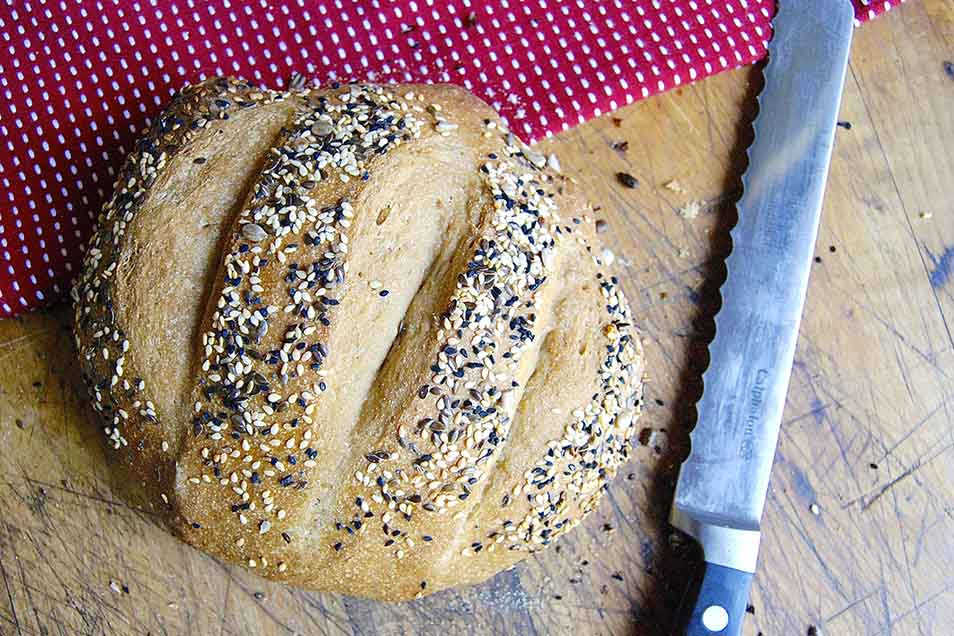 Who doesn't love warm, crusty homemade bread? Our No-Knead Crusty White Bread is a reader favorite, and this riff substitutes whole wheat flour for most of the all-purpose to create a loaf that's crusty, delicious — and extra-nutritious!

Our thanks to authors and no-knead bread experts Jeff Hertzberg and Zoë François for the master formula — from their book, Healthy Bread in Five Minutes a Day — that inspired this recipe.
Instructions
Mix everything together until well combined. The dough will be quite sticky.

Put the sticky dough into a large bowl or dough bucket, greased or not; it's not critical to grease the container. Cover lightly.

Let the dough rise; 2 hours at room temperature should do it. It'll about double in size.

Cover the bowl or bucket so it's airtight, and refrigerate overnight, or for up to 7 days or so. The longer the dough chills, the more sourdough-like tang you'll taste in your bread.

When you're ready to bake, remove the bucket from the fridge. You'll notice the dough has collapsed a bit; this is perfectly normal.

Grab a softball-sized piece of dough; it should weigh about a pound. As you do this, you'll see long strands of stretchy dough clinging to the sides of the container. This is evidence the dough has developed its gluten completely without kneading, simply by resting in the refrigerator.

Gently round the dough into a ball. Place it on a piece of parchment that you've sprinkled with semolina, cornmeal, or flour. These will help keep the dough from sticking to the parchment.

Cover the loaf, and let it warm up and rise for 2 hours at warmish room temperature (about 75°F to 80°F is good). If your house is cold, try putting the bread in your turned-off oven with the oven light on. The light bulb will produce just enough heat to keep the loaf comfortable. After 2 hours, your loaf should have expanded noticeably. It'll spread more than rise upward, but that's OK.

While the bread is rising, preheat your oven to 450°F. If you have a pizza stone, put it on a lower rack and let it heat up as the oven warms.

Just before baking, brush or spray the loaf with lukewarm water, and sprinkle it with seeds, if desired.

Use a sharp knife or lame to give the bread three quick slashes, about 1/2" to 3/4" deep.

Transfer the bread to the pizza stone. If you're not using a pizza stone, place the bread on a baking sheet, and put it into the oven. Bake the bread for about 20 minutes, until it's golden brown and a digital thermometer inserted into the center reads at least 190°F.

Remove the bread from the oven. Wait until the bread is completely cool before slicing; cutting into a loaf of hot bread can make it irreparably gummy.

Store completely cooled bread, well wrapped, at room temperature for a couple of days; freeze for longer storage.
Tips from our bakers
If you measure flour by sprinkling it into a cup and sweeping off the excess, use 3 1/4 cups water. If you measure by dipping your measuring cup into the flour canister, tapping it to settle the flour, then leveling it off, use 3 1/2 cups water.
This recipe makes about three medium loaves plus one smaller loaf. Try baking dough that's been refrigerated for one day, then bake some after three days, then five days — see and taste the difference. You'll soon discover your own sweet spot for length of chill.
Reviews
My family loves this bread! I love being able to make a few small loaves at a time or larger loaf if needed. I always have a bucket of this or the white crusty bread in my fridge! Can this bread be made in a dutch oven as well?

You can definitely make this in a Dutch oven! Feel free to use your usual method, or to visit our blog post "Bread baking in a Dutch oven" for tips. Happy baking! Kat@KAF
This recipe has less water than the Healthy Bread recipe but is otherwise identical. Without the additional water, it is hard to mix and hard to shape. Adding additional 3/4 c water solves the problem.

You're quite right that this recipe has less water than many of our recipes. It's one of the reasons we recommend it to new bread bakers, as it's typically easier beginners to handle a lower-hydration dough. Given the cold and dry winter weather we're experiencing in New England at the moment, it makes perfect sense that you'd need to add a bit more liquid. We actually have a great article about this (with photos!) called "Winter to Summer Yeast Baking" if you're interested. It's actually quite fascinating to see what an impact local weather conditions have on even the most basic recipes! Happy baking! Kat@KAF
I used this recipe at the recommendation of a friend. Instead of using store-bought yeast I used my natural yeast and I baked three loaves that all turned out (after letting them rise two hours in bowls w/parchment paper) like 2' high bread pancakes. I baked these, hoping to give as gifts, but will not now. I will need to find another recipe, although your concept is great. Working the dough into softball size balls from the fridge after two days was working with a glue-ey glob that was had to form into a ball and quickly settled into a low blob of dough. :-(
This was very tasty, but I would prefer a lighter bread. The crust was great, but the bread underneath was very dense. Is there a way to get it to be a bit lighter?

Cate, by nature a loaf made with so much whole wheat will be on the denser side when compared to a light, white loaf. One thing that may help lighten the loaf is to use a slightly wetter dough. It's easy enough to get more flour than intended into the dough when measuring by volume, which would weigh the dough down even more. For best results, try measuring by weight or using our fluff, sprinkle, and sweep method to achieve a relatively light cup of flour. Including the vital wheat gluten should also help, and you might even try using more all-purpose flour and less whole wheat. Start by subbing one cup and seeing if it makes enough of a difference in texture to be worth the change. Hope this gets you headed in the right direction! Mollie@KAF
I am appreciative of a whole-wheat no-knead bread. I tried it for the first time today. I would like some guidance on how to achieve a higher-rising loaf. My first attempt yielded a good -but very flat - disk that doesn't have enough substance to be completely satisfying. I'd be grateful for any advice. I tried my best to follow the recipe.

There are a couple of ways you can encourage your dough to rise up more than out, Rick. One is to shape the dough more tightly, though the downside to this is that you risk knocking out the air bubbles you've built up in your dough. The other option is to rise and bake your dough in a round, covered baker of appropriate size. For a 4-5 quart Dutch oven, you'll want about 2 lbs of dough, or enough to mostly fill the bottom of your pot. If you like to preheat your pot or you don't have a covered baker, try placing your shaped dough in a towel-lined bowl, well dusted with flour, to rise. In either case, the sides of the bowl or the baker should help encourage upward expansion. Mollie@KAF
This recipe is a great choice if you're looking to make whole-grain bread, fast. I love that I can pull out a handful of dough from the fridge and have warm bread on the table in less than two hours.
It's very tasty after 1 day in the refrigerator let me start with this. I spread out as per what it said in the recipe but did actually rise up to fill out and make a true bolle like I was expecting. The dough was very stingy and the bread was full of hole as I expected only problem? It was 1.5 thick. For loaf #2 I plan to make it a much tighter ball and see how that goes and go from there. BTW, I used my hacked Thermadore duel fuel range with a PID +- 1F control so there weren't wild temp swings,etc.