A customized print-friendly version of this recipe is available by clicking the "Print Recipe" button on this page.
No-Knead Garlic-Cheese Flatbread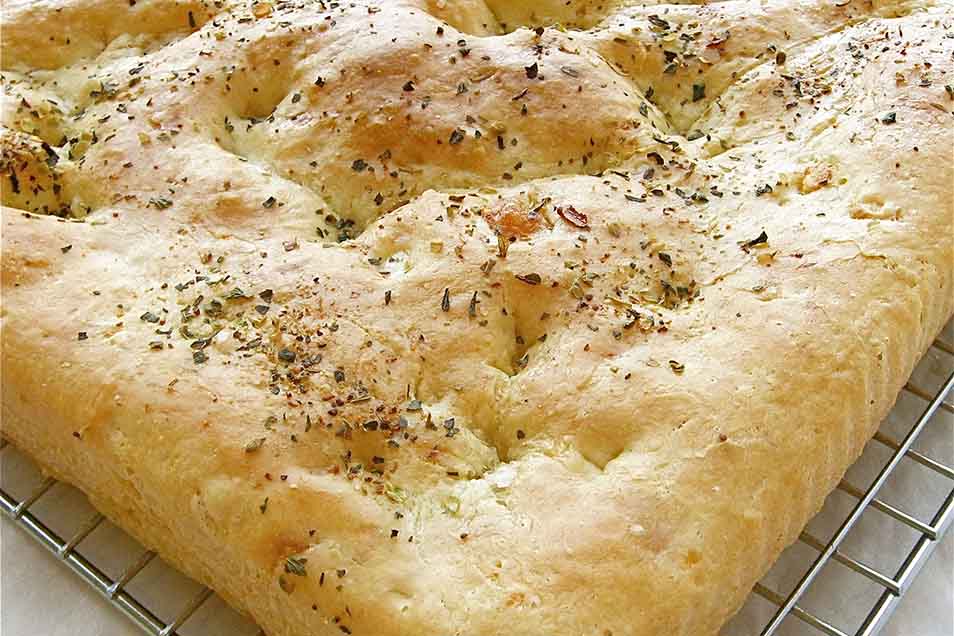 Stir up the batter for this easy yeast bread, scoop it into a 9" x 13" pan, and bake up a moist, golden flatbread, studded with melting cheese and chopped garlic. Serve it fresh; or let it rest overnight, then cut into strips and crisp in the oven, to make delightfully crunchy appetizer bread sticks. This recipe is a simple variation on Blitz Bread, our simplest no-knead bread.
Ingredients
Filling & Topping
2 cups diced cheese — cheddar, Monterey Jack, flavored cheddar, or your favorite
4 to 8 cloves garlic, peeled and chopped
pizza seasoning or your favorite dried herbs, to sprinkle on top
Instructions
Lightly grease a 9" x 13" pan, and drizzle 1 to 2 tablespoons olive oil in the bottom.

Combine all of the ingredients except the cheese and garlic, and beat at high speed with an electric mixer for 60 seconds.

Add the cheese and garlic, beating gently just to combine.

Scoop the sticky batter into the prepared pan, cover the pan, and let it rise at room temperature for 60 minutes, till it's become puffy.

While the dough is rising, preheat the oven to 375°F.

Sprinkle the dough with pizza seasoning, and/or the dried herbs of your choice, if desired.

Bake the bread till it's golden brown, 35 to 40 minutes.

Remove it from the oven, wait 5 minutes, then turn it out of the pan onto a rack. Serve warm or at room temperature.

To make crunchy bread sticks: Cut day-old bread into 1/2" slices. Lay the slices on an ungreased baking sheet, and bake them in a preheated 350°F to 400°F oven till they're a light golden brown and crunchy, 15 to 25 minutes or so; keep your eye on them, as they brown quickly towards the end.

Yield: about 12 to 18 servings bread; or about fifty 6 1/2" bread sticks.
Reviews
Oh My! So good! Used 1 cup smoked Gruyere, 1 cup smoked Gouda, added about 1/4 cup chopped jalapeno, 1 and 1/2 heads of smashed roasted garlic (instead of the chopped garlic) and 1 Tbsp of Italian seasoning to the bread mix. Used 2 cups bread flour and 1 1/2 cups all purpose, adding 4 tsp water for the bread flour. Sprinkled top with some Italian seasoning and Kosher salt. Also, put a pan of hot water on the bottom shelf during the pre heat and left it in during the whole baking time. Nice crispy crust and chewey consistency. Not sure it raised as much as yours, but still GREAT! Thank you much! Will definitely make again and try some new versions! Thinking something with dill and green onion next time!
This is so good !!! I just made right now. Easy and I don't have to kneading ( usually I let Bread Machine but this one not even ! ) Thank you for your recipe. Definitely I do making again !
Very delicious! The cheese crisps around the outside for a great texture to go along with the amazing flavor.
Super easy and super good! I made according to the recipe the first time, but since have experimented with different cheeses and herbs. Today I'm going to stir in some roasted hot Hatch chilis, crumbled bacon, and cheddar in addition to the garlic. Everyone loves this bread every time I make it, so I've never had leftovers to try the breadsticks! But it is definitely more a focaccia than a flatbread, as others have noted.
This bread is super tasty!! I halved the recipe for the first time making it. I made it in a 8x8 brownie pan. I added about 1 tablespoon fresh chopped basil along with the Italian seasoning(I used in place of pizza crust flavor). I also added the zest of 1 small lemon. I used a mix of cubed asiago cheese and grated Parmesan. So freaking good!! I will be making the bread often!
I made this to go with a big pot of ragu and pasta. My guys ate over half the bread. Flavor was good. Texture is a bit more airy then a double rise recipe, but this is a great go to recipe when you want some quick tasty bread to go with an Italian meal. My family said this was a definite make again recipe. Very easy, a good recipe for a beginner baker.
This is both easy and good, but I'd hardly call it a flatbread. It's more like a focaccia or a fougasse.
Just baked this yesterday to go with some sausage spinach soup I made for about 10 guys for lunch. I wanted something to complement the soup, but did not have the time to make traditional rolls. It was a hit! I didn't have the pizza dough flavor, so I added a tablespoon of Italian seasoning to the dough and brushed the top with butter when it came out of the oven. I used grated cheese and 4 cloves of minced garlic. This recipe is a keeper. I think I will make this and cut it into strips for my grand children to dip in homemade pizza sauce. It did raise pretty high, but no one complained, they just split it and added butter.
Amazing texture for so little work! Highly recommend. We didn't use herbs, just cut into fingers and dipped in spiced oil. It was fluffier than I expected flat bread to be, but that was a happy surprise!
This is the best, it is so easy to make. I Have fixed it many times for my friends. They simply enjoyed it. It's delicious with soup, chili, beans, spaghetti. It's delicious with any meal. Thanks King Arthur