A customized print-friendly version of this recipe is available by clicking the "Print Recipe" button on this page.
No-Knead Harvest Grains Bread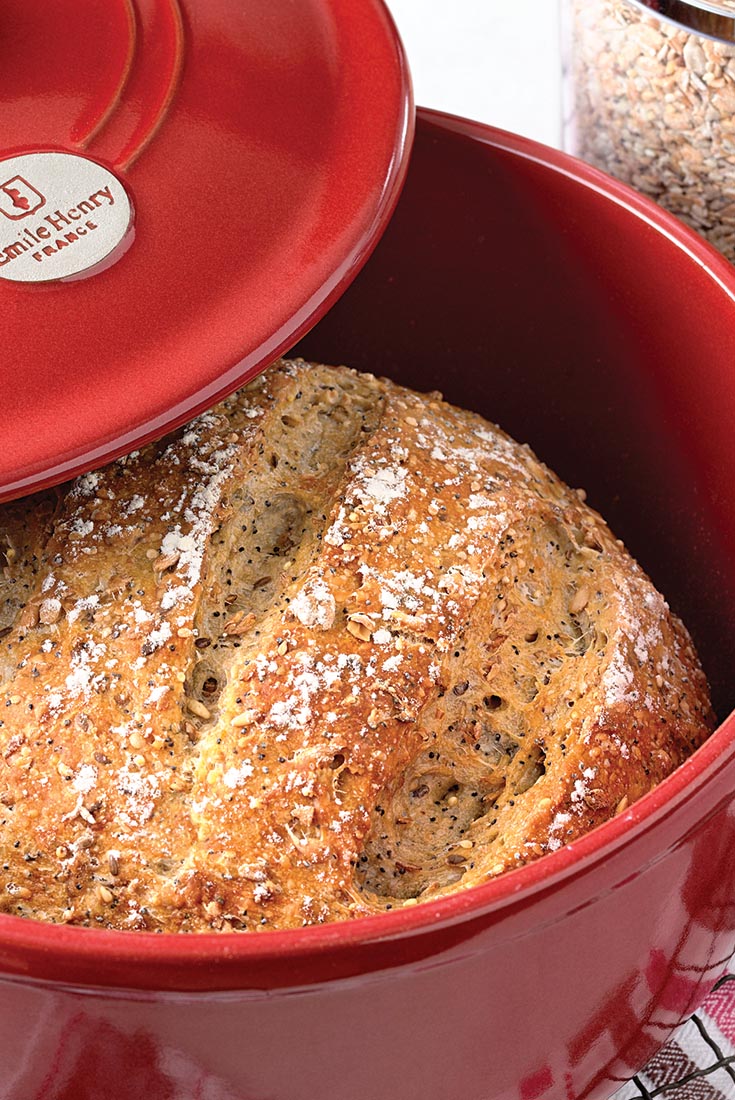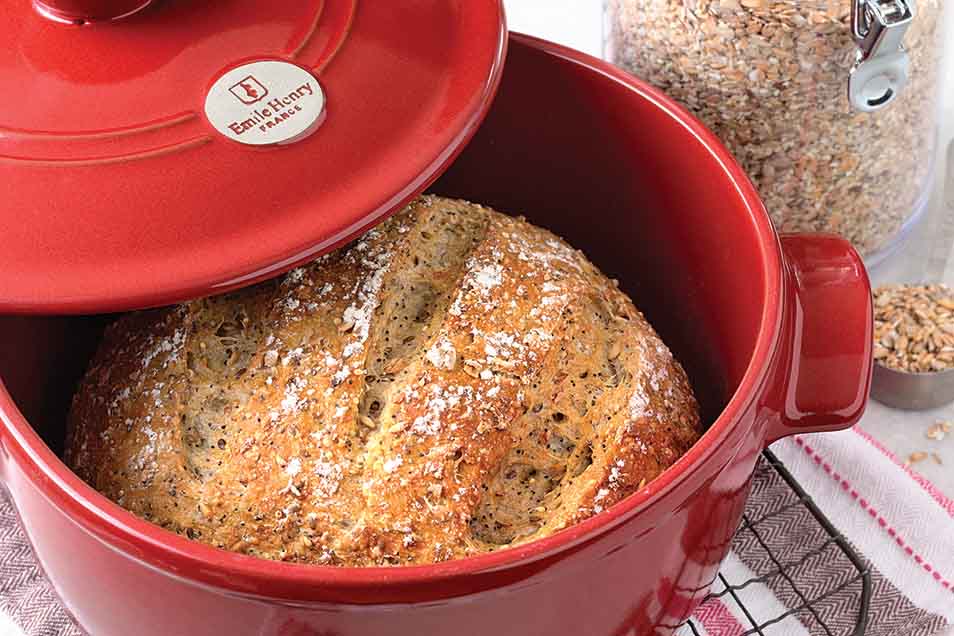 The strength and mellow flavor of multiple grains make this bread great for toasting, or for sandwiches stuffed with summer's best produce.
Instructions
Note: Thanks to reader feedback, we've re-tested this recipe and have incorporated some helpful tips to yield a lighter, higher-rising loaf.

Using your hands or a mixer at slow speed, mix all the ingredients until the flour has been incorporated and a sticky dough forms. Continue to knead the dough gently for 2 to 3 minutes longer until it is somewhat smooth.

Cover the bowl with plastic wrap, and let the dough rest at room temperature overnight, or for at least 8 hours; it'll become bubbly and rise quite a bit.

Turn the dough out onto a floured surface, and form it into a round loaf to fit a 9" to 10" round lidded baking crock.

Place the dough in the lightly greased crock, smooth side up. Cover with the lid and let rise at room temperature for about 90 minutes. It won't appear to rise upwards that much; rather, it'll seem to settle and expand.

Put the bread in a cold oven, and set the oven temperature to 450°F.

Bake the bread for 45 to 50 minutes, then remove the lid and continue to bake for another 5 to 15 minutes, until it becomes deep brown in color, and an instant-read thermometer inserted into the center registers about 205°F.

Remove the bread from the oven, turn it out onto a rack, and cool before slicing.
Tips from our bakers
If you don't have a lidded baking crock, bake the bread in a long covered baker following the same recipe directions. Alternatively, bake the bread in a 9" x 5" loaf pan for 60 to 70 minutes.
To add slashes to the bread, as pictured: once the loaf is risen, slash it three or four times on the diagonal, and re-cover with the lid. Bake in a preheated 400°F oven for 40 to 45 minutes, then remove the lid and continue to bake until it becomes deep brown in color, and an instant-read thermometer inserted into the center registers about 205°F.
If you have a Dutch oven or bread baking crock that can be preheated (like our bread and potato pot) check out the method we use in this post from our blog.
Reviews
Used a bit less of the grains mix but this is a great bread recipe.
I made a handful of edits based on some of the other comments. * I didn't have the grain blend so made my own (1 c). Oats, flax seeds, chopped walnuts and sunflower seeds. * Added at least another 1/2 c of water. * Added 1 T honey. * Tiny bit more yeast (maybe about another 1/4 t). Baked at 400 for 40 min with the cover on and 20 with the cover off until the internal temp was 205. YUM!
Delicious and soooo easy. I have baked it twice now with KA Bread Flour and omitting the grain mix since I didn't have it on hand. Per the comments in the other reviews, I let it sit in the fridge overnight after the 8 hour rise and baked in a pre-heated 400 degree oven in my dutch oven, then let cool in the oven. The result was great flavor and a crispy crust. It's now my go-to bread. Thanks for another great recipe!
This has become one of my favorite bread recipes...love bread with "stuff" such as nuts and seeds in it. However, I do feel that these tweaks are absolutely necessary, not optional. First, I use 3/4 teaspoon of instant yeast. I think you need it since the bread is so dense (especially if you use all of the Harvest Grains seeds mixture). Second, I needed 2 1/8 cups water. I don't feel that the recipe provided adequate water. (Maybe that's me, but I've made this recipe four times and have found that this is consistently the case). Finally, I agree with the previous comment that using the stand mixer is absolutely essential to mix the ingredients well since it's a dense mixture. I like the full 1 1/2 cups of the Harvest Grains mixture--really great addition to the bread. If you do all of these things, I find that you get a good, well-cooked loaf that is not super tall (maybe 4 inches high) that makes great, hearty toast perfect for cold Chicago mornings.
I baked this recipe exactly as written using high gluten flour and my lodge cast iron Dutch oven. I loved it and will definitely be making it again. I enjoyed the density of the bread. It made toast for breakfast and now I'm thinking about grilled cheese. I love these no knead bread recipes because it makes bread baking possible for me.
What is the secret to a crunchy crust, difference in baking, or coating the crust???

Our home ovens are so drafty. There is no true tight seal so they do not perform as well as commercial ovens. Do not be so dependent on the internal bread temperature because often times that bread may reach a desired temperature but the crust may not be crispy just yet. Allow the bread to bake for 5-10 minutes longer. In addition, allow the bread to cool in the oven(oven off)for some time. As bread cools, moisture is forced out and often it is the moisture that softens the crust. It may see quite crispy at first and then an hour later the crust has begun to soften. Good luck! Elisabeth@KAF
Will King Arthur Bread Flour work similarly to Sir Lancelot High Gluten flour to get that same light texture?

Sara, bread flour isn't quite as high in protein as Sir Lancelot High-Gluten Flour, but it is higher than all-purpose flour so it would be a great choice for this bread. It will give the dough a strong rise and pleasant overall texture. If you find you want the bread to be slightly more chewy, use Sir Lancelot High-Gluten Flour next time. Happy baking! Kye@KAF
No sweetener?

It's true, no added sweetener! Mollie@KAF
Made it with 1 cup Harvest Grains Blend and 2 cups water. The bread came out fine but was "tough" (not chewy). Was disappointed with the flavor.

We'd love to help you achieve the deep, delicious yeasty flavor that this bread is known for. Try putting the dough in the fridge overnight to rise instead of using the 2-hour-room temperature approach. The next morning, let the dough and crock rest at room temperature for about 2 hours and then bake it as the recipe instructs. This method will deepen the flavor. As for making a chewier texture, be sure you're using the Sir Lancelot Hi-Gluten Flour. It's higher protein content will add more chew than the all-purpose flour. We hope that helps! Kye@KAF
Very nice flavor, but I agree that it is dense. Works better for me with the smaller amount of Harvest Grains Blend suggested in the Tips.