A customized print-friendly version of this recipe is available by clicking the "Print Recipe" button on this page.
No-Knead Multigrain Crown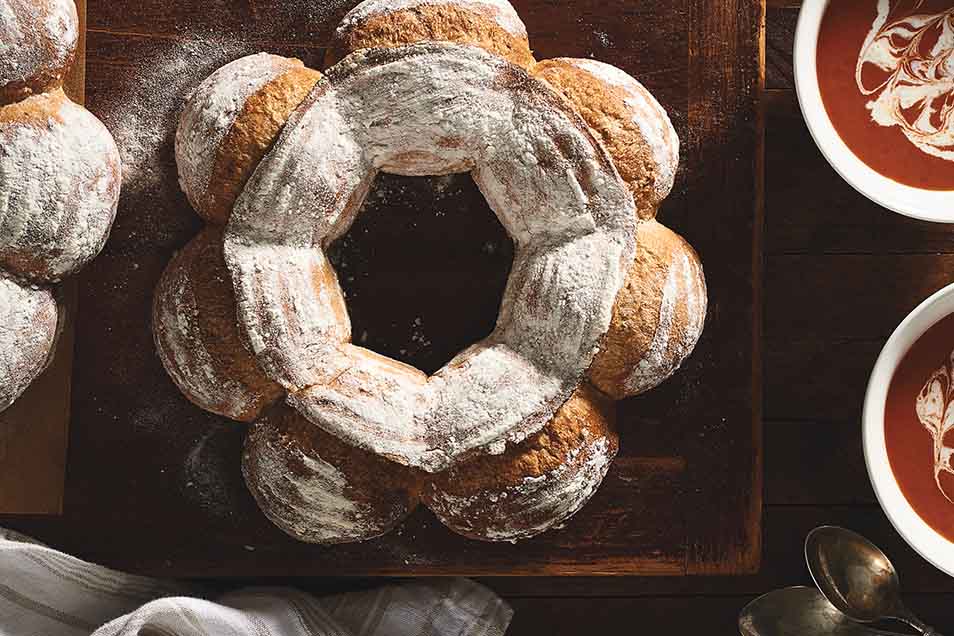 In this recipe, our Super 10 Blend and first clear flour combine to create moist, chewy, wholesome rolls studded with whole grains and seeds. The crown is achieved in a few easy steps — no slashing required.

Recipe update: As of 10/3/18 we have adjusted the volume amount of the Super 10 Blend in this recipe. See tips below.
Instructions
Weigh out your flours; you'll find their weights by toggling to "ounces" at the top of the ingredient section above. Or measure them by gently spooning them into a cup, then sweeping off any excess.

Combine all the ingredients except the olive oil in a large, 6-quart mixing bowl, or a large, similar capacity dough-rising bucket.

Mix and stir everything together to make a very sticky, rough dough. If you have a stand mixer, beat at medium speed with the beater blade for 30 to 60 seconds. If you don't have a mixer, just stir with a big spoon or dough whisk until everything is combined.

Cover the bowl or bucket and transfer to the refrigerator to rest overnight, or for up to three days.

When you're ready to make bread, generously flour a 10" to 12" ringed brotform. (See "tips" below, if you don't have a brotform.)

Grease your hands and pull off about one-third of the dough (about 18 to 20 ounces).

Place the dough onto a floured work surface, divide it into eight equal pieces, and shape each piece into a rough ball. Set aside seven balls smooth side down.

On a well-floured work surface, roll the eighth ball into a thin circle, 8" in diameter. Brush an even coat of olive oil around the perimeter, then carefully drape it over the center of the brotform (oil side up); it should cover about 1" beyond the base of the brotform's center hump.

Position the seven remaining balls smooth-side down around the center. The middle of each ball should be about even with the edge of the dough circle.

With a sharp knife, cut from the center of the dough circle down to the point where each ball meets at the base of the center hump. Wrap the triangular section of dough over the top of each ball.

Cover the loaf and let it rest at room temperature for 60 to 90 minutes, until it's puffy and no longer feels cool to the touch. It won't appear to rise upwards very much.

While the loaf rests, preheat the oven to 450°F. If you're using a baking stone, position it on a middle rack while the oven preheats. Place a shallow metal or cast iron pan (not glass, Pyrex, or ceramic) on the lowest oven rack, and have 1 cup of hot water ready to go.

When ready to bake, gently turn the loaf out of the brotform onto parchment paper, a cornmeal-dusted peel, or parchment-lined baking sheet. The bread may deflate a bit; that's OK, it'll pick right up in the hot oven.

Place the bread in the oven — onto the baking stone, if you're using one, or simply onto a middle rack, if it's on a pan — and carefully pour the 1 cup hot water into the shallow pan on the rack beneath. It'll bubble and steam; close the oven door quickly.

Bake the bread for 15 to 20 minutes, until it's a deep, golden brown and the internal temperature reaches 190°F on a digital thermometer..

Remove the bread from the oven, and cool it on a rack. Store leftover bread in a plastic bag at room temperature.
Tips from our bakers
If you don't have a ringed brotform, you can build your own by overturning a small (about 4" in diameter at the rim and 3" deep) bowl. Drape a clean dish towel over the bowl and dust it liberally with flour. Prepare and shape the dough as instructed, laying the rolled-out dough circle over the bowl and the dough balls around the perimeter. After the dough has proofed, gently turn it over (with the help of the towel) onto parchment paper; a cornmeal-dusted peel, or parchment-lined half sheet pan. Bake as directed.
If you don't have our Super 10 Blend, substitute 3 3/4 cups (15 ounces, 425g) white whole wheat flour and 1/2 cup (2 to 3 ounces, 57g to 85g) of whole grains and seeds (like our Harvest Grains Blend or your own blend).
For a simpler version of a crown, simply shape all eight pieces of dough into balls, and place them, seam side down, in a ring shape. Bake as directed in the recipe above.
We adjusted the volume of Super 10 Blend in this recipe due to a discrepancy in how we weighed the flour. Thankfully, the difference is only marginally noticeable, and we have found that this bread, thanks to its higher hydration, turns out beautifully either way.
Reviews
This worked well to produce two beautiful rings of rolls. I bought the ring brotform (on sale) and it really helped get the crown part right. I'm not a great bread shaper but I was able to get the triangular cuts just right...for the first two loaves. The last one didn't quite work, but still tasted great. Finally a use for First Clear besides rye bread. And the Harvest Grains Blend worked very well.
I love this recipe! I was worried about producing three Crowns, but each one is consumed within hours of baking! My kids love it. The texture is greatvery reminiscent of the wonderful breads we enjoy in Europe. And so pretty. I should also note it's quite easy to produce.
This recipe turned out quite well in spite of me having to make my own nut grain mix (I used whole wheat flour, hemp kernels, chia seeds, and almond flour). It has a tighter crumb than I expect from a no-knead bread, but I suspect that has to do with the whole wheat, lower water content, and more involved manipulation of the dough in the shaping process. It's pretty and pretty tasty!
Well, I done it, and it worked. Didn't have a ringed Brotform, so I used a 9 inch springform pan and a rice bowl as the form. Because of various commitments I had to leave the dough in the icebox for the full three days, but it came through fine. Followed the instructions (using the substitute suggested for the Super 10 and half-and-half AP and Odlums course meal for the first clear). It was remarkably easy. I floured _very_ heavily, and the ring came out with no adhesions. The tea towel I used had a pattern woven in which was transferred nicely to the dough balls. It looks good and tastes good. The only problem was that, using a 9 inch pan, two of the balls didn't quite touch their neighbors. Not a big deal, the ear held them together, but next time I will use an 8 inch pan. I think I'll also try my regular (non-ring) Brotform with the rice bowel in the middle to get that nice pattern. I was a little scared in the beginning because it looked so complicated in the picture, but it turned out to be very easy. The final product looks impressive, and makes me look like better baker than I really am.