A customized print-friendly version of this recipe is available by clicking the "Print Recipe" button on this page.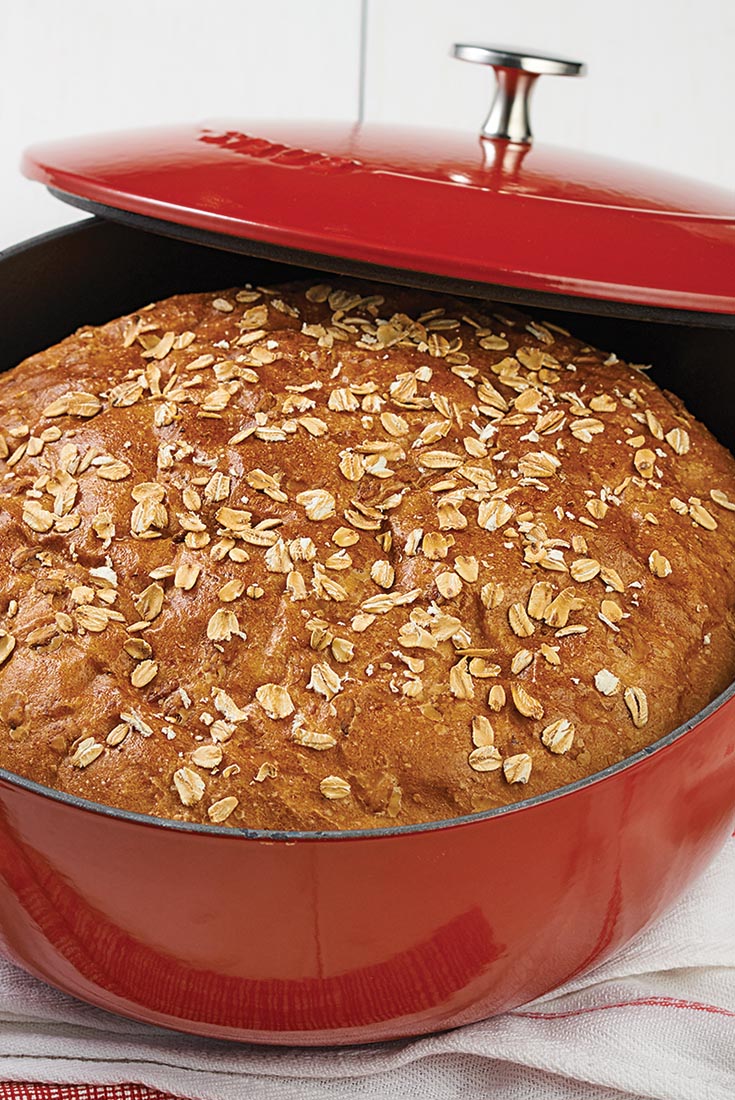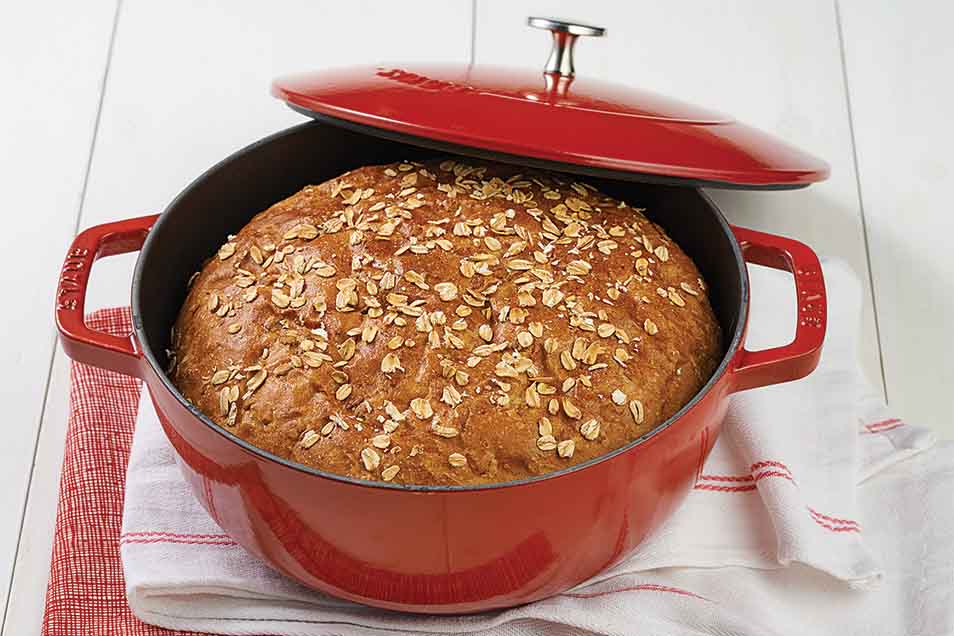 Plan ahead for this easy bread; an overnight or all-day rise gives it terrific flavor.
Instructions
Put all of the ingredients into a large bowl. Stir, then use your hands (or a stand mixer) to mix up a sticky dough. Continue to work the dough enough to incorporate all the flour, or beat for several minutes in a stand mixer.

Cover the bowl with plastic wrap, and let it rest at room temperature overnight, or for at least 8 hours; it will become bubbly and rise quite a bit, so be sure your bowl is large enough.

Turn the dough out onto a lightly floured surface. To make a single loaf, choose a 14" to 15" long lidded stoneware baker; a 9" x 12" oval deep casserole dish with cover; or a 9" to 10" round lidded baking crock. See "tips," below.

Shape the dough to fit, and place it in the lightly greased pan of your choice, smooth side up. Cover and let rise at room temperature for about 1 hour, until dough has become puffy and fills the pan about 3/4 full.

Garnish by sprinkling a handful of oats on top, if desired. If baking a round loaf, slash a hash mark pattern (#) on top.

Place the pan into a cold oven. To keep the bread's bottom crust from burning, set the rack in the middle, not at or near the bottom. Set the oven temperature to 450°F. Bake the bread for 45 to 50 minutes, then remove the lid and continue to bake for another 5 to 15 minutes, until the bread is deep brown, and an instant-read thermometer inserted into the center registers about 205°F.

Remove the bread from the oven, turn out onto a rack, and cool before slicing.
Nutrition Information
Serving Size

87g

Servings Per Batch

16
Amount Per Serving:
Calories

210

Calories from Fat

35

Total Fat

4g

Saturated Fat

2g

Trans Fat

0g

Cholesterol

10mg
Sodium

290mg

Total Carbohydrate

38g

Dietary Fiber

3g

Sugars

5g

Protein

7g
* The nutrition information provided for this recipe is determined by the ESHA Genesis R&D software program. Substituting any ingredients may change the posted nutrition information.
Tips from our bakers
For best results, use a heavy-duty crock or baker with a light-colored interior; uncoated cast iron isn't a good choice, as its dark surface can easily burn the bread's bottom crust. Likewise, a lightweight pan can brown the crust too quickly.
Reviews
Fabulous, light, moist texture. I used the Emile Henry bread and potato pot, but did run into it getting rather dark (albeit not burnt). I put it as high in my oven as the pot would allow (which is still rather low) and ended up tenting the top with foil for the last five minutes (the lid had already cooled from having been removed earlier). So far my family's favorite of your no-knead breads.
This was my first time making this recipe. I was a little confused at first by how much yeast to put in. I let the dough rise for nine hours and it was barely doubled. I let the dough rise for another hour in my dutch oven and it just finished baking. I dont know why it wasnt rising to begin with, but we will see how it tastes.
I have made this recipe over 100 times. I have made the following changes: 1 cup sourdough starter; 3 cups KA all purpose flour; 1 C whole wheat flour; 1 C rolled oats; 1/3 C steel cut oats; 4 T canola oil; 1T dark molasses; 2T vital gluten; 2 t yeast; 1/3 C brown sugar. I use the dough cycle on my bread maker. I've used loaf pans, but my favorite is a large clay roasting pan w/ cover. After 1 hour rise I put it in a cold oven, set temp @ 450, timer @ 45 mins. Then uncover and bake 10 mins more. Instant read thermometer usually hits 200 at that point, but I'll keep it in 5 mins or more if it's too low. This is my go to recipe.
Made this twice and both times it was burned before even taking lid off dutch oven.

Audrey, we're sorry to hear about your burnt bread, as we understand that can be disappointing. As some other bakers have pointed out, it can help to put your Dutch oven or bread baking crock on a baking sheet to help insulate the bottom from direct heat. Additionally, be sure your bread isn't placed too low in the oven. We've asked our Recipe Team to add some tips about these tricks to help ensure you and other bakers have success. Kye@KAF
Could I substitute some sourdough for the yeast? What flour/water amounts would you recommend changing to do so? This recipe is already perfect in every way and is my weekly go-to bread. I'd just like to be able to keep it weekly while still using/feeding my sourdough. Thanks for being awesome KAF question responders!

Converting a recipe to be naturally-leavened can be tricky, but we'll offer some tips to help guide your adjustments. You may consider using up to 2 cups of highly active, fed sourdough starter since this is a large recipe. You'll want to reduce both the flour and water by 8 ounces each if using the full 3 cups of starter. The rising time will likely be different when using your sourdough starter rather than yeast; your best bet is to watch it closely as it rises and move on to the next step once it looks puffy and fully risen. (This may take anywhere from 4 hours to overnight depending on the temperature of your kitchen and health of your starter.) Let your dough tell you when it's ready, then bake as directed in the recipe. Good luck! Kye@KAF
Tip: If you have a gas oven and the bottom of the bread is burning, try putting a large thick aluminum cookie sheet on a rack below the dutch oven (do not set the dutch oven on the cookie sheet - put the sheet on a rack between the dutch oven and the bottom of the oven) . You'll be amazed at the difference this will make in the quality of the crust.
Can you provide a recommendation on how to bake this in a loaf pan (not lid)? I do not have a Dutch oven just yet, it's on my list though. I'm a fairly experienced baker so I have my ideas, but I'd still rather have a general guideline from the experts. Thanks.

This recipe should fill two standard loaf pans, (8 1/2" x 4 1/2") and bake for 30-40 minutes or until the interior registers 190°F on an instant thermometer. Annabelle@KAF
I make this in my 4.5 qt cast iron dutch oven. I let it rise for 12 hours at room temperature. then work it on a floured board and transfer it to a bowl lined with floured parchment paper for one hour. I preheat the oven to 450 degrees for about an hour. At the half hour mark I place the Dutch oven in the oven to preheat. Be careful pulling it out as it is very hot. I transfer the dough to the dutch oven place the lid back on and bake for 25 minutes. I then remove the lid and bake an additional 12 minutes. I came up with these times though trial and error along with advice from King Arthur helpline. it comes lightly brown and crusty.
I made the dough yesterday and let set overnight. Got up early this morning, let it rise for an hour, then baked as directed. After 45 minutes I took off the lid and set the timer for an additional 15 minutes. Bread did not test at 205 degrees so I put the lid back on & baked for an additional 10 minutes. The crust on the bottom burned and it still was not 205 degrees, only 200 degrees. I baked it in my 5 qt dutch oven. Haven't tasted it yet, put it on the counter to cool and went to work. Wonder what I did wrong....

Cathy, we hope the flavor of the bread made up for some of the difficulty you had baking. If we were to hazard a guess, we'd guess that you started timing as soon as the loaves went into the oven, but when using a cold start method, you'll want to start timing as soon as the oven comes up to temp. Think of the first part as a faster, warmer rise. Had you waited to start timing, your loaf would have remained lidded for longer, allowing the internal temp to rise even more. The bottom could still have burned in this case, which may be a sign that your bread would also benefit from being baked higher in your oven. Hope this helps to make for an even better second bake! Mollie@KAF
Wonderful bread! This is my "go to" recipe and I've baked around eight loaves so far. Feedback from friends and family has been extremely positive. Not realizing that the timer was supposed to be set when the oven reached 450 F I wound up playing with the time in my oven (YMMV) and found 55 minutes from turning the oven on plus 5 minutes with the cover off to finish browning works perfectly and consistently with my Lodge dutch oven. I've been using KAF bread flour with 6 gm added gluten. Will use straight bread flour next time to see if it has an impact. I always let the bread ferment overnight - at least 12 hours. Great flavor, texture, and keeping qualities. As a widower I cut the loaf in half, refrigerate one portion while I consume the other at room temperature. No staling issues at all so far.