A customized print-friendly version of this recipe is available by clicking the "Print Recipe" button on this page.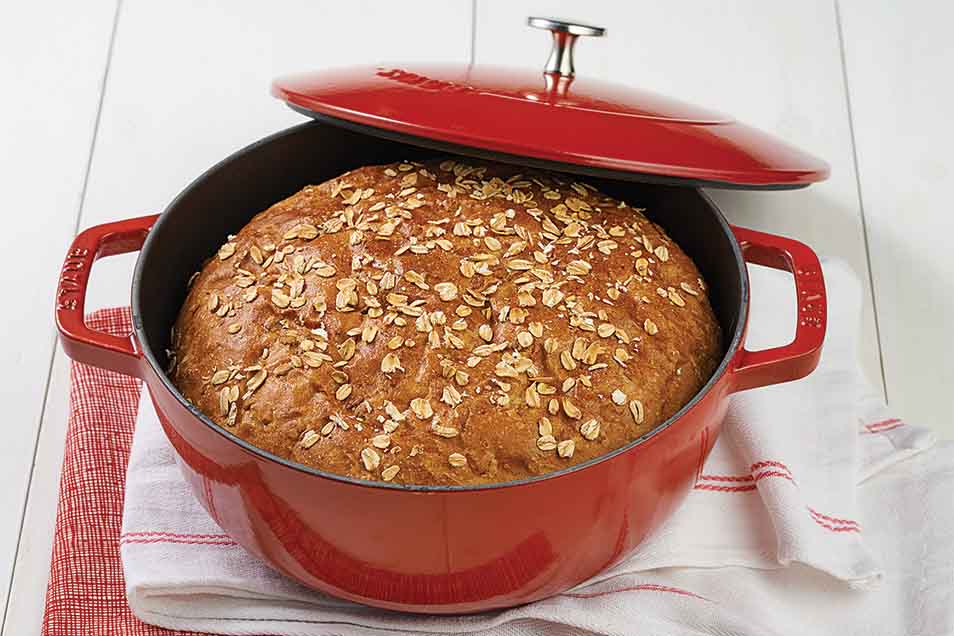 Plan ahead for this easy bread; an overnight or all-day rise gives it terrific flavor.
Instructions
Put all of the ingredients into a large bowl. Stir, then use your hands (or a stand mixer) to mix up a sticky dough. Continue to work the dough enough to incorporate all the flour, or beat for several minutes in a stand mixer.

Cover the bowl with plastic wrap, and let it rest at room temperature overnight, or for at least 8 hours; it will become bubbly and rise quite a bit, so be sure your bowl is large enough.

Turn the dough out onto a lightly floured surface. To make a single loaf, choose a 14" to 15" long lidded stoneware baker; a 9" x 12" oval deep casserole dish with cover; or a 9" to 10" round lidded baking crock. See "tips," below.

Shape the dough to fit, and place it in the lightly greased pan of your choice, smooth side up. Cover and let rise at room temperature for about 1 hour, until dough has become puffy and fills the pan about 3/4 full.

Garnish by sprinkling a handful of oats on top, if desired. If baking a round loaf, slash a hash mark pattern (#) on top.

Place the pan into a cold oven. To keep the bread's bottom crust from burning, set the rack in the middle, not at or near the bottom. Set the oven temperature to 450°F. Bake the bread for 45 to 50 minutes, then remove the lid and continue to bake for another 5 to 15 minutes, until the bread is deep brown, and an instant-read thermometer inserted into the center registers about 205°F.

Remove the bread from the oven, turn out onto a rack, and cool before slicing.
Nutrition Information
Serving Size

87g

Servings Per Batch

16
Amount Per Serving:
Calories

210

Calories from Fat

35

Total Fat

4g

Saturated Fat

2g

Trans Fat

0g

Cholesterol

10mg
Sodium

290mg

Total Carbohydrate

38g

Dietary Fiber

3g

Sugars

5g

Protein

7g
* The nutrition information provided for this recipe is determined by the ESHA Genesis R&D software program. Substituting any ingredients may change the posted nutrition information.
Tips from our bakers
For best results, use a heavy-duty crock or baker with a light-colored interior; uncoated cast iron isn't a good choice, as its dark surface can easily burn the bread's bottom crust. Likewise, a lightweight pan can brown the crust too quickly.
Reviews
A delicious (and forgiving) bread. I used molasses instead of brown sugar, and dropped back the water by 2 tablespoons (for half recipe). I made it in the morning, intending to bake 8 hours later, but ended up not baking it until morning. It happily sat in its bowl on the counter all night and baked up beautifully the next morning. I used a casserole dish and forgot to put the lid on, but it baked happily too. Absolutely delicious. Next time I will cut the salt back a little bit. And there will be lots of next times!
My first attempt was pretty good. I used my cast iron Dutch oven so it got too brown but the inside was amazing. I'm trying this again tomorrow and I have a new oven that has convention. Should I turn the convention part on when I remove the lid??

Hi Jennifer! We wouldn't recommend the convection setting when baking bread, the fans often lead to uneven browning. The exterior getting too dark could have been from an oven that was a little too hot or the bread just needed to come out of the oven a little sooner than expected. Happy baking! Morgan@KAF
So good and so easy. Made this twice, a half recipe in a smaller Dutch oven. First time made as written (by weight). Second time with these adjustments: 1 Tbs (15g) less water, halved the sugar, added to a preheated empty pot instead of cold start (parchment "sling" works great). The second time dough was easier to handle and bread had much better oven spring, with an airier crumb. Sugar was just a preference. Delicious both times. Will definitely keep making this recipe.
More of an update to a previous review. I have baked it both my my bread & potato pot and in a ceramic Dutch oven. Because neither fits in my oven without lowering the shelf into the lower third, I had gotten an overly brown bottom. This time, I put an insulated cookie sheet underneath my Dutch oven and that worked beautifully to keep the bottom from overly browning. I made it with the high gluten rather than AP flour this time. The texture is wonderful, the interior moist with a nice crunchy crust, and the flavor is great.
I baked this once and it is tasty, but didn't rise properly. I only have ADY, but that hasn't been a problem in any other recipe so far. I dissolved it in 1/4 cup of 110° water and let that sit for about 15 minutes before mixing it all together. (I also have Fleischmann's "Instant" Bread Machine Yeast - should I use that next time?) I made it the night before, so it had a plenty long first rise. (Could it have sat too long?? It didn't look deflated.) In the am, I saw that it was only puffy, but not much bigger, so I tried to rise it the normal way: I put the light on in the oven and set the shaped loaf in there with a pan of hot water underneath. This has worked well for other recipes. Again, it got puffy, but didn't rise much. So I did a third rise, with the same result. I went ahead and baked it. Baked it in a 10" dutch oven, it produced a rather squat but very tasty loaf. There are nice tunnels in the bread, and it is quite tasty. If this is what a failure tastes like, then this isn't a bad recipe. I'd just like to know how to fix it for next time.

Hi Kirsten! It sounds pretty normal for a no-knead loaf, but we're happy to give some tips on getting a higher oven spring. The first is to give it a nice tight shaping. To see the technique we prefer, head to the "Learn" section of our website, click on the Sourdough Guide, and go to the "Bake" page for a handy video. The second thing you can try is to preheat your Dutch oven base (if the manufacturer says that's OK) with the oven. Let your dough rise in some parchment in a bowl so that you can carefully lower the loaf down into the hot pot by holding onto the parchment. Then add the lid and bake away. You don't need to preheat the lid but it doesn't hurt. That extra heat really helps the loaf rise significantly in the oven. We hope this helps! Annabelle@KAF
This is a good recipe that produces a good size loaf that is delicious and would make a good sandwich bread. We eat it toasted in the morning with butter. I substituted 1/2 cup of Nutiva Superseed blend that I bought at Costco (Organic ground flaxseed, organic ground chia, organic dried coconut, organic coconut sugar, organic shelled hempseed) in place of 1/2 cup of the white flour, but otherwise made the recipe as is. It added a nice texture to the bread. For the final rise I placed it in my 5 quart cast-iron Dutch oven on a piece of parchment paper sprayed with cooking spray. After baking, just lift it out of the pan. Easy peasy!
Great rise, great taste, only downside to this and every other homemade bread recipe is you cannot maintain the aroma and taste of the bread in that golden time just after it has cooled from the oven. No knead just sounds like we are lazy so it should be called "Flavor Enhanced by Time" bread.
Fabulous, light, moist texture. I used the Emile Henry bread and potato pot, but did run into it getting rather dark (albeit not burnt). I put it as high in my oven as the pot would allow (which is still rather low) and ended up tenting the top with foil for the last five minutes (the lid had already cooled from having been removed earlier). So far my family's favorite of your no-knead breads.
This was my first time making this recipe. I was a little confused at first by how much yeast to put in. I let the dough rise for nine hours and it was barely doubled. I let the dough rise for another hour in my dutch oven and it just finished baking. I dont know why it wasnt rising to begin with, but we will see how it tastes.
I have made this recipe over 100 times. I have made the following changes: 1 cup sourdough starter; 3 cups KA all purpose flour; 1 C whole wheat flour; 1 C rolled oats; 1/3 C steel cut oats; 4 T canola oil; 1T dark molasses; 2T vital gluten; 2 t yeast; 1/3 C brown sugar. I use the dough cycle on my bread maker. I've used loaf pans, but my favorite is a large clay roasting pan w/ cover. After 1 hour rise I put it in a cold oven, set temp @ 450, timer @ 45 mins. Then uncover and bake 10 mins more. Instant read thermometer usually hits 200 at that point, but I'll keep it in 5 mins or more if it's too low. This is my go to recipe.