A customized print-friendly version of this recipe is available by clicking the "Print Recipe" button on this page.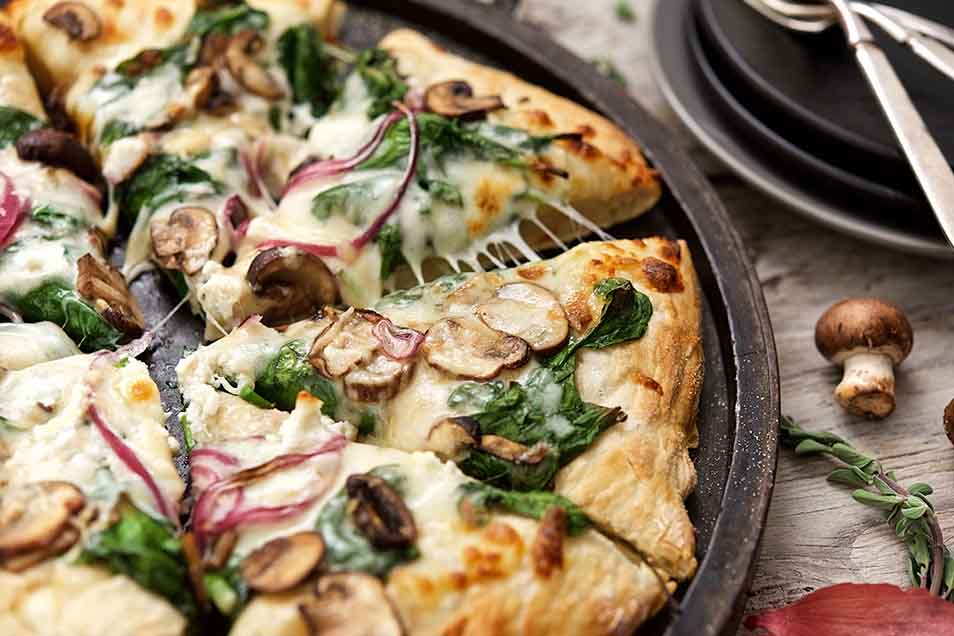 No-knead yeast bread has morphed from revolution to evolution: from a simple loaf baked in a Dutch oven, we now have access to recipes for no-knead brioche, cinnamon buns... and pizza crust. Our thanks to Jim Lahey, of New York City's Sullivan St. Bakery, for the inspiration for this version of no-knead pizza.

This is not your typical thin-crisp or soft-chewy crust. It's somewhere in between; thin in spots, thicker in others, with crackly-hard edges and lots of chew. This is definitely crust you have to "grip and rip;" an adult-type crust, probably not suitable for little kids.


Ingredients
Crust
1/4 teaspoon instant yeast
1 1/2 teaspoons salt
1 1/2 cups water, barely lukewarm (about 78°F)
Toppings
your favorite pizza toppings
Instructions
Combine all of the dough ingredients in a large bowl, stirring just to combine. The dough will be very loose and sticky, almost like cottage cheese in texture.

Cover the bowl and let the dough rest at cool room temperature (preferably not above 72°F) overnight, anywhere from 12 to 24 hours. We prefer a rest of about 16 hours. The dough will rise and develop lots of bubbles.

Heavily flour a silicone kneading mat or clean work surface, and pour/scoop the dough out of the bowl. Sprinkle more flour on top. Turn the dough over on itself a few times; a bowl scraper or spatula is a help here. Start preheating the oven to 450°F. If you have a pizza stone, put it on the middle shelf of the oven.

Divide the dough in half. Cut a sheet of parchment in half; you should have two pieces of parchment, each about 8" x 12".

Gently pat each piece of dough into an oval about 1/4" (or less) thick, right on the parchment. You may also choose to leave the dough in one piece, and pat it into a large (14" to 16") circle, but the larger size makes it more difficult to move around. If you're not using a pizza stone, slide the pizza crusts, with their parchment, onto a baking sheet.

Spray the crusts with water. Bake them in a preheated 450°F oven for about 12 minutes on a pizza stone, or about 16 minutes on a baking sheet. If the crusts puff up, prick them with a cake tester or toothpick. Remove them from the oven when they're just beginning to brown on top.

Add toppings. They should be pre-cooked; e.g., no raw meat, no crunchy onions, etc. We like to lay down a bed of cheese first, then toppings, then more cheese.

Bake for an additional 4 to 8 minutes, or until the toppings are hot and the cheese is melted.

Serve immediately.

Store any leftovers, well wrapped, in the refrigerator for a couple of days; freeze for longer storage.
Reviews
great recipe. will make it again.
How much whole wheat flour can be safely substituted for the regular flour? I was figuring 1/2 to 1 cup is the safest range. We ADORE this recipe in its standard form and are eagerly experimenting with it as we try to add more whole grain to our diets.

Tina, we're so glad to hear this recipe has been a success for your pizza nights! We recommend starting by substituting up to half of the white flour for whole wheat flour to see if you like the textural and flavor differences. If so, go ahead and add even more next time. To offset any of the heavy/dense qualities that can come from using whole whole flour, we recommend adding about 1 tablespoon of extra water for every cup of whole wheat flour you use. Happy pizza baking! Kye@KAF
This is a great recipe - makes perfect pizza every time. For added convenience, after keeping the dough at room temperature for 12 hours or so, it can be refrigerated for up to 5 days. During the week, simply remove a dollop of dough, stretch and fold it a few times, allow it to sit at room temp for 15-30 minutes. Then shape it into a rectangle, bake as directed, top it with your favorite (cooked) foods, put it back in the oven to heat and supper's on the table! This makes delicious pizza the surpasses anything you can buy in a restaurant or supermarket. One last tip: consider using homemade tomato sauce.
I absolutely love this recipe! I wonder, can it be frozen after the first baking? I'd love to be able to thaw and use, but don't want to mess it up by using a bad temp or timing for the reheat and topping stage.

If you would like to freeze this recipe, we recommend doing this after the crust has baked for 12 minutes. Allow the crusts to cool completely and then freeze in zip lock bags or by wrapping individually in plastic wrap. You can take them out the night before you'd like to use them and let them thaw overnight in the fridge. Let them come to room temperature for 1-2 hours before topping and then baking for 4-8 minutes or until the cheese has melted. Happy pizza baking! Kye@KAF
I need to add that I did not spray water on the dough, I rolled it out as a traditional pizza , added my sauce and cheese, then baked at 550 degrees. The dough baked to a similar color as pictured and charred in spots similar to a brick oven.
It was fast and easy. I do not have the High-Maize Fiber, so I used wheat bran instead. I would make it again when I have a busy schedule and I have limited time to make dough.
I've tried at least three or four dough recipes from your site and this is my new favorite. I mixed it up on a weekday morning at 7 and then made the pizzas around 7 p.m. in the evening. The taste was great -- just enough saltiness and the dough was wet but easy to work with if using parchment. I actually used all-purpose flour and my dough turned out great. I can't wait to see what this would taste like with the Hi-Maize flour, which I intend to purchase soon. This will be my go-to dough recipe from now on.
It is easy to make & we love a thin crispy crust. I add easy roll dough improver. You can keep it a few days in the refrigerator & it is still good. I have made a circle added sloppy joes rolled over pinched together and it was delicious!
When I hit printable version the next page has no print icon. What am I doing wrong?
You'll find the print option by choosing File in the upper left corner - then choose print from the list of options displayed. Happy Baking - and happy printing! Irene@KAF
I only have access to the yeast in the packets. "Rapid Rise" and "active dry" - can I substitute a package of this instead of instant yeast? If so, how much and which one? Thank you.
Please don't use the Rapid Rise yeast unless it is specifically called for in a recipe. You can use the active dry yeast in place of instant yeast in a recipe - same amount, same procedure. Happy Baking! Irene @ KAF