A customized print-friendly version of this recipe is available by clicking the "Print Recipe" button on this page.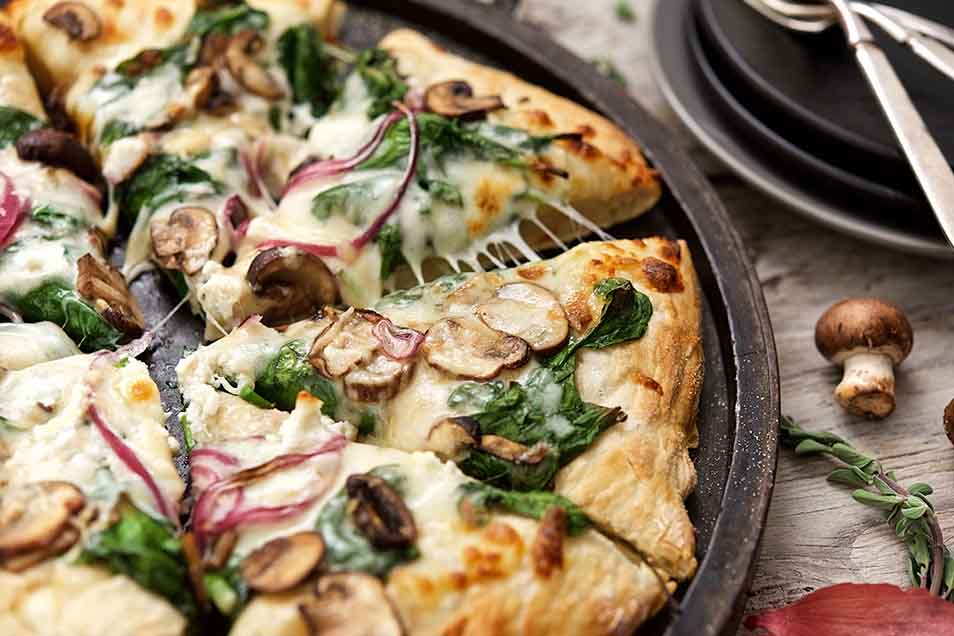 No-knead yeast bread has morphed from revolution to evolution: from a simple loaf baked in a Dutch oven, we now have access to recipes for no-knead brioche, cinnamon buns... and pizza crust. Our thanks to Jim Lahey, of New York City's Sullivan St. Bakery, for the inspiration for this version of no-knead pizza.

This is not your typical thin-crisp or soft-chewy crust. It's somewhere in between; thin in spots, thicker in others, with crackly-hard edges and lots of chew. This is definitely crust you have to "grip and rip;" an adult-type crust, probably not suitable for little kids.


Ingredients
Crust
1/4 teaspoon instant yeast
1 1/2 teaspoons salt
1 1/2 cups water, barely lukewarm (about 78°F)
Toppings
your favorite pizza toppings
Instructions
Combine all of the dough ingredients in a large bowl, stirring just to combine. The dough will be very loose and sticky, almost like cottage cheese in texture.

Cover the bowl and let the dough rest at cool room temperature (preferably not above 72°F) overnight, anywhere from 12 to 24 hours. We prefer a rest of about 16 hours. The dough will rise and develop lots of bubbles.

Heavily flour a silicone kneading mat or clean work surface, and pour/scoop the dough out of the bowl. Sprinkle more flour on top. Turn the dough over on itself a few times; a bowl scraper or spatula is a help here. Start preheating the oven to 450°F. If you have a pizza stone, put it on the middle shelf of the oven.

Divide the dough in half. Cut a sheet of parchment in half; you should have two pieces of parchment, each about 8" x 12".

Gently pat each piece of dough into an oval about 1/4" (or less) thick, right on the parchment. You may also choose to leave the dough in one piece, and pat it into a large (14" to 16") circle, but the larger size makes it more difficult to move around. If you're not using a pizza stone, slide the pizza crusts, with their parchment, onto a baking sheet.

Spray the crusts with water. Bake them in a preheated 450°F oven for about 12 minutes on a pizza stone, or about 16 minutes on a baking sheet. If the crusts puff up, prick them with a cake tester or toothpick. Remove them from the oven when they're just beginning to brown on top.

Add toppings. They should be pre-cooked; e.g., no raw meat, no crunchy onions, etc. We like to lay down a bed of cheese first, then toppings, then more cheese.

Bake for an additional 4 to 8 minutes, or until the toppings are hot and the cheese is melted.

Serve immediately.

Store any leftovers, well wrapped, in the refrigerator for a couple of days; freeze for longer storage.