A customized print-friendly version of this recipe is available by clicking the "Print Recipe" button on this page.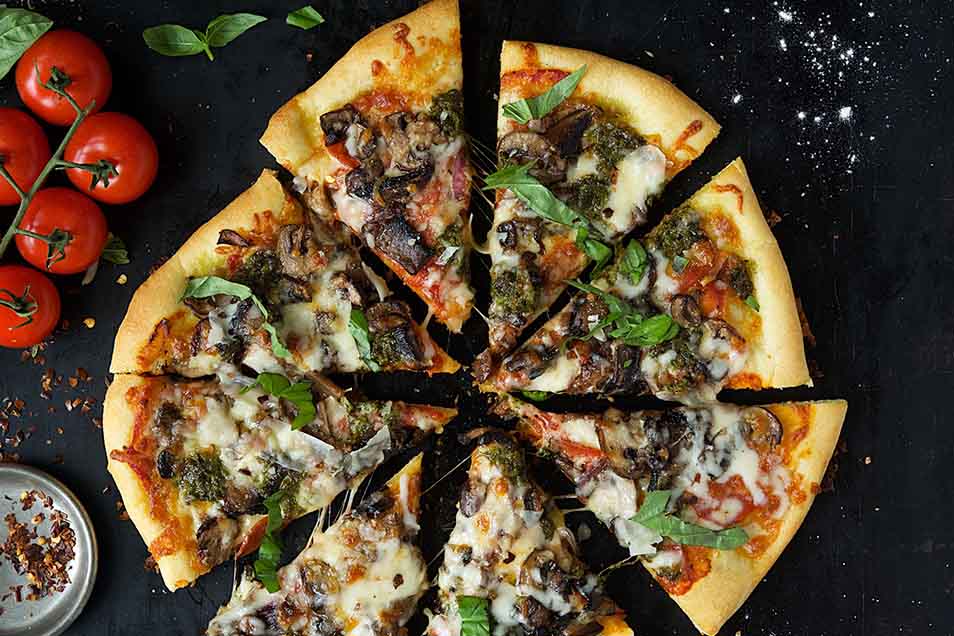 With a little chew and crunch from semolina, and the flexibility to be whatever style of crust you like, this recipe is a great favorite in our test kitchen. Whether you shape it thin or thick, and make it today or tomorrow, this dough bakes up crisp on the bottom and light and airy inside.
Ingredients
Toppings
tomato sauce, cooked meats, vegetables, and cheeses of your choice; see tips, below
Instructions
For the dough: Beat the ingredients at high speed of your electric mixer, using the beater blade, for 2 minutes. Switch to the dough hook, and knead for 7 minutes; the dough should be smooth and quite soft. You can also make the dough in a bread machine set on the dough cycle. If kneading by hand, mix the ingredients, then let the dough rest, covered, for about 30 minutes; this will give the flour a chance to absorb the water, which will make kneading easier.

Allow the dough to rise, covered, for 45 minutes; then refrigerate it for 4 hours (or up to 36 hours); this step will develop the crust's flavor. It'll continue to rise in the fridge, so make sure it's in a big enough bowl.

Divide the dough in half. Note: for thick, Sicilian-style pizza, leave the dough in one piece, and press it into a rimmed half-sheet pan (18" x 13").

Working with one piece of dough at a time, pick it up and let gravity gently stretch it into an oval. For a more circular shape, move your hands around the perimeter of the dough as it stretches. For thin-crust pizza, make a 12" round or oval. For thick-crust, make a 9" round.

Cover the dough, and let it rest while you heat your oven to 450°F. For thickest crust, let your pizza rest/rise for 60 minutes before baking.

To bake: After about 30 minutes, use a giant spatula or pizza peel to transfer the pizzas and parchment to your hot oven stone; or place the pizzas and parchment on a pan, and place the pan on the middle rack of your oven.

Bake for 6 minutes (for a thinner, larger crust), or for up to 8 minutes for a smaller/thicker crust. Remove from the oven.

To enjoy pizza right away, top it with your favorite toppings, return to an upper rack of the oven (not to the stone), and bake for an additional 8 minutes, or until the crust is golden brown and the filling bubbly.

To serve pizzas some other time, remove the parchment, cool the un-topped crusts, wrap them well in plastic wrap, and store at room temperature for 2 or 3 days. Refrigerate for up to 5 days; or freeze for up to 4 weeks.

When you're ready to serve, remove the crusts from the refrigerator or freezer. While they warm to room temperature, heat your oven to 450°F; frozen crusts should be taken out of the freezer and thawed earlier in the day; leave them in the bag, but leave the bag open as they thaw. Top crusts with your favorite toppings and place them on a parchment-lined or greased baking sheet, then on an upper rack of the oven. Bake the pizzas for 8 to 10 minutes, or until the crust is golden brown and the filling bubbly.

Yield: 1 large or 2 medium pizzas.
Nutrition Information
Serving Size

42g (no toppings)

Servings Per Batch

16
Amount Per Serving:
Calories

112

Calories from Fat

18

Total Fat

2g

Saturated Fat

0g

Trans Fat

0g

Cholesterol

0g
Sodium

240mg

Total Carbohydrate

20g

Dietary Fiber

1g

Sugars

0g

Protein

3g
* The nutrition information provided for this recipe is determined by the ESHA Genesis R&D software program. Substituting any ingredients may change the posted nutrition information.
Tips from our bakers
Here are some of our favorite toppings:
*Thinly sliced tomato, fresh mozzarella, and basil;
*Garlic oil, sautéed wild mushrooms, goat cheese, and Parmesan cheese;
*Chopped onions, mushrooms, pepperoni, cheddar, and marinara;
*Garlic oil, shaved Brussels sprouts, pancetta, shallots, and Parmesan cheese;
*Pesto, red onion, roasted red peppers, sweet Italian sausage, and mozzarella cheese;
*Garlic oil, ricotta cheese, feta cheese, spinach, and Kalamata olives.
Another way to bake: Instead of par-baking the crust, consider leaving off the cheese for the first two-thirds of the bake time. This allows liquid from the sauce and toppings to evaporate, concentrating their flavor. Melted cheese can act like a lid, trapping moisture and making dough soggy instead of crisp. After the edges of the pizza begin to brown, remove from the oven, add cheese, and return to the oven to finish baking.
Want to add some whole wheat to the crust? Substitute 1 1/4 cups (5 ounces) King Arthur White Whole Wheat Flour for the semolina.
If you use all-purpose flour in place of the semolina, reduce the water in the recipe to 7/8 to 1 cup.
Reviews
I made this tonight for our Valentine's Day dinner. Huge hit with the hubby and kids. Excellent flavor and texture (I think it's the semolina flour). I followed the directions carefully but used 2 T of pizza dough flavor (really like that product) instead of 1T + 1 t. Super easy to prepare - I tossed everything into my bread machine and used the "dough cycle" (followed their directions) and when it was complete I put the dough into a lightly oiled dough bucket which I covered with plastic wrap and popped into the refrigerator. When it was "show time" (about 8-9 hours later) - I cut the dough in 1/2 and rolled each piece - we like our pizza fairly thin......the dough was chewy, crispy and oh.....so delicious. Next time I'm going to make a broccoli rabe and sausage pizza.......this recipe is a keeper........
Excellent flavor and texture. I used the bread machine and subbed some bread flour for ap. I used this for a stromboli recipe and found the dough easy to handle, no stubborn snap back.
I've used this recipe many times and it's always very good and works well! I like the semolina in it, it adds something I can't describe to both the taste and the texture. Sometimes I refrigerate it but more often I just let it rise for 1-2 hours, separate into individual single serving size crusts, let them rise again and then par-bake, cool, wrap and freeze...works perfect! Has anybody tried their pizza dough flavoring? I was just wondering what it's like and what's in it. I like making my own foods because I know then exactly what's in it and what isn't (preservatives, GMO's, etc.) so it kind of defeats the purpose to add an ingredient that's full of those things. Anyway, very nice recipe as are all of King Arthur's recipes!

Hi Annie, our Pizza Dough Flavor is a great way to kick the flavor of your pizza up a notch. It adds a slightly cheesey flavor that's punctuated with hints of garlic and Italian herbs. For the full list of ingredients, you can click on Pizza Dough Flavor where it's listed in the ingredients and then click on "Nutrition + ingredients" (above the Add to Cart button) to see the full product package. We think you might like giving it a try. Happy pizza baking! Kye@KAF
This pizza crust has good flavor. I enjoyed it very much. I did have a problem trying to stretch the dough with my hands & knuckles like you see them doing in pizza parlors, to get a thin crust. The cold dough was not budging at all. Next time i will let it warm up a bit before trying to stretch it. Otherwise a nice pizza crust.
To be clear, I'm reviewing technique, not recipe, I use a modified Bobby Flay pizza dough (AP KAF flour and 1T honey instead of 1 tsp. sugar). Recently my 17 year old requested BBQ Chicken pizza for their birthday dinner. Twelve people. One regular old oven. I could not figure out how to manage it. I used this cooking method and it was perfect. Pizzas were delicious. I simply parbaked the dough according to the directions, let them sit overnight and finished them the next day. Perfection! Thank you, always, KAF.
Not one of the better kaf pizza dough recipes. Tried this instead of our usual recipe that requires 24 hours fridge time bc we wanted pizza the same day. Made the dough in the morning and the pizzas at dinnertime. Just didn't rise like the pictures on the blog at all.

There are a number of reasons why dough might not rise quite as much as you'd like it to, but the good news is that it's usually easy to troubleshoot. Feel free to give our Baker's Hotline a call at 855-371-BAKE(2253) if you'd like to look into this further, or you can simply continue enjoying the other recipes you seem to prefer more. Either way, happy pizza making! Kye@KAF
I let the dough sit in covered in the refrigerator overnight. The bottom part of the dough was a little damp so I sprinkled a small amount of semolina flour on a very lightly oiled 13x18 half sheet pan before spreading the dough out on the pan and let it sit covered for aprox 30 mins. I pre-baked the dough for 4 mins, then added topping and cooked an additional 9 mins (turning the pan at the halfway point). The pizza came out very good and held up to the thick tomato sauce and toppings we like on our pizza.
My boyfriend said, "This is the best pizza I've had in a long time." I had to agree. This was not only an incredibly easy recipe but it was also the best, most flavorful, perfect pizza crust I've had in ages. It far exceeds any restaurant and we live in Chicago!! I followed the directions for baking and it yielded the perfect crispy-bottomed, chewy, moist pizza crust. I used all AP flour. I bought the pizza seasoning just for this recipe and it is amazing! I even let the dough sit in the refrigerator for closer to 48 hours due to being out later than expected and it was utterly amazing. I made one pizza with all the dough. I didn't stretch it all the way to cover my half sheet pan. It puffed up like a huge pillow during the pre-bake! I just poked a couple holes, allowed the steam to escape, topped it and put it back in directly on the rack.