A customized print-friendly version of this recipe is available by clicking the "Print Recipe" button on this page.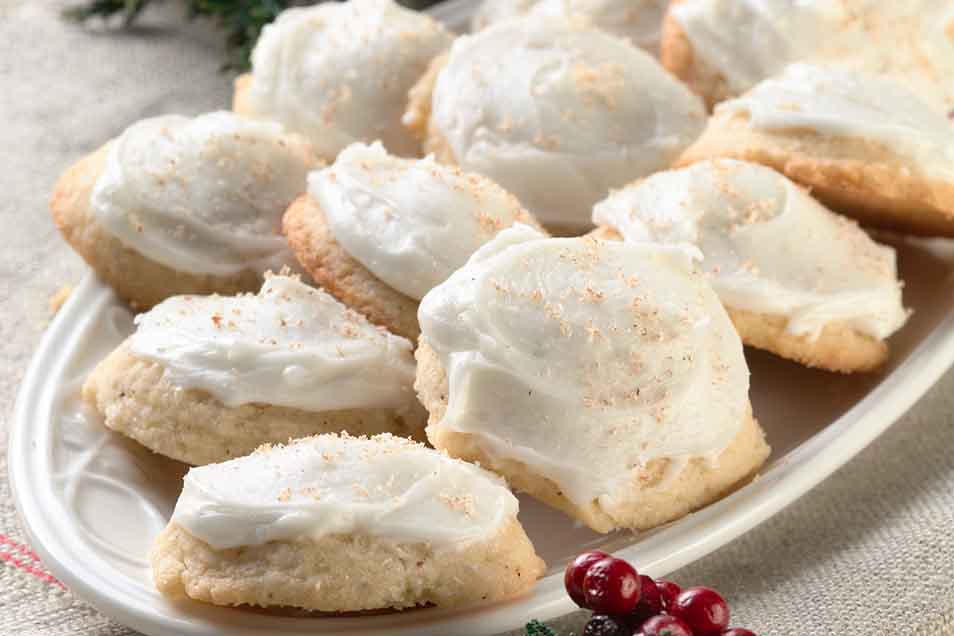 Little domes of holiday cheer, these two-bite cookies are perfect for your cookie swap or cookie tray. The rum icing and dusting of nutmeg sets these cookies in the "grown-ups" category, but rum flavoring may be used if the little ones will be sharing too.
Ingredients
Nutmeg cookie dough
1 cup unsalted butter, softened
3/4 cup sugar
1 teaspoon ground nutmeg
1/2 teaspoon salt
1 large egg, room temperature
2 teaspoons vanilla
Rum icing
1 1/2 cups confectioners' sugar, sifted
2 tablespoons unsalted butter, softened
2 to 3 tablespoons rum
Instructions
Line two baking sheets with parchment paper and set aside.

In the bowl of your mixer, combine all ingredients and blend on medium speed until a soft, smooth dough forms, about 2 minutes.

Wrap and chill the dough for 1 hour. Towards the end of the chill time, preheat the oven to 350°F.

Drop 1-tablespoon sized dough balls onto your baking sheet. A heaped teaspoon cookie scoop makes this job a snap. Bake the cookies for 8 to 10 minutes. The edges will be slightly browned and the cookies will be round and domed.

Cool the cookies completely. Prepare the icing by blending the softened butter and confectioners' sugar. Add rum one tablespoon at a time until you have a spreadable icing. Top each cookie with a dollop of icing and a dash of nutmeg. If you prefer not to use actual rum, you can use heavy cream and a few drops of rum flavoring.

Yield: Approximately 3 to 4 dozen cookies.
Reviews
Just made these and love them! After reading through the comments, I used 2-1/2 cups of flour in the dough and it came together perfectly. I used cardamom in place of the nutmeg just because I love it and its fantastic. The icing is the perfect touch too! Thanks for another great recipe KAF
My cookies did not spread at all, just stayed in a ball from the scoop. That means they didn't bake through, even in 13 minutes. (Yes I checked my oven temperature, and it's spot on). The second sheet I flattened out with a glass, they cooked in 12 minutes. The flavor is just OK, not great. The frosting did not come together with the amount of butter listed. I used twice the amount of butter to make a creaamy mixture. The rum flavor really didn't come through. Overall, I would not make again.

We're sorry to hear that this recipe had so many hiccups for you, Elizabeth. We'd love the chance to talk through the recipe with you, so we encourage you to reach out to our free and friendly Baker's Hotline staff to help troubleshoot at 855-371-BAKE (2253). Kindly, Annabelle@KAF
I left off the frosting because we felt the cookie was good enough on its own. If you substitute eggnog flavoring for the vanilla extract, it makes a really nice Christmas butter cookie- not too sweet, great with coffee.
These cookies are delicious! I found the dough perfect and not dry at all. I did use two tablespoons rum. Will frost half the batch with rum and half without for the kids. The flour was weighed. Thanks, King Arthur.
I have made these cookies multiple times. I've always weighed the flour and had no issues, especially when mixing for over a minute in my stand mixer. These have become favorites of many with whom I've shared. I too have limited the amount of alcohol in the frosting, but by adding fresh nutmeg over the top of the frosted cookie takes the flavor over the top.
Like many other reviewers, I found the dough to be way too dry. I added the smallest splash of milk, which made the dough come together. I was worried it wouldn't taste good because of all the extra mixing while attempting to form a dough. I decided to trust KAF and I was not disappointed. These cookies ended up being quite delicious! Now that I know to either reduce the flour a bit or add that splash of milk, I think they'll be even more delicious next time. I added some maple extract to the frosting and I think that took them over the top.

That's a great bit of advice we give frequently on the Hotline; even if you measure perfectly, a dry climate or kitchen will necessitate a splash of milk in the dough. Laurie@KAF
My dough would just *not* come together so, after reading the other comments (and being too late to reduce the flour) I added just a splash of milk. The dough came right together. Next time I'll reduce the flour as recommended in the comments. Otherwise an excellent cookie and something a bit different to offer.
I made these to take to my in-laws' for Christmas Eve. As soon as my husband tried them, I knew by the look on his face that one batch was not enough for the whole family. I turned right around and made a second batch. They're easy enough that I could do that with no trouble! I would like to add that I made the recipe exactly as written, measuring the flour by weight. The dough felt a little dry at first, but I kept stirring for a minute, and the dough came together with no trouble, just as Mary Jane said it would! I'm so glad to have a new holiday favorite in my cookie repertoire.
Dough was way too dry as instructed. I drizzled some half and half in as the mixer ran until I got a less-dry consistency. I also added extra nutmeg and a dash of allspice to up the holiday feel. With these changes, delicious!!
the dough did not come together for me as it was too dry (flour was done by weight) so i added an egg. i see from other posters that they reduced the flour. the instructions to make it the size of a tablespoon using a teaspoon scoop was confusing! i do find using only alcohol as the liquid in the frosting makes it stronger than i care for. next batch i will use milk and alcohol. i really wanted to love this and i think i can, but it needs to be tweaked. be nice if the recommend question had more options, i would recommend with caution
I'm sorry this recipe did not meet your expectations. For help troubleshooting this recipe, please give our Baker's Hotline a call at 855-371-2253. Barb@KAF