A customized print-friendly version of this recipe is available by clicking the "Print Recipe" button on this page.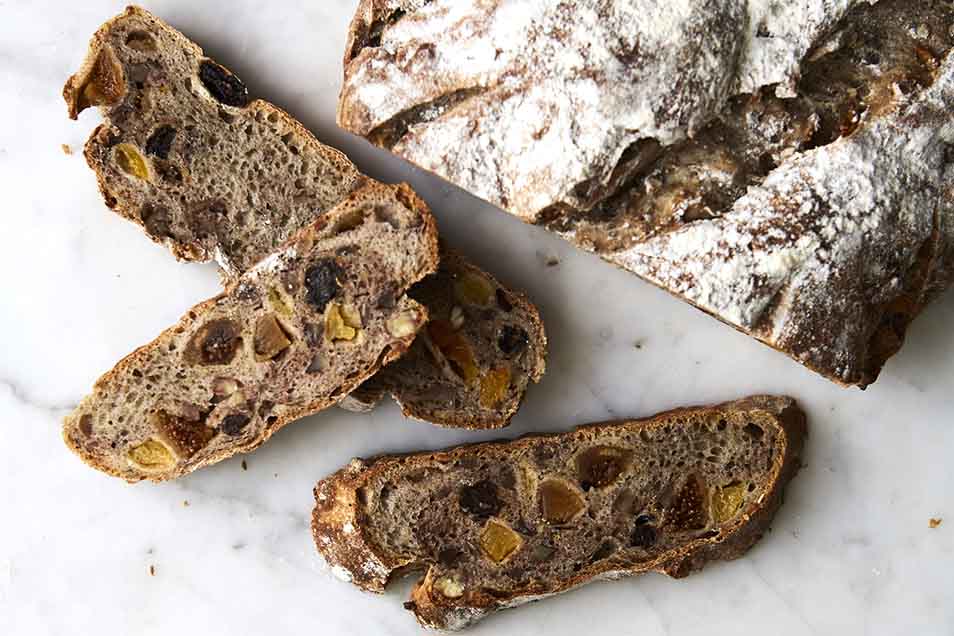 This dense, moist, gently tangy bread makes wonderful breakfast toast. Or slice it very thin, and spread it with cream cheese or butter — what a treat!
Instructions
Mix all of the ingredients (except the fruit and nuts) by hand, mixer, or bread machine until you've created a smooth, elastic dough. Because the consistency of sourdough starters vary, you may need to add a bit of extra flour or water; the dough should be medium-soft but not sticky.

Add the dried fruit and nuts, kneading until they're evenly incorporated. Place the dough in a lightly greased bowl, cover, and let rise for 1 1/2 to 2 hours.

Turn the dough onto a lightly greased or floured surface, and form it into a fat log. Place the log into an Italian stoneware baker that's been greased on the bottom, or onto a lightly greased or parchment-lined baking sheet.

Cover the loaf, and let it rise for 1 hour, or until it springs back very slowly when lightly pressed.

If you're baking in a covered stoneware baker, place the bread into a cold oven, set the oven to 400°F, and bake for 40 minutes. Check the bread, and bake for a bit longer, if necessary; the internal temperature should be about 190°F when measured on an instant-read thermometer. Remove the bread from the oven, and cool it on a rack.

If you're baking on a sheet pan, preheat the oven to 375°F, and bake for 28 to 32 minutes, until the bread is brown. Remove the bread from the oven, and cool it on a rack.
Reviews
Made this with all-purpose flour and, because I didn't have pumpernickel, KA Irish Flour. Baked in a Dutch oven. Very chewy and nutty. Next time, I'm going to try it with pumpernickel flour and bake it in a loaf pan.
I made these into rolls as suggested by the previous comment and used apricots, dates and pecans. Super delicious!
I brought this bread to a fancy potluck event and it was fantastic! There was lots of bread on the dinner table, so they had me put it in the dessert section. It was so perfect for people who like a little less sweet treat. They gobbled it up. I just put the dried fruit & nuts in there that I had on hand- the pepitas (green pumpkin seeds) & dried apricot were the best in there, a little tang & a little crunch.
I used pumpernickel flour which did make it dark like the picture. Next time I'll try rye. I added a couple TBLS of Boiled Cider as I measured the water; great taste. The amount of fruit makes for a very heavy dough, since we aren't a nut loving family I cut the pecans by half. I made the dough in my bread maker and needed to add more flour to get it to the right consistency. My husband loves it. I recommend this recipe as I do most of the KAF recipes. Always love to try something different. Making the Cream Cheese Cinnamon Spread from this site to go with it.
Why the color of interior and exterior isn't dark. I used the rye flour instead of pumpernickel flour.

Joan, in the photo here, the interior crumb is dark because of the pumpernickel flour. The exterior of the dough was dusted with a bit of all-purpose flour before letting it rise to prevent it from sticking to the pan or the piece of plastic that was used to cover the rising dough, giving it a lighter appearance. We hope your loaf turned out deliciously! Kye@KAF
I truly love this bread. I must share/confess that I have made it with fed and also 'hungry' starter and it has been wonderful either way, the fed sourdough yielding a more robust bread.
I wanted to replicate a roll I get at a local french bakery, and these are dang close! I divided the dough into 16 rolls, brushed them with an egg wash and baked them at 375 for 25 minutes. They're beautiful and REALLY tasty. I used rye flour instead of pumpernickel and played with the dough texture--added flour so it wasn't too sticky. I used dried cranberries, currents and chopped pecans. Will definitely make again!
Is it completely necessary to use the instant yeast? I do not have any.

Without the yeast, the dough will take much longer to rise and the final loaf may be slightly heavier and more dense than it otherwise would be. Also, your starter will need to be very healthy and active in order to make the dough rise. If you'd rather ensure success and make a quick bread, try our Cranberry-Apricot Quick Bread recipe. No yeast is necessary, and you can even add 1/2 cup of chopped pecans or walnuts if you like. We hope that helps! Kye@KAF
I love this recipe. I have always loved the cranberry, pecan bread from Nashoba Brook bakery and so I used just dried cranberries and chopped pecans in this recipe. It is delicious and the texture is perfect - a bit chewy, good crusty outside-I will make this over and over. It's easy and delicious. I used the KA tea loaf pan and it took a full 32 minutes to get to brown and 190 degrees. The slices are pretty and perfect. I think I will also try this dough as small rolls for a dinner party. Thoughts on how long to bake if I cut the dough to rolls? I planned to toast it and have with peanut butter for breakfast, but it's too good to cover!

We're glad to hear this is a favorite recipe of yours! To bake as rolls, turn the oven temperature down to 375°F and put the rolls in a pre-heated oven for 24-26 minutes, or until the internal temperature reaches 190°F. Happy baking! Kye@KAF
Loved this recipe! Very easy to make as well! I used Cherries, Cranberries and golden raisins with pecans. I also added sugar in the raw on top of the bread before baking. So delicious! I will definitely make again.