A customized print-friendly version of this recipe is available by clicking the "Print Recipe" button on this page.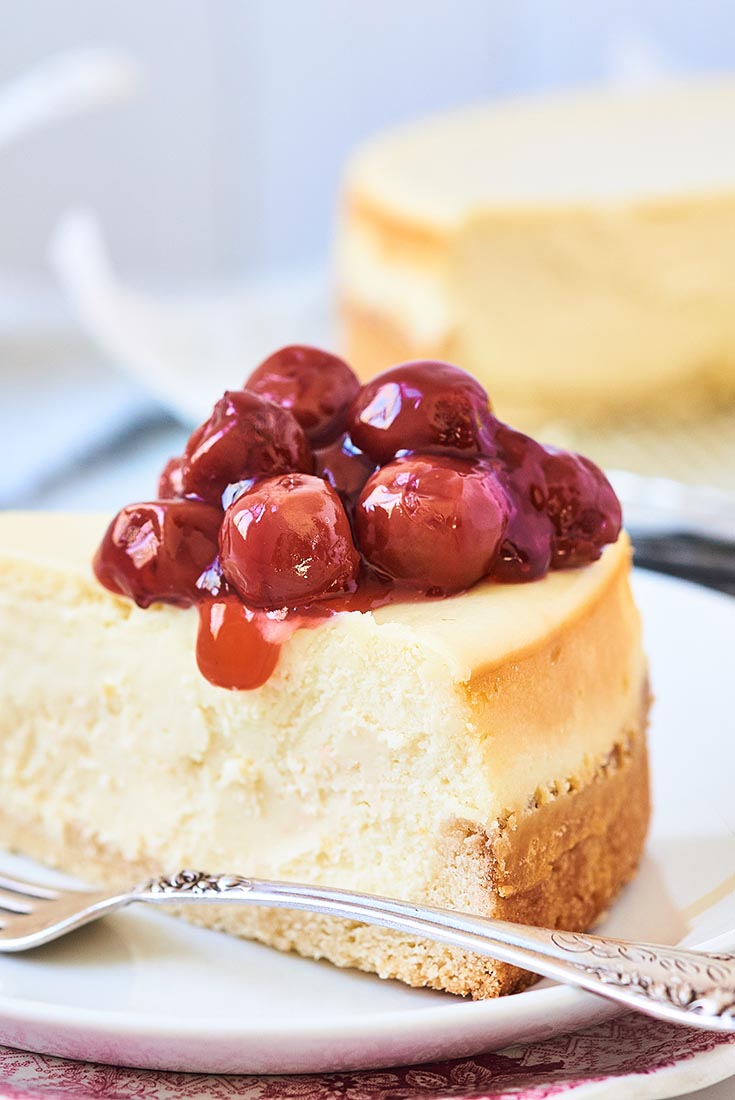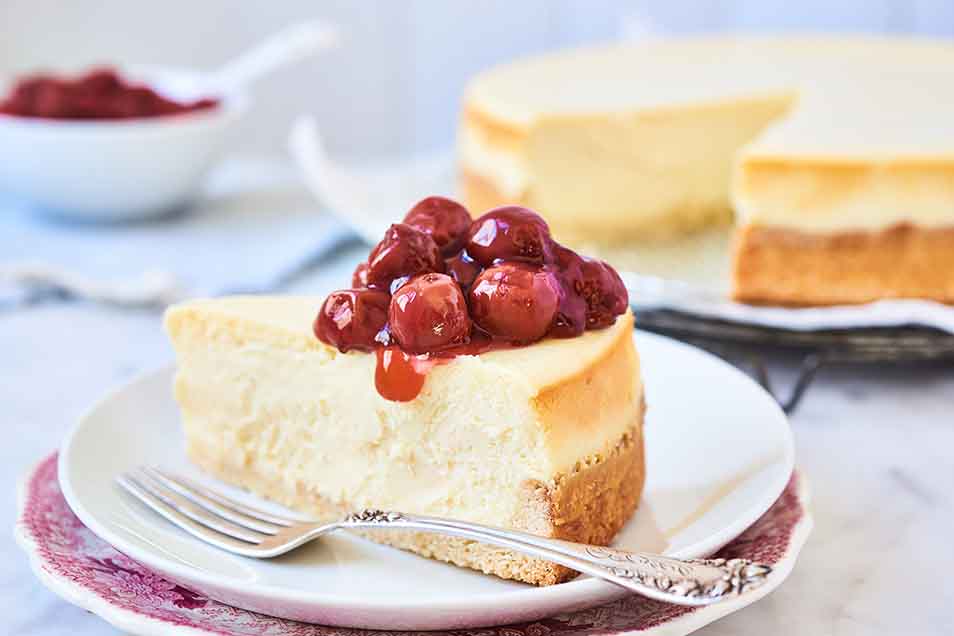 New York style cheesecake is dense and creamy, tangy with a touch of sour cream, sporting just a hint of lemon riding on a prebaked cookie crust. You can top it with cherries, strawberries, or any fruit you like. If you use two cans of cherries, you'll have about 3/4 cup of extra topping to serve on the side of your cheesecake slices. You can see more details about how to make this cheesecake at Flourish.
Ingredients
Fruit glaze
1 or 2 cans (14.5 ounces each) tart cherries in water, or 1 quart fresh or frozen fruit
1 cup water
1/2 cup sugar
1 1/2 to 2 tablespoons cornstarch
3 drops red food coloring, optional
Instructions
Preheat the oven to 400°F. Lightly grease a 10-inch springform pan.

For the crust: In a mixing bowl with a paddle, combine the flour, sugar, salt, and butter. Mix until the mixture is crumbly, then add the egg and continue to mix until a soft dough forms.

Press the dough on the bottom and an inch up the sides of the prepared pan; dock with a fork, and bake for 15 minutes, until light golden brown. Remove from the oven and cool to room temperature. Reduce the oven temperature to 325°F.

For the filling: Place the cream cheese in a large mixing bowl with a paddle. Add the sugar and flour, and mix at low speed until there are no lumps. Scrape the bottom and sides of the bowl at least twice during this process, to be sure no cheese is sticking.

Add the lemon zest, salt, and vanilla, and mix to combine. Add the eggs, one at a time, mixing until incorporated and scraping the mixing bowl between additions. Stir in the sour cream.

Pour the filling over the crust and bake for 45 to 50 minutes, until the edges of the cake are set one inch in from the edge. The middle should still jiggle when you nudge the pan; in fact, the cake will look underbaked. Measure the temperature of the cake an inch from the edge: when it reaches 175°F, turn off the oven.

Prop open the door, and let the cheesecake cool slowly in the oven for 1 hour. During this time the center will finish setting. Cooling the cake slowly will keep the top from cracking and ensure a smooth, even texture inside.

For the glaze: Whisk together the water, sugar, and cornstarch in a medium saucepan until the cornstarch dissolves. Place over medium heat and cook, stirring constantly, until the mixture boils, becomes clear, and thickens.

Remove from the heat and add the food coloring and the drained cherries. Let the mixture cool to room temperature, then spoon it over the cooled cheesecake. Refrigerate the cake until you're ready to serve.
Nutrition Information
Serving Size

102g

Servings Per Batch

20
Amount Per Serving:
Calories

347

Calories from Fat

207

Total Fat

23g

Saturated Fat

14g

Trans Fat

0g

Cholesterol

128mg
Sodium

217mg

Total Carbohydrate

30g

Dietary Fiber

0g

Sugars

21g

Protein

7g
* The nutrition information provided for this recipe is determined by the ESHA Genesis R&D software program. Substituting any ingredients may change the posted nutrition information.
Tips from our bakers
You should know: If your cream cheese is at room temperature before you use it, the filling will have fewer lumps.
When you mix the cream cheese and sugar together, do it slowly, because you don't want the mixture to have any extra air in it; that would make a poofier cheesecake, not the solid style this dessert is known for.
The center of the cheesecake will be quite loose at the time the oven is turned off. Heat will continue to travel from the outside of the cake to the inside; the center will finish cooking as this happens. Cooking the cheesecake too much will cause the eggs to overcook, and the top of the cheesecake to crack.
For a swirled cheesecake, remove one cup of batter and flavor with your favorite add-in. For pumpkin, add 1/2 cup pumpkin puree, 1/2 teaspoon cinnamon, 1/4 teaspoon ginger, a pinch of allspice and one egg. Mix well and dollop evenly over the remaining batter in the pan. Swirl together with a sharp knife. Bake as usual.
Reviews
Thank you KAF for making me look good once again. My friend had a birthday and she requested I make her a pie or cake. I said sure, just let me know what you want. A week later she said a real cheesecake. I'm in trouble now. I have never made one and I'm intimidated by making one. As with many recipes your my go to site. I finally got up the gumption to do so. I do not have a thermometer but oh well. I made the simple crust, made the filling, baked for 50 min. Looked at the cake and thought I had blew it. It looked to raw. I thought KAF knows more than I do one this and I'm trusting them I turned off my oven, placed a small mitt in the door for an hour. I expected to find a mushy mess, I didn't I found the most beautiful cheesecake. Oh I wanted to try it. Made the topping and took it to my friend. Still worried that it may not taste well, I told her she was my very first attempt at making this and if it was bad I would try it again or buy her one. Since the cake wasn't as cold as we thought it should be I left as she placed it in her fridge. A few hours later I received a call from her stating how rich, creamy, and the best cake she had eaten. She called me over for a piece of cake the next day and if I do say so myself, better than the Cheesecake Factory. It was very rich and smooth. I thought I was in heaven. It was absolutely delicious. This recipe if followed correctly is easy, and produces the greatest cheesecake I have ever tasted. Thank you KAF
I've made this a few times and it comes out to perfection every time, well other than a crack once. The taste is exceptional and not overly sweet like some I've had. The texture is divine, silky but dense. I much prefer over the creamy mousse type. It's 1:20 am and my cheesecake is slowly cooling with the oven door ajar. Crossing fingers it doesn't crack, although it won't matter as I am cutting into servings and freezing half of it. I've frozen in the past and the texture/taste comes out just as great if you thaw slowly in the fridge. I am trying the sugar cookie crust for the first time, usually like animal cracker crust or vanilla wafer.
This is an amazing cheesecake recipe. It checks all the boxes for me: dense, and creamy, with a little tang from the sour cream. It's really quite stress-free too. Merely following the excellent directions and tips yields success! On that note, DO make sure you're using the correct size pan. I used a 10" pan last year (as the recipe specifies), and the cheesecake was perfect, and baked exactly as in the recipe. This year, I grabbed a 9", and the cheesecake took forever to bake, and it had the Grand Canyon of cracks in the middle! I knew better than to just use the pan, but forged ahead anyway. Regardless, it was delicious, and I was able to slice it strategically to hide my sins.
I've baked this recipe three times so far. The first time it came out fairly well except for the center not being fully set. The second time, I was not as anal and it cracked. This most recent time, I tried to bake it exactly as I did the first. The batter was at room temperature and I baked it for the entire 50 mins At the end of baking it appeared done. The edges were set but the middle was still jiggly. After cooling it for the prescribed hour in the oven and allowing it to cool further, it appeared completely set. I even touched it a few times to make sure. Upon cutting into it the middle was still completely unbaked. I've seen similar cheesecake recipes that are smaller (8 inch vs 10 inch) and call for the same cooking time but at a higher temperature (350 vs 325). Now I don't know if my failure was due to underbaking or not cooling the cheesecake to refrigerator temperatures but I don't think I'll be using it again in the future.

Hi Jason, we understand that baking cheesecakes to the perfect amount of doneness can be tricky. We like to take the guesswork out of it and use an instant read thermometer. When inserted a few inches from the edge, it should read about 165°F. The gentle cooling process in the oven will prevent cracking, and then it should go into the refrigerator to chill before serving. (Try to give it at least an hour in the fridge, if possible.) These tips should help give you better results next time with any cheesecake recipe you use. Good luck! Kye@KAF
This recipe is pretty much perfect! I used an eight inch round by 4 inch tall Fat Daddio's aluminum pan Cuz I don't have Springformed stuff. Since I can't stand ANY crusts to adulterate my cheese pies, I buttered the pan and dusted it with almond meal very sparingly. I also do not have a real oven any more so I baked it in one of those turkey ovens. It still came out perfectly with only minor changes in the cook time to adjust for the 8 instead of 9 or 10 inch Springform pan. Yum... the color, consistency, and flavor were excellent. This is a truly great (meaning slightly flexible or forgiving) recipe!!!!! Thanks KAF.
My first time ever making a cheesecake, followed the instructions to the letter. No cracks, nice golden top. It looks picture-perfect! But....texture was somewhat like a thick mousse, a little creamy, when I sliced it after chilling in the fridge overnight (maybe it should've baked a little longer?). We skipped the cherries in favor of fresh berries, nearly all of the cake is gone, and the family asked for it to be on the family brunch menu later this month! Feeling mighty proud of myself- hoping the next one turns out better than the first.

As you should, Hillary -- congrats! The texture you describe does sound like it could be the result of under-baking. The perfectly baked cake will register 175°F about 1" from the edge of the pan. Its center will still appear soft; that's OK. Using a lower fat cream cheese could also cause a similar problem, so be sure to use quality, full fat cream cheese here. Hope this helps to make for an even more successful second bake! Mollie@KAF
This is my go-to cheesecake recipe. I prefer a cookie crust made with Barnum's Animals, but this filling is exquisite. It's plush, citrusy and never pasty, thanks to the sour cream. It also works well substituting heavy cream for the sour cream if you want less of a lactic tang and more of the citrus note. Thoroughly baked and refrigerated, it makes an excellent cheesecake tier to a wedding cake as well.
I made this 3 times, and twice it was one of the best cheesecakes I ever had in my life. I could never get the middle completely solid though. I often have to put it in the fridge for 4 hours to help it. I did the 175 F test on the sides; maybe I need to go further in or something I did the futile thing to make it healthier and substituted White Whole Wheat flour for the All Purpose for the crust (see how much sugar, fat, and eggs are going into this cake), and it had an interesting side-effect. White Whole Wheat flour has an earthy taste, so the crust had more of the graham cracker qualities to it. I had no issues whatsoever with the flour substitution, and in fact, this is one of the times where White Wheat flour can make something taste better over all purpose

We love using white whole wheat flour to make pie crust as well, Joe! It sounds like you may want to confirm that your instant read thermometer is reading accurately (check it by testing boiling water--it should read 212°F). Also, don't be afraid to test a few inches closer to the center. There should be a slight jiggle to the center when you shake it, but it shouldn't look runny. The cheesecake should set up in the fridge as it cools. We hope this helps! Kye@KAF
This is my first time making a cheesecake...fyi. When the crust was baking, it kept puffing up in the center. I called the hotline and they recommended i push it back down with a bowl. This didnt work cuz as i finished baking it, it continued to puff up. I did forget the sour cream bit the flavor was still excellent. The filling was way too much for one pie, so i made a graham cracker Crust for the second on. One thing i did different was add a shallow pan of water which i read in several other reviews and recipes. This seemed to help b/c there was no cracking and it looked beautiful once baked. I would probably make this again but im not sure about the crust due to the puffiness. Good luck.