A customized print-friendly version of this recipe is available by clicking the "Print Recipe" button on this page.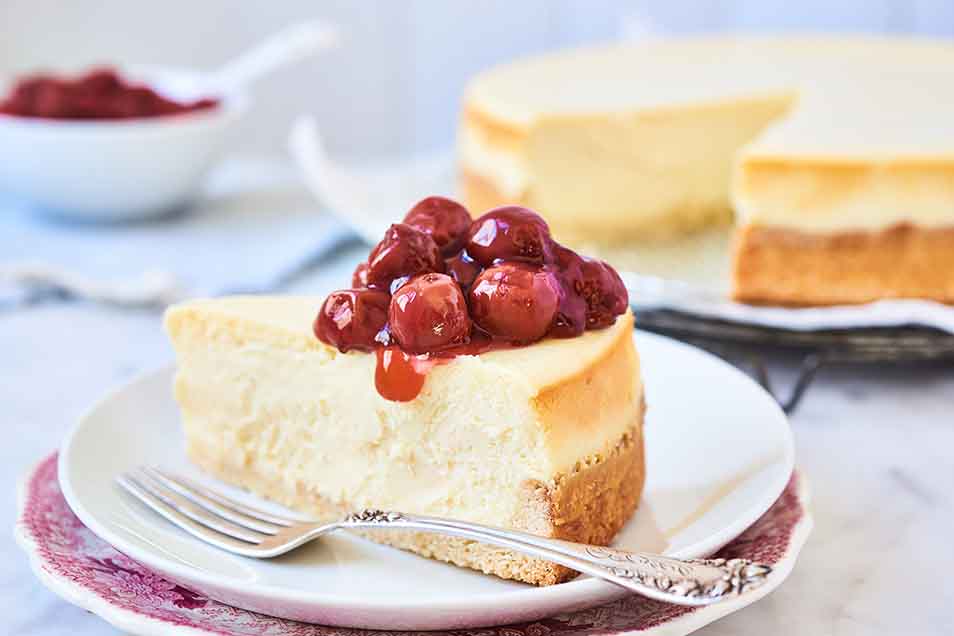 New York style cheesecake is dense and creamy, tangy with a touch of sour cream, sporting just a hint of lemon riding on a prebaked cookie crust. You can top it with cherries, strawberries, or any fruit you like. If you use two cans of cherries, you'll have about 3/4 cup of extra topping to serve on the side of your cheesecake slices. You can see more details about how to make this cheesecake at Flourish.
Ingredients
Fruit glaze
1 or 2 cans (14.5 ounces each) tart cherries in water, or 1 quart fresh or frozen fruit
1 cup water
1/2 cup sugar
1 1/2 to 2 tablespoons cornstarch
3 drops red food coloring, optional
Instructions
Preheat the oven to 400°F. Lightly grease a 10" springform pan.

To make the crust: In a mixing bowl with a paddle, combine the flour, sugar, salt, and butter. Mix until the mixture is crumbly, then add the egg and continue to mix until a soft dough forms.

Press the dough on the bottom and an inch up the sides of the prepared pan; prick it all over with a fork, and bake for 15 minutes, until light golden brown. Remove from the oven and cool to room temperature. Reduce the oven temperature to 325°F.

To make the filling: Place the cream cheese in a large mixing bowl with a paddle. Add the sugar and flour, and mix at low speed until there are no lumps. Scrape the bottom and sides of the bowl at least twice during this process, to be sure no cheese is sticking.

Add the lemon zest, salt, and vanilla, and mix to combine. Add the eggs, one at a time, mixing until incorporated and scraping the mixing bowl between additions. Stir in the sour cream.

Pour the filling over the crust and bake for 45 to 50 minutes, until the edges of the cake are set one inch in from the edge. The middle should still jiggle when you nudge the pan; in fact, the cake will look underbaked. Measure the temperature of the cake an inch from the edge: when it reaches 175°F, turn off the oven.

Prop open the door, and let the cheesecake cool slowly in the oven for 1 hour. During this time the center will finish setting. Cooling the cake slowly will keep the top from cracking and ensure a smooth, even texture inside.

To make the glaze: Whisk together the water, sugar, and cornstarch in a medium saucepan until the cornstarch dissolves. Place over medium heat and cook, stirring constantly, until the mixture boils, becomes clear, and thickens.

Remove from the heat and add the food coloring and the drained cherries. Let the mixture cool to room temperature, then spoon it over the cooled cheesecake. Refrigerate the cake until you're ready to serve.
Nutrition Information
Serving Size

102g

Servings Per Batch

20
Amount Per Serving:
Calories

347

Calories from Fat

207

Total Fat

23g

Saturated Fat

14g

Trans Fat

0g

Cholesterol

128mg
Sodium

217mg

Total Carbohydrate

30g

Dietary Fiber

0g

Sugars

21g

Protein

7g
* The nutrition information provided for this recipe is determined by the ESHA Genesis R&D software program. Substituting any ingredients may change the posted nutrition information.
Tips from our bakers
You should know: If your cream cheese is at room temperature before you use it, the filling will have fewer lumps.
When you mix the cream cheese and sugar together, do it slowly, because you don't want the mixture to have any extra air in it; that would make a poofier cheesecake, not the solid style this dessert is known for.
The center of the cheesecake will be quite loose at the time the oven is turned off. Heat will continue to travel from the outside of the cake to the inside; the center will finish cooking as this happens. Cooking the cheesecake too much will cause the eggs to overcook, and the top of the cheesecake to crack.
For a swirled cheesecake, remove one cup of batter and flavor with your favorite add-in. For pumpkin, add 1/2 cup pumpkin puree, 1/2 teaspoon cinnamon, 1/4 teaspoon ginger, a pinch of allspice and one egg. Mix well and dollop evenly over the remaining batter in the pan. Swirl together with a sharp knife. Bake as usual.
Reviews
I made this recipe this last week and it was amazing! The smoothest, creamiest ever! Just beautiful I followed the filling recipe exactly (ingredients and techniques), but used graham cracker crust! The only thing that was difficult was trying to transfer the cake from pan to serving round/plate. ( I used parchment paper under the cake to help but it was still challenging to move. Thanks for a wonderful recipe!
Outstanding recipe! My husband and son are cheesecake snobs and they loved it. I followed the recipe exactly but added a sour cream topping as suggested by the KAF helpline and it turned out perfectly. No cracks, creamy and oh so delicious. Thank you!
I've made this cheesecake twice now; the first time I made a traditional graham cracker crust, the second I went for broke and made the pie-like crust. I think I prefer the graham cracker crust (just personal preference) but the cheesecake is so good. Great texture and flavor. And really, as long as you follow the steps, easy to make without a crack to be found!
it was amazing. I just want to know how to make your glaze strawberry. I think on your future recipes you should note down a variety of glazes and more. Otherwise amazing recipe well written. this recipe will definetely go into my recipe book to make again.
Can I add some cocoa to the crust recipe to give it a dark (not too sweet ) kick of chocolate?

Go for it, Andrea! A couple of tablespoons in the crust will be perfect. If you have any, a teaspoon of espresso powder would make it even more chocolaty. Happy baking! Annabelle@KAF
How could you make this glaze lemon? Looks so good!

To make a lemon version of this glaze, feel free to use 1/4 to 1/3 cup of lemon juice in place of an equal amount of the water in the glaze recipe. Adjust the amount of lemon juice to taste depending on how strong you want the lemon flavor to be. Happy baking! Kye@KAF
This is the BEST cheesecake I have ever made and I love that it doesn't call for a water bath. I left my cheesecake in oven for 2.5 hours after the 50 minute baking time, then popped in fridge overnight. Skipped the cherry topping and Poured a simple dark chocolate ganache on top - rich, decadent, creamy and delicious. This was a hands down winner!
Thank you KAF for making me look good once again. My friend had a birthday and she requested I make her a pie or cake. I said sure, just let me know what you want. A week later she said a real cheesecake. I'm in trouble now. I have never made one and I'm intimidated by making one. As with many recipes your my go to site. I finally got up the gumption to do so. I do not have a thermometer but oh well. I made the simple crust, made the filling, baked for 50 min. Looked at the cake and thought I had blew it. It looked to raw. I thought KAF knows more than I do one this and I'm trusting them I turned off my oven, placed a small mitt in the door for an hour. I expected to find a mushy mess, I didn't I found the most beautiful cheesecake. Oh I wanted to try it. Made the topping and took it to my friend. Still worried that it may not taste well, I told her she was my very first attempt at making this and if it was bad I would try it again or buy her one. Since the cake wasn't as cold as we thought it should be I left as she placed it in her fridge. A few hours later I received a call from her stating how rich, creamy, and the best cake she had eaten. She called me over for a piece of cake the next day and if I do say so myself, better than the Cheesecake Factory. It was very rich and smooth. I thought I was in heaven. It was absolutely delicious. This recipe if followed correctly is easy, and produces the greatest cheesecake I have ever tasted. Thank you KAF
I've made this a few times and it comes out to perfection every time, well other than a crack once. The taste is exceptional and not overly sweet like some I've had. The texture is divine, silky but dense. I much prefer over the creamy mousse type. It's 1:20 am and my cheesecake is slowly cooling with the oven door ajar. Crossing fingers it doesn't crack, although it won't matter as I am cutting into servings and freezing half of it. I've frozen in the past and the texture/taste comes out just as great if you thaw slowly in the fridge. I am trying the sugar cookie crust for the first time, usually like animal cracker crust or vanilla wafer.