A customized print-friendly version of this recipe is available by clicking the "Print Recipe" button on this page.
Oatmeal Jammy Bits Muffins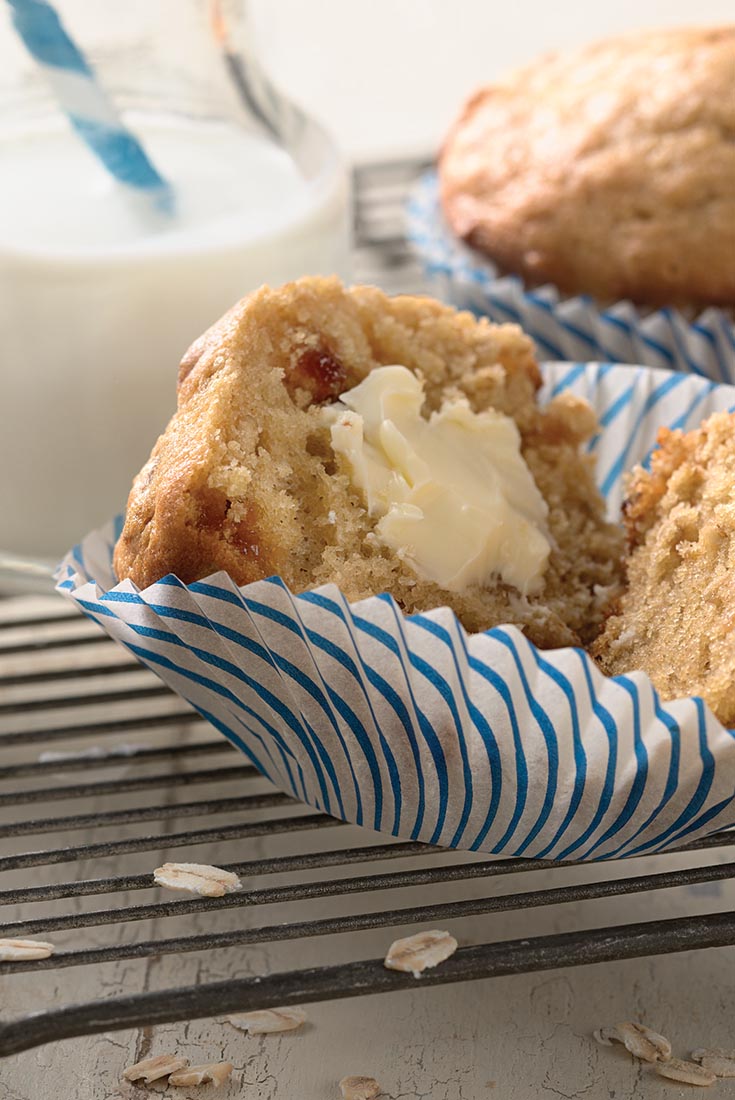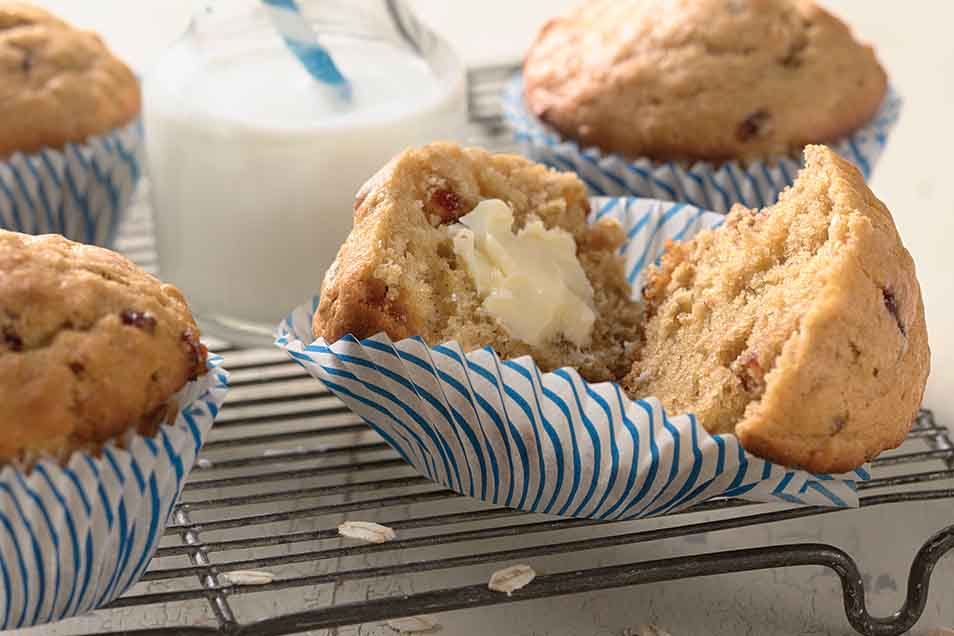 Moist, tender muffins with soft bits of fruit "jammy bits" — delightful!
Instructions
Preheat oven to 400°F. Lightly grease a 12-cup muffin tin, or line with papers.

Stir together the flour, oats, sugar, baking powder, baking soda, and salt.

In a separate bowl, beat together milk, oil or butter, eggs, and vanilla.

Gently stir the wet ingredients into the dry ingredients, mixing just enough to blend. Stir in the Jammy Bits.

Allow the batter to rest for 20 minutes, then stir. Divide it among 12 muffin cups, filling each cup about 3/4 full.

Bake the muffins until golden brown and a cake tester inserted in the center comes out clean, about 20 minutes.

Remove from the oven and allow the muffins to cool for 5 minutes before turning them out on a rack to finish cooling.

Yield: 12 muffins.
Reviews
Really enjoyed these muffins. I used the raspberry jammy bits. Muffins freeze nicely, too, just remove from freezer in the morning and you will have a nice treat waiting for you in your packed work lunch. :). Looking forward to trying these with the cherry jammy bits. Thanks for being such a great company and offering quality products and recipes and excellent customer service.
I made these with cinnamon apple jammy bits. I have an electric convection oven, so I baked these at 375 degrees for 17 minutes. They baked perfectly, and they're not too sweet. I am a professional baker, and my advice is to use oil instead of butter for a moister muffin. Watch your baking time closely too.
was a bit underwhelmed by this one. i notice other reviewers doctored up the original recipe. i missed in grape jelly instead of jammy bits, but still the result was dry and bland.

We're sorry to hear this recipe didn't quite hit the spot. We encourage you to try using jammy bits, but what we think will make the biggest difference is how the flour is measured. Being dry and bland are both signs that there wasn't quite enough liquid in the mixture to soak up the amount of added flour. For ideal measurement accuracy when not using a scale, we recommend fluffing the flour with a whisk or spoon, sprinkling it into the measuring cup, and scraping off the excess. We recommend using this method (if not using weights) when making any King Arthur Flour recipes for best results. If you have any questions or would like help choosing a recipe to better suit your tastes, please call our free and friendly Baker's Hotline at 855-371-BAKE (2253). We'd love to make your next baking experience a more satisfying one. Kindly, Annabelle@KAF
I made these today very yummy!! I Only had 1/4 c raspberry bits so I mixed 1/4 c. mini chocolate chips and sprinkled sparkling sugar on top! The chocolate chips made the bits more noticeable.
These are delicious! I reduced the amount of jammy bits and added some white chocolate chips instead, and they were wonderful! These, as several other King Arthur muffin recipes are my staples and I've made them so many times!
Very easy to make. Only two changes made, used raspberry Jammie bits and added a bit of cake enhancer. They were light, moist and had a wonderful taste.
Love these muffins! I make them quite frequently, sometimes using raspberry jammy bits, sometimes fresh or frozen raspberries. I have also been adding 1/8 tsp. of Fiori di Sicilia. That takes them over the top! I especially like that this recipe is 100% whole grain. No guilt!!
Very quick and easy recipe. I was in a hurry this morning and didn't let the batter sit just baked right away - still came out delicious! I love the jammy bits!
I didn't have jammy bits so I substituted chopped raisins. Came out great. Not too sweet and not heavy. Great for breakfast.
I tried this recipe yesterday and it turned out great. I didn't have any jammy bits so I used the same amount of the maple flav-r-bites and hoped for the best. My neighbors granddaughters were over so I had them "taste test" and they each ate 2. Guess that means they are a definite winner!!