A customized print-friendly version of this recipe is available by clicking the "Print Recipe" button on this page.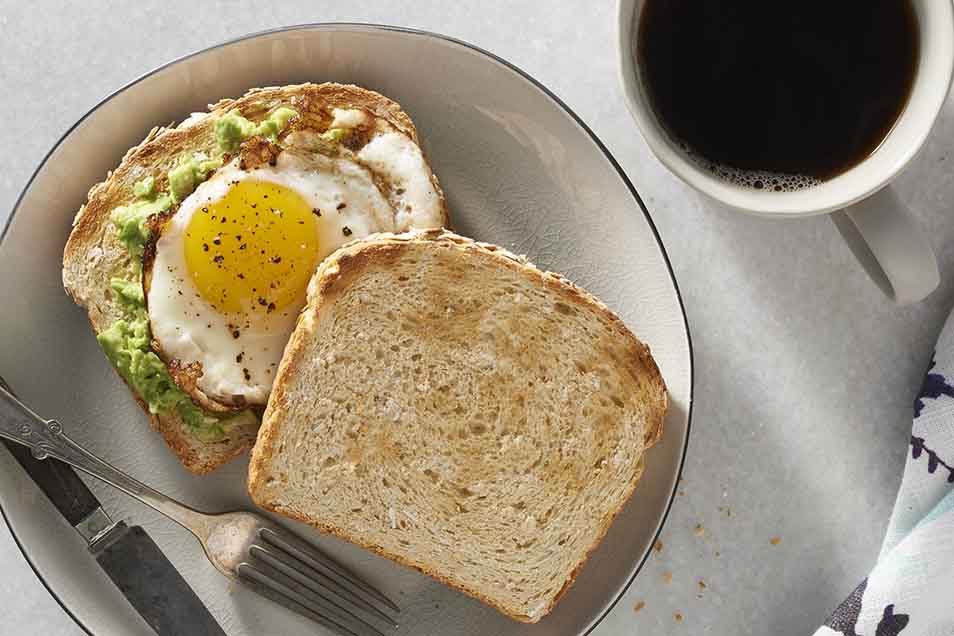 This soft bread makes excellent toast. With fresh milk plus milk powder; oats, and Hi-maize, its protein and fiber will satisfy your hunger all the way to lunchtime.
Instructions
Mix and knead together the ingredients until you have smooth, fairly soft dough.

Cover the dough and allow it rise for 1 1/2 to 2 hours, or until it's nearly doubled in size.

Gently deflate the dough, and turn it out onto a greased or floured work surface. Shape it into a 9" log, and place it in a lightly greased 9" x 5" loaf pan.

Cover the pan and allow the dough to rise for about an hour, or until it's crested over the top of the pan by about 1". Towards the end of the rising time, preheat the oven to 375°F.

Spray the loaf with water, and sprinkle with rolled oats.

Bake for 30 to 35 minutes, until the bread is lightly browned and sounds hollow if tapped on the bottom. The interior of the loaf should register 190°F on an instant-read thermometer

Remove from the oven and run a knife around the edge of the pan to loosen. Turn out of the pan and cool on a rack for an hour or so before slicing.
Reviews
Have made this bread so many times, and it has never failed me. See my earlier reviews (Babs). The last two times I substituted the sprouted wheat flour for half of the all-purpose, and high-fiber flour for the hi-maize, and honey for the brown sugar. Added 2 tablespoons of potato flour, and upped the milk to 300 ml, because as the recipe is written, the dough tends to be on the dry side (at least for me). The smell is simply incredible.
Great bread! I put everything in my oster bread machine (liquid ingredients first then flour then dug a well and put in yeast and as usual used only 1.5tsp yeast), used coach oats (quick steel cut oats), and use basic setting 1.5lb loaf. Very delicious bread!
"The best bread ever," says my husband every time I make this, which has become a weekly occurrence. I follow the recipe with the following additions: about 1/3 cup Harvest Grains Blend and 2 T potato flour. I usually heat up the milk with the butter, and after I have mixed all of the ingredients for 2 minutes in a stand mixer, I cover it with wrap and let it rest for 20-25 minutes before I knead it. Thirty-five minutes is not long enough baking time. It takes an extra 10-15 minutes. If you bake this in a cast iron loaf pan, you'll be rewarded with a beautiful color. I also rub a stick of butter over the top after it comes out of the oven. This tastes incredible toasted, makes wonderful tuna salad sandwiches.
Great-smelling, great -tasting. Wonderful toasted. I baked it for 35 minutes, and it wasn't done, so I put the loaf back in the oven (out of the pan). for an additional 10 minutes early, and perfect.
Excellent recipe -- robust, high-rising, very flavorful loaf.
This one of our favorite bread. It is delicious toasted too. My husband does not care for whole wheat bread. This one has some wheat and oats so good enough for breakfast. I use white wheat so not so visible that it has wheat.
This looks like a first rate bread. I am curious though. The description says that it makes a loaf of 8 1/2" but the directions say to put the dough into a 9" X 5" pan. I am looking forward to trying it very much. My rating is based on the ingredient listing and method of putting it together - I hope I produce a great loaf when I do try this one.
Thank you for bringing the error to our attention. It should be a 9" loaf. I will make the adjustment to the website. ~Amy
This was the worst dough I've ever worked with! I'm not sure why the ratings for this recipe are so high. I doubled the recipe the first time I did it, which I usually do because I don't have a lot of time to bake and I need to make it "count." It looked like a simple enough recipe so I didn't think I would have any trouble. But the dough simply would not come together. I ended up adding nearly 1/4 cup of water to the dough, and I realized later I probably should have added one or two tablespoons more... The dough was quite dry and my big Viking mixer had trouble getting through it (1000 watt motor!). The loaves just came out of the oven, and I see that the dough needed more moisture. This is the first time I've used the Hi-Maize powder and I suspect that was the culprit. I've gone over my calculations several times, convinced I doubled something incorrectly, but honestly I did not. Thankfully, KAF has other wonderful recipes so I never need to make this one again!
Sometimes doubling recipes can be tricky. If you are doubling a yeast recipe, it is not necessary to actually double the yeast amount. From the sound of your description, I think you had too much flour in your dough. We recommend that if you are not using a scale, that you measure your flour like this:http://www.kingarthurflour.com/recipe/measuring-flour.html I hope this is helpful. ~Amy
What is Hi-maize Natural Fiber? Do you need it this recipe? Can bread be made without it?
Hi-maize natural fiber is a dietary fiber that is made from corn. It is gluten free and it's use is a great way to enhance gluten free diets with fiber as you can add it to almost anything, i.e soups, sauces, etc. Not only does it have great health benefits, it also can improve the texture of gluten free carbohydrates. It is not necessary to use the hi-maize for your recipe, just be sure to substitute in the same amount of flour. Good luck! ~Amy @KAF
I love this bread! It is now our regular toast/sandwich bread. After my first loaf I tried substituting all white whole wheat flour, with great results. I increased the liquid a bit (hard to say just how much, I always watch the Zo knead for a few minutes and add liquid by how it looks...), and threw in a Tbsp. of Whole Grain Bread Improver. This took an already healthy loaf up a notch, and I think it gave it even better flavor.