A customized print-friendly version of this recipe is available by clicking the "Print Recipe" button on this page.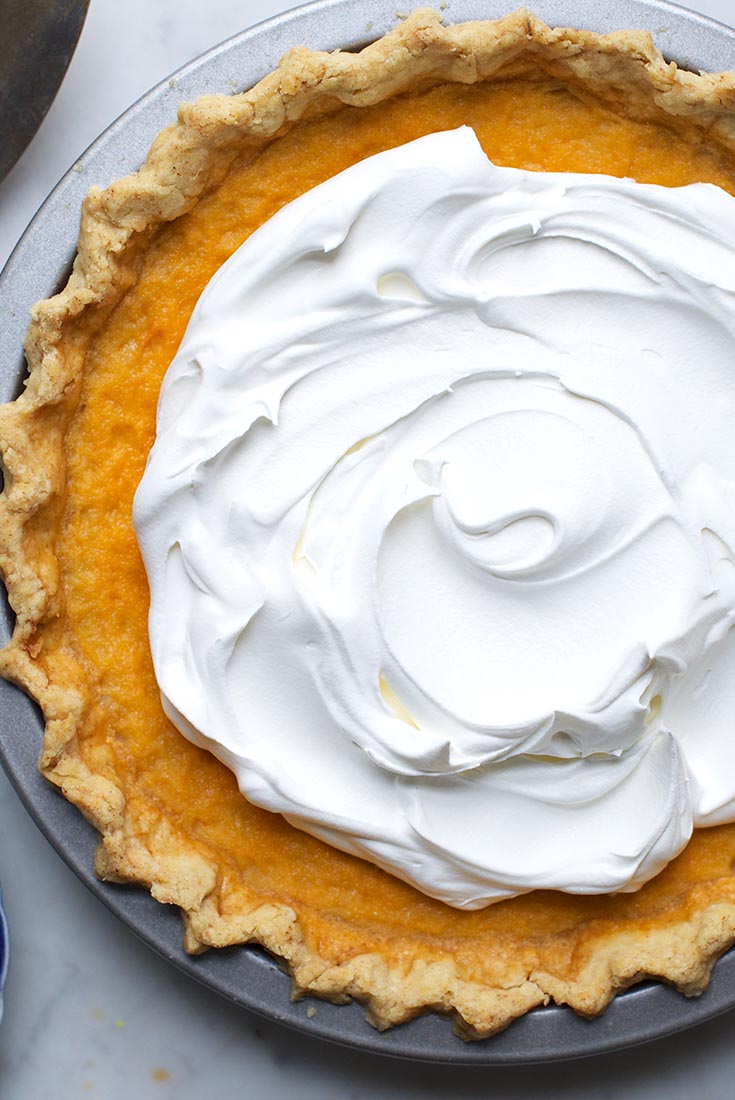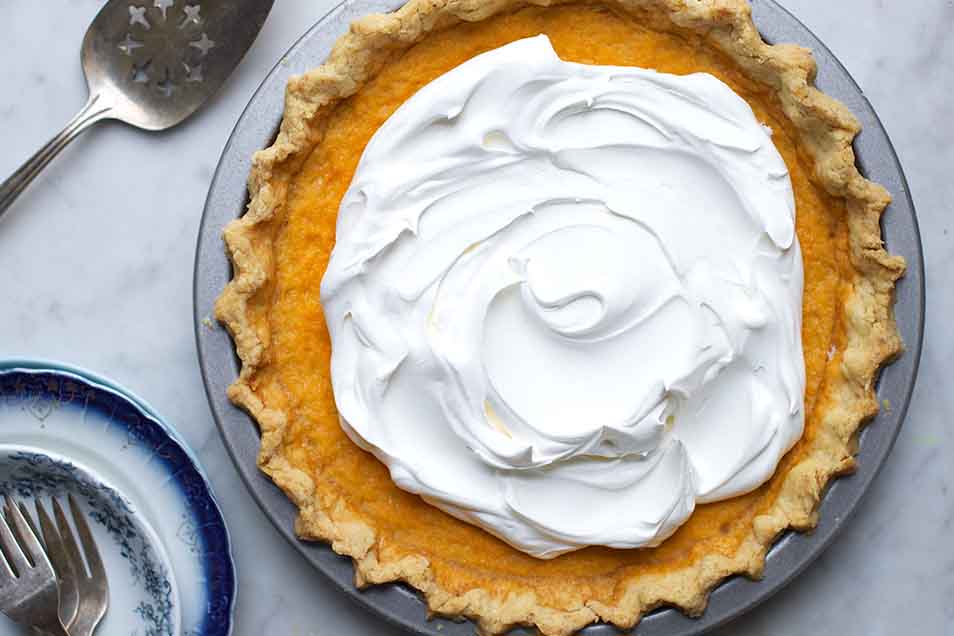 Many folks swear by the convenience and quality of a no-roll pie crust made with vegetable oil. This crisp, tasty crust is also a plus for those watching their diet, since it has neither trans fats nor cholesterol; it's also vegan. Plus, if you're intimidated by a rolling pin, this is the crust for you. This recipe makes enough for a single crust; to make a two-crust pie, see "baker's tips," below.

This recipe was formerly called Oil Pie Crust. We've increased the size just a bit, to make it easier to fill a full-size 9" pie pan.
Ingredients
heaping 1/2 teaspoon salt
1 teaspoon sugar
3/8 teaspoon baking powder
7 tablespoons (1/2 cup less 1 tablespoon) oil: canola, vegetable, olive, peanut, your choice
1/4 cup cold water
Instructions
Whisk together the flour, salt, sugar and baking powder.

Whisk together the oil and water, then pour over the dry ingredients.

Stir with a fork until the dough is evenly moistened.

Pat the dough across the bottom of the pie pan and up the sides. A flat-bottomed measuring cup or glass helps smooth the bottom.

Crimp the edge, or flatten with the tines of a fork.

Fill the crust as desired, and bake.

Yield: one 9" no-roll pie crust.
Nutrition Information
Serving Size

1 (34g)

Servings Per Batch

12
Amount Per Serving:
Calories

150

Calories from Fat

70

Total Fat

8g

Saturated Fat

0.5g

Trans Fat

0g

Cholesterol

0mg
Sodium

100mg

Total Carbohydrate

16g

Dietary Fiber

1g

Sugars

0g

Protein

2g
* The nutrition information provided for this recipe is determined by the ESHA Genesis R&D software program. Substituting any ingredients may change the posted nutrition information.
Tips from our bakers
This recipe makes enough for a single crust; to make a two-crust pie, increase the recipe ingredients as follows: 3 cups flour, 1 teaspoon salt, 1 1/2 teaspoons sugar, 1/2 teaspoon baking powder, 2/3 cup vegetable oil, 6 tablespoons water. Press 2/3 of the resulting dough into the pie pan, then add 1 teaspoon cinnamon and 2 tablespoons sugar to the remainder. After you fill the bottom crust, break the topping into small pieces, and spread them evenly over the filling. The topping will crisp up into something between streusel, and a typical top crust.
Want to make the crust with melted butter, instead of oil? Go right ahead; it'll have lovely buttery flavor. The crust will no longer be vegan, but if it's OK with you, it's certainly fine with us!
Reviews
FANTASTIC! I was making caramel tarts and I found I didn't have enough butter for the crust. So i tried this recipe and it turned out perfect. The taste in conjunction with the caramel was amazing and from now on will use this crust instead of the old recipe. I would like to add, all my crusts are pre-backed on 180 degrees for approximately 15 minutes before I add filling. Then baked for a further 20 minutes with filling and the crust came out perfect. I followed the direction exactly and I do think pre-baking does help with the final product, I didn't do sides so I still had a thick base crust. Thanks guys, you're a life saver ;)
Half of the review from people did not like this recipe. By trial and error using the recipe, I found out the error in making this Pie Crust Recipe. 1. For those who did not like the taste of plain oil, Use Brown Melted Butter instead. Same amount in recipe. 2. Mix thoroughly Oil or Melted Butter and Flour mixture. 3. The remaining ingredient 1/4 milk/water may or may not be needed depending on the wetness of the dough. 4. Use1 Tablespoon at a time of milk or water to the desired dough wetness.,,, no more than 3 Tablespoons 5. Pat over pie dish to shape. Dough is wet enough to mold pie dish. 6. Pre- bake or blind bake until brown color appears... no weight necessary as the crust keeps its shape during baking. 7. Amazingly flakey.
I found this recipe to be quite good. I tried it as I didn't have any shortening and didn't want to use my expensive butter. I did need to add a little more water and I put it between wax paper and rolled it out some. It has a good flavor. Will make again.
This is the only recipe I ever use. Very easy and I love it.
Horrible! I tried to make this pie crust 3 times and just didn't work.I tried adjusting the second time but it just didn't work. I won't be making it again. So frustrating.

We're genuinely sorry to hear this recipe left you feeling so frustrated, Dali. We're wondering if the dough wouldn't come together, continued cracking, wouldn't hold its shape, or perhaps something else caused your disappointment. We have a full team of friendly and experienced bakers on the hotline who are here to help guide you to pie crust success if you'd like to troubleshoot further. Feel free to give us a call (855-371-2252) and we can talk about this recipe or perhaps a more traditional pie crust recipe to deliver the results you're looking for. Kye@KAF
I just made the recipe and have a pie in the oven at this time. I know just from my experience so far that I will never make this pie crust recipe again. I'm sure I may have done something wrong but I am an accomplished pie crust maker and I was out of shortening and the weather is so windy I did not want to get out. I followed recipe correctly, step by step and am so disappointed. I'm glad I do not have to take this pie somewhere because I would not. This is just my experience and I'm sure I could have done something wrong, but honestly, I don't think so. I do hope others have better luck.

Hi Lind, we're truly sorry to hear this recipe left you feeling disappointed with your cold day baking. We'd like the opportunity to hear more about what elements of the crust did turn out as you hoped so we can work together to make it right: Was the texture of the crust off? The flavor? Was it difficult to make? We encourage you to give our friendly Baker's Hotline a call at 855-371-BAKE(2253) so we can troubleshoot with you further. Kye@KAF
I have a bed and breakfast and was trying to shorten the time and effort it takes to make a quiche. The only hard part is the dough so, naturally, I was looking for a solution (we're a very, very small establishment in a summer tourist area) to the arduous task it is to make a quiche with a homemade crust. Butter doesn't work. At all. Or it's me and I really needed a day off. However, I'm keeping the recipe to try for vegan recipes. It hadn't even occurred to me that vegans can have pie crust. As to what I'll put in it...I have until August to figure that out (my only vegan request thus far). So, though I appreciate the recipe, I should have read the comments and seen that it does not really work with butter. :)

It's true, Kristan, that this recipe works best when you use an oil that's liquid at room temperature, like canola or olive oil. If you'd like to use butter instead, you can try melting it and adding it to the dry ingredients, but you may need to adjust the consistency by adding slightly more butter or water until it comes together. If you'd like to chat with one of our friendly bakers to puzzle over vegan baking some more, give our Baker's Hotline a call: 855-371-BAKE(2253). Kye@KAF
Great recipe! I added a little water (maybe I added too much flour) and found it so easy. Very flaky. I rolled the bottom crust out slightly and the top crust more. And I didn't have nearly the mess I normally would.
what temperature and for how long?

The baking temperature and time will vary depending on the pie filling recipe you choose. Most pie crust bake around 400°F. If you're blind baking the crust, it will likely take around 45 minutes total. With a filling, it can take over an hour. Follow the instructions from the filling recipe you choose and you're sure to have a tasty pie in no time! Annabelle@KAF
Made this for crust for my sweet potato pie. If I can say it's easy it really is, as I am not much of a baker, or cook for that matter. Crust ended up being my favorite part and heard same from others who ate pie tonight as well!