A customized print-friendly version of this recipe is available by clicking the "Print Recipe" button on this page.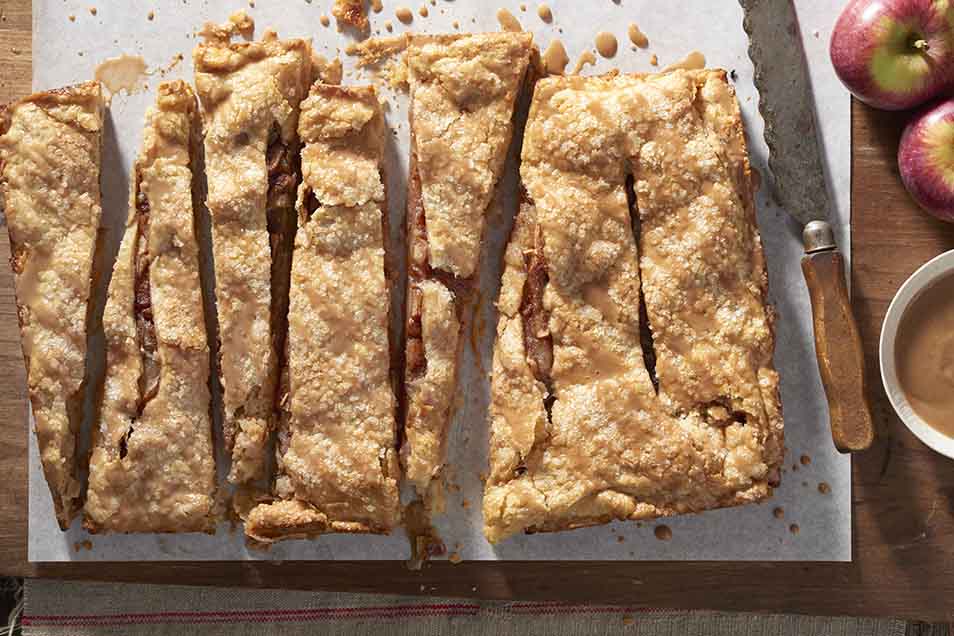 A flaky, tender crust... cinnamon-y apple filling... Pie, right? Well, kind of. The ingredients are all pie; but the pan is rectangular, rather than round. The result? An ideal "apple pie" for potlucks and other occasions when you want a larger number of smaller servings. You can easily cut this pie into 12 to 16 servings - try THAT with a typical 9" pie!

Note: While we like the crust below, you can certainly use your favorite pie crust for this dish. Just make sure it calls for 2 1/2 to 3 cups of flour, to ensure you have enough crust for this size pan.
Ingredients
Crust
2 1/2 cups Pastry Flour Blend or King Arthur Unbleached All-Purpose Flour
1 teaspoon salt
1 teaspoon baking powder
2 tablespoons confectioners' sugar
2 tablespoons buttermilk powder
1/4 cup vegetable shortening
5/8 cup (10 tablespoons) very cold unsalted butter
1 teaspoon vinegar, cider or white
6 to 10 tablespoons ice water
Filling
1 cup Panko bread crumbs, or other coarse dry bread crumbs; or 1 cup coarsely crushed cornflakes
8 cups peeled, cored, and sliced Granny Smith or other tart, firm apples, about 3 1/4 pounds (8 to 10 medium) whole apples
2/3 cup cinnamon-sugar*
*See "tips," below.
Glaze (optional)
1 1/2 cups confectioners' sugar
1/3 cup boiled cider*
small pinch of salt
1/2 teaspoon ground cinnamon
1 teaspoon milk or cream, optional, if necessary to thin the glaze
*Substitute 1/3 cup honey, if desired; or 1/4 cup thawed frozen apple juice concentrate, or maple syrup.
Instructions
To make the crust: Whisk together the Perfect Pastry Blend or flour, salt, baking powder, confectioners' sugar, and buttermilk powder.

Add the shortening, working it in until the mixture is evenly crumbly.

Cut the butter into small (about 1/2") cubes. Add the butter to the flour mixture, and work it in roughly with your fingers, a pastry cutter, or a mixer. Don't be too thorough; the mixture should be very uneven, with big chunks of butter in among the smaller ones.

Add the 1 teaspoon vinegar and 4 tablespoons water, and toss to combine. Toss with enough additional water to make a chunky, fairly cohesive mixture. It should hold together when you gather it up and squeeze it in your hand.

Divide the dough into two pieces; one should represent about 40% of the dough, the other, about 60%. If you have a scale, this is easy; the smaller piece of dough should weigh about 8 3/4 ounces, the larger piece, about 13 1/4 ounces (if you've used about 7 to 8 tablespoons of water in the dough). If you don't have a scale and/or aren't good at math, eyeball it: the bottom crust needs to be larger than the top crust.

Shape each piece of crust into a rectangle; you're going to be rolling them into rectangles, so might as well give yourself a head start. Cover with plastic wrap, and refrigerate for 30 to 60 minutes, until thoroughly chilled.

Take the larger piece of pastry out of the fridge, and put it on a floured work surface. Roll it into an 11" x 15" rectangle. Don't worry about the ragged edges; they'll disappear under the top crust.

Place the crust in an ungreased 9" x 13" cake pan. Patch up any holes by pushing the pastry together with your fingers, or adding a pinch from the excess on the sides. Push the pastry up the sides of the pan a bit, to make a shallow pastry container for the apples.

Put the crust in the fridge while you get the apples ready. Start preheating your oven to 350°F.

Spread the bread crumbs or crushed cornflakes evenly over the crust.

Spread the sliced apples atop the crumbs.

Sprinkle the cinnamon-sugar over the apples.

Roll the remaining piece of pastry into a 9" x 13" rectangle. Again, don't worry too much about ragged edges.

Lay the top crust over the apples. Yes, apples will poke through. Seal the edges of the two crusts as well as you can. There'll be places where they don't quite meet. That's OK. If the whole thing has become warm and sticky and hard to work with, pop it in the fridge for 15 minutes to firm it up.

Just before baking, slash the crust 6 or 8 times to allow steam to escape. If desired, brush the crust with milk or cream, and sprinkle with coarse white sparkling sugar.

Bake the slab for an hour; it'll be golden brown, and the filling should be bubbling. Remove it from the oven, and allow it to cool a bit before serving. If you choose to add the glaze, let it cool completely.

To make the glaze: Combine the confectioners' sugar, boiled cider, cinnamon, salt, and enough milk or cream (if necessary) to make the mixture "drizzlable." Don't have boiled cider? Use plain milk or cream, maple syrup, honey, or thawed apple juice concentrate. Start with 1/4 cup of any of these; if you've made this kind of icing before, you know it's easier to add more liquid, than to try to take it away. Add enough liquid to make the glaze pourable.

Drizzle the glaze atop the slab.
Nutrition Information
Serving Size

147g

Servings Per Batch

12
Amount Per Serving:
Calories

320

Calories from Fat

130

Total Fat

14g

Saturated Fat

7g

Trans Fat

1g

Cholesterol

25mg
Sodium

260mg

Total Carbohydrate

46g

Dietary Fiber

3g

Sugars

20g

Protein

4g
* The nutrition information provided for this recipe is determined by the ESHA Genesis R&D software program. Substituting any ingredients may change the posted nutrition information.
Tips from our bakers
To make your own cinnamon-sugar: Mix 2/3 cup granulated sugar and 1 tablespoon + 2 teaspoons ground cinnamon.
Reviews
I love this pie! I've made it a few times in the past and it always comes out great!
I tried this recipe on Saturday, fresh from picking stayman winesaps. The finished product -- despite my somewhat botching of the top crust -- is SO good. I am definitely making it again. I didn't have the buttermilk powder, and for the glaze just used confectioners' sugar and cider. Another superb recipe from KAF!
I wanted to bring a pie to a fall potluck and this recipe was perfect. I did make a couple of adjustments. I used my own tried and true crust. And I didn't have panko, so I took a shot and used ground cheerios instead. I sprinkled the layer with a little cinnamon. I also used two tbsp of instant clear gel with the apples because I was working with Cortlands and feared they would be too juicy. I used apple cider and a little maple syrup for the glaze. The final result was perfect. I served it only two hours out of the oven, and it sliced like a dream. Perfection!
Awesome way to make a "pie". We loved the rectangle version. I did the maple syrup glaze and put a pinch of nutmeg. Will definitely make this again, and again...
This is an excellent recipe! I omitted the confectioners sugar and buttermilk powder for the pie crust. I had to roll out the pie dough very thinly, but thankfully it held together. I rested the bottom crust in the freezer for about 20 minutes since I had to handle it a little more than I should have. I also used crushed Kashi multigrain cereal flakes instead of panko since that was what I had in my pantry. For the filling, I included about a quarter cup of KAF's boiled cider, since I opted no to make the glaze. Finally for the top crust, I crimped the border using the rounded side of a 1/2 teaspoon because I couldn't crimp it the normal way for a round pie, and then I used an egg wash and topped it with sparkling sugar. I baked the pie for about an hour and 15 minutes. It was not only gorgeously golden brown, it was delicious too! I posted a photo of the finished pie on Instagram and tagged it to KAFrecipes.
Found the inclusion of panko...odd. I used 1/2 cup of KA pie filling enhancer instead. Wonderful pie and great crust.
Forgot to say that I used about 10-11 cups of apples instead of 8... See previous review
The crust was a bit challenging, but I used Kerry's waxed paper technique and it worked very well. I used mostly whole wheat pastry flour along with some of the perfect pastry, and left a lot of chunks of butter visible in the dough and it was delicious. I made the glaze exactly as the recipe and it was scrumptious! Will definitely make again.
This is our favorite apple pie recipe and has been for several years! I always use reduced apple cider in the filling and the early Ginger Gold apples make the best apple slab ever! Just bought a bag of them to make this recipe with.