A customized print-friendly version of this recipe is available by clicking the "Print Recipe" button on this page.
Old-Fashioned Oatmeal Bread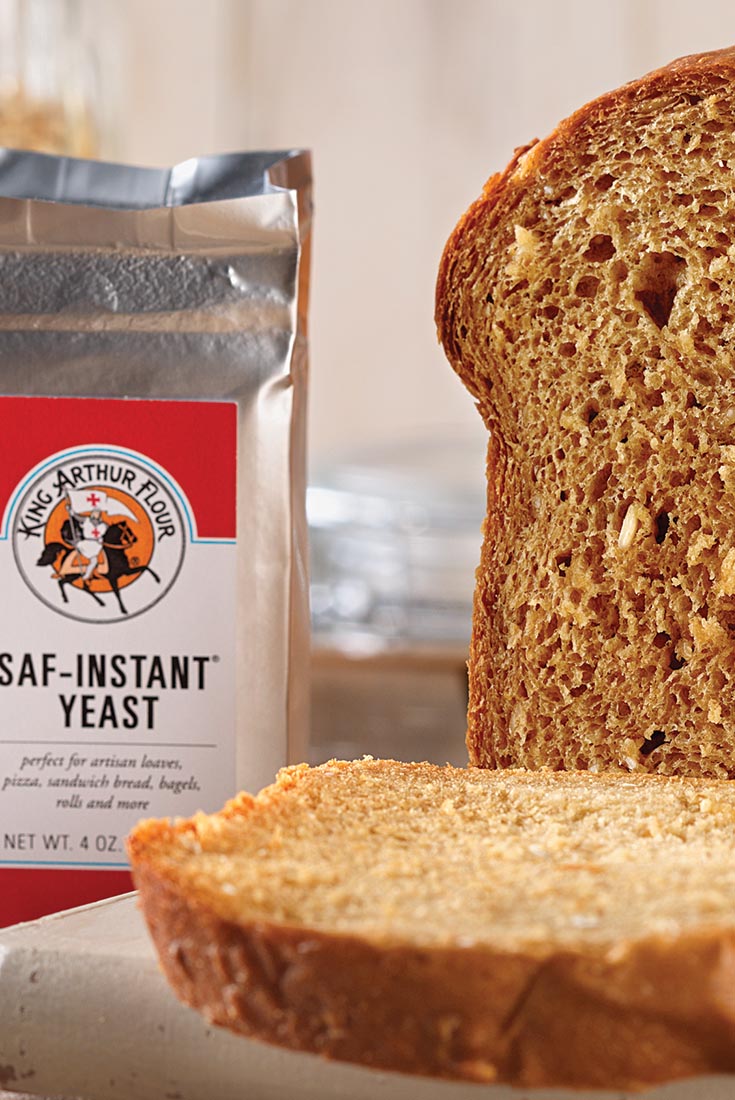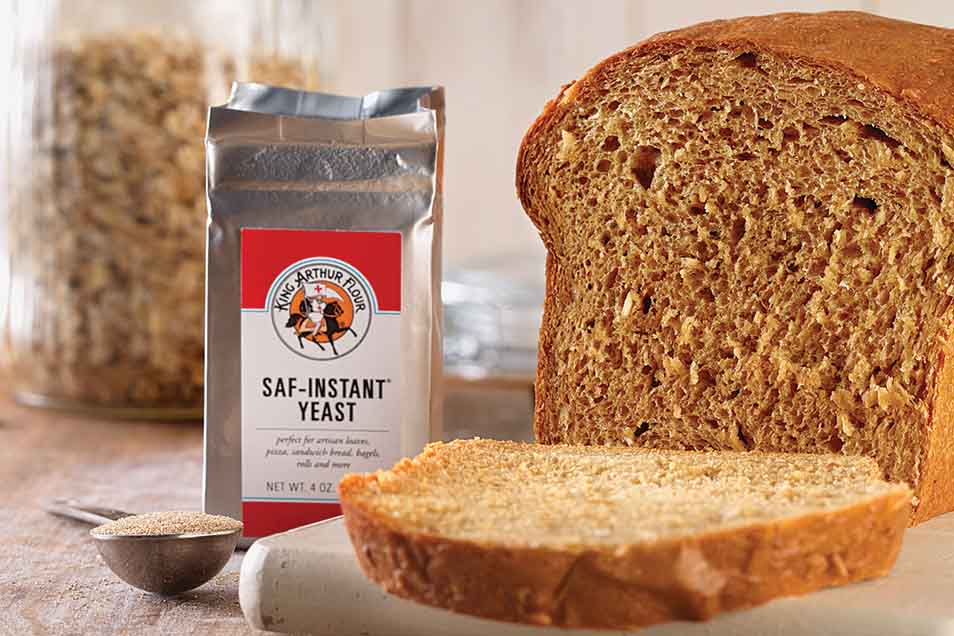 What's a nicer way to begin the day than with a warm, crunchy slice of oatmeal toast? With all the great new artisan breads out there, some of America's favorite pan breads seem to be getting short shrift. Personally, we'd no more give up our white, oatmeal and whole wheat sandwich loaves than we would our favorite baguettes or focaccia. Each has its place in our world, and there's nothing like good old American pan bread for sandwiches and toast.
Instructions
Combine the boiling water, oats, oil, and molasses in a large bowl, or in the bucket of your bread machine set on the dough cycle. Stir, and allow to cool until barely warm, about 15 to 20 minutes.

Add the remaining ingredients and mix and knead them — by hand, mixer, or bread machine — to form a soft, slightly sticky, craggy dough.

Cover the bowl, and allow the dough to rise until it's puffy though not necessarily doubled in bulk, about 1 1/2 hours. If you're using a bread machine, allow the machine to complete its dough cycle.

Turn the dough out onto a lightly greased or floured work surface. Shape it into a log, and place it in a well-greased 8 1/2" x 4 1/2" loaf pan. Cover the pan with plastic wrap and allow the bread to rise for 45 to 60 minutes. When fully risen, the crown of the bread should be about 1" above the rim of the pan.

Remove the plastic, and bake the loaf for about 35 minutes in a pre-heated 350°F. A digital thermometer will register at least 190°F when inserted into the center. This bread can brown quickly, so check during the baking time and tent it lightly with foil if needed.

Remove the loaf from the oven, turn it out of the pan, and cool it on its side on a rack. The bread is delicate coming out of the oven, and setting it upright on the rack may cause it to sag.

Allow the bread to cool completely before slicing. This bread makes excellent toast, peanut butter-banana sandwiches, turkey clubs, or any kind of sandwich. It's also yummy just sliced and spread with butter and jam.

Yield: 1 loaf, 16 slices.
Tips from our bakers
Add 1 tablespoon granular lecithin, if desired, for increased softness.
Reviews
Can this be used for people with celiacs disease?

Hello, fellow baker! This recipe calls for wheat flour so it would be unsafe for someone who's celiac. We recommend our Gluten-Free Sandwich Bread recipe which can be found on our website. Happy GF baking! Annabelle@KAF
Made this by hand without bread machine or mixer. I modified the recipe by replacing the oil with honey. Proofed the yeast in the oatmeal, water, honey and molasses slurry. Used Bread floor to make dough. Smelled delicious while baking. Per other reviews/recommendations, I tented the bread with aluminum foil for the last 10 minutes of baking to keep the crust from browning to much. The bread came out moist with beautiful texture. Awesome toasted!
Added sun flower seeds my husband thought it was the best bread ever. mixed and raise in the bread maker put in bread pan for second raise baked in oven.
Great recipe, flavor, and texture. Very moist. Please add the Nutrition Information section to the recipe.
I substituted bread flour for the regular flour and whole milk as that is what I had on hand/wanted to use up. It made a very soft but tasty loaf. Very easy to put together, especially for weeknight baking.
I jumped into this recipe quickly, as I only had 3 hours to make some bread for dinner. Unfortunately, my haste meant that I started the recipe without reading it fully through, and then had to make some adjustments, as I had no dry milk. I ended up substituting 1 cup 1% milk for the dry milk, and added only 1/3 c. boiling water. I did have to add quite a bit more flour than the recipe called for to make the dough, as it was very soupy and more batter-like before the additional flour. After the first rise, I shaped it into 20 small (1.75 oz) dinner rolls, which, after the second rise, I baked for about 20 minutes. They were delicious! While I'm curious what this is like as a loaf, I absolutely loved it as rolls, and will definitely make them again.
Nice work, Jen! You observed the dough consistency and added flour to get a soft and supple dough. You were spot on to sub 1 cup milk for 1/4 cup dry milk and 1 cup liquid. Happy Baking! Irene@KAF
Family favorite. I've made this bread exactly as written by KAF for many years and it always comes out perfect - flavor, texture, and easy slicing.
Cut the molasses by half (too sweet for us otherwise), used white whole wheat instead of all-purpose flour, and used boiling whole milk instead of boiling water plus dry milk powder plus oil, then shaped them as rolls. I realize that I've deviated quite a bit here, but the beginning idea and the result were both excellent. Mine weren't at all too delicate; if I'd made a loaf instead of rolls I think it would have sliced just fine.
I used 300g water as where I live is very humid. yet the batter was extremely sticky and unmanageable to knead. The flavor is good but the bread is extremely crumbly,
I am pleased to hear you enjoyed the flavor! If you are in a humid climate you may not need the full 300g. The flour absorbs moisture (the humidity) from the air so typically using less liquid is necessary. We hope you will try this recipe again some time! Elisabeth@KAF