A customized print-friendly version of this recipe is available by clicking the "Print Recipe" button on this page.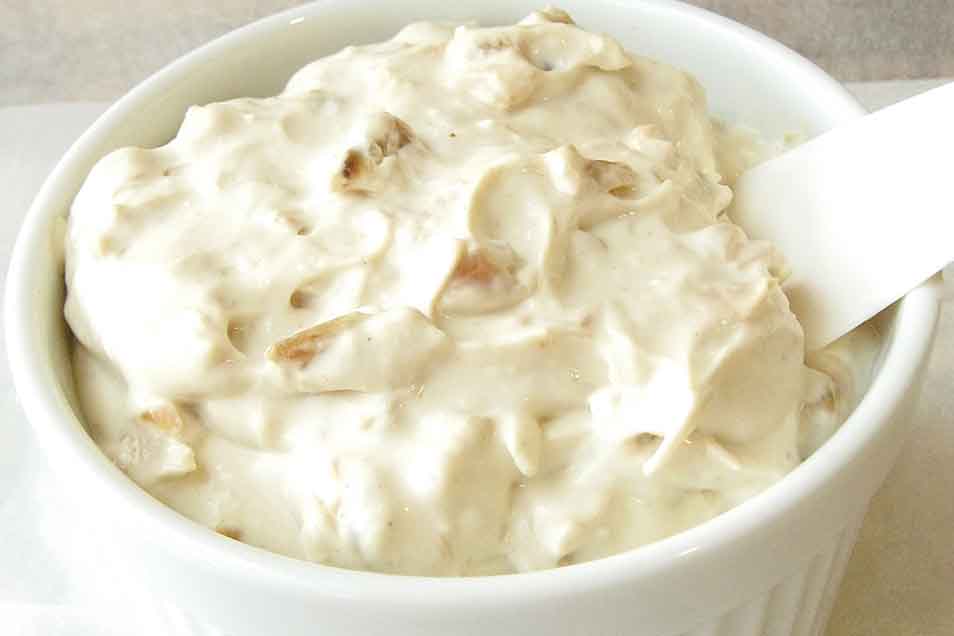 One box dry onion soup mix. One carton sour cream. Stir. Sigh...

Want to go beyond America's classic method of preparing onion dip? Try sautéeing your own onions and garlic with a splash of wine, then mixing with sour cream, cream cheese, and a touch of mayo to complement the onions' sweetness. A dash of Worcestershire completes the picture.
Ingredients
1 tablespoon olive oil or garlic oil
1 tablespoon butter
2 medium yellow onions or 1 large sweet onion, diced, about 1 1/2 cups diced onions
2 to 3 medium cloves garlic, peeled and chopped
1/4 cup water*
1/4 cup white wine or sherry*
1 cup sour cream
1 cup (8-ounce block) cream cheese, at room temperature
2 tablespoons mayonnaise
1/4 to 1/2 teaspoon salt, to taste
1/4 to 1/2 teaspoon Worcestershire sauce, to taste
1/2 teaspoon onion powder, optional
*Use all water or all wine, if desired.
Instructions
Heat the olive oil or garlic oil and butter in a frying pan set over medium heat, and add the diced onion and minced garlic.

Sauté slowly, stirring occasionally, till the onion is soft and golden brown, about 25 minutes. Add the water/wine to the onions, and continue to sauté gently till the liquid is mostly absorbed, stirring frequently, about 3 to 5 minutes.

Remove the pan from the stove, and transfer the onion and garlic to a plate to cool.

Mix the sour cream, cream cheese, and mayonnaise till smooth. Add the onions.

Add salt and Worcestershire sauce to taste, and onion powder, if desired.

Refrigerate till ready to serve.

Yield: 2 1/2 cups dip.