A customized print-friendly version of this recipe is available by clicking the "Print Recipe" button on this page.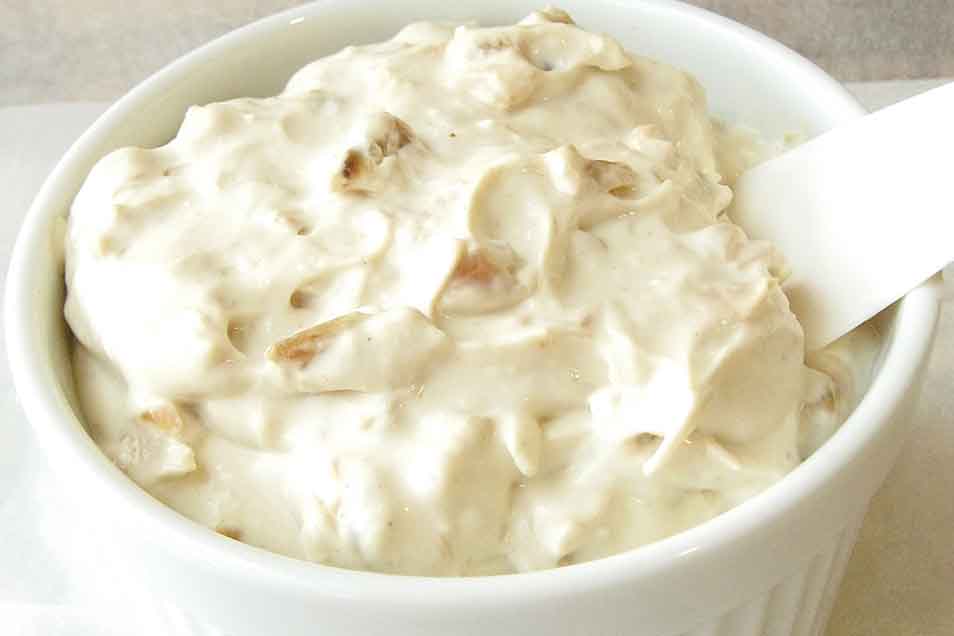 One box dry onion soup mix. One carton sour cream. Stir. Sigh...

Want to go beyond America's classic method of preparing onion dip? Try sautéeing your own onions and garlic with a splash of wine, then mixing with sour cream, cream cheese, and a touch of mayo to complement the onions' sweetness. A dash of Worcestershire completes the picture.
Ingredients
1 tablespoon olive oil or garlic oil
1 tablespoon butter
2 medium yellow onions or 1 large sweet onion, diced, about 1 1/2 cups diced onions
2 to 3 medium cloves garlic, peeled and chopped
1/4 cup water*
1/4 cup white wine or sherry*
1 cup sour cream
1 cup (8-ounce block) cream cheese, at room temperature
2 tablespoons mayonnaise
1/4 to 1/2 teaspoon salt, to taste
1/4 to 1/2 teaspoon Worcestershire sauce, to taste
1/2 teaspoon onion powder, optional
*Use all water or all wine, if desired.
Instructions
Heat the olive oil or garlic oil and butter in a frying pan set over medium heat, and add the diced onion and minced garlic.

Sauté slowly, stirring occasionally, till the onion is soft and golden brown, about 25 minutes. Add the water/wine to the onions, and continue to sauté gently till the liquid is mostly absorbed, stirring frequently, about 3 to 5 minutes.

Remove the pan from the stove, and transfer the onion and garlic to a plate to cool.

Mix the sour cream, cream cheese, and mayonnaise till smooth. Add the onions.

Add salt and Worcestershire sauce to taste, and onion powder, if desired.

Refrigerate till ready to serve.

Yield: 2 1/2 cups dip.
Reviews
The only thing I will change the next time will be to double the amount of onions! This is delicious, but not quite onion-y enough for this onion lover. I used all wine for liquid and increased the salt and worchestershire sauce from the lower amount by a little; I didn't have any fresh garlic so I added some garlic powder at the very end of the cooking of the onions. I may add the onion powder (which I didn't have this time) if increasing the amount of onions doesn't do the job. But this will go to my next party (it makes a lot of dip)!
Very well-received as one of several "throwback" apps at a dinner party. Made as directed, with the onion powder and the larger amounts of both salt and Worcestershire sauce. Sure, it takes a little longer than mixing Lipton soup mix and sour cream, but the fabulous flavor is worth the extra effort!
I used the recipe as a jumping off point. I used the recommended amount of wine, but instead of water I added reduced sodium beef broth. Additionally, I used 1/2 tsp of sea salt and 1/2 tsp of celery salt. It came turned out to be delicious! I am sure the recipe was fine as it was written, but I am always adjusting recipes to personal taste. The way I made it worked for me. Now, off to a family BBQ with my homemade dip!!!
I made this recipe using water instead of wine. I didn't taste it till the next day to allow the flavors to blend, but was very disappointed when I did. I thought the taste of Worcesteshire was overpowering, even though I used the smaller amount. I ended up adding another cup of sour cream, and about 1/4 cup dried minced onion. It helped, but I will not be making this again. Sorry!
This was very good-much better than the "envelope" mix. I usually put my room-temp cream cheese in bowl first and cream it alone, then add the sour cream, mix, then add mayo. I use all white wine. And of course, more garlic. The setting overnite really intensifies the flavors...but it was HARD to wait!
My 1st KAF rating!!! This recipe was faaaabulous!! I carmalized the onions/garlic to a dark toasty brown(I did use 4 large cloves of garlic). I used all wine, no water and let it sit over night. i do think the resting period is the trick, the flavors have time to infuse. I brought it to work for a retirement party and it got RAVE reviews. I had no problems with lumping as previous reviewer did. This is a keeper!!
This was great! I used Vidallia onions. They were sooo sweet. My family could not get enough. They even used it as a sandwich spread. This is so full of flavor. It is the best onion dip I have ever made. It did take a little longer to make than stated but it was worth the time,
I'm torn about recommending this recipe because I think it needs work. There are 2 issues you should be ready to deal with: 1) I ended up dumping the cream cheese, sour cream, and mayo mixture into my stand mixer with paddle attachment. I could not get them to a smooth consistency otherwise. (Yes, they were at room temp.) 2) I followed the ingredients as listed but when done, I found myself doubling all the spices including adding garlic powder and Tobasco. I'm going to regrigerate over night and taste again in the morning.