A customized print-friendly version of this recipe is available by clicking the "Print Recipe" button on this page.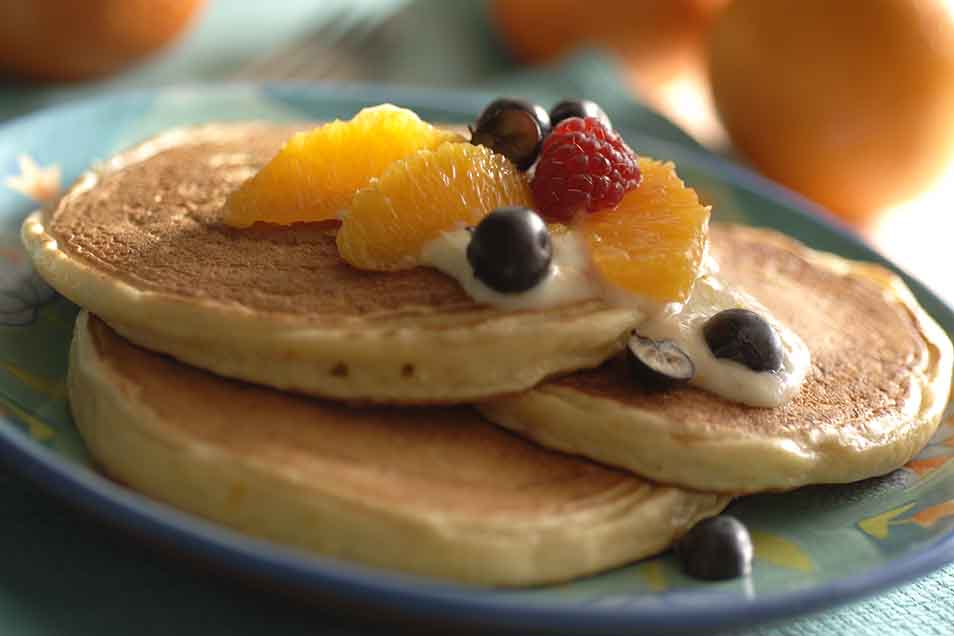 Orange and whole wheat is a natural combination, and these feathery pancakes make a complete breakfast. They're so light it's hard to believe they're made with whole wheat flour. Eat them as soon as they're made, topped with maple syrup, and begin your day with a full tummy and enough protein to last you until lunch!
Ingredients
3/4 cup cottage cheese
3 large eggs, separated
1/4 cup (4 tablespoons) butter, melted
1 tablespoon orange juice
1 tablespoon sugar
1/2 teaspoon salt
pinch of ground cinnamon
1 tablespoon orange zest or 1/2 teaspoon orange extract
Instructions
Place the cottage cheese, egg yolks, melted butter, and orange juice in a food processor or blender, and process until the cottage cheese is smooth, about 30 seconds.

Add the flour, sugar, salt, and cinnamon, and process again.

Scrape the mixture into a medium bowl and stir in the orange zest or extract. Let this mixture rest for 10 minutes.

Preheat a griddle.

In the bowl of your electric mixer, whip the egg whites until they're stiff but not dry.

Use a rubber spatula to stir a spoonful of the whites into the batter to loosen it, and then gently fold in the rest of the whites.

This batter doesn't need to rest; cook the pancakes right away. Lightly grease the griddle.

When a drop of water skitters off the griddle, it's ready to use. Pour the batter in 1/3-cupfuls onto the preheated griddle. Cook the pancakes until golden brown on both sides.

Serve immediately; they don't hold well in the oven.
Reviews
These pancakes are very light and fluffy. I loved them. The kids, however, didn't like the orange flavor nor the texture. They prefer sturdier buttermilk pancakes.
Yummy and full of protein! Not only does it have a good amount of cottage cheese, but also a good number of eggs :) These are simple to make; my food processor was a mini so I placed all ingredients in processor EXCEPT the flour and egg whites. Weighed the flour into a medium size bowl and gently stirred processed ingredients into flour and then the egg whites as directed. I made a batch and a half and they were all eaten up by 4 family members. Though I did not count how many pancakes for an exact yield I would estimate at least 18, four inch pancakes in my 1.5 batch. These are great with maple syrup and compliment fresh berries and peaches nicely. As indicated - they do need to be eaten right off the griddle.
These are my absolute favorite pancakes! Please make them.
This recipe makes the most light and fluffy pancakes. I used a shaped pancake pan to cook them and they turned out just great and they cooked up pretty quickly, I turned them over as soon as I saw the slightest bubbling. I topped them with honey butter, a dollop of whipped cream and dusted slightly with cinnamon/powder sugar. My two boys didn't leave one bit on their plates. This recipe will definitely be in the breakfast rotation.
These pancakes are so light and flavorful! I did not have cottage cheese. I substituted ricotta. Delightful. Quick and easy.
Great substitution. It usually works the other way around in our household (cottage cheese for ricotta)! I'm glad the adjusted recipe met your expectations. Irene at KAF