A customized print-friendly version of this recipe is available by clicking the "Print Recipe" button on this page.
Orange Sunshine Coffeecake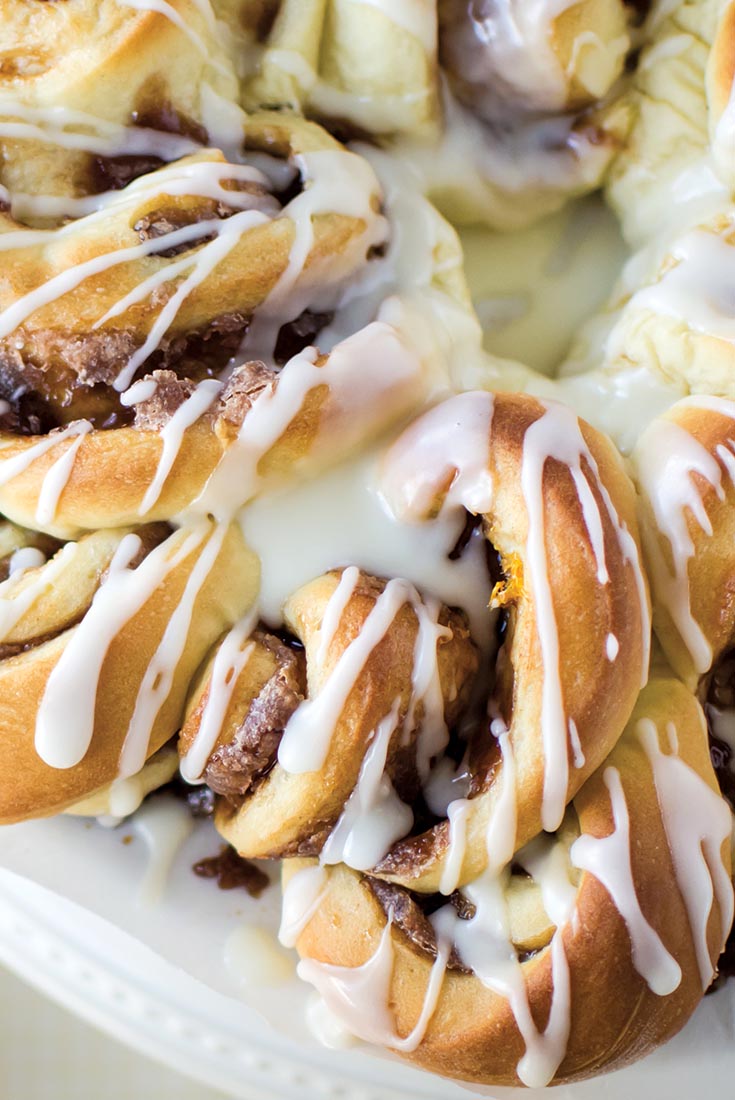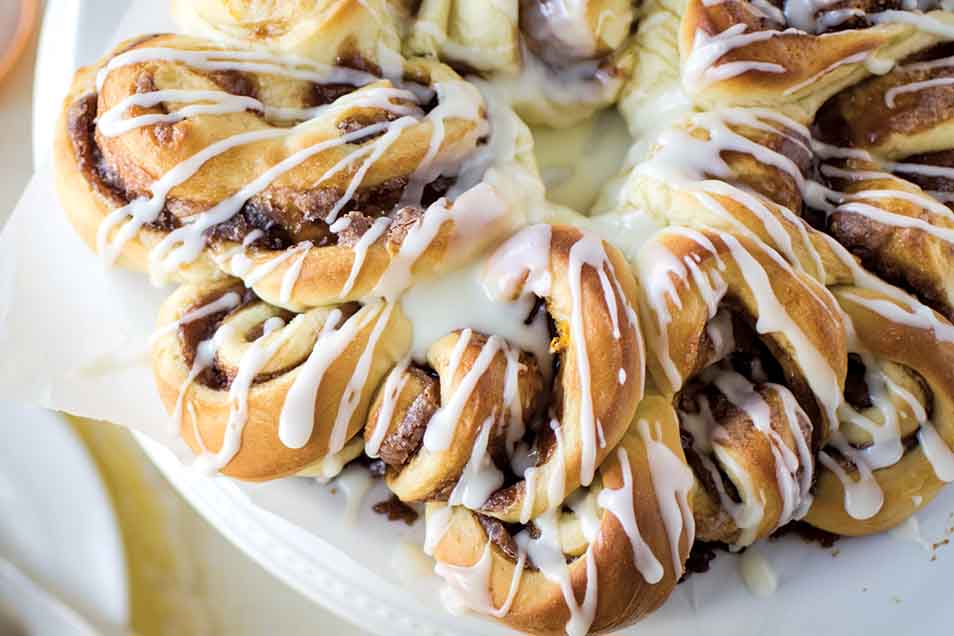 As the days grow longer and we turn toward springtime, this tender coffeecake, with its orange-cinnamon filling, is a great way to celebrate.
Ingredients
Dough
1/2 cup milk
2 tablespoons butter
1/4 cup orange juice
2 teaspoons instant yeast or active dry yeast
2 3/4 cups King Arthur Unbleached All-Purpose Flour
1 teaspoon salt
1/4 cup sugar
1 large egg
Filling
3/4 cup granulated sugar
1 tablespoon Instant Clearjel
1/2 teaspoon cinnamon
2 tablespoons grated orange peel (zest)
3 tablespoons orange juice
Icing
1 cup confectioners' sugar
1 to 2 tablespoons orange juice
Instructions
To make the dough: Place the milk in a small saucepan and bring it to a simmer. Remove it from the heat and add the butter. When the butter has melted, add the orange juice. When the mixture is barely warm to the touch, mix in the yeast, 1 cup of the flour, and the sugar. Cover the bowl, and let the mixture rest for 10 minutes, to give the yeast a chance to get going.

After 10 minutes, the mixture should be showing some bubbles. Mix in the egg and salt. Add another 1 1/2 cups of flour and mix until cohesive. Turn the dough out onto a lightly floured surface; use the remaining 1/4 cup flour for your hands as you knead the dough for 6 to 8 minutes. It should be soft, smooth, and supple.

Place the dough in a greased bowl, cover it, and let it rise until doubled in volume, 1 to 1 1/2 hours.

To make the filling: Combine the sugar, Clearjel, cinnamon, orange zest, and juice to form a spreadable paste.

To assemble the coffeecake: Deflate the risen dough and pat it into a rectangle. Cover it with greased plastic and let it rest for 5 minutes. After this rest, roll it into a 12" x 18" rectangle. Spread the filling over the rectangle, leaving 1/2" along one long edge uncovered. Roll the dough up (starting at a long edge) toward the opposite uncovered edge. Pinch the seam to seal, then transfer the log to a parchment-lined baking sheet. Pull the ends around to form a circle; pinch the ends together.

Cut slits about 1 1/2" apart, three-fourths of the way toward the center of the ring. Lay the rings on their sides to overlap, or twist alternating slices to the inside and outside of the ring, as shown in the recipe's photo. Cover with greased plastic wrap and let rise for 30 to 45 minutes, until quite puffy-looking. After 20 minutes of rising time, preheat the oven to 375°F.

When the coffeecake is almost doubled, remove the plastic. Put the cake into the preheated oven, and bake it for 20 to 25 minutes, until it's golden brown. Remove it from the oven, and cool it on a rack.

When the cake is lukewarm, combine the confectioners' sugar and orange juice and drizzle over the top before serving.
Nutrition Information
Serving Size

11g

Servings Per Batch

16
Amount Per Serving:
Calories

356

Calories from Fat

27

Total Fat

3g

Saturated Fat

1g

Trans Fat

0g

Cholesterol

17mg
Sodium

83mg

Total Carbohydrate

72g

Dietary Fiber

2g

Sugars

14g

Protein

10g
* The nutrition information provided for this recipe is determined by the ESHA Genesis R&D software program. Substituting any ingredients may change the posted nutrition information.
Tips from our bakers
Can you make this dough in the bread machine? Of course. Program it for the dough cycle, and put the combined ingredients from step 1 into your machine's pan. Let them rest for 10 minutes there, then add the egg, salt, and 1 1/2 cups flour. Start the machine, and check after the dough has kneaded for a few minutes by opening the machine and touching it lightly. If the dough sticks to your finger, add the remaining 1/4 cup flour. Let the machine finish its cycle, then shape the dough as described in steps 5 and 6.
The filling as given above will only stay in place by using Instant ClearJel. If you don't have that product, use this filling instead: 1/2 cup (3 1/2 ounces) granulated sugar, 3 tablespoons (1 1/2 ounces) soft butter, 2 tablespoons (1 ounce) King Arthur Unbleached All-Purpose Flour, 1/2 teaspoon cinnamon, and 2 tablespoons freshly grated orange zest. If the mixture is too thick to spread on the dough without tearing it, add a teaspoon of orange juice.
Reviews
i read lots of reviews about the filing being too runny so wanted to make sure i had the clear jel. I checked 4 stores in my Washington DC suburbs and could not find Clear jet. I have used Sure jet for making jams/jellies and wondered it this would be a good substitute. I wasn't sure if it was similar so I called the KAF baking help line and was told it was the same thing, ok to use. Well, the filling turned to complete liquid, ran out of the ring while i was rolling it. I ended up wasting a lot of time in addition to the cost of the ingredients. Your folks who offer help should be more sure of the advice they are giving. Clear jet and Sure jet are not the same, certainly not similar enough to substitute.
Our sincere apologies for the info you received. Sure-Jell is fruit pectin that's used to thicken jams or jellies, while the Instant ClearJel is used to thicken fruit fillings for pies or even the fillings for some yeasted breads that call for it (like cinnamon or other filled buns). This recipe does feature a filling option under Tips from our Bakers that uses flour instead of the Instant ClearJel. We hope you try the recipe again using the flour filling version to get you back to happy baking! Irene@KAF
the written recipe in sift is not good. if you make it from the website it comes out better

Michelle, you're correct that the magazine copy of this recipe contained an error in the directions. Thanks for pointing this out. Barb@KAF
I baked it without any filling and I was out of oranges but I had tangerines so I used them instead! It worked out great. This was a really light and soft bread, not so sweet (because I used no filling or glaze) I loved it. I will make this again. Thanks KAF. This is the second recipe I tried from KAF and both were awsome.
I made this again using the Instant Clearjel and had no issues. I assemble in the evening, refrigerate, and bake in the morning.
Sorry, King Arthur this is a loser. The recipe is a shambles, measurements and steps all mixed up. Looks like no one did quality control, and it's a shame, the picture looks gorgeous. Review the recipe, please, it makes no sense.

We are sorry to hear you were not able to make this recipe turn out, Brushjl. We have had success with this recipe, so we would like to know which steps you found misleading so we can make this more user-friendly in the future. We'd love to hear your thoughts more completely at the Baker's Hotline at 855-371-BAKE. We look forward to helping you make a coffeecake that is as delicious as the picture looks. Kye@KAF
This is a stunning presentation and delicious coffee cake, wow! I was a little intimidated to try it but it's fairly easy as long as you allow proper time to rise. I decided to make the night before so no stress. Thought I had the clear gel but did not; the flour substitute was perfect! Yummy, thanks again. kal!
I had the same issue with the filling spilling out. I used the filling suggested in the Baker's notes so it was spread on. Otherwise a great recipe, easy to make, and tasted delicious. I tried to spoon the hot filling back over the tops of the buns, which used it up pretty well. Still, I'd love to know if there is a solution to this problem.
The instant clearjel is the magic bullet here. The alternative provided under, tips from our bakers, works but not quite as well as when using instant Clearjel. Elisabeth@KAF
Perfect coffeecake! It was quick and so easy to make since I made the dough in my Zo bread machine. The dough rolled out easily and I made sure my filling was a spreadable paste. Beautiful after baking. BTW, I used 3/4 C whole wheat flour instead of all white flour. My husband can't wait for me to make another one.
Lusciously brilliant, airy yeasty - definitely delicious. Filling gives it almost an Orange/Carmel roll taste. Makes a truly, full-sized coffeecake. Total prep time, includes a couple of rises, so may seem long. Stunning end product if you carefully follow the photos and instructions in the recipe relative to how to cut and lay it out.
Like the other two commentors the filling was a liquid in consistency. I strongly suggest you review the recipe, perhaps there is a mistake? It was soupy and all poured out the ends. Would not have helped if I had left more of a border, either. More flour? Less juice? No juice? Very strange, really. I also used flour. It still smells and looks delicious and thankfully I did not have a huge mess in my oven. Also, I did not get nearly as much of a large circle as in the pictures - and I measured my rectangle as I rolled it out.

Instant ClearJel has slightly more thickening power than flour does, so if you seem to be having trouble and you are using flour, boost the amount to 2 tablespoons until you get a paste-like consistency with the filling. This should help thicken it up and prevent it from spilling out. Alternately, you can try using 1 tablespoon of cornstarch in place of the flour for a thick, orange-flavored filling. We hope this helps give you the coffee cake you are looking for. Happy baking! Kye@KAF