A customized print-friendly version of this recipe is available by clicking the "Print Recipe" button on this page.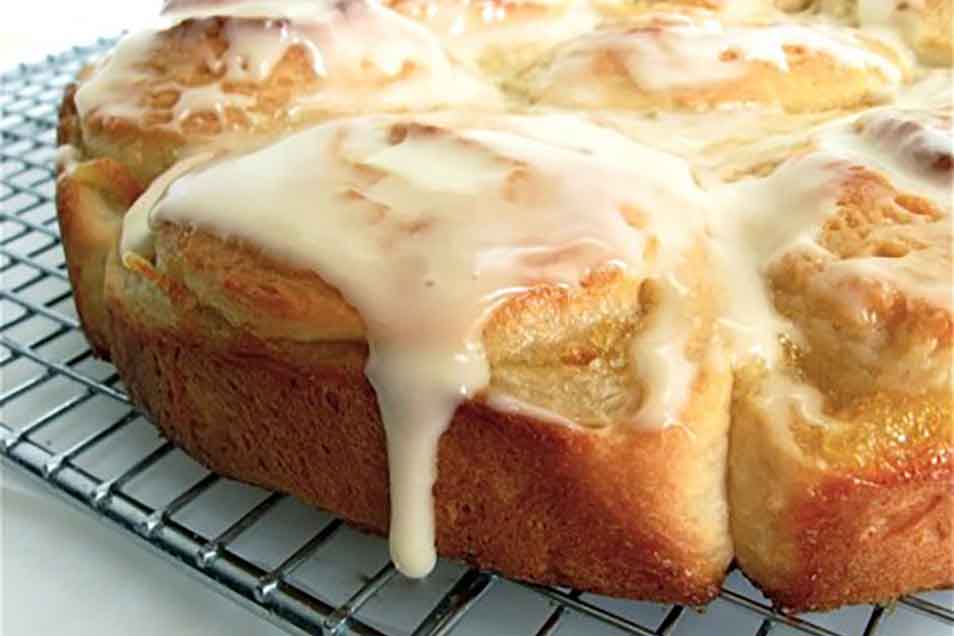 These sweet rolls are perfect for citrus lovers. Rolled up like cinnamon buns, they feature orange marmalade filling and orange-scented icing.
Ingredients
Rolls
7/8 to 1 1/8 cups lukewarm water*
6 tablespoons unsalted butter, at room temperature
1 teaspoon Buttery Sweet Dough Flavor, optional
2 1/2 teaspoons instant yeast, SAF Gold instant yeast preferred
3 tablespoons sugar
1 1/4 teaspoons salt
1/4 cup Baker's Special Dry Milk or nonfat dry milk
1/4 cup potato flour or 1/2 cup instant mashed potato flakes
*Use the lesser amount in summer (or in a humid environment), the greater amount in winter (or in a dry climate), and somewhere in between the rest of the year, or if your house is climate controlled.
Icing
1 1/4 cups confectioners' sugar
1/2 teaspoon vanilla extract or 1/8 teaspoon Fiori di Sicilia
1 1/2 to 2 tablespoons orange juice, enough to make a soft, spreadable icing
Instructions
Mix and knead everything together — by hand, mixer or bread machine set on the dough cycle — until you've made a smooth dough. If you're kneading in a stand mixer, it should take about 7 minutes at second speed, and the dough should barely clean the sides of the bowl, perhaps sticking a bit at the bottom. In a bread machine (or by hand), it should form a smooth ball.

Place the dough in a lightly greased bowl. Cover the bowl, and allow the dough to rise, at room temperature, until it's nearly doubled in bulk, about 1 hour. Rising may take longer, especially if you haven't used SAF Gold yeast, or if you've kneaded by hand; give the dough enough time to become quite puffy.

While the dough is rising, lightly grease two 9" round cake pans.

Transfer the risen dough to a lightly greased work surface, and pat or roll it into a 16" x 12" rectangle. It's a nice, soft dough, and pats out easily.

Spread the marmalade evenly over the surface of the dough, leaving about 3/4" of one long side free of marmalade.

Roll the dough into a log the long way, rolling towards the bare edge. When the log is completely rolled, pinch the long seam closed as best you can.

Using a serrated knife, slice the log into 16 slices. In order to cut down on drag, it helps to rinse the blade in hot water and wipe it off between slices.

Space eight rolls in each of the prepared pans.

Cover the pans, and let the rolls rise until they're noticeably puffy, about 45 minutes to 1 hour (again, longer if you haven't used SAF Gold yeast); they should spread out and start to crowd one another.

While the rolls are rising, preheat the oven to 350°F.

Bake the rolls until they're brown around the edges and beginning to turn golden brown across the center, about 23 to 25 minutes.

If you're going to serve the rolls immediately, make the icing while the rolls are baking. Combine the sugar, orange oil, vanilla, and enough orange juice to make a spreadable icing. If you're not serving the rolls immediately, don't make the icing yet.

Remove the rolls from the oven, and loosen their edges with a knife. Turn them out of the pan onto a rack. To enjoy right away, spread with the icing and serve.

To serve the rolls later, allow them to cool completely, then wrap in plastic wrap and store at room temperature for up to 3 days. Shortly before you're ready to serve, preheat the oven to 350°F. Unwrap the rolls, place them on an ungreased baking sheet, and tent lightly with aluminum foil. Bake for 10 to 15 minutes, until they're nicely warmed.

While the rolls are reheating, make the icing.

Remove the rolls from the oven, and spread with the icing. Serve immediately.

Yield: 16 rolls.
Tips from our bakers
SAF Gold yeast makes a big difference in the rising time for these rolls. If you use SAF Gold, each rise will take about 45 minutes; using another yeast will extend the rising time up to about 2 hours for each rise.
Not a fan of orange marmalade? Substitute apricot preserves, if desired; the rolls won't be as "orange-y," but will be delicious nonetheless.
Reviews
I did terrible, terrible things to this recipe and it still turned out great. For starters, I forgot to add a teaspoon of yeast and kneaded it in 10 minutes into the first rise. Then I let the first rise go on WAY too long (which may have been a good thing, given the mess with the yeast) and had to punch the dough down in the middle of the first rise. Also, I didn't follow instructions and I filled with with an almond bearclaw filling instead of jam. The whole thing turned out wonderfully and I will be making these again. Almond filling is delicious in these, but also a sticky pain-in-the-neck to make and work with.
King Arthur so very rarely dissapoints...these were no exception. Very good sweet rolls and easy to make. For the first batch, I made them per the recipe, the only substitutions/changes being a combo of 1/8 tsp orange extract + 3/8 tsp butter flavor + 1/2 tsp vanilla for the Buttery Sweet Dough flavor and almost double the marmalade for the filling. The second time around I decided it needed just a touch more orange so for the dough I used: half water and half orange juice warmed to about 110F; added about 2 tsp fresh orange zest; reduced sugar by half; used 1/2 tsp each butter flavor and vanilla, omitting orange extract. The filling became a scant 1/2 cup orange marmalade and 1/4 tsp cinnamon. I spread about 1 tbsp melted butter directly on the dough prior to spreading the filling. Also, I added about 1 tsp fresh orange zest to the icing. Second batch was baked just until they began to brown, cooled completely, wrapped in aluminum foil, bagged in a freezer bag and frozen. Reheated for 10 minutes covered with foil then 5 to 10 minutes without foil. Tip: After speading the marmalade on my dough the first time, I decided the pieces of rind were too long (some were nearly 2 inches) to survive being sliced without coming out of my dough. I scooped them up and chopped them with a knife then spread them back out on my dough. I use a piece of thread to slice any dough that is rolled into a log shape, be it cookie or bread.
These were a hit for Father's Day brunch. I made the recipe as directed, using potato flakes and a bit more marmalade. I didn't bother to measure, just slathered it on. I used both the Fiori de Sicilia and a dash of vanilla in the icing. Yummy!
The recipe was easy to work with, mixed it in my "ZO", flavor was excellent. However, 1/4 cup of marmalade was not nearly enough for the filling!
New to baking and I haven't tried these yet; but I do have a question. In the directions (#12) for the icing it says orange oil, but I don't see orange oil in the ingredients list. Am I missing something? Thanks.Fiori di Sicilia is a citrus vanilla flavored oil. I believe that is what they were referring to in Step #12.You can purchase this flavoring online from the Baker's Catalog.Happy Baking!JoAnn@KAF
Another winner! Perfect texture..a bit on the heavy side, but in a good way. The dough was extremely easy to handle when I rolled it on parchment paper. I added pecans but perhaps almonds would have been better. In either case, they need to be chopped into rather small pieces. I didn't!! The bag said "chopped pecans" but they were really too big and distracted from the great flavor. I really don't like to rate a recipe when I haven't followed it exactly, BUT I did..just a little..but not in the ingredients, in the shape. I rolled the dough starting from the short end & then cut the roll into 10 pieces & baked then for about 19 minutes using my favorite pan...the "not just for hamburger" pan! That way I had ready-to-grab individual rolls...made it easier for freezing too! (OK, I made a double batch anticipating at least a few being left over for freezing)
Haven't made these, but this is a comment for bettyisahomemaker: try cutting the dough into slices using dental floss. watch the YouTube "How to Cut Cinnamon Rolls".
I made these as a means of using up an aging jar of orange marmalade. I subbed half the flour with whole wheat pastry flour, and thus used the greater amount of water and allowed the mixed dough to rest about 15 minutes before kneading (to give the WWP a chance to soak). The filled, rolled dough was pretty messy to slice (next time I'll try using a pizza cutter instead), but no matter - they rose quickly and baked up really nice! Although the icing recipe doesn't specify orange oil, the directions do, so I added a couple drops to mine and it was delish.
Just took them out of the oven and the first pan is almost gone! Amazing flavor! Will be making them again soon. Thanks KAF!
Fabulous! I made it exactly like the recipe said for my husband's birthday today. He remembers his mom always made the Pillsbury ones, out of a can, every Sunday after church. It was fun recreating this memory, with a FAR superior product! Highly recommend.