A customized print-friendly version of this recipe is available by clicking the "Print Recipe" button on this page.
Organic Wheat Pita with Fruit Salsa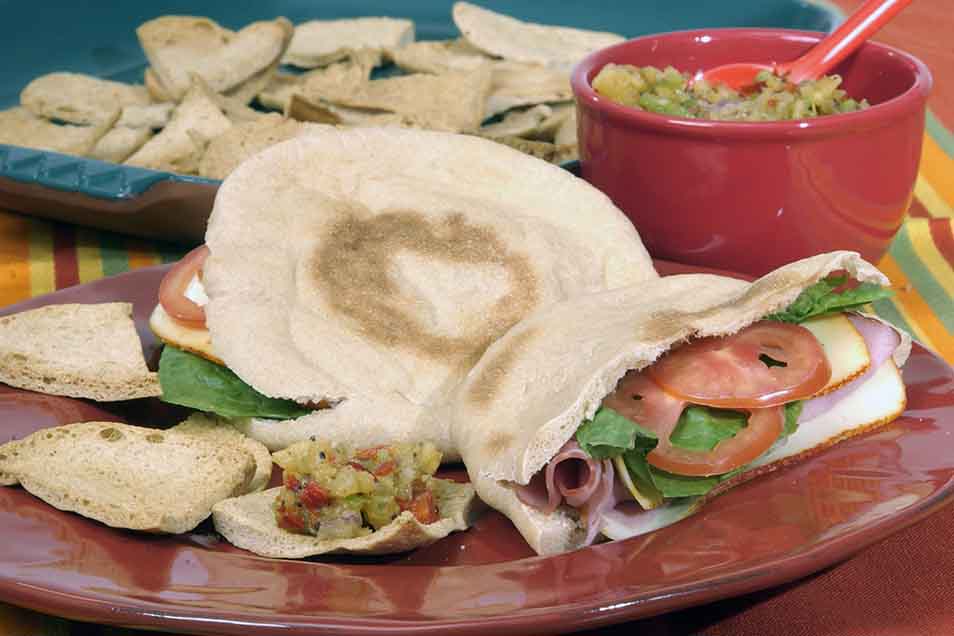 Layer and fill pocket breads with meat and cheese, stuff with chicken or tuna salad, or spread with peanut butter and jelly; this white whole wheat bread complements a wide range of ingredients.
Ingredients
Salsa
1 1/2 cups diced fresh pineapple
1/3 cup diced red bell pepper
1/3 cup diced green bell pepper
1/3 cup diced red onion
1 ripe kiwi fruit, peeled and diced
2 teaspoons salsa seasoning
Instructions
To make the salsa: Combine all of the salsa ingredients in a small bowl, tossing to combine. Refrigerate for several hours, or overnight.

To make the pitas: Combine all of the pita ingredients, and mix and knead — by hand, mixer, or bread machine — to make a smooth dough.

Cover the dough, and allow it to rise until it's puffy, about 90 minutes.

Place a pizza stone on the bottom rack of your oven, or line a baking sheet with parchment (or grease it lightly). Preheat the oven to 450°F.

Gently deflate the dough, and divide it into eight pieces, shaping each piece into a rough ball. Let the balls rest for 10 minutes, covered.

Lightly spray a silicone rolling mat, or clean work surface, with non-stick vegetable oil spray. Use a rolling pin to roll one ball of dough into a 6" circle that's slightly less than 1/4" thick. Repeat with another ball of dough.

Place the pitas on the hot pizza stone, or place them on the prepared baking sheet, and put the baking sheet on the bottom rack of the oven. Bake the pitas for 4 to 5 minutes, until they puff up. Turn them over, and bake for another minute or two; total baking time should be about 6 minutes (about 7 minutes, if you're baking on a pan rather than a stone).

Remove them from the oven, stack them on a kitchen towel, and fold the towel up over them; this will keep them from becoming crisp as they cool.

Repeat with the remaining pieces of dough.

Pitas can be stored at room temperature in a bag or closed container.

To combine: Carefully separate the two sides of the pita to make two large, thin rounds out of each. Spray each round with olive oil spray, and cut into wedges or squares.

Place in a single layer on a baking sheet, and bake in a preheated 350°F oven for 15 to 20 minutes, until crisp and beginning to brown. Remove from the oven, and cool on a rack, or right on the pan. Serve with fruit salsa.
Tips from our bakers
Baking pitas on a hot stone produces a more reliable "ballooning" effect than baking them on a baking sheet. They'll usually balloon when you use a baking sheet, but not always. It helps if your oven is 450°F; don't let the temperature edge down below that.
The salsa is simple to make, and lends itself to a multitude of variations. Substitute diced fresh peaches for the pineapple. Add a bit of diced jalapeño pepper for extra heat, or a squeeze of lime juice, if you fear the fruit you've used will discolor. We also made it with oven-dried pineapple, which intensifies its flavor. To bake pineapple, peel a fresh pineapple, and cut it into 1/4" thick slices; no need to core it. Place the slices on a parchment-lined or lightly greased baking sheet in a single layer. Bake for 50 to 55 minutes, until the pineapple is barely beginning to brown around the edges. Cool, and dice. And yes, if you insist, you can use canned pineapple in place of fresh.

Not into fruit salsa? Make an easy corn and black bean salsa by substituting 1 cup cooked corn kernels and 1/2 cup cooked black beans for the pineapple, and 1 small tomato, diced, for the kiwi.