A customized print-friendly version of this recipe is available by clicking the "Print Recipe" button on this page.
Original Pineapple Upside-Down Skillet Cake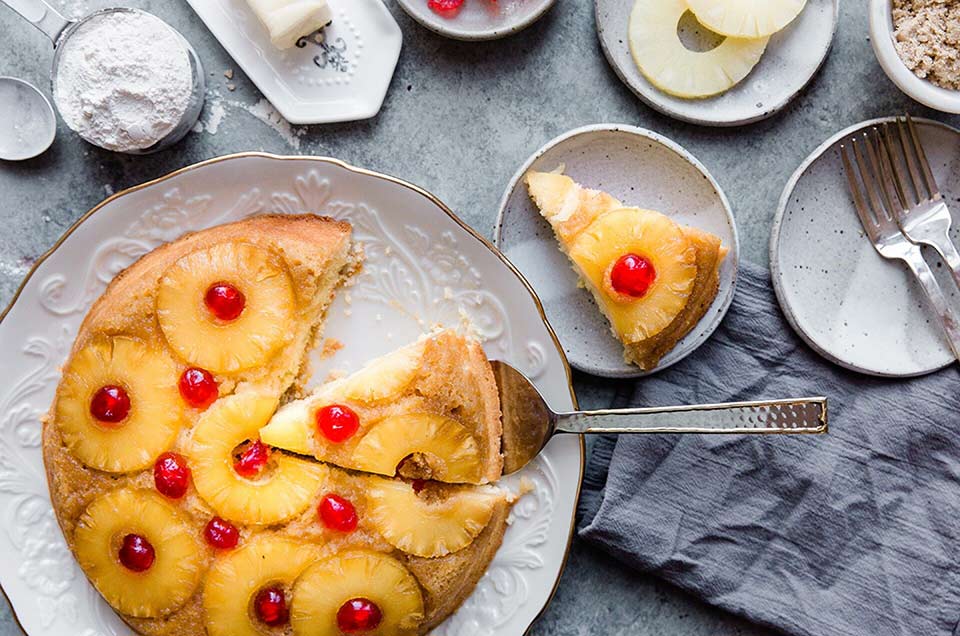 How was this iconic recipe born? No one knows for sure. Skillet cakes — featuring fruit and sugar in the bottom of a cast iron skilled, topped with cake batter and cooked atop the stove — were common in both Europe and America for centuries. So it stands to reason that pineapple would eventually make its way into a skillet cake — which it did, probably sometime during the 1920s. At any rate, this version, with its bounty of both pineapple and cherries atop a brown sugar syrup-drenched golden cake, is a winner.
Ingredients
Cake
2 teaspoons baking powder
1/2 teaspoon salt
2 large eggs, yolks separated from whites
1/2 cup (8 tablespoons) unsalted butter*
1 cup granulated sugar
1/2 cup milk
1 teaspoon vanilla extract
*Reduce the salt to 1/4 teaspoon if you use salted butter.
Topping
2 tablespoons butter
1 cup brown sugar
20-ounce can pineapple rings, drained
about 2 dozen maraschino cherries
Instructions
Preheat the oven to 350°F. Lightly grease a 9" cast iron skillet (it should measure 9" across the bottom; the top diameter may be greater than 9"). Or lightly grease a 9" x 2"-deep square cake pan.

Whisk together the flour, baking powder, and salt. Set the mixture aside.

Whisk the egg yolks to combine; set them aside. Beat the whites, separately, until light and frothy.

Beat the butter until soft and smooth. Gradually beat in the sugar.

Add the egg yolks, beating to combine. Scrape the bottom and sides of the bowl, and beat again, until smooth.

Add the milk alternately with the flour mixture, mixing gently but thoroughly after each addition.

Fold in the beaten whites, then the vanilla.

To make the topping: Melt the butter in the skillet, and sprinkle the sugar evenly on top. Space pineapple rings atop the sugar.

Spoon the batter on top.

Bake the cake for about 45 minutes, until a toothpick inserted into the center comes out clean.

Remove the cake from the oven. Loosen its edges. CAREFULLY turn the cake upside-down onto a serving plate. Lift the pan off the cake, scraping any pineapple or brown sugar from the pan onto the cake, if it sticks.

Place the cherries artfully atop the warm cake, pressing them in gently.

Serve the cake warm, or at room temperature. Store it at room temperature, well-wrapped, for several days; freeze for longer storage.

Yield: 1 cake, 12 to 16 servings.
Reviews
I absolutely loved this cake. So moist and simple. Will bake again.
If you looking for a pineapple cake which packs flavour, you have to try this recipe. The addition of ginger brings a beautiful light heat and using fresh pineapple instead of tinned brings such beautiful sweetness. Yes like other reviews I also recommend cooking for slightly longer then mentioned around 5 mins extra I was using fan oven and noticed little underdone underneath.
This recipe was a let down. I read some of the reviews about the cake not having much flavor so I added an extra teaspoon of vanilla, sadly it didn't help. My biggest complaint was the texture, it was a little gooey in places. The toothpick came out clean in the middle, so i don't know what went wrong there. The topping was the best part & that was perfect. I will eat the cake but I won't be sharing it with anyone. Still it's always nice to try a new recipe.

While we're pleased to hear you found the topping just as tasty as could be, we're sorry the cake wasn't quite at that same level of deliciousness. It can be difficult to test the cake for doneness given the gooey topping, but we'd recommend adding a few more minutes to the baking time if you're unsure if the cake is done in this case. (The topping adds moisture even if the cake is slightly overbaked.) You're not the only baker who was hoping for slightly more flavor in the cake, so we've asked our Recipe Team to take another look at the formula. We hope to make each and every element of this recipe a delight. Kye@KAF
I was looking forward to a special cake since this was shown as an original recipe. Disappointed in the cake part. It was dry and not flavorful, bland in fact. The pineapple topping was very good and yes it does bake a bit crunchy. Will continue looking for a recipe with a sponge cake consistency, which tastes good on its own.

We're sorry to hear the cake didn't come out as well as we'd all have hoped. We'd encourage you to give our free Baker's Hotline a call at 855-371-BAKE to troubleshoot where things might have gone wrong. We're here seven days a week and happy to chat. Mollie@KAF
Followed recipe exactly, measured everything in grams with a very reliable scale and baked according to time, look of cake and test for doneness. Still came out dry and tasteless. Definitely going back to Betty Crocker's Dinette Cake recipe. It's easier, tastier and moister.

We're sorry to hear this classic recipe wasn't what you were hoping it would be. The flavor and texture of the cake can be determined by the kind of fruit that's used, so if you make this recipe or another like it again, you might want to experiment with switching up varieties until you find the most pleasing flavor for your taste buds. Kye@KAF
This is my daughter's favorite kind of cake, so when she was home for Christmas, that's what she got for dessert. This is my favorite "scratch" recipe for PUC (my mom always used a cake mix, but I like to cook from scratch). All the other recipes I tried (not KAF) were dry and tasteless. This was a winner!
Try saving the juice from the pineapple and using it in place of the milk in the recipe. Even better than the original.
I love Pineapple Upside Down Cake, and I was so excited to try this recipe because of the rave reviews. I'm a very good baker and most all of my baked goods are a big success but this time... not so much! LOL! The cake stuck to my seasoned cast iron skillet so a lot of the brown sugar topping had to be scraped off the bottom. Then, the cake was a bit on the dry side. I hate dry cakes so I take care to be sure not to over bake mine. I baked this one for a little under 45 min. at 350 degrees just as the recipe said. ...And it still turned out a little dry. The cake tastes good, but it fell short of my expectations.

We're sorry to hear that this recipe didn't quite hit the mark for you, Cici. You'll likely have already considered these factors, but using a larger-than-called-for pan would result in a shallower cake that would bake (and therefore dry out) more quickly; as would measuring out a heavier-than-intended cup of flour (you'll want to use our fluff, sprinkle and level method when measuring by volume). If you do decide to give the recipe another try, we'd also suggest seasoning your pan again before using it to help guard against additional sticking. Feel free to give us a call if we can help you talk this through any further: 855-371-BAKE. Mollie@KAF
I'very made this twice now and it is awesome! The prettiest pineapple upside-down cake I've ever seen. I love the fact that you put the cherries on when you turn it out...thx King Arthur! I couldn'the bake without y'all!
Absolutely one of my all-time favorites. I, too, reduce the sugar to 3/4 when using fresh ripe pineapple. Sometimes I sprinkle some chopped pecans over the sugar before placing pineapple down. Historically this was cooked on the stovetop, I presume wood-fired. Any details on how? Time and Temp. count (hand held, palm down, just above surface... counting 1,2.3.4...)? Covered/uncovered?

Traditionally it's baked in a cast iron skillet on the stovetop. Other than that, I'm not sure of the details, it might require a little research. Bryanna@KAF