A customized print-friendly version of this recipe is available by clicking the "Print Recipe" button on this page.
Our Bakery's Coconut Macaroons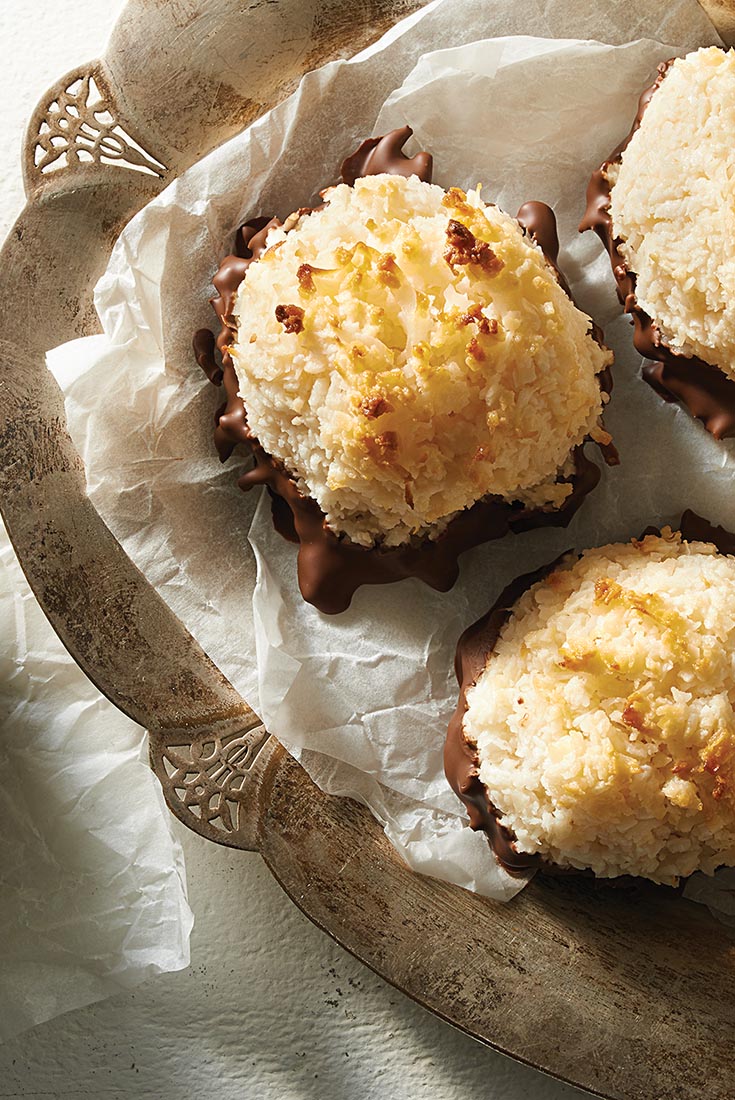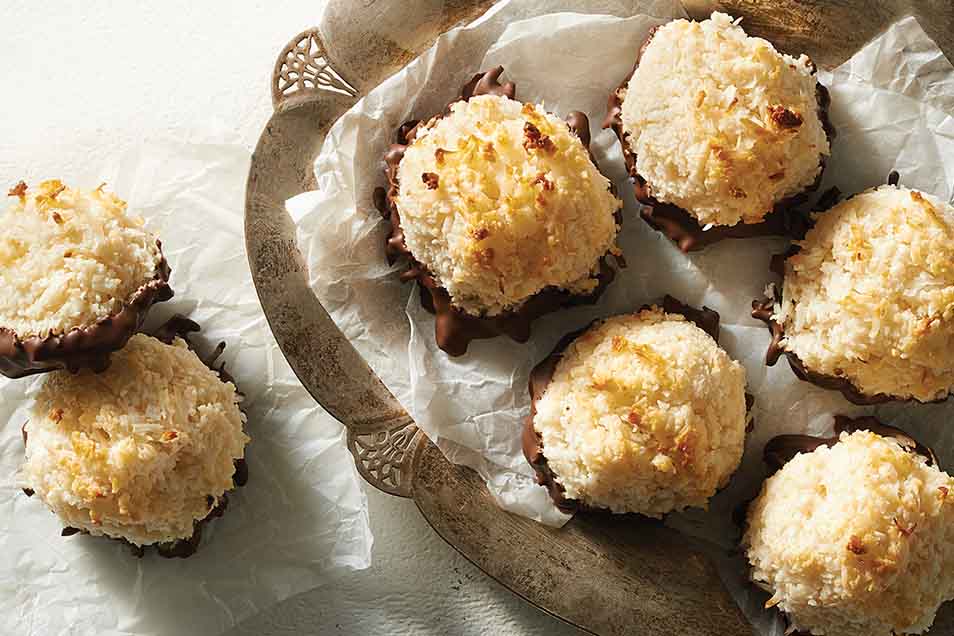 In trying to create the ultimate macaroon recipe, it quickly became clear to us that we didn't need to look any further than our very own bakery. With a chewy shell and soft, moist interior, the King Arthur coconut macaroon has become somewhat legendary among our employee-owners and customers alike. It features two kinds of coconut, but otherwise the ingredients are pantry staples and the recipe requires no more than a quick stir and scoop.
Ingredients
Coating
1 1/3 cups chopped chocolate or chocolate chips, semisweet or bittersweet chocolate
Instructions
Preheat the oven to 350°F. Lightly grease two baking sheets, or line with parchment.

To make the macaroons: In a medium bowl, mix together all the ingredients until thoroughly incorporated.

Scoop the dough by the 1/8 cupful onto the prepared baking sheets, leaving an inch of space between them; a jumbo cookie scoop works well here. Leave the macaroons as rounds, or use your hands or the flat side of a bench knife or dough scraper to shape the balls into pyramids.

Bake the macaroons for 16 to 18 minutes, until they're just barely beginning to turn golden.

Remove the macaroons from the oven and allow them to cool on the pan.

To make the coating: Melt (or temper if desired) the chocolate in a double boiler or in the microwave in short, 10-second increments, stirring until smooth.

Dip the bottoms of the cooled macaroons into the chocolate, then transfer them to a metal cooling rack or back to the sheet pan. Let rest until the chocolate sets.

Store in an airtight container at room temperature for several days; freeze for longer storage.
Reviews
I just made this recipe for the first time. My husband and I love a good coconut macaroon, and we both agree that these are the BEST coconut macaroons we have ever tasted, by far! The mix of sweetened and unsweetened coconut allows the delicate flavor of the coconut shine. I used two bars of Ghirardelli 60% cacao chocolate. What a lovely difference quality chocolate made! (I had never tempered chocolate before, but it's not as complicated as it looked.) All in all, this was a quick, easy, and delicious recipe. I will make it again and again! Thank you for another outstanding recipe, KAF!
Absolutely delicious. I weighed out the portions and used an ice cream scoop and a spoon to shape them. I felt they needed to be compact while baking so they wouldn't fall apart. Baked until golden at 13 minutes. I used a silpat mat. I melted chocolate in a small bowl so that I could get the up around the edges.