A customized print-friendly version of this recipe is available by clicking the "Print Recipe" button on this page.
Our Favorite Sandwich Bread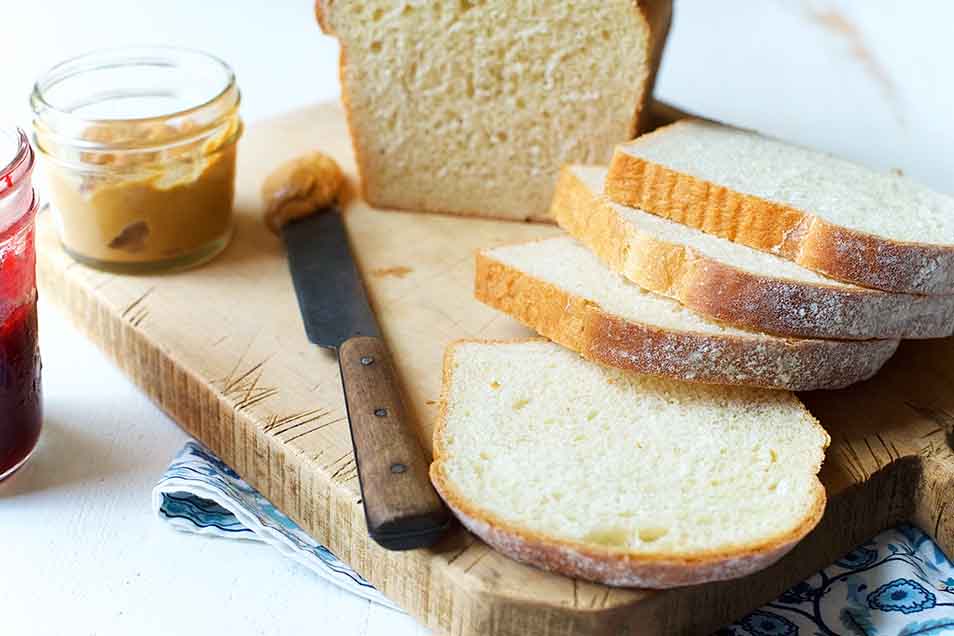 For sandwiches, toast, and French toast, you just can't beat a classic American sandwich loaf, with its creamy-white interior, golden crust, and soft, easily slice-able texture.
Ingredients
1 cup milk
2 tablespoons butter
2 teaspoons instant yeast or 2 1/4 teaspoons active dry yeast
2 tablespoons sugar
1 1/4 teaspoons salt
Instructions
Heat the milk to a simmer, and pour it over the butter in a large mixing bowl. Let the mixture cool to lukewarm, then add the yeast and sugar.

Once the yeast softens, add the remaining ingredients and stir until the dough starts to leave the sides of the bowl.

Transfer the dough to a lightly greased surface, oil your hands, and knead it for 6 to 8 minutes, or until it begins to become smooth and supple. (You may also knead this dough in an electric mixer or food processor, or in a bread machine set to the dough or manual cycle). Add a bit of additional milk or flour if needed — the dough should be soft, but not sticky.

Transfer the dough to a lightly greased bowl, cover, and allow it to rise until puffy though not necessarily doubled in bulk, about 1 hour.

Transfer the dough to a lightly oiled work surface, and shape it into an 8" log. Place the log in a lightly greased 8 1/2" x 4 1/2" loaf pan, cover loosely with lightly greased plastic wrap, and allow the bread to rise for about 60 minutes, until it's domed about 1" above the edge of the pan. A finger pressed into the dough should leave a mark that rebounds slowly.

Towards the end of the rising time, preheat the oven to 350°F.

Bake the bread for 30 to 35 minutes, until it's light golden brown. Test it by removing it from the pan and thumping it on the bottom (it should sound hollow), or by measuring its interior temperature with a digital thermometer (it should register 190°F at the center of the loaf).

Remove the bread from the oven, and cool it on rack before slicing.

Store the bread in a plastic bag at room temperature for several days; freeze for longer storage.
Tips from our bakers
For added whole-grain goodness, substitute King Arthur whole wheat flour (Premium or white whole wheat) for up to half of the all-purpose flour in this recipe.
If you're using instant yeast, there's no need to dissolve it in the warm milk; simply add it along with the flour.
Want to make this bread softer, moister, and extend its shelf life? Try the tangzhong technique, a Japanese method for increasing the softness and shelf life of yeast bread. Begin by measuring out the flour and milk you'll be using in the recipe, increasing the amount of milk to 1 cup + 3 tablespoons. Now take 3 tablespoons of the measured flour and 1/2 cup of the milk; put them in a saucepan set over medium-high heat. Cook the mixture, whisking constantly, until it forms a thick slurry; this will take about 1 1/2 to 2 1/2 minutes. Transfer the cooked mixture to a bowl, let it cool to lukewarm, then combine it with the remaining flour and the other dough ingredients. Proceed with the recipe as directed. Well-wrapped and stored at room temperature, your bread should stay soft and fresh for several days.
Reviews
Made a loaf last night and it was delicious. Can you double the recipe? I hate to go to all that work/pleasure and only have 1 loaf to show for it.

Karen, feel free to go ahead and double this recipe! You can keep all the dough together until it's time to shape the loaf. At this point, divide it into two and continue following the recipe with two loaves instead of one. Happy baking! Kat@KAF
I've attempted this bread 3 times now each time it has created a very dense, but tasty loaf. I am missing something because each time it has not risen above the sides of the pan more than 1/4'' and then shortly after it collapsed. I used the tangzhong technique, because I wanted it to remain fresh longer. The first try, I didn't activate the yeast properly and the bread didn't rise much at all. We ate most of the loaf and then made bread crumbs. The second attempt I used Bread Flour and really over-kneaded the dough: I kneaded for the time specified and ignored the "feel." We ate half and made croutons with the leftovers. The most recent attempt I activated the yeast perfectly and think I may have slightly under-kneaded the dough: this was the loaf with the best rise overall. It's been cold in the northeast so the house temperature is below 70 degrees. The first rise I had the bread covered with a towel and let it rise for a little over an hour. To get the second rise I had to boil water and then put the loaf into the oven covered with plastic wrap, with the small pot of heated water on the bottom rack. The loaf raised just over the side so I took it out of the oven to begin pre-heating. By the time it was pre-heated the loaf fell. Each time the loaf tasted great, but was just very dense. The only other thing I realized is I have been using salted butter. I know that puts extra salt into the dough, but will that make such a big difference?

Gerry, we admire your bread tenacity! We don't think the salted butter is a problem. It sounds like the main problem is over-proofing which you experienced the most in the last loaf. We'd recommend letting it have its second rise on the counter — it may take longer than in the oven, but it will happen in due time without over-stressing the gluten. We'd recommend checking out our blog "Over-proofed dough" for helpful visuals to know when the dough is ready. Preheating is usually at least a half an hour so it's a good idea to start the oven a while before the loaf is ready to go. So keep doing what you did with the last loaf and just don't let the dough rise that much and it should be delightful! Annabelle@KAF
I've tried a number of sandwich bread recipes and found this one to be our family's favorite. I always have the simple ingredients on hand and its very easy to use wheat vs. all purpose. We use 2 c. whole wheat and 1. c white flour and increase the milk a little bit. I bake this at least once per week for breakfast toast, kid's lunches, etc. Delicious!
I am relatively new to baking bread. It has been an exciting journey trying to understand how each ingredient works. I did try the no knead bread, wheat bread and few others. Most of my attempts resulted in a bread slightly damp in the center. But this recipe has resulted in a fully baked loaf. I do not own a dutch oven so concluded that i need to stick to this recipe to get the best loaf. Thank you KAF.
The second rise struggled a bit, the dough didn't quite dome over the edge. It was almost level. I followed the recipe using a scale and measuring in grams. And I used the correct size loaf pan. The first rise doubled and was puffy. I punched it down and shaped it into a loaf...placed it in the pan, covered with a plastic shower cap and waited a anxiously for the second rise to take place (warm kitchen). After an hour and fifteen minutes or so, I baked it. The loaf turned out okay and I'll probably give it one more try before I recommend it to someone else. Oh, I used SAF yeast- brand new. Unsure what went wrong on the second rise.

Hi Yolanda. We're sorry to hear that this bread didn't rise quite as well as expected. During the drier months often times bakers find that a little extra water is necessary (about 2 ounces) to fully hydrate a dough and produce a good rise. If we can help troubleshoot further, please give our friendly Baker's Hotline a call at 855-371-BAKE (2253). Happy baking! Morgan@KAF
Wow! I used the tangzhong technique and the loaf came out fabulous. Perfect for PB&J's or grilled cheese. I did upscale the recipe by 20% so I could bake in 9X5 loaf pan. Well done KA.
Hi Dough began tearing while kneading it surface was slightly greased with butter. Added some flour and kneaded until a slightly smooth dough was formed. The first rise was good. Dough was shaped and place in greased pan. The surface and side began to crack.
The volume-to-weight conversion tool is a great feature. However, why are the salt and yeast not listed by weight? Different folks use different salt, so a unifying weight of salt would be helpful!

Hi AL! When using such small quantities, (anything under a tablespoon) measuring by volume can be more accurate than by weight unless you have a precision gram scale, so we stick with volume to get the best accuracy. Unless specified, all of our recipes use table salt. We hope this helps! Annabelle@KAF
So I made your sandwich bread using the Tangzong method. Except I messed up and put 1/2 cup flour and 3T milk in the saucepan! Not wanting to waste the flour I just added more of the milk to make a paste and then did every else as directed. It came out great. Best sandwich bread I have ever made. Even with 40 years of bread baking experience! You all have a wonderful website and blog. I really have learned a lot from your site. Thanks!
Loved it. It seemed to take awhile for this mixture to cool (probably because of where I live). I'm a baker, but not an expert of bread baking. This turned out amazing.