A customized print-friendly version of this recipe is available by clicking the "Print Recipe" button on this page.
Our Favorite Sandwich Bread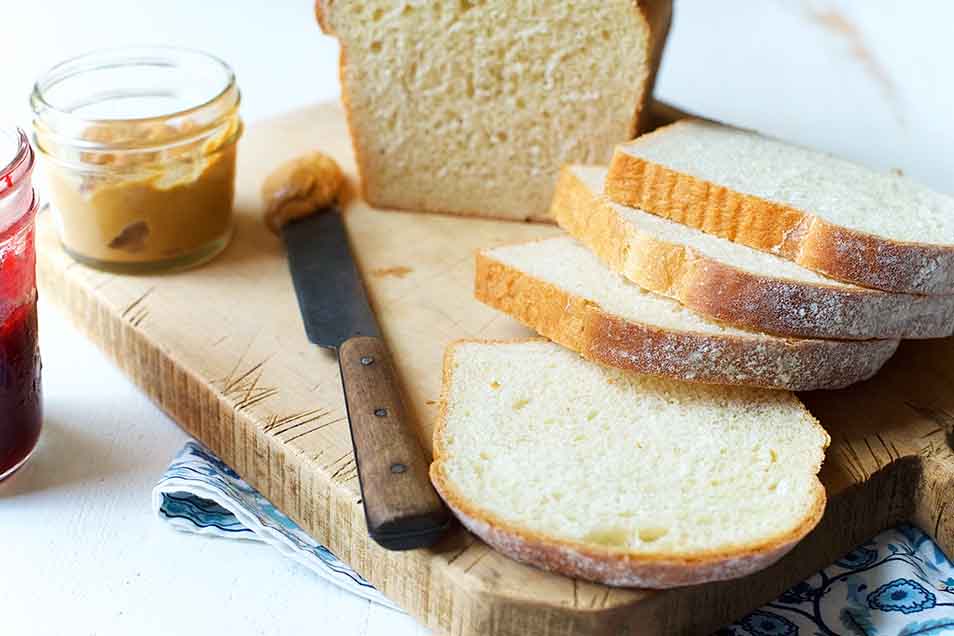 For sandwiches, toast, and French toast, you just can't beat a classic American sandwich loaf, with its creamy-white interior, golden crust, and soft, easily slice-able texture.
Ingredients
1 cup milk
2 tablespoons butter
2 teaspoons instant yeast or 2 1/4 teaspoons active dry yeast
2 tablespoons sugar
1 1/4 teaspoons salt
Instructions
Heat the milk to a simmer, and pour it over the butter in a large mixing bowl. Let the mixture cool to lukewarm, then add the yeast and sugar.

Once the yeast softens, add the remaining ingredients and stir until the dough starts to leave the sides of the bowl.

Transfer the dough to a lightly greased surface, oil your hands, and knead it for 6 to 8 minutes, or until it begins to become smooth and supple. (You may also knead this dough in an electric mixer or food processor, or in a bread machine set to the dough or manual cycle). Add a bit of additional milk or flour if needed — the dough should be soft, but not sticky.

Transfer the dough to a lightly greased bowl, cover, and allow it to rise until puffy though not necessarily doubled in bulk, about 1 hour.

Transfer the dough to a lightly oiled work surface, and shape it into an 8" log. Place the log in a lightly greased 8 1/2" x 4 1/2" loaf pan, cover loosely with lightly greased plastic wrap, and allow the bread to rise for about 60 minutes, until it's domed about 1" above the edge of the pan. A finger pressed into the dough should leave a mark that rebounds slowly.

Towards the end of the rising time, preheat the oven to 350°F.

Bake the bread for 30 to 35 minutes, until it's light golden brown. Test it by removing it from the pan and thumping it on the bottom (it should sound hollow), or by measuring its interior temperature with a digital thermometer (it should register 190°F at the center of the loaf).

Remove the bread from the oven, and cool it on rack before slicing.

Store the bread in a plastic bag at room temperature for several days; freeze for longer storage.
Tips from our bakers
For added whole-grain goodness, substitute King Arthur whole wheat flour (Premium or white whole wheat) for up to half of the all-purpose flour in this recipe.
If you're using instant yeast, there's no need to dissolve it in the warm milk; simply add it along with the flour.
Want to make this bread softer, moister, and extend its shelf life? Try the tangzhong technique, a Japanese method for increasing the softness and shelf life of yeast bread. Begin by measuring out the flour and milk you'll be using in the recipe, increasing the amount of milk to 1 cup + 3 tablespoons. Now take 3 tablespoons of the measured flour and 1/2 cup of the milk; put them in a saucepan set over medium-high heat. Cook the mixture, whisking constantly, until it forms a thick slurry; this will take about 1 1/2 to 2 1/2 minutes. Transfer the cooked mixture to a bowl, let it cool to lukewarm, then combine it with the remaining flour and the other dough ingredients. Proceed with the recipe as directed. Well-wrapped and stored at room temperature, your bread should stay soft and fresh for several days.
Reviews
Hi Dough began tearing while kneading it surface was slightly greased with butter. Added some flour and kneaded until a slightly smooth dough was formed. The first rise was good. Dough was shaped and place in greased pan. The surface and side began to crack.
The volume-to-weight conversion tool is a great feature. However, why are the salt and yeast not listed by weight? Different folks use different salt, so a unifying weight of salt would be helpful!

Hi AL! When using such small quantities, (anything under a tablespoon) measuring by volume can be more accurate than by weight unless you have a precision gram scale, so we stick with volume to get the best accuracy. Unless specified, all of our recipes use table salt. We hope this helps! Annabelle@KAF
So I made your sandwich bread using the Tangzong method. Except I messed up and put 1/2 cup flour and 3T milk in the saucepan! Not wanting to waste the flour I just added more of the milk to make a paste and then did every else as directed. It came out great. Best sandwich bread I have ever made. Even with 40 years of bread baking experience! You all have a wonderful website and blog. I really have learned a lot from your site. Thanks!
Loved it. It seemed to take awhile for this mixture to cool (probably because of where I live). I'm a baker, but not an expert of bread baking. This turned out amazing.
while I really like the taste, especially after subbing some ancient grains and some chickpea flour, this bread has been fragile/brittle every time I've made it. So I have to be a bit careful with sandwiches or toast. Any ideas KAF bakers?

Hi Jane, it sounds like you're substituting in some gluten-free flours into your dough, which will inevitably make the final loaf more delicate. (Gluten is what binds the dough ingredients and gives the loaf structure. With less gluten, it'll be more crumbly and will be more likely to collapse.) If you're looking to make a more hardy slice, consider using whole wheat flour along with bread flour (try a 50/50 combination to start). While whole wheat is still a whole grain flour, it contains some gluten so you should be able to make a less delicate loaf. Otherwise, continue using the ancient grains and/or chickpea flour substitution as you are, knowing that while the slices will be fragile, they'll also be delicious! Kye@KAF
5 stars made with all KA AP flour. 3 stars if you add any whole wheat flour. I've made this twice with all white flour with excellent results. I've made this 3 times adding 1/3 of the flour as KA White Whole Wheat and 2/3 as KA All purpose and each time the results were poor. I weighed all ingredients exactly and added one additional 1TB of milk when using the whole wheat flour. The taste comes out great. The texture is slightly more dense, which is okay too. The problem is it doesn't seem to want to rise enough when I substitute any wheat flour in the recipe. I've increased the proving times up to 1.5 hours for the first and second rise with the same results. I tried hand kneading and also machine kneading. I've added my instant yeast to the luke warm milk and then tried another time adding it directly to the flour. Same results. Should I be bumping up the yeast content? With any other type of bread I wouldn't mind a smaller loaf. But nobody wants a sandwich that's not normal sized. I wish I knew what I was doing wrong.

Hi Melanie, believe it or not, whole wheat dough tends to rise faster than dough that's made with all white flour, so you might be accidentally over-proofing your dough when you make the whole wheat version. Next time, try cutting back the first rise to just under an hour, and see if the dough has more "oomph" during the second rise.

Additionally, you might consider adding some Whole Grain Bread Improver to your dough if you want to bake with whole wheat flour. This ingredient helps give the dough the strength and support it needs to rise high. (Find it in the "Shop" section of our website.) Happy baking! Kye@KAF
Hello friends. I have been baking with you at KAF for YEARS. I have recently moved to the UAE and my entire and I do mean ENTIRE environment has changed. I am an artisan bread baker and really have never had any issues once I got past some of the new baker hurdles. But here. I can't easily get supplies. I made this recipe today. The dough felt good. It was soft. The yeast was good as I tested it and I was getting a rise. The second rise didn't really come through like I would have expected though and the bake flopped. Like literally it didn't give me any volume in the oven at baking. I was wondering if maybe the flour isn't strong enough? Or if I used too much oil for kneading as I usually use my mixer at home so oil doesn't come into it. Any thoughts? Idea? Thank you for your help!

Hi Christina, thanks for reaching out to us with your question and for baking loyally with our flour for years! Through other bakers sharing their baking experiences abroad, we've found that often times the flour doesn't have enough protein content to give the dough the support it needs to rise high. It might be worth it to do some research with local bakers and vendors to see if there's a high-protein flour available (something in the 10-12% range is ideal), or vital wheat gluten. Both of these things should help strengthen the dough and give you more rise. We'd love to talk about your new baking situation in more detail, so feel free to read out to us via live chat: search for "Baker's Hotline" in the box above and feel free to reach out to us here. Good luck! Kye@KAF
Easy recipe. Great rise. Cuts into thin slices perfectly. I added some sesame seeds to the top. The bread is very moist and works great for sandwiches. It's a bit sweet for my taste and actually tastes a little more like store bought bread than I'd like in a homemade loaf. It would be excellent for kids.
I have been trying a lot of your bread recipes...I am a new baker. I tried the other sandwich bread recipe and wanted to try this one yesterday. The first rise was good. Second, I don;t know what happened. It rose, then sunk all of a sudden just before it got to the 1' above the rim. I thought I over proofed it, so I took it out and re-knead it. It was so sticky and wet, so I added flour and let ti rise again. It did, but just made it to 1/2' above he rim but not all the way to the sides (I think I exhausted the yeast). So I proceeded to bake it. It's only about 2.5' high :D but tastes wonderful. Can you tell me what could have happened? I followed the recipe except I used all purpose flour but I sieved the flour a bit first. I want to try again. I love your hamburger buns recipe.

It sounds like you were so very close to an absolutely perfect loaf, Joyce! You're right in thinking it had overproofed as that's what causes collapsing. Try doing a shorter first rise (about 15 minutes shorter) and that should give you a longer second rise. Try not to worry so much about the time but more on what the dough is doing. If it isn't 1" above the rim of your pan, that doesn't mean it isn't ready. If you give your dough a poke with your finger and the indent stays that means it's ready to bake. If the indent pops back out it needs to rise a little longer. We hope this helps and that your next loaf is sublime! Annabelle@KAF
Made this bread today for the first time. It tastes great but the crust was very hard. Any thoughts on why that would happen?

There are a few things that can lead to a hard crust, David. One is if there's too much flour, however that would also cause the interior of the loaf to be hard and dense as well. The most common reason a loaf will be hard is that there wasn't steam in the oven. We'd recommend preheating your oven with a cast iron skillet on the bottom rack. Right after placing your loaf into the oven, pour about 1 cup of boiling water into the skillet and shut the oven door. This will give a nice, steamy environment for your loaf at the beginning of the bake, and give you a much more tender crust. Annabelle@KAF