A customized print-friendly version of this recipe is available by clicking the "Print Recipe" button on this page.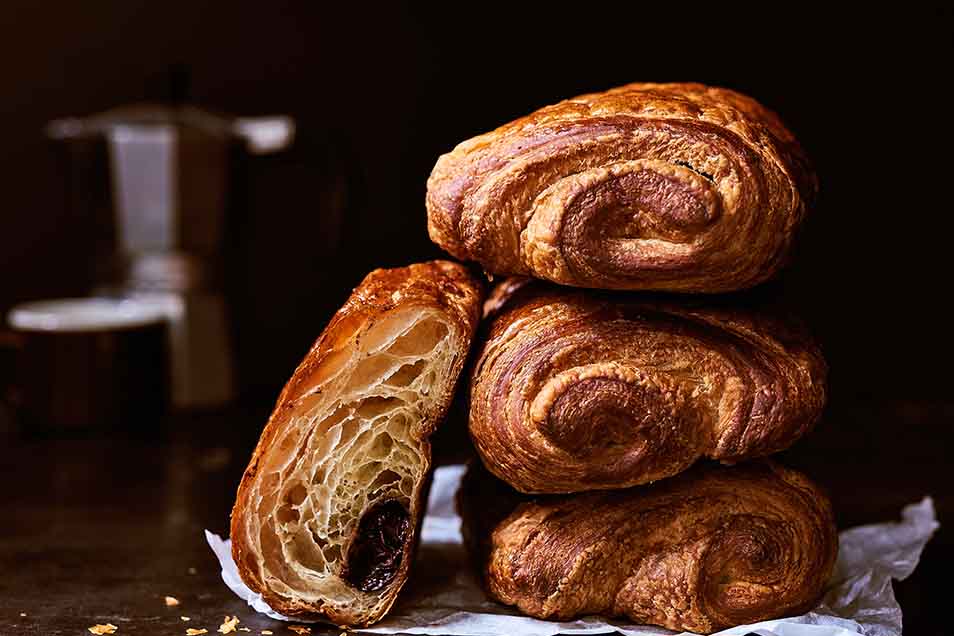 Semisweet chocolate "batons" form the basis for the traditional pain au chocolat, a yeasted puff pastry dough wrapped around a stick of chocolate. They're a favorite of French children (and those of us who never grew beyond that stage) as they stop into their neighborhood boulangerie on the way to school. Note: The dough for these rolls rests in the refrigerator several times along the way; read through the entire recipe before you start, in order to create your plan of attack.
Ingredients
The butter
24 tablespoons (1 1/2 cups, 3 sticks) unsalted butter, cold
The glaze
1 large egg beaten with a pinch of salt
Instructions
To make the dough: In a large mixing bowl, stir together the water, sugar, 2 cups of the flour, yeast, salt, and butter. Mix until fairly evenly blended.

Add the remaining flour and stir until the dough pulls away from the side of the bowl. Turn the dough out and knead it until it just starts to smooth out. You don't want to over-knead it at this point, since it's going to spend a considerable amount of time rising.

Place the dough in a lightly greased bowl, cover, and let rise for about an hour, until puffy. (The dough can be prepared to this point in a bread machine with at least a 1 1/2 pound capacity. Simply place all of the ingredients in the bucket, select dough or manual, and press start.)

After an hour at room temperature, refrigerate the dough (in its covered bowl) for 8 to 16 hours; overnight is your best bet.

To prepare the butter: Just before the dough is ready to come out of the fridge, prepare the butter for rolling into the dough. Cut each of the three sticks in half lengthwise and place all six pieces on a floured piece of waxed paper or plastic wrap. Sprinkle flour on the top surface of the butter, cover with another piece of paper or plastic and gently pound it with a rolling pin until it becomes malleable. Then roll the butter out until it's about 8" x 8".

To assemble the rolls: Remove the dough from the refrigerator, place it on a lightly floured surface and roll it into a 12" square. Place the butter in the center of the dough at a 45° angle; it'll look like a diamond inside the square. Fold the four flaps of dough into the center to enclose the butter, pinching them together as best you can.

Roll the dough into a 10" x 20" rectangle. Fold one third into the center, then the opposite third over the first, like you were folding a business letter; this is called a leter fold. Turn the dough 90°F, roll it into a 10" x 20" rectangle again, and do another letter fold.

Wrap the dough in lightly floured plastic wrap and refrigerate it again for an hour. Remove the dough from the fridge, and give it two more letter folds: rolling, folding, turning 90°, rolling, and folding. Wrap the dough in lightly floured plastic wrap and refrigerate it again for at least 8 hours (or up to 24 hours, until you're ready to use it).

To finish your pain au chocolat, remove the dough from the refrigerator, cut it in half and return one half to the refrigerator.

Roll the other half out until it's a generous 8" x 24". With a bench knife, cut the dough into eight 4" x 6" pieces.

Place one or two pieces of chocolate at one end of each piece and roll it up into a tube. Place, seam side down, on a lightly greased or parchment lined baking sheet. Press down on the tops of the rolls to flatten them into a rectangle shape. Repeat with the remaining dough. Cover and let rise in a warm place until they're light and puffy looking, about an hour.

Towards the end of the rising time, preheat the oven to 425°F.

Just before baking, brush the egg/salt glaze over the tops of the rolls. Bake the rolls for 18 to 20 minutes, until golden brown. Remove them from the oven and allow them to cool a bit before you bite into them; the structure needs a chance to set.

Store any leftover rolls, well wrapped, at room temperature for several days; freeze for longer storage.
Reviews
I think the recipe is solid but I was unsuccessful with it. I think it is mainly due to something I did but I can not pin down just yet. The butter I used did not incorporate into the dough even after letter folding as the recipe suggested. It stayed in broken chunks in the dough throughout the whole process. I also did not have my dough rise at all. I checked the yeast to see if it expired and it had not. During the aking process, they did not rise at all and instead kind of just melted in a giant pool of butter and became dense. I would greatly appreciate any advice on how to fix this as I do want this recipe to work out as it did for the majority of people here.

Hi there, Paul! We're sorry to hear that you had some trouble with laminating your dough. It sounds like your butter block was too cold when you were doing your folds. While you do want the butter to be cold enough so that the layers don't get crushed, if the butter is too cold it will crack and separate leaving you with fragments of butter in your dough. This can also lead to the butter leaking out while baking the croissants. For some helpful tips that can be applied to making Pain au Chocolat, we'd suggest checking out our blog article, How to make croissants: The perfect pastry, perfected. You can also always feel free to give our friendly Baker's Hotline a call at 855-371-BAKE (2253), we're happy to talk through techniques and recipes! Kindly, Morgan@KAF
I am currently in process of making these. The dough is in the fridge for the final cooling off, however I just looked at it and it has risen A LOT. The yeast should not have gone that fast in a cool place. Any idea what I did wrong, or if they will come out at all when I roll them out tomorrow? Thanks!

Hmm, that's an interesting issue, Alena! Is there any chance you accidentally grabbed a rapid-rise yeast like Saf-Instant Gold instead of a regular instant or activated dry yeast? That would certainly do it. If that's the case, they won't turn out with those lofty layers you're expecting, but they will still be buttery, chocolate-y, and delicious, just flatter. What's not to love? Kat@KAF
These were incredible, and surprisingly easy! The only issue I had was that the seals didn't stay together and the chocolate melted out of the bottom, any suggestions?

Hi Ashley! To help the seal stick together a bit better, try brushing on a bit of egg white. It has a naturally sticky consistency that helps hold the pieces in place, keeping the chocolate inside. Annabelle@KAF
I made this recipe and I added all the ingredients in the right amounts and the croissants came out tasting weird, kinda bitter and salty. I'm not sure what I did wrong, maybe my milk was bad, but if anyone has any recommendations as to why it went wrong, I'd love to hear them.

We think you're onto something, Nora, in thinking an ingredient may have been off. It sounds like something had gone bad, either milk or flour, which would affect the flavor pretty significantly. We encourage you to pick up a fresh bag of flour and double check your other ingredients to ensure they can be the best they can be! Annabelle@KAF
I enjoyed making this recipe a great deal. While my Pain au Chocolat experience to date was in eating only, I had learned to make croissants at KAF in September. So, how hard could these be? Well, they're really time consuming but I found the recipe easy to follow and appreciated the head's up to plan ahead. Some of mine didn't "rectangle" out, so they looked tubular, while others had a perfect rectangle shape and spiral of layers. All of them were delicious. Will make this again, paying closer attention to the "roll up".
When I made these a few weeks back, I was pretty happy with the result! The croissants were easy to make and delicious (buttery and sweet), but when laminating, I noticed the butter was very visible and were like large chunks. Later when baking, they melted out in my oven! I thought they were unsalvageable, but I was able to continue to bake them and look as if nothing had happened. I can only assume they leaked so because the butter chunks were too large, however in the second half of the dough, they didn't leak. I had put this tray in the refrigerator before letting them rest, but everything else besides the temperature was the same. I assume that there was more proofing time. For the second tray, I baked them for 10 minutes longer at 390F; in the first tray the interior's flakes were too soft for my liking, but it still tasted wonderful. They also rose well before baking. I also used both dark and milk chocolate chips in the croissants, and they were my favorite compared to others I made with ham and cheese. The time in total it took me to make these were around 8-9 hours, but I completed it in two days and spent the majority of it waiting. Side note: the butter was too firm to roll out for the first 15 minutes, so I had a tough time rolling it out into shape. Side question: How can I ensure that the butter doesn't leak out during baking?

Thanks for sharing your baking experience with us, Anna. It sounds like you're so close to Pain au Chocolat perfection! We checked with one of our test kitchen bakers who has recently been working with lots of laminated dough to see if she could help troubleshoot. Here's what she had to offer: "Sounds like the butter was too cold when the lamination was started, which can sometimes be salvaged with your second set of turns, or even when you're rolling out the dough before shaping your croissants. I've also found that the larger chunks of butter can still bake off perfectly fine, as long as your oven is at the correct temperature; an oven that runs even a touch cool can make the butter-leakage that much worse due to the lower temperature."

If you noticed the butter-breakage issue less with the second tray, we're wondering if you might have left the second half of dough out at room temperature while rolling the first half. This would have given that portion of dough more time to warm up and the butter to soften, resulting in more evenly distributed butter and easier rolling/shaping. If this was the case, the reduced leaking you saw with the second half of dough would be less related to the time the tray spent in the fridge before resting, and more a result of it resting at room temperature longer before rolling. The final result in the fridge would have helped chill the butter and relax the gluten before final proofing. Next time, try to follow the timeline you followed with the second half of the dough, and be sure the butter is plasticized (easily moldable) before rolling. Good luck! Kye@KAF
great recipe! I had some success with grating the butter to help it get to the right shape/dimensions needed. I also did 2 more turns then the recipe called for, which added more layers and flakiness. When I did the extra turns of the dough, I didn't have the issue with butter seeping out while baking, as it helped thin out and distribute the butter.
Well we made a right disaster out of this. I thought rolling the butter would be hard but that worked like a charm. Our dough came out too crumbly. We managed to get through the first step of sandwiching it around the butter, seemed like we were right on track. Then we let it rest in the fridge overnight but it just went all to bits when we tried to roll it the final time. We ended up bunching it around the chocolate batons, let them rise and then baked them. They didn't become all light and fluffy inside, very dense, like a pie crust. Wish I could upload a picture because they look so bad it is funny. Any and all advice welcome, we are not quitters. :)

We love your positive, tenacious attitude Mom and Kid Bakers! It sounds like your dough was simply too dry, which made it difficult to roll out and be less pliable than it should have been. Next time, try measuring your flour by weight using a scale (if you have one) or fluffing and sprinkling your flour into the measuring cup using the technique illustrated in our Measuring Standards guide (which can be found next to the ingredients header, above). We hope this makes your next bake look a little more appealing and also taste great! Kye@KAF
This was my first time to laminate dough. The rolling out was difficult to get in the correct sizes, but it tastes delicious! My only regret is that I didn't put in two pieces of chocolate instead of one :)
I used 60% cocoa baking chips; and I grated the butter, rather than flatten the sticks. Other than that, I followed the recipe exactly~ well, except I didn't let them cook first before eating one. DUMB mistake! The chocolate was molten lava! lol These were great!