A customized print-friendly version of this recipe is available by clicking the "Print Recipe" button on this page.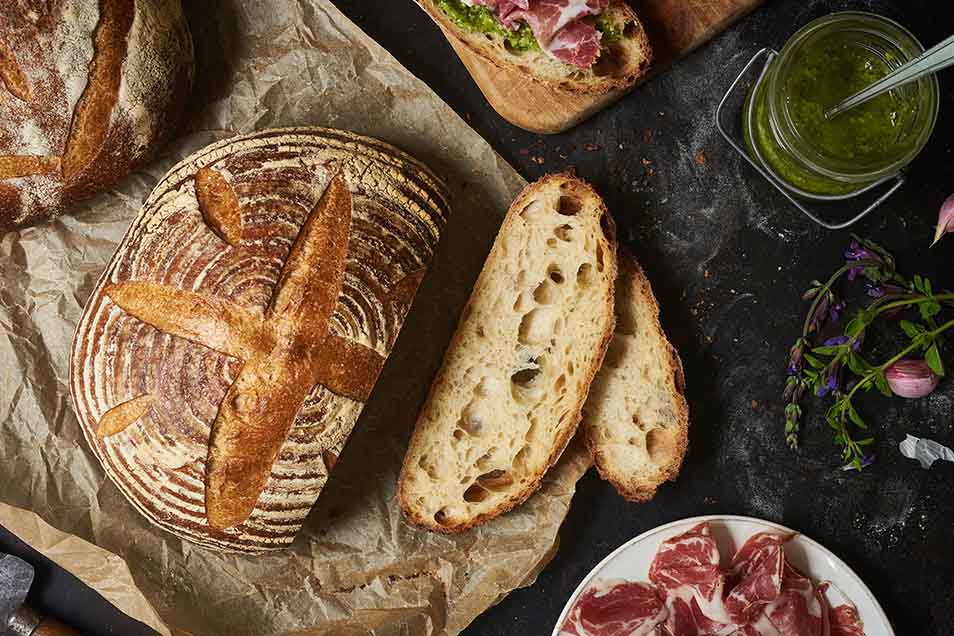 Though it begins with sourdough starter, this lovely bread's rich flavor is only mildly tangy. With its wonderfully open crumb, it's great alongside soup, stew, or pasta; and also makes a delicious sandwich. Bonus: This loaf uses no commercially produced yeast, for those of you who enjoy baking with starter alone.
Instructions
To make the levain: Knead together the levain ingredients to make a smooth, stiff dough. Place the levain in a lightly oiled bowl, cover it, and allow it to ferment overnight at room temperature (65°F to 75°F). It should take the levain about 12 hours to mature. The mature levain will have doubled in size and be domed on top, or just beginning to sink in the middle.

To make the dough: Tear the levain into small pieces and add it to the dough water. Add the remaining ingredients and mix until there are no remaining dry pockets of flour. If mixing by hand, use a dough scraper to blend the dough and break down the levain. In a stand mixer, mix the dough on the lowest speed for 2 minutes using the hook attachment.

Cover the bowl and allow the dough to rest for 30 minutes.

Knead the dough by hand for 3 minutes, or in a stand mixer for 1 1/2 minutes on speed 2. The dough will be quite sticky.

Allow the dough to rise for 60 minutes in an oiled and covered bowl.

Give the dough a fold and return it to the bowl to rise for another 60 minutes.

Gently deflate the dough and divide it in half. Pre-shape it into two rounds. Place the rounds seam side up on a floured surface, covered well. Let the rounds relax for 20 minutes.

Shape the loaves into either a bâtard (football) shape or a round (depending on how you plan to bake it).

Cover the loaves with greased plastic wrap and allow them to rise on lightly greased parchment for approximately 2 hours. Loaves can also rise in an oiled Dutch oven or cloche; or seam side up in a well-floured brotform, or a bowl lined with a very well-floured cloth.

Alternatively, refrigerate the loaves after shaping for up to 16 hours before baking.

Preheat the oven to 450°F. If you're planning to bake on a stone with steam, preheat the stone and a cast iron frying pan on the shelf below the stone for 60 minutes.

Score the loaves with one long angled cut down the center of the loaf, and spray or brush them with water.

When baking on a stone, slide the parchment and loaf onto the hot stone. Pour 1 1/2 cups boiling water into the cast iron frying pan. Be sure to wear good oven mitts to prevent a steam burn.

If baking in a Dutch oven or cloche, remove the lid after 20 minutes and allow the loaf to finish baking in a dry oven.

Bake the bread for 35 to 40 minutes. The loaves should be a rich brown, firm on the sides, and sound hollow when tapped on the bottom. Their internal temperature should be 195°F.

Remove the loaves from the oven, and cool them on a rack. Store at room temperature, lightly wrapped, for a day or so; freeze for longer storage.
Tips from our bakers
Check out this helpful video: Dividing dough and shaping loaves; and this blog post: preparing shaped loaves for refrigeration.
If you need to bake one loaf at a time, this dough can handle a staggered bake and shouldn't rise too much, even at room temperature.
9" parchment rounds are a great way to help protect your loaves from sticking to your Dutch oven or cloche. Be sure to oil the sides of the pot as well.
When baking in a Dutch oven or cloche you can either bake the loaf in the pot in a preheated oven or start baking in a cold oven. Remove the lid after 20 minutes when baking in a preheated oven, and 30 minutes when starting in a cold oven. Overall baking time will be a bit longer with the cold start (more like 50 to 60 minutes).
Reviews
I had a similar result. At what point is the starter at its peak? I store my starter in the refrigerator and feed it weekly.

That's a good question! Starter is at its peak and ready to bake with when it doubles in volume, usually 6-8 hours after feeding. It often takes a few regular feedings (once every 12 hours) out at room temperature before reaching this peak, so you'll probably want to take your starter out of the fridge around 1-2 days before you plan to bake to make sure that it's fully awake and ready to bake with. For more information on activating your starter, you can visit our Sourdough Baking Guide in the "Learn" section of our website. Happy baking! Kat@KAF
Baked this today. The crumb came out as soft and smooth as a sandwich bread. No open crumb which is what I most wanted. I followed the directions but most others report good results. I wonder what went wrong? Maybe the sourdough wasn't active enough? Thanks.

Hi there! We're sorry to hear that your loaf didn't come out quite as you expected. For this recipe, it is important that when making the levain, the sourdough starter is at its peak ripeness so that it'll still have some oomph to leaven your bread the next day. The tighter crumb structure can also be a result of too much flour in your dough. If you aren't already, we'd suggest weighing your flour to ensure that too much doesn't sneak its way into your dough. If you prefer volume though, we'd recommend checking out the "Recipe Success Guide," link next to the ingredients header above, to see our preferred "fluff and sprinkle" method for using measuring cups. We hope this helps and happy baking! Morgan@KAF
I'm strictly an amateur home baker, but I've been baking bread for 45 years now. I've used gas ovens, electric ovens, and even had the pleasure of cooking in a wood fired cooking oven for 3 years (great for bread!). I've currently got a gas oven. A few years back, I measured the oven's interior on a rack but with space to allow for air flow and went to a tile store and got unglazed clay tiles cut to fit. I never tried to cast iron pan with water trick before, though, having always just relied on some sprayed water. Recently, life kind of got in the way of my sourdough starter, which I'd neglected for several months. I took it out a few days ago and started the resuscitation process. After 3 days, it was very lively and I was feeling emboldened so I thought I'd give this recipe a try. With the help of your outstandingly clear instructions and the wonderful instructional videos, I've finally found out what I've been doing wrong all these years. Yesterday, FINALLY, I made 2 perfect batards replete with ears. :-)
Thank you for these mini online classes - they're a big help! I've been baking bread in my home for 20 years progressing from dry yeast to sourdough starters. I bake once a week and use a couple of Dutch Ovens to bake my loaves in. I just love the look of these loaves and the open crumb it produces. Pain au Levain and Pain de Campagne are two stable loaves in our house. I've recently been giving some serious thought to opening a small 'artisan' style bread shop in my home town where there are none. I've been given a wonderful opportunity to bake in a commercial Blodgett oven at a local church where I can practice scaling large patches. My number one problem however is steam or the lack of steam. My loaves come out smaller, denser with a brownish dull crust. UGH! I've added a pan with lava rocks for the first 15-20 minutes and spray the interior four times (hand held spray bottle) but to little avail. Does it boil down to having the right "tool" i.e. an oven that holds the steam? Can I ever achieve the glorious look of my loaves baked in a Dutch Oven in a non-steam injected commercial oven? How can I overcome this challenge? Please help!

Hi there, Michael. We're thrilled to hear that you've been enjoying baking bread so much and that this is a well-loved recipe in your house! It sounds like the steam is escaping the oven. Is there a vent that is being left open that could be closed? Blodgett makes a few different kinds of ovens and we're not sure which one you're working with, but we think this is the root of the problem. The oven could need to be cleaned as well. We hope this helps! Kindly, Morgan@KAF
Great recipe. This is my first success at a nice ope crumb. The problem I had is the loaf shape. The dough spread out like a frisbee. This is something I experience with other recipes. I did use bread flour (I didn't have AP handy), so is there something different I need to do?

Hi there! Often times when a loaf spreads out a lot, it just needs to be shaped tighter. Also, using a brotform during the last rise or baking the bread in a Dutch oven can help a loaf keep its shape. Either of these options forces the dough to rise upwards because it isn't possible for it to go outwards. We hope this helps! Morgan@KAF
I've never made a bread this good! It's the first sourdough loaf I've made, started with the starter that I purchased from this site. My second loaf looked really dark; I was so upset thinking I'd burned it. But it tasted great; the crust was crunchy and didn't taste burned despite the dark color. It was a lot of work, but worthwhile.
If I refrigerate before baking, how long should the loaves be out of the fridge before they go into the oven?

Hi Kerry, in most cases the loaves will be ready to bake the next day straight from the refrigerator, with no room temperature rise time necessary. If you're baking the bread in a pot that is sensitive to thermal shock, you can allow the dough to acclimate in the pot at room temperature for 45 minutes to an hour before baking. Barb@KAF
it's my very first homemade starter bread. I've been growing my levain for a week now. It didn't rise veey much but the flavor, texture, consistency and look was impressive. I'm excited it "worked out" and I'll certainly do it again.
THE MOST AMAZING BREAD. This bread is so wonderful it deserves the all caps. I have a rye starter, and that with the rye flour in the dough was absolute perfection. My Swedish father said it's the best bread he has ever eaten. I rose my bread in a bread basket, and cooked in a preheated Staub dutch oven. To get that nice crust, it did need about ten extra minutes in the oven. Absolutely delicious.