A customized print-friendly version of this recipe is available by clicking the "Print Recipe" button on this page.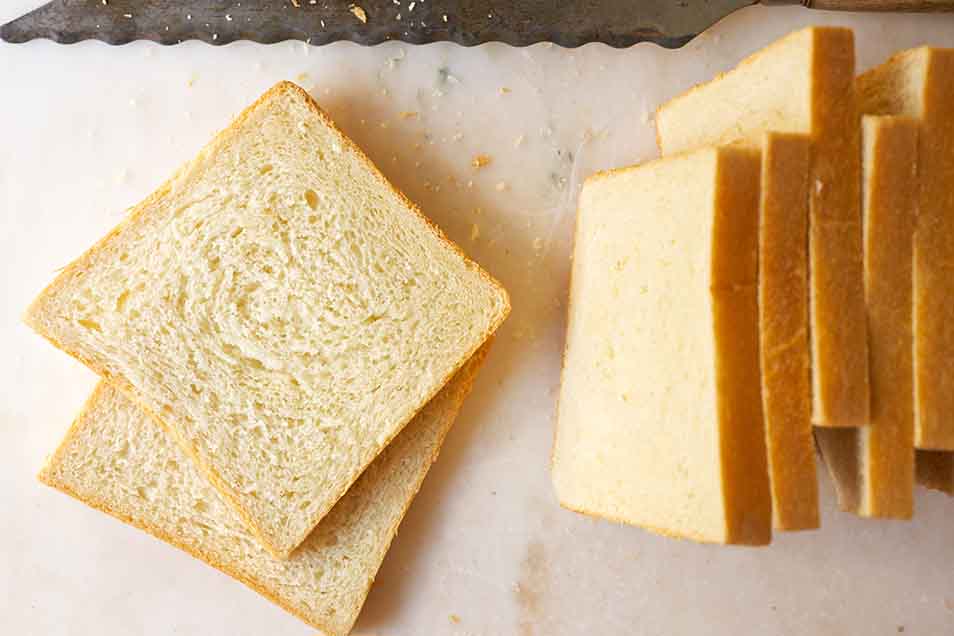 This delicious, fine-grained loaf is perfect for sandwiches and toast — including French toast and melba toast.
Instructions
Combine all of the ingredients, and mix and knead — using your hands, a mixer, or a bread machine set on the dough cycle — to form a smooth, soft dough.

Transfer the dough to a lightly greased bowl or dough-rising bucket, cover the bowl or bucket, and allow the dough to rise until puffy though not necessarily doubled in bulk, about 1 1/2 hours, depending on the warmth of your kitchen.

Lightly grease a 13" pain de mie pan. Gently deflate the dough, transfer it to a lightly greased work surface, shape it into a 13" log, and fit it into the pan. Cover the pan with lightly greased plastic wrap, and allow the dough to rise until it's just below the lip of the pan, 45 minutes to 1 hour, depending on the warmth of your kitchen (it may rise even more slowly in a cool kitchen; don't worry, this long rise will give it great flavor).

Towards the end of the rising time, preheat the oven to 350°F.

Remove the plastic, and place the cover on the pan. Bake the bread for 25 minutes. Remove the pan from the oven, carefully remove the lid, and return the bread to the oven to bake for an additional 20 minutes, or until it tests done; a digital thermometer inserted into the center will register 190°F.

Remove the bread from the oven, and turn it out of the pan onto a rack to cool completely.

Store, wrapped, at room temperature for 4 days, or freeze for up to 3 months.
Nutrition Information
Serving Size

64g

Servings Per Batch

18
Amount Per Serving:
Calories

180

Calories from Fat

40

Total Fat

4.5g

Saturated Fat

2.5g

Trans Fat

0g

Cholesterol

10mg
Sodium

310mg

Total Carbohydrate

29g

Dietary Fiber

1g

Sugars

4g

Protein

5g
* The nutrition information provided for this recipe is determined by the ESHA Genesis R&D software program. Substituting any ingredients may change the posted nutrition information.
Reviews
I'm shocked to realize it, but this has been our weekly bread for nearly 10 years. Every once in a while we mix it up with something different, but this recipe is easy, really delicious, keeps well, and equally great for school/work lunch sandwiches and morning toast. Plus it's large enough to last the four of us all week. Sometimes there is enough left for french toast on the weekend. The pain de mie pan I purchased from KAF has held up like a champion despite this constant use. Yet another way in which KAF has enhanced our lives - thank you!
I bought the pan for the express purpose of making pain de mie for BLTs. "Tis the tomato season. Followed the recipe exactly, weighing the ingredients. I was a little concerned that the dough would rise too quickly given the 90 degree heat of the day, so I did make one change which was to reduce the yeast slightly to slow the rise. After the second rise, I threw the pan in the freezer while the oven heated up--the dough was getting perilously close to the top. I am thrilled with the result. The crumb is tender but sturdy and the taste heavenly. I am giddily excited about this bread--I was brought up on Pepperidge Farm and Arnold white bread with the pain de mie profile and to make my own and far more delicious version is such a pleasure. Thank you, King Arthur!
I baked this and it came out looking and tasting great. My loaf, however, did not hold up as a sandwich bread. I'm not sure if this is the expected result or unusual. Is there another recipe for the 13 inch Pullman you could recommend that would hold up better? BLT season has arrived! Thanks.

It sounds like the loaf may be a little on the delicate side, Al, if we're understanding correctly. We recommend trying out our recipe: "King Arthur's Classic White Sandwich Bread." You can use recipes that use between 4 to 5 cups of flour in your Pain de Mie pan, and this recipe will be perfect for it. Happy baking! Annabelle@KAF
I have made this recipe seven or eight times wonderful but twice the bread has fallen in the center of the loaf wonder what I'm doing wrong

Hi, J. Bread usually falls if it over-rises, so shortening your rise times by 5 or 10 minutes should help. Check out our blog article "Over-proofed dough" for helpful visuals on what to look for and ways to rescue dough that's already risen for too long. Happy baking! Annabelle@KAF
ok, i am a beginner with bread stuffs, but gave it a try. I've done other recipes using yeast and have had no problems. I followed the instructions exactly (cut the recipe in 1/2 cuz i don't have a 13" pan yet), weighed out my KAF unbleached flour. My SAF Red instant yeast is stored in an airtight container in the freezer, and is less than 3 months old. Dough came together nicely, but didn't rise one bit. 90 minute rise time. ZERO rise. Undaunted, I continued on, shaped it into a loaf, placed it in the loaf pan and let it rise (i use that term loosely) another 90 min. Nothing. I went ahead and baked it. Tasted very good but was dense and heavy. Birds and squirrels thoroughly enjoyed the bread. Tried it again today - thinking "what did i do wrong?" Same result. no rise. I'll try again with different yeast later today. One question, is there a way to test my KAF yeast to see if it has croaked?

Hi there Attempted Baker, kudos to you for giving this recipe a good solid two tries! It's sounding quite like the yeast has gone bad, which would explain the failed rise. To see if your yeast is still good, mix 1 teaspoon of yeast with 1/2 cup of warm water that has a pinch of sugar in it. Stir it all up and let it rest for about five minutes. It should become foamy and start to smell quite yeasty in that time. If you don't see any activity, it's time to get a fresh supply of yeast. If your yeast does "proof," adequately, then consider giving our Baker's Hotline a call at 855-371-BAKE(2253) so we can troubleshoot with you further. Kye@KAF
First time baking bread and it was so easy I thought I messed it up. I used the metric measurements and it came out perfect. I am in awe of how simple this was. The dough came together quickly and kneading was simple and clean with the kitchenaid. I baked it according to the instructed time in my USA pans pullman pan. The hubby and child approved this recipe. Such buttery flavor, no need for extra butter on the toast. Thank you KAF I love your flours and recipes!!! No more store bought bread for us!
excellent recipe To prevent the lid from blowing off I heat a cast iron skillet in the oven and put it on top of the Pullman. Never a problem.
Just made the Pain de Mie bread tonight. Since I used a 16'x4'x4' pan I increased the recipe by 25% following you comments on a previous comment. This bread turned out fantastic. I will definitely be making this more often. I might even buy one of the small 13'x4'x4' pans and follow the recipe. I did mix it in a bread machine for a no mess mix. Thanks for sharing a great recipe.
A few changes bc I didn't read the recipe through before I decided to try this, but it turned out great! I used potato flakes, not potato flour. I added 4.75 tsp vital wheat gluten. I used a 16 inch pull an pan bc that's what I had. I let it rise 45 minutes. Baked at 350 30 minutes covered, then 15 minutes uncovered.
The first time I tried to make this I had a difficult time kneading it; therefore, I did not get a smooth product. That went in the trash. The second time I made it I put all the ingredients in the bread machine (recommended in the directions) and set it on dough cycle. The bread machine made a perfectly smooth dough. After that, I followed all the regular recipe instructions and it came out great. Love the taste!