A customized print-friendly version of this recipe is available by clicking the "Print Recipe" button on this page.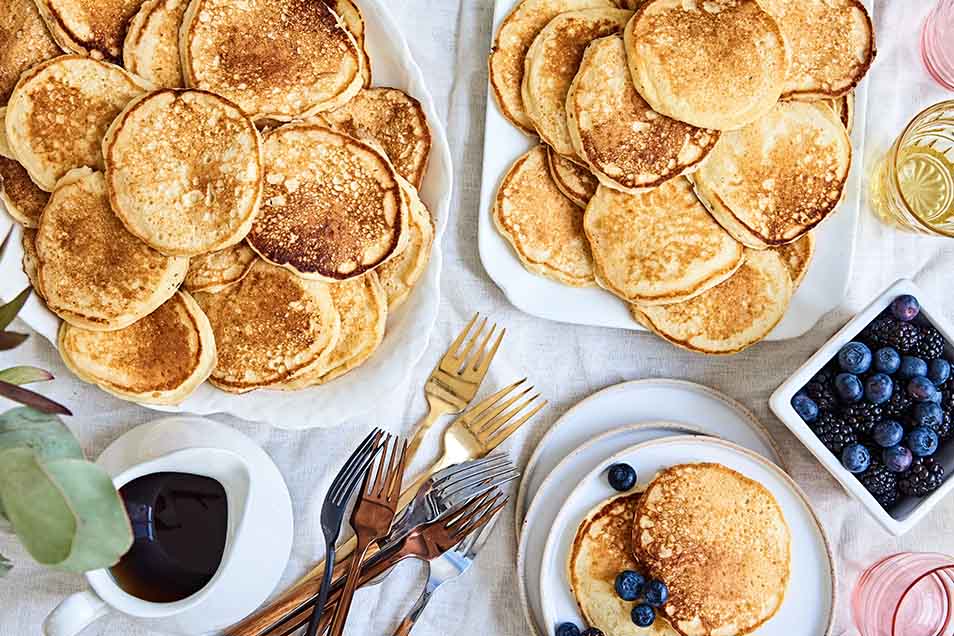 Making preparations for the annual firemen's breakfast? Cooking breakfast for that hungry troop of Scouts? You don't have to use a mix! This from-scratch recipe starts the easy way, with a 5-pound bag of flour. You'll make enough light-as-air, moist pancakes to feed 75 or so hungry diners.
Instructions
In a very large bowl or stockpot (one that can comfortably hold 36 cups of batter), whisk together the flour, sugar, baking powder, baking soda, and salt.

In a separate large bowl, whisk together the eggs, buttermilk, milk, butter, and vanilla.

Pour the wet ingredients into the dry ingredients, stirring to combine. Stir until the mixture is fairly smooth; some small lumps are OK. Allow the batter to rest, uncovered, for 15 minutes.

Spoon batter in 1/4-cupfuls onto a preheated 325°F to 350°F griddle. Cook until bubbles form on the tops of the pancakes and the bottoms are brown. Flip, and cook until the bottoms are brown. Serve immediately, or hold briefly in a warm oven.
Tips from our bakers
If you find yourself having to use some other brand of flour, the recipe will need to be adjusted, due to King Arthur's higher protein level compared to other brands. For "Brand X" flour, reduce the milk to 5 cups, let the batter rest for 15 minutes, then add additional milk if it seems too thick to pour easily.
For best results, make the batter just prior to cooking the pancakes. Batter left to sit too long will yield pancakes that aren't as light and fluffy.