A customized print-friendly version of this recipe is available by clicking the "Print Recipe" button on this page.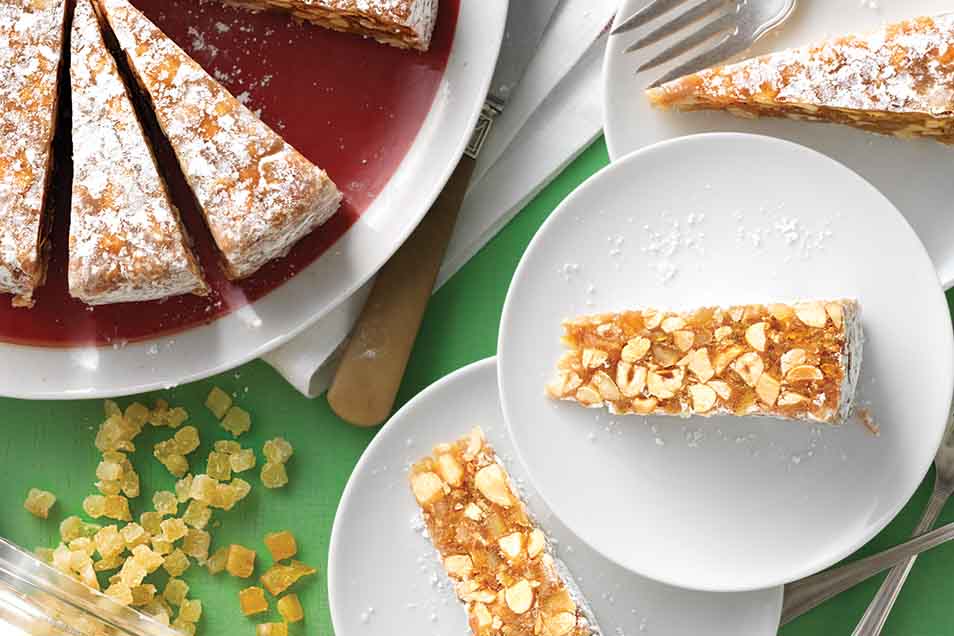 Panforte, a Christmas "fruitcake" native to Siena, Italy, is a delicious cross between candy and cake. Hazelnuts, almonds, and candied peel, mixed with flour, spices, and a rich honey-butter-sugar syrup, are baked till barely set. The resulting confection is sprinkled with confectioners' sugar, and served in thin slices. Cappuccino or espresso are the perfect accompaniment.
Ingredients
1 1/4 cups skinned hazelnuts
1 1/4 cups whole blanched almonds
3 cups candied mixed peel (or a mixture of candied orange peel and candied lemon peel)
1/4 teaspoon ground cloves
1/4 teaspoon ground nutmeg
1/8 teaspoon ground white pepper
1/2 teaspoon ground cinnamon
1/4 teaspoon salt
2/3 cup sugar
2/3 cup honey
2 tablespoons butter
confectioners' sugar, for topping
Instructions
Preheat your oven to 300°F. Line an 8" round cake pan with parchment (or foil), and grease the parchment.

Toast the hazelnuts and almonds for 20 minutes, until they're a light golden brown. It's best to do this in separate pans, as they toast at slightly different rates, and you may want to take one pan out of the oven before the other. Remove the nuts from the oven, and set them aside to cool a bit. When you can handle them, chop them coarsely.

Put the nuts, candied peel, spices, salt, and flour in a mixing bowl. Stir to combine.

Combine the sugar, honey, and butter in a saucepan. Over medium heat, bring the mixture to a boil. Using an instant-read or candy thermometer, boil the syrup, stirring frequently, till it reaches a temperature of about 245°F. This happens very quickly, so don't walk away; it should take about 2 minutes (or less) from the time the syrup starts to boil.

Immediately pour the boiling syrup over the fruit and nuts in the bowl. Stir to combine, and pour into the prepared pan, smoothing the top with a spatula (or your wet fingers; it cools down quickly, and you shouldn't find it overly hot). You need to work fast, as the mixture will start to stiffen up. Place the cake pan on a baking sheet, to catch any potential spills.

Bake the cake for 40 to 45 minutes; it won't seem firm, but will set as it cools. Remove it from the oven, and after 45 minutes, loosen the edges with a table knife or heat-proof spatula. Turn the warm panforte out of the pan onto a piece of parchment or foil. The bottom is now the top.

Sprinkle the top of the panforte heavily with confectioners' sugar, gently rubbing it in, if desired. Let it cool completely before wrapping airtight.

Store the panforte, at room temperature, for up to 2 months. To serve this rich cake, cut it in thin wedges.

Yield: about 20 servings.

To make chocolate panforte: Add 2 tablespoons Dutch-process cocoa to the nuts/peel/flour mixture. Melt 1/2 cup semisweet or bittersweet chocolate chips; stir them into the nuts/peel/flour along with the honey syrup. Bake as directed in the original recipe.
Reviews
This is one of my favorite recipes ! As someone else said, when Whole Foods stopped carrying it, went on a search, and this one is better. I tried two other recipes initially, but this is the best one ! I have had several requests to make this as someone's Christmas gift. Since a small piece is all you need with a cup of coffee, vin santo, or a thin slice of manchego cheese, I make small six inch ones, and have given them to my closest friends for the last four years. Always a big hit. So THANK YOU King Arthur for brining this delight into our, and others, homes.
I used to buy Panforte from Siena sold by Whole Foods every Christmas. They stopped carrying it about 3 years ago and have been searching for a recipe that sounded similar. Then saw this KAF one. It is even better ! It looked so beautiful it was tempting to taste, but let it stay wrapped 12 days (made chocolate version) and it was unwrapped at yesterday's Christmas dinner. It was a huge hit ! Much better than fruitcake-should not be compared. I used 1-1/2 cups candied fruit, and 1-1/2 cups figs and dates. Panforte ("strong bread) was carried by the Crusaders because of its healthy heartiness and longevity. Thank you KAF.
It's in the oven now. I did half of the recipe with chocolate and half without. It's very easy to work with, smells wonderful and looks like the panforte that I remember from childhood. We will not be eating until Christmas Eve and I will update the review then, Merry Christmas to all!
Let me start by saying that I don't like fruitcake and I didn't like this fruitcake. However, I made this as a gift for my father for Christmas and HE, and everybody else who tried it, LOVED IT! So that's why I gave it 5 stars. I have made him fruitcakes before and I wanted something different this year. This was definitely it! I made the chocolate version and it didn't disappoint! In fact, my mother is having "a thing" next month and wants me to make another one for that. So I ordered the candied peel and will make one to mail for her "thing!" It's very dense and should mail well not to mention that it keeps for a long, long time! Thanks King Arthur for another great recipe!
So yummy!! I know you are supposed to eat it in very small wedges, but I have been eating it in hunks--it is that good. I made this to take to a party and cut it into small squares for presentation. Next time, I am going to roll the cooked cake into small ball, rub the balls in powdered sugar, and then dust the tops. I think they will be very pretty, and I know they taste great. I just have to find some way to hide them from myself. I used 6oz of KA hazelnuts, 10 oz of a mix of orange and lemon peel, and 4oz of fruitcake mix.
Amazing! This is incredibly delicious! I had to try it, since I'd never heard of it before. I had to skin the hazelnuts myself, and that part was a hassle and made a mess in my kitchen, but worth it. I love the big chunks of nuts in it, like the photograph shows, as well as the candied lemon and orange peel flavor. At least I have one thing prepared for Christmas. That is, if I don't eat it all up before the kids come home! I think Brazil nuts and/or pistachios would be good in this too. It's a good thing you warned about how quickly the caramel would reach 245! That helped me divert a disaster, I think!
This looks like something I really want to try! Is it possible to make it in smaller pans for gift giving? I'd like to mail some to my Dad who is also a fruitcake etc. lover. Thanks.
Yes, I think you could! Maybe divide the batter into couple 6" pans. You may need to reduce the baking time slightly. kelsey@KAF
Can you make this recipe with some other nut than hazelnuts? They are a nut I really don't like.
Try using blanched split almonds. Frank @ KAF.