A customized print-friendly version of this recipe is available by clicking the "Print Recipe" button on this page.
Pani Popo Samoan Coconut Buns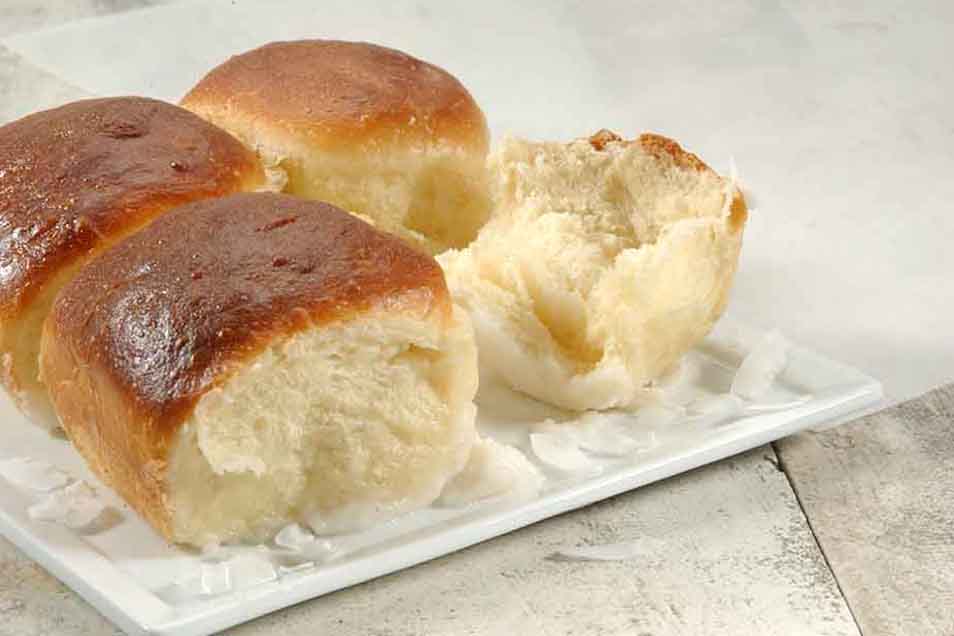 In the depths of winter in New England, thoughts turn to any sign of summer and the return of warm weather. When King Arthur baker MaryJane Robbins came across this traditional Samoan recipe for baking rolls in a rich coconut sauce, she said, "I could just smell the tropical breezes and feel the beach sand under my feet."

These soft, tender buns make a wonderful afternoon snack, or a unique dessert. If you're feeling adventurous, you can serve them for breakfast with a tropical fruit salad and cold Mimosas. Hammocks and flip-flops are optional in winter, but a must-have come summertime!
Instructions
Mix and knead the dough ingredients together by hand, mixer, or bread machine set on the dough cycle until you've made a smooth dough. If you're kneading in a stand mixer, it should take 5 to 7 minutes at second speed, and the dough should barely clean the sides of the bowl, perhaps sticking a bit at the bottom. In a bread machine (or by hand), it should form a soft, smooth ball.

Place the dough in a lightly greased bowl. Cover the bowl, and allow the dough to rise, at room temperature, until it's nearly doubled in bulk, about 1 hour. Rising may take longer, especially if you've kneaded by hand. Give it enough time to become quite puffy.

While the dough is rising, grease a 9" x 13" pan.

Gently deflate the dough, and transfer it to a lightly greased work surface. Divide it into 12 pieces.

Shape each piece into a rough ball by pulling the dough into a very small knot at the bottom, then rolling it under the palm of your hand into a smooth ball.

Place the rolls in the pan, spacing them evenly; they won't touch one another. Cover lightly with plastic wrap and set aside to rise, about 45 to 60 minutes. About halfway though the rise, preheat the oven to 350°F.

During the last 20 minutes of rising, prepare the coconut sauce. Combine all of the sauce ingredients in a small saucepan over medium-high heat. Cook, stirring constantly, until thickened slightly, about 5 to 7 minutes.

Pour the warm, thick sauce over the risen buns and bake in the preheated oven for 18 to 25 minutes, until the buns are golden brown on top and the internal temperature registers 190°F on an instant-read thermometer.

Serve the warm buns from the pan, scooping up the thick sauce with a spoon. The coconut milk will form a thin, chewy, intensely coconut skin on top of the buns. It's nearly as addicting as the crisp skin on a holiday turkey.

Yield: 12 buns
Tips from our bakers
Want really big, buxom buns? Bake in a 9" x 9" square pan to make 9 larger buns.
If you don't have coconut milk powder, you can substitute 1 1/4 cups canned coconut milk for the water/coconut milk powder. Cook as directed. Coconut milk generally comes in a scant 14-ounce can, so you may not need the whole can. If your can is smaller, add enough water to equal 1 1/4 cups liquid.
Reviews
Five stars! I've made this for New Years Eve. Instead of the coconut sauce, I made it with custard (Bird's custard powder, made a double dose from 4 cups of whole milk). Absolutely delicious!
We luv coconut buns, i substituted milk powder for whole milk, coconut powder for coconut cream. Added a tad bit more water too the sauce coz we luv our buns drowning in the sauce. Delicious, defs a familee fav.
Made these buns today. Pretty much followed the recipe. I substituted butter with virgin coconut oil, coconut powder + water mixture with coconut milk. I divided the dough into 20 pieces (44 grams each). Baked them for 23 minutes (golden color). Excellent flavor and texture. Everyone loved it... Definitely a keeper. Next time, I will reduce the amount of sugar for the sauce just because I like it a little less sweet. I will also add coconut extract for a stronger coconut flavor. Thank you KAF for this delicious recipe.
Made this and it tasted delicious! The only change I made was using coconut milk instead of powder. I had coconut milk on hand. Very similar to what I had growing up.
These are 'skwizit! I'm just waiting for enough time to go by so that I can make these again. I used my bread maker to do the kneading, and used 1/2 tsp vanilla and 1/2 tsp butter flavor in the sweet dough. I did use powdered milk, but it was just regular, not Baker's Special. I used the coconut milk option, not the powder. I'm very impressed by the size and softness of these, delighted to have found this recipe.
Excellent recipe! The buns while baking had a rich milky and lovely aroma. I shift a little sugar on the top before I baked it so it has some color and dynamics but the taste is unbelievable especially the thicken coconut cream. I love it warm and the sweetness and creaminess just add sweetness and warmth to any dinner party! Thank you so much for sharing.
I tried not to rate this , as I made many changes, but... Hope this is helpful. Made this delicious recipe using almond milk, (instead of the milk powder and water), olive oil, (for the butter), a few more Tblsp. of flour, and added a half teaspoon more of the butter flavoring. Made half a recipe of sauce using coconut milk and half tsp. more of cornstarch (it would not thicken). Since I can't use dairy ingredients too much, (no allergies, just dietary), I was anxious to use my new butter flavoring. They brown! These rolls were fantastic! Now I have half the recipe of dough, (unbaked), formed into balls, in the freezer. (Fingers crossed.)
I'd give it a 10 if I could. My Samoan friends LOVE them and ask me to make them frequently. I made 15 pans full for a birthday party and there were no leftovers. Awesome and authentic recipe! I use canned coconut milk instead of powder, but other than that, follow the recipe exactly.
Anyone who loves tender fluffy yeast rolls and coconut flavor needs to try this recipe! I am so happy that I did and can not wait to make them again for other coconut lovers in my family. I stuck to the recipe and I was very happy with the results. My coconut topping glazed the top of the rolls very well but did not go to the bottom as the recipe said. I think the amount of coconut topping was in good proportion to the rolls. I did add 1/2 tsp. of the KAF coconut flavoring. I served these for supper with grilled salmon, corn on the cob, bean salad. Gave the meal a nice tropical feel! Thanks so much!
These aren't quite what I expected - even after I read the whole blog. They also got expensive very quickly since it used about 1/2 the bag of coconut powder. I did use gold Saf yeast due to the sugar content. It was a VERY sticky dough and needed a lot of extra flour, but that is pretty normal in Miami. The coconut barely covered the buns, and they baked up with brown and blonde blotches so I had trouble figuring out when they were done. Since the timing is different from recipe to blog, I started at the shortest time. They were up to 191 degrees at 21 minutes, but they were completely blonde and raw dough stuck to the thermometer which still doesn't make sense to me! I ended up leaving them in 31 minutes which is well beyond both timing recommendations, but they were finally cooked through and were still very moist. I guess I just expected something sweeter. For me, the dough is a keeper, but I'm not sure about the sauce. I might try it a little sweeter or just move on since there are so many great recipes to try. Others here that tried them liked them more than I did......Definitely read the blog before you make these so you understand the "jelly like" sauce.