A customized print-friendly version of this recipe is available by clicking the "Print Recipe" button on this page.
Parmesan and Cracked Black Pepper Biscotti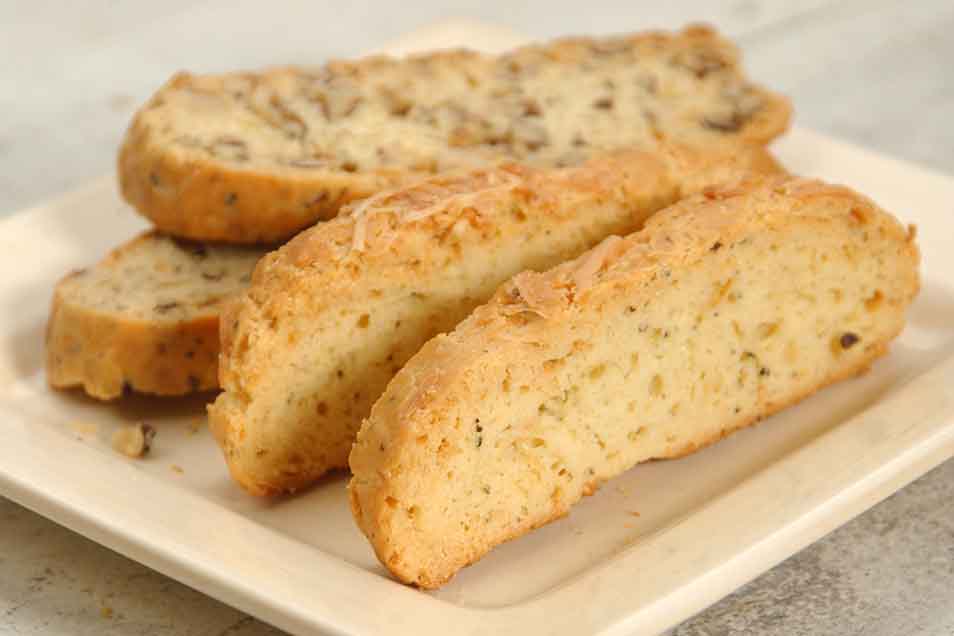 Biscotti are sweet, right? Well, not when they're made with savory cheese and spicy black pepper. These appetizer biscotti pair beautifully with wine or beer, and are an interesting (and tasty) addition to any hors d'oeuvres spread. And, since they keep so well, they're handy to keep on hand during the holiday season, when unexpected guests drop by.
Ingredients
6 tablespoons softened butter
1 teaspoon sugar
3 tablespoons Vermont cheese powder, optional, for flavor
1 cup, firmly packed, freshly grated Parmesan cheese
1 1/2 teaspoons coarsely ground black pepper
2 teaspoons baking powder
1/2 teaspoon salt
4 large eggs
2 1/2 cups King Arthur Unbleached All-Purpose Flour
1 1/2 cups diced pecans or walnuts, toasted
additional grated Parmesan for topping the biscotti, optional
Instructions
Preheat the oven to 375°F. Lightly grease a baking sheet, or line it with parchment.

Combine the butter, sugar, cheese powder, Parmesan, black pepper, baking powder, and salt in a mixing bowl.

Add the eggs one at a time, beating well and scraping the sides and bottom of the bowl after each addition.

Stir in the flour, and the nuts (if you're using them).

Transfer the sticky dough to the prepared baking sheet, dividing it in half as you do so and plopping the halves so that they're about 2" from each short edge of the pan. You want to leave plenty of space between them.

Using your wet fingers and/or a wet spatula, shape each piece of dough into a log about 9 1/2" long, and 7/8" thick. If you've used nuts, the log will be about 3" wide; with no nuts in the dough, it'll be about 2 1/2" wide. Do your best to smooth the tops and square off the corners. If desired, sprinkle the tops of the logs with additional grated Parmesan.

Bake the logs for 20 to 25 minutes, or until they're beginning to brown around the edges. Remove them from the oven, and carefully lift them off the pan; if you've used parchment, simply lift the parchment off the pan and set it, biscotti and all, on a work surface.

Reduce the oven temperature to 325°F.

Using a sharp serrated or chef's knife, carefully cut the biscotti into 1/2"-wide slices. It helps to start cutting not at the top, but at an outer edge; this seems to lessen any crumbling. For long biscotti, cut on the diagonal; for shorter biscotti, cut crosswise.

Set the biscotti, on their edges, back on the baking sheet; no greasing or parchment is necessary. Space them fairly close to one another, so you can get them all onto the same pan.

Return the biscotti to the oven, and bake them for 35 to 40 minutes, or until they feel dry and are just beginning to brown. If you pinch the center of a biscotti, it may feel just slightly soft; that's OK, as it'll continue to firm as it cools.

Remove the biscotti from the oven, and let them cool right on the pan. If you're not sure if you've baked them enough, turn off the oven, crack the door open several inches, and let the biscotti continue to dry out right in the cooling oven.

When biscotti are completely cool, store them airtight at room temperature; they'll stay fresh for several weeks.

Yield: about 32 biscotti.