A customized print-friendly version of this recipe is available by clicking the "Print Recipe" button on this page.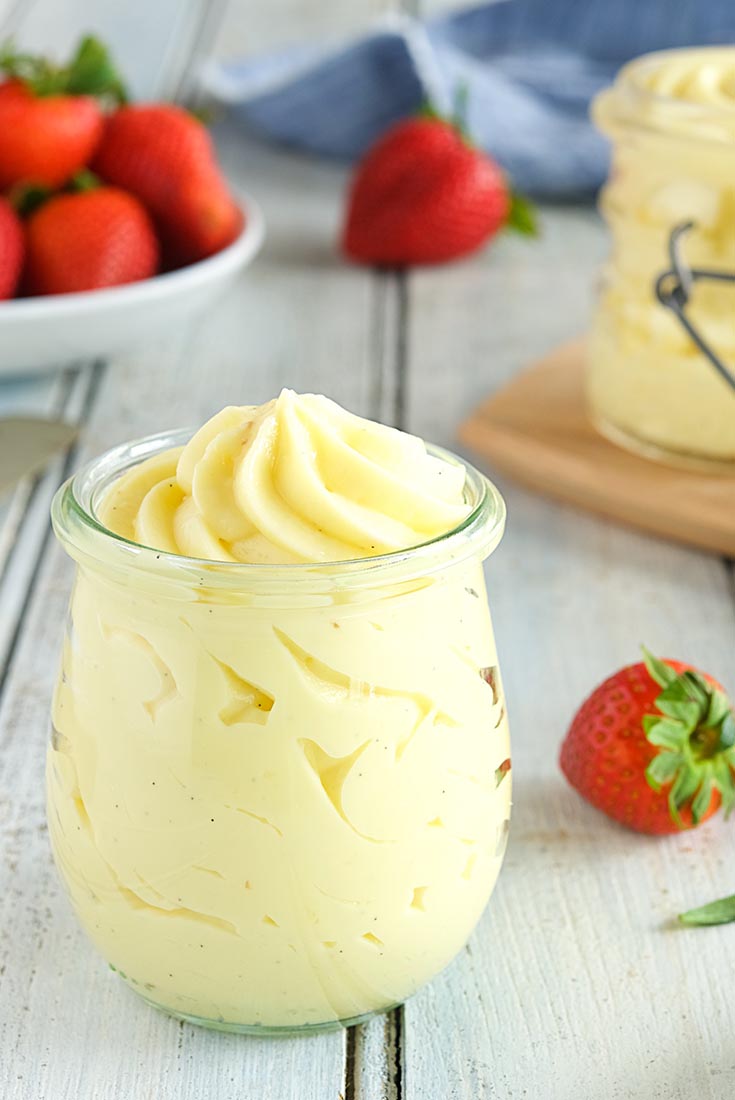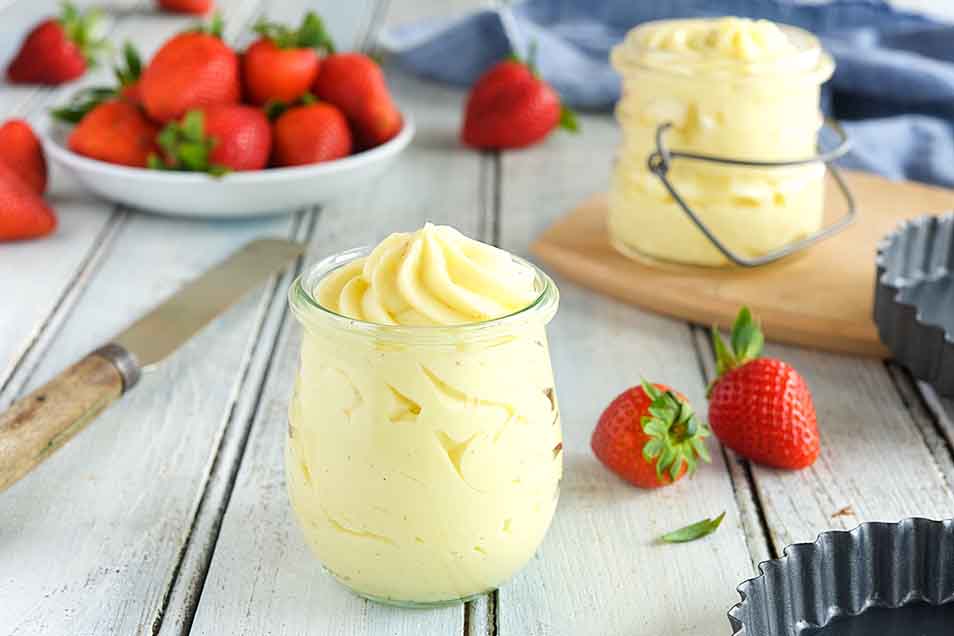 This rich, creamy filling, while delicious as is, can also be flavored in an almost infinite number of ways to create the perfect complement to your cake, pie, or pastry. Make sure you have all of your ingredients and equipment on hand before you begin; once the egg yolks begin to cook, they won't wait for you to find your strainer! This base recipe calls for 1/2 cup of sugar, which makes a filling that's just barely sweet. If you're planning to use it for a pie filling and you want it to be sweeter, increase the sugar to 3/4 cup.

While we realize this isn't a classic pastry cream — either in ingredients, or method — we're sure you'll agree it's a tasty clone!
Ingredients
3 cups whole milk
1/2 cup sugar
1/4 teaspoon salt
2 teaspoons vanilla extract or Vanilla Crush; or 1/2 vanilla bean, slit lengthwise
1/4 cup cornstarch
1 tablespoon King Arthur Unbleached All-Purpose Flour
4 large egg yolks
4 tablespoons (1/4 cup) butter
1 cup heavy cream, whipped to soft peaks; optional, for a softer filling
Instructions
In a medium-sized saucepan, stir together 2 1/2 cups of the milk, the sugar, salt, and the vanilla bean. (If you're using vanilla extract or Vanilla Crush, add it at the end.) Bring to a simmer over medium heat, stirring to dissolve the sugar.

Meanwhile, whisk the cornstarch, flour, and egg yolks with the remaining 1/2 cup milk.

Whisk some of the hot milk mixture with the egg yolks to temper them. This keeps the yolks from turning to scrambled eggs when you add them to the simmering milk.

Pour the egg/milk mixture back into the remaining simmering milk. Doing this through a strainer will help prevent lumps later. Bring to a boil, stirring constantly with a whisk, until the mixture thickens.

Remove from the heat and strain through a fine sieve. Stir in the butter and vanilla extract (if you're using it). If you're going to flavor the pastry cream with chocolate or some other flavor, this is the time to do it (see variations below).

Rub a piece of butter over the surface of the cream, top with a piece of plastic wrap (make sure it touches the top of the pastry cream so it doesn't develop a skin), then refrigerate until cool.

Use chilled pastry cream as is for a sliceable cream pie, or a stiff filling for éclairs. Fold in the optional whipped cream, just before using, for a softer filling.

Pastry cream will keep, covered in the refrigerator, for up to 5 days. After that it may start to weep.
Nutrition Information
Serving Size

1/2 cup, 125 g

Servings Per Batch

10
Amount Per Serving:
Calories

245

Calories from Fat

159

Total Fat

18g

Saturated Fat

11g

Trans Fat

0g

Cholesterol

139mg
Sodium

109mg

Total Carbohydrate

18g

Dietary Fiber

0g

Sugars

14g

Protein

4g
* The nutrition information provided for this recipe is determined by the ESHA Genesis R&D software program. Substituting any ingredients may change the posted nutrition information.
Tips from our bakers
Butterscotch Pastry Cream: Add 1/4 teaspoon butter-rum flavor and/or 1 cup (6 ounces) butterscotch chips to the pastry cream after straining, stirring until the chips have melted.

Caramel Pastry Cream: Add 3/4 cup chopped caramel (7 1/2 ounces, or 21 to 23 unwrapped individual caramels) to the hot, strained pastry cream, stirring until melted and the mixture is smooth.

Chocolate Pastry Cream: Add 1 cup (6 ounces) chopped chocolate to the hot, strained pastry cream, stirring until melted and the mixture is smooth.

Hazelnut Pastry Cream: Omit the butter and increase the sugar to 3/4 cup (5 1/4 ounces). Add 3/4 cup (8 1/4 ounces) praline paste to the hot, strained pastry cream, stirring until combined.

Orange Pastry Cream: Increase the sugar to 3/4 cup (5 1/4 ounces). Add 1 teaspoon orange extract; 1/4 teaspoon orange oil; or 3 tablespoons orange zest to the hot, strained pastry cream.

Peanut Butter Pastry Cream: Add 3/4 cup (7 1/4 ounces) smooth peanut butter to the hot pastry cream, stirring until melted and the mixture is smooth. If you're using a natural or freshly-made peanut butter, omit the butter from the recipe, or the pastry cream will be greasy.

Pistachio Pastry Cream: Omit the butter and increase the sugar to 3/4 cup (5 1/4 ounces). Add 3/4 cup (8 1/4 ounces) pistachio paste, or blanched pureed pistachio meats.
Reviews
I used this for Boston Cream Pie. Based on other reviews, I reduced the measure of milk by 1/2 cup, and left all other ingredients the same. It was nice and firm, and didn't squish out of the layers when I sliced the pie. It would slice nicely in a pie shell, too, using 2 1/2 cups milk. I think I'll increase the vanilla next time - the flavor was great on the spoon, but a little too subtle against the cake and chocolate icing. I used Chef Zeb's Hot Milk Cake for the cake layer (see that recipe for review). I also think I'll try lining another 9" cake tin with plastic wrap, and pouring the hot pastry cream in to cool in the tin, then turning it out onto the cake layer to assemble.
We love this recipe. I use it as my go to for everything. Easy to add extra flavors. My fam loves when I use it in a triffle. I think we've made six different flavor triffle. And always from scratch in our house. Thank you very much for this recipe.
Wonderful, easy, delicious recipe! The pastry cream tastes great on its own with fresh fruit, especially berries. It is not too sweet, so the flavors come through nicely. I used the pastry cream with the Hot Milk Cake recipe to make a Boston Cream Pie, and it was perfect.
I have made this recipe several times with great success each time. I used it with the Boston cream pie, the easy coconut cream pie, and the berry blitz torte. The only thing is I reduce the sugar just a bit as it is a bit sweet. I do however use the gram feature when baking for accuracy. My family loves it when they know I have used a a recipe that calls for the pastry cream as it is very creamy and smooth and thick like a pudding. I also use the vanilla bean paste so flecks of vanilla bean can be seen throughout the pastry cream.
This is tasty but not pastry cream. It is a cross between a Diplomate cream (pastry cream with whipped cream folded into it) & a Mousseline cream (pastry cream with butter). True pastry cream has neither of these. I would give it 5 stars if not for the deceiving name of the recipe.

Thanks for pointing this out, Heather. We realize that technically, pastry cream doesn't have whipped cream or butter added to it. We've come up with a pastry cream-like clone that is delicious as a cake filling or will work beautifully for all your choux pastry needs. There's now an Editor's note acknowledging the deviance from a classic recipe--as you experienced, it's still delicious! Kye@KAF
absolute flop! i should have just used my usual recipe but i figured i'd try this one since it's from such a trusted site. it was intended to fill some eclairs (that also didn't really work) but it was such a runny nightmare that i couldn't even get it into the piping bag without it running out the tip. i followed the recipe exactly - weighed everything and used an instant read thermometer - guess i should have paid more attention to the reviews. it does taste wonderful but i have no use for vanilla soup.

Liv, it sounds like the mixture simply wasn't cooked for long enough before removed from the heat, which we understand can be frustrating when it never sets up. As we encouraged in your previous review, we hope you'll call the Baker's Hotline so we can share some tips for better success next time. We hope to help! Kye@KAF
I followed the recipe exactly, and it turned out perfectly. After I tempered the eggs and added everything back into the pot, it was boiling and thick in about 10 seconds. I cooked it a couple minutes more just to be sure it would set properly. I made it for Boston Cream Pie, so I didn't add the whipped cream at the end, and it was plenty thick to fill the cake. For the people who said theirs wasn't thick enough--maybe rewrite the recipe to specify that the mixture needs to come to a boil? That's my understanding from other custards I've made--it has to boil for the cornstarch to work.

Hi Andrea, thanks for your suggestion. Boiling certainly is important, which is why we mention in step 4 the mixture should come to a boil until it thickens nicely. We're glad you had success with this recipe! Kye@KAF
When making something for the first time, I have a habit of perusing dozens of recipes online, reading all the reviews, incorporating the suggestions and only then embarking upon the actual cooking usually with excellent results. I found this recipe to have almost the exact same ratio of corn starch, egg yolks and sugar as my other trusty sources but with almost double the milk. So I made the recipe as written except that I reduced the milk by almost a cup. Not only was my pastry cream finger lick in' good like all KAF recipes I've ever tried but it was also the perfect consistency for the fruit tart I whipped up. Thank you for another great recipe and note to those who may find it runnier than they expected, reduce the milk!
This recipe is delicious and perfect as a filling for something like eclairs or cream puffs. My only problem is that it doesn't quite get thick enough to hold anything in place or act as a support. I tried to make a Fraisier Cake with it (two layers of cake with a layer of cut strawberries and pastry cream in between) and it oozed out the sides. After trying a different pastry cream recipe, I would recommend adding two extra egg yolks if you need a stiff cream for structural reasons. Can't argue with the flavor though!

Leon, you can also consider adding 2-4 tablespoons of Instant ClearJel to the sugar in the recipe if you'd like to thicken it up and give the cream more support. Happy baking! Kye@KAF
Made a double batch of the pastry cream for a Boston cream pie. I thought I had cooked it long enough but it was too runny to use in the cream pie. After speaking with someone on the bakers hot line it seemed like my only option was to toss it out and start over. Hoping to salvage the filling, I mixed in a packet of instant vanilla pudding mix. Everything tightened up perfectly and I was able to use the filling for the dessert. Next time I will cook the filling longer, but the pudding mix saved the day.