A customized print-friendly version of this recipe is available by clicking the "Print Recipe" button on this page.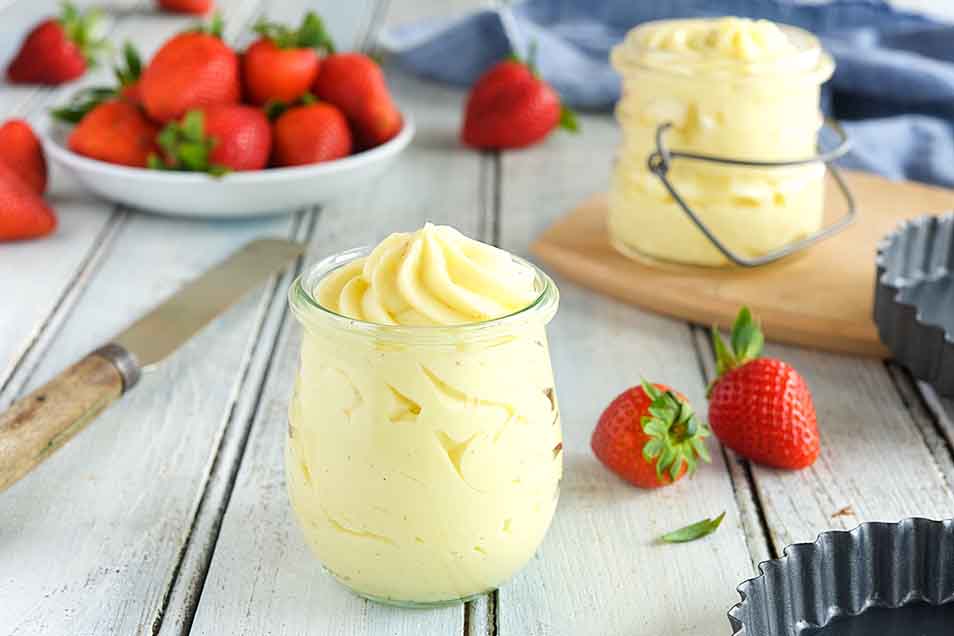 This rich, creamy filling, while delicious as is, can also be flavored in an almost infinite number of ways to create the perfect complement to your cake, pie, or pastry. Make sure you have all of your ingredients and equipment on hand before you begin; once the egg yolks begin to cook, they won't wait for you to find your strainer! This base recipe calls for 1/2 cup of sugar, which makes a filling that's just barely sweet. If you're planning to use it for a pie filling and you want it to be sweeter, increase the sugar to 3/4 cup.
Ingredients
3 cups whole milk
1/2 cup sugar
1/4 teaspoon salt
2 teaspoons vanilla extract; or 1/2 vanilla bean, slit lengthwise
1/4 cup cornstarch
1 tablespoon King Arthur Unbleached All-Purpose Flour
4 large egg yolks
4 tablespoons (1/4 cup) butter
1 cup heavy cream, whipped to soft peaks; optional, for a softer filling
Instructions
In a medium-sized saucepan, stir together 2 1/2 cups of the milk, the sugar, salt, and the vanilla bean. (If you're using vanilla extract or Vanilla Crush, add it at the end.) Bring to a simmer over medium heat, stirring to dissolve the sugar.

Meanwhile, whisk the cornstarch, flour, and egg yolks with the remaining 1/2 cup milk.

Whisk some of the hot milk mixture with the egg yolks to temper them. This keeps the yolks from turning to scrambled eggs when you add them to the simmering milk.

Pour the egg/milk mixture back into the remaining simmering milk. Doing this through a strainer will help prevent lumps later. Bring to a boil, stirring constantly with a whisk, until the mixture thickens.

Remove from the heat and strain through a fine strainer into a bowl set in an ice bath. Stir in the butter and vanilla extract (if you're using it). If you're going to flavor the pastry cream with chocolate or some other flavor, this is the time to do it (see variations below).

Rub a piece of butter over the surface of the cream, top with a piece of plastic wrap (make sure it touches the top of the pastry cream so it doesn't develop a skin), then refrigerate until cool.

Use chilled pastry cream as is for a sliceable cream pie, or a stiff filling for éclairs. Fold in the optional whipped cream, just before using, for a softer filling.

Pastry cream will keep, covered in the refrigerator, for up to 5 days. After that it may start to weep.
Nutrition Information
Serving Size

1/2 cup, 125 g

Servings Per Batch

10
Amount Per Serving:
Calories

245

Calories from Fat

159

Total Fat

18g

Saturated Fat

11g

Trans Fat

0g

Cholesterol

139mg
Sodium

109mg

Total Carbohydrate

18g

Dietary Fiber

0g

Sugars

14g

Protein

4g
* The nutrition information provided for this recipe is determined by the ESHA Genesis R&D software program. Substituting any ingredients may change the posted nutrition information.
Tips from our bakers
Butterscotch Pastry Cream: Add 1/4 teaspoon butter-rum flavor and/or 1 cup (6 ounces) butterscotch chips to the pastry cream after straining, stirring until the chips have melted.

Caramel Pastry Cream: Add 3/4 cup chopped caramel (7 1/2 ounces, or 21 to 23 unwrapped individual caramels) to the hot, strained pastry cream, stirring until melted and the mixture is smooth.

Chocolate Pastry Cream: Add 1 cup (6 ounces) chopped chocolate to the hot, strained pastry cream, stirring until melted and the mixture is smooth.

Hazelnut Pastry Cream: Omit the butter and increase the sugar to 3/4 cup (5 1/4 ounces). Add 3/4 cup (8 1/4 ounces) praline paste to the hot, strained pastry cream, stirring until combined.

Orange Pastry Cream: Increase the sugar to 3/4 cup (5 1/4 ounces). Add 1 teaspoon orange extract; 1/4 teaspoon orange oil; or 3 tablespoons orange zest to the hot, strained pastry cream.

Peanut Butter Pastry Cream: Add 3/4 cup (7 1/4 ounces) smooth peanut butter to the hot pastry cream, stirring until melted and the mixture is smooth. If you're using a natural or freshly-made peanut butter, omit the butter from the recipe, or the pastry cream will be greasy.

Pistachio Pastry Cream: Omit the butter and increase the sugar to 3/4 cup (5 1/4 ounces). Add 3/4 cup (8 1/4 ounces) pistachio paste, or blanched pureed pistachio meats.
If you've never made pastry cream before, be sure to set up a bowl with a strainer over an ice bath before you apply heat to anything. Once the pastry cream comes to a full boil, it's important to stop the cooking immediately, or it can curdle and separate. Taking it off the stove and straining it into the bowl in the ice bath can be the difference between silky pastry cream and a sad (weepy) result.
Reviews
I really like how this turned out! My question is, could I use this as a turnover filling or will it not stand up to 20 minutes in an oven?

Hi Julie, pastry cream isn't designed to be baked. If you're looking for a cream, delicious turnover filling. Try borrowing the filling part of the Danish Cream Rolls recipe. (It uses whole eggs, which make it more stable and allow it to hold up during baking.) It's made up of milk, sugar, eggs, and vanilla so it has a similar flavor profile to classic pastry cream. We think it'll be delicious in your turnovers! Kye@KAF
I have made the vanilla, butterscotch and chocolate versions and they are great. How would you make this into a pumpkin pastry cream? Would you add 3/4 c. of pumpkin puree and some cinnamon?

We think you've got a fantastic idea for where to start, Tracy. Add pumpkin puree or canned pumpkin pie filling to taste after the pastry cream is fully prepared. If you use the pumpkin pie filling, the final result will be sweeter and also gently spiced. You can't go wrong here; let your taste buds be the guide! Kye@KAF
I have made this pastry cream before; it was fabulous! I was wondering whether you could use semisweet chocolate chips for a chocolate pastry cream and add orange zest to make a chocolate-orange pudding? Thanks.
Based on what reviewers were using the pastry cream for, it seemed like it may be thicker than I wanted for making banana pudding. So I increased the milk by 1/2 cup (used 2% milk because that is what I had) and the thickness was perfect for the banana pudding. I felt that it needed 3 tsp of vanilla but that's personal preference. I use good quality Nielsen-Massey vanilla, so it's not that I was using cheap vanilla. I only used 2 tablespoons of butter at the end and it was still great. So if you are health conscious, 2% milk and 1/2 the amount of butter still made an amazing pastry cream/pudding. Last week I made the KAF Boston cream pie recipe and the pastry cream for that is nearly identical to this one and does not use butter at the end. A couple tablespoons of butter at the end definitely improve the flavor.
Fabulous, versatile recipe! I initially used this for a fruit tart, went on to use it as a boston cream pie poke cake, donut filling, and even as a dip on its own! I have to say, using an actual vanilla bean makes it really beautiful, all the little flecks give it character and many compliments are received. A definite staple in my kitchen.
I needed a pastry cream recipe with actual measurements as my wife plans to make homemade Nepolians at a family event in August. I was wary of this recipe, mostly because I was disappointed in the recipe here on your site for banana cream pie, which is very similar to the pastry cream recipe here. I should mention I made large batches of pastry cream at one of my former jobs in a pro bakery, so I know how it's done and how it should turn out. I'm glad to report that this is the best pastry cream recipe for home use I have ever come across. There was no starchy taste at all, and it was smooth, perfectly sweet,, and just perfect in every way. I increased the sugar to 2/3 cup, and I used my stand mixer on low speed once the finished cream came off the heat to stir in the butter and vanilla, and to help it cool a bit before pouring it into a 8-inch square pan to cool for a day before using. I am not easily impressed, but this recipe produced an excellent result. The one piece of advice I would strongly suggest to any out there who have not yet made this recipe is to weigh out the cornstarch metrically, and also, be sure to cook the mixture for one minute before removing it from the heat. I have had too many pastry creams that either used too much starch, or where the mixture wasn't cooked long enough. The result is not pleasant. I'll be adopting this recipe into my permanent recipe collection.

We're so thrilled to hear you gave this recipe a try, Jon, and found that it was exactly what you were looking for to make perfect pastry cream at home. We were wary when we first heard about your less-than-fantastic results with the banana cream pie, but it sounds like you've found the recipe that gives you silky smooth, thick pastry cream. Thanks for sharing your review with us, and happy baking! Kye@KAF
I love this pastry cream recipe and am planning on making it again as part of a Torta Della Nonna (italian grandmothers cake). It is basically pate sucre and lemon vanilla pastry cream. My concern is that I will be driving from Fla to PA with the torta. Will this pastry cream freeze with little to no separation? Will it still be good after a days drive? If this isn't a freezable pastry cream, do you have any recommendations/modifications to the recipe?

Hi Chanda! Pastry cream is not freezable, but if you can keep it in a cooler with some ice packs to keep it chilled it'll be perfectly fine. Happy trails! Annabelle@KAF
Delicious! Smooth and really tasty! Used to fill eclairs and cream puffs.
This recipe is by far the best custard I have made! Delicious! Question: I made the custard today ( Tuesday) and will need it for a cake I'm delivering Friday will the pastry cream still be tasty and okay to eat by Friday? It's been in the fridge.

Hi Teresa. The pastry cream should taste fine though you may find that it begins to separate after two days. This is because the cornstarch breaks down over time. Four days really should be okay so don't worry about it, just leave it out of the cake until Friday morning if possible so your cake doesn't get soggy. Annabelle@KAF