A customized print-friendly version of this recipe is available by clicking the "Print Recipe" button on this page.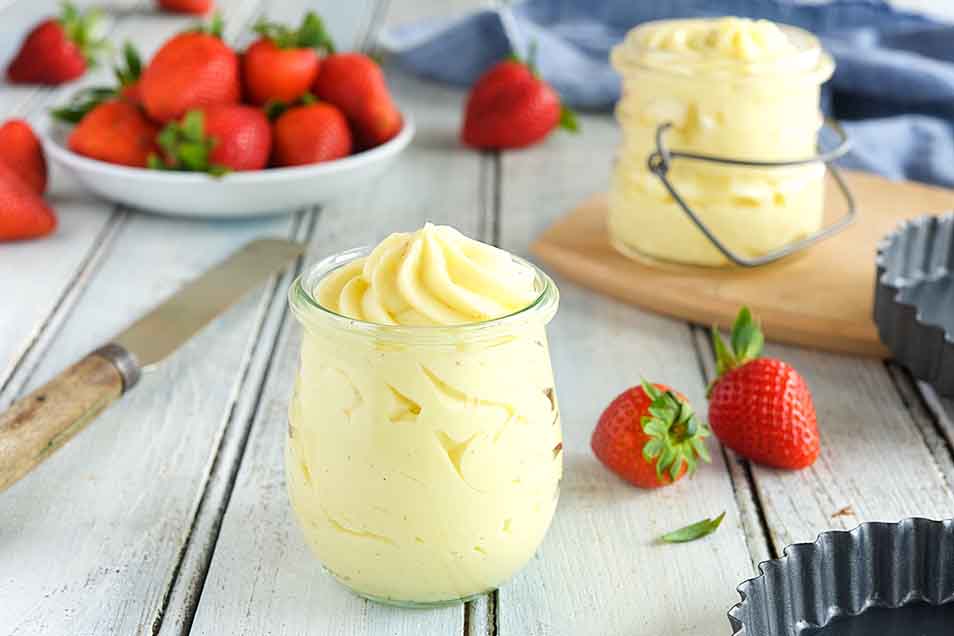 This rich, creamy filling, while delicious as is, can also be flavored in an almost infinite number of ways to create the perfect complement to your cake, pie, or pastry. Make sure you have all of your ingredients and equipment on hand before you begin; once the egg yolks begin to cook, they won't wait for you to find your strainer! This base recipe calls for 1/2 cup of sugar, which makes a filling that's just barely sweet. If you're planning to use it for a pie filling and you want it to be sweeter, increase the sugar to 3/4 cup.
Ingredients
3 cups whole milk
1/2 cup sugar
1/4 teaspoon salt
2 teaspoons vanilla extract; or 1/2 vanilla bean, slit lengthwise
1/4 cup cornstarch
1 tablespoon King Arthur Unbleached All-Purpose Flour
4 large egg yolks
4 tablespoons (1/4 cup) butter
1 cup heavy cream, whipped to soft peaks; optional, for a softer filling
Instructions
In a medium-sized saucepan, stir together 2 1/2 cups of the milk, the sugar, salt, and the vanilla bean. (If you're using vanilla extract or Vanilla Crush, add it at the end.) Bring to a simmer over medium heat, stirring to dissolve the sugar.

Meanwhile, whisk the cornstarch, flour, and egg yolks with the remaining 1/2 cup milk.

Whisk some of the hot milk mixture with the egg yolks to temper them. This keeps the yolks from turning to scrambled eggs when you add them to the simmering milk.

Pour the egg/milk mixture back into the remaining simmering milk. Doing this through a strainer will help prevent lumps later. Bring to a boil, stirring constantly with a whisk, until the mixture thickens.

Remove from the heat and strain through a fine strainer into a bowl set in an ice bath. Stir in the butter and vanilla extract (if you're using it). If you're going to flavor the pastry cream with chocolate or some other flavor, this is the time to do it (see variations below).

Rub a piece of butter over the surface of the cream, top with a piece of plastic wrap (make sure it touches the top of the pastry cream so it doesn't develop a skin), then refrigerate until cool.

Use chilled pastry cream as is for a sliceable cream pie, or a stiff filling for éclairs. Fold in the optional whipped cream, just before using, for a softer filling.

Pastry cream will keep, covered in the refrigerator, for up to 5 days. After that it may start to weep.
Nutrition Information
Serving Size

1/2 cup, 125 g

Servings Per Batch

10
Amount Per Serving:
Calories

245

Calories from Fat

159

Total Fat

18g

Saturated Fat

11g

Trans Fat

0g

Cholesterol

139mg
Sodium

109mg

Total Carbohydrate

18g

Dietary Fiber

0g

Sugars

14g

Protein

4g
* The nutrition information provided for this recipe is determined by the ESHA Genesis R&D software program. Substituting any ingredients may change the posted nutrition information.
Tips from our bakers
Butterscotch Pastry Cream: Add 1/4 teaspoon butter-rum flavor and/or 1 cup (6 ounces) butterscotch chips to the pastry cream after straining, stirring until the chips have melted.

Caramel Pastry Cream: Add 3/4 cup chopped caramel (7 1/2 ounces, or 21 to 23 unwrapped individual caramels) to the hot, strained pastry cream, stirring until melted and the mixture is smooth.

Chocolate Pastry Cream: Add 1 cup (6 ounces) chopped chocolate to the hot, strained pastry cream, stirring until melted and the mixture is smooth.

Hazelnut Pastry Cream: Omit the butter and increase the sugar to 3/4 cup (5 1/4 ounces). Add 3/4 cup (8 1/4 ounces) praline paste to the hot, strained pastry cream, stirring until combined.

Orange Pastry Cream: Increase the sugar to 3/4 cup (5 1/4 ounces). Add 1 teaspoon orange extract; 1/4 teaspoon orange oil; or 3 tablespoons orange zest to the hot, strained pastry cream.

Peanut Butter Pastry Cream: Add 3/4 cup (7 1/4 ounces) smooth peanut butter to the hot pastry cream, stirring until melted and the mixture is smooth. If you're using a natural or freshly-made peanut butter, omit the butter from the recipe, or the pastry cream will be greasy.

Pistachio Pastry Cream: Omit the butter and increase the sugar to 3/4 cup (5 1/4 ounces). Add 3/4 cup (8 1/4 ounces) pistachio paste, or blanched pureed pistachio meats.
If you've never made pastry cream before, be sure to set up a bowl with a strainer over an ice bath before you apply heat to anything. Once the pastry cream comes to a full boil, it's important to stop the cooking immediately, or it can curdle and separate. Taking it off the stove and straining it into the bowl in the ice bath can be the difference between silky pastry cream and a sad (weepy) result.
Reviews
Love this recipe and it was so easy to modify and make gluten free! I halved the recipe because I didn't need so much cream. To make it gluten free I used gluten free corn starch, 1 tablespoon of king arthur's gluten free all purpose flour, and 1/4 teaspoon of xanthan gum. Everything came together exactly the way it should it in the recipe. It's also pretty easy to fix any flavoring mistakes. I added too much lime zest at the end and it became slightly bitter. I quickly whisked in some confectioner's sugar until I was satisfied with the flavor and it was fine.
This tasted delicious, but I made pudding, not pastry cream. The step "whisk until the mixture thickens" is not descriptive enough. It thickened nicely with the boiling bubbles popping in a bubbling polenta-like way. My inexperience meant that I had no idea how MUCH it should thicken before I took it off the heat, and with all the scare of over cooking a pastry cream I wasn't sure how long to keep cooking it. I took it off the heat after it had thickened to this stage and boiled another 5 minutes after that. It was thick...but apparently not thick enough. I chilled it in an ice bath and then put in the fridge overnight, and the next morning excitedly took it out to use to fill the layers of a cake and I had made...pudding. Delicious pudding. Which I labeled "cake sauce" and everyone enjoyed it thoroughly. Still, I would appreciate much more detail of 'how thick is thick enough' so I can do it right the next time. Thank you for your excellent recipes & website. I look forward to your help getting it right next time!

Hi there, Rachael! Thank you for your feedback on this recipe, we'll be sure to pass it along to the proper team members. We'd highly suggest reading the blog article linked to this recipe, How to make pastry cream: A complete tutorial, for some great tips and visuals. Once the mixture has come to a boil, you'll want to let it cook while stirring until your whisk leaves tracks in the cream — this will take roughly a minute or two. Also, should you ever have questions about recipes in the future, our Baker's Hotline folks are always happy to help! You can reach them at 855-371-BAKE (2253). Kindly, Morgan@KAF
A very good simple recipe, though, almost like always I add in the vanilla at the wrong time! I tend to just add in the vanilla like I please, but even then it came out fantastically! My vanilla is fairly weak anyways and homemade, so it didn't affect the taste to much. This is very easy to follow and to do, the only problem I see happening is HOW thick the custard/cream should be. (Like pudding before chilling!)
I made this yesterday with the hope of piping it into the pastry but it turned out too thin. My first question is... Is there any way to salvage it from this point? I'm guessing not but wanted to ask before going to the store for more eggs. Second, is it likely I didn't let it thicken enough on the stove? It seemed to thicken dramatically and I assumed it would thicken more as it cooled I guess adding the butter thinned it out again? How thick should it get before removing from the heat? My eggs tempered well so given that, is there still the risk of curdling if I leave it on the heat longer?

Hi Leanne. You can try putting it back on the stove to cook it further. You'll want to stir it continually and let it bubble vigorously (stirring or whisking constantly) for about a minute. Put it through a strainer and chill it and it should thicken up a little better for you. Cornstarch can take a minute or two to really activate.

Check out our blog article "How to make pastry cream: A complete tutorial" by typing it into the search bar above for some really helpful visuals. Annabelle@KAF
I made this to fill a chocolate cake it was great. Can i add fresh fruit to it say strawberry puree?

What a tasty idea, Maryann! We're worried that fresh fruit will be too juicy and it could break the pastry cream. If you're able to find dried or even freeze-dried fruit, making it into a powder with a food processor will be a fabulous way to incorporate those fruity flavors without compromising the consistency of the pastry cream. Not to mention, it would add beautiful color. You're, of course, welcome to experiment using fresh fruit, just know the texture will be runny and potentially broken. Annabelle@KAF
I made this as part of the Lemon Cloud Cake recipe. I couldn't believe how easy and delicious it was! We dropped the extra into a pie shell for a lovely cream pie, so good!
I really like how this turned out! My question is, could I use this as a turnover filling or will it not stand up to 20 minutes in an oven?

Hi Julie, pastry cream isn't designed to be baked. If you're looking for a cream, delicious turnover filling. Try borrowing the filling part of the Danish Cream Rolls recipe. (It uses whole eggs, which make it more stable and allow it to hold up during baking.) It's made up of milk, sugar, eggs, and vanilla so it has a similar flavor profile to classic pastry cream. We think it'll be delicious in your turnovers! Kye@KAF
I have made the vanilla, butterscotch and chocolate versions and they are great. How would you make this into a pumpkin pastry cream? Would you add 3/4 c. of pumpkin puree and some cinnamon?

We think you've got a fantastic idea for where to start, Tracy. Add pumpkin puree or canned pumpkin pie filling to taste after the pastry cream is fully prepared. If you use the pumpkin pie filling, the final result will be sweeter and also gently spiced. You can't go wrong here; let your taste buds be the guide! Kye@KAF
I have made this pastry cream before; it was fabulous! I was wondering whether you could use semisweet chocolate chips for a chocolate pastry cream and add orange zest to make a chocolate-orange pudding? Thanks.