A customized print-friendly version of this recipe is available by clicking the "Print Recipe" button on this page.
Peanut Butter and Chocolate Shortbread Cookies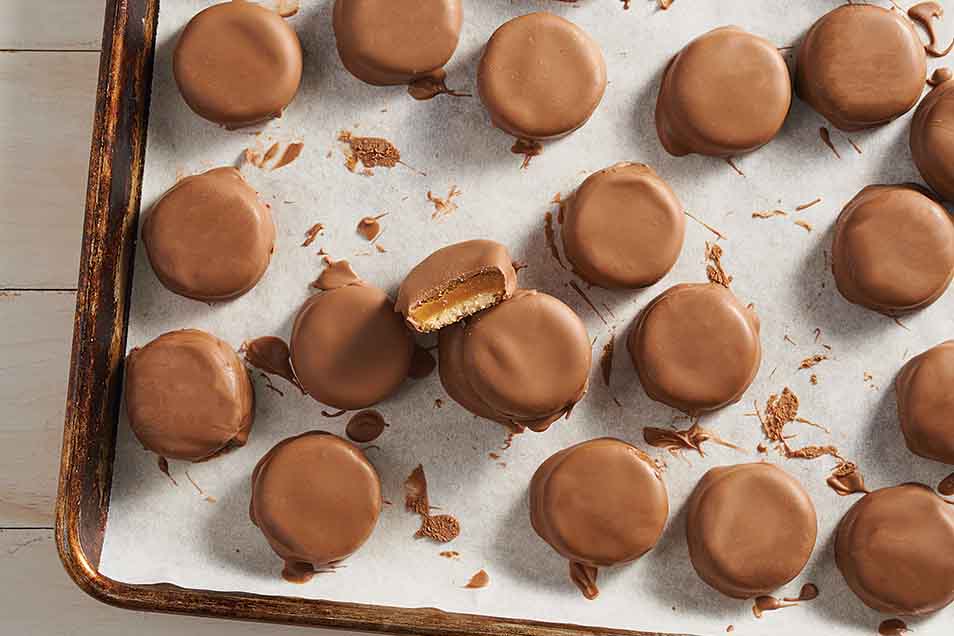 When Girl Scout season rolls around, are you known for hoarding boxes of Tagalongs®? If so, then this cookie recipe was developed for you. We've made them with an extra-thick layer of peanut butter filling, and used millet flour in the shortbread layer for a perfectly crisp, tender, and buttery cookie crunch. They're equally delicious with a milk and dark chocolate coating, so pick one or the other (or both!) for your own custom-made cookie that you can enjoy any time of year.
Thanks to feedback from you, our readers, we've made some changes to this recipe since it was first published - please see the details in 'baker's tips,' below.
Ingredients
Shortbread
1/2 cup (8 tablespoons) unsalted butter, at room temperature
1/2 cup confectioners' sugar
1/4 teaspoon salt
6 tablespoons millet flour*
*Substitute 1/4 cup unbleached all-purpose flour, if desired.
Filling
1 cup peanut butter
1 cup confectioners' sugar
1/4 cup milk
Coating
2 to 2 1/2 cups chopped milk or dark chocolate
Instructions
To make the shortbread: Combine all the ingredients in a medium mixing bowl, and beat until the dough is cohesive and smooth.

Shape the dough into a disk, wrap it in plastic, and refrigerate for at least 1 hour.

Preheat the oven to 350°F. Lightly grease (or line with parchment) a large baking sheet.

Roll the dough 1/4" thick, and cut it into 1 1/2" circles.

Place the dough circles onto the prepared pan, spacing them about 1" apart.

Bake the shortbread circles for 12 to 15 minutes (less time for thinner cookies), until light golden on the bottom and sides.

Remove the cookies from the oven and transfer them to a rack to cool completely.

To make the peanut butter filling: Stir together all the ingredients until fully combined.

Scoop generous teaspoons of filling onto the cooled shortbread circles, then press the filling flat so that it's flush with the edges of the shortbread; the filling will be about 1/4" thick on top of the shortbread.

Freeze the peanut butter-topped shortbread cookies for 15 to 20 minutes, until the filling is firm.

To coat the cookies: Heat 1 1/2 cups of the chocolate in the top of a double boiler (or in a microwave in 30-second increments) until almost fully melted.

Add another 1/2 cup of chopped chocolate, stirring until smooth and fully melted; this is a basic way of tempering the chocolate and keeping it shiny as it sets.

Dip the cold cookies into the chocolate (you can dip just the tops, half the cookie, or the whole cookie), and return to a piece of parchment or a cooling rack, until the chocolate has set.

If the chocolate cools and firms as you're dipping, or if you run out of chocolate, reheat what's left, then stir in some or all of the remaining chopped chocolate.

Store any leftover cookies in an airtight container for 3 to 5 days.
Tips from our bakers
We have reduced the minimum and maximum bake time for these cookies by 3 minutes. If you're rolling your cookies thinner than 1/4" or your spacing them more than 1" apart on your sheet pan, they will bake for even less time. Check them at 8 to 10 minutes, and every two minutes after that.