A customized print-friendly version of this recipe is available by clicking the "Print Recipe" button on this page.
Peanut Butter & Jam Cookies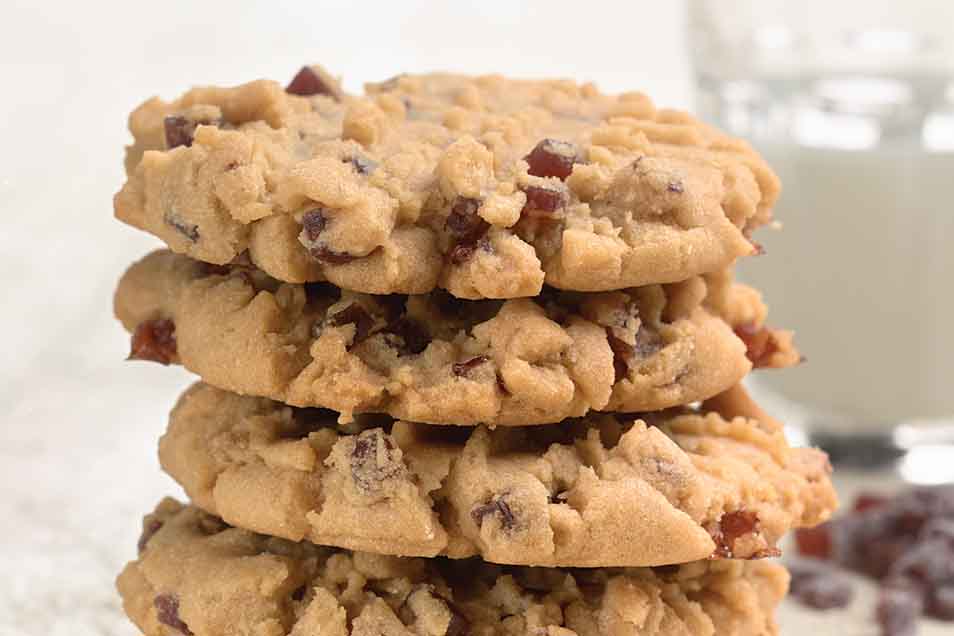 Adding Jammy Bits to peanut butter cookies lends a delicious new twist to a classic treat.
Instructions
Preheat the oven to 350°F. Lightly grease (or line with parchment) two baking sheets.

Beat together the shortening, sugars, egg, vanilla, and peanut butter until smooth.

Add the flour, baking soda, salt, and Jammy Bits to the peanut-butter mixture, beating gently until everything is well combined. It may take awhile for this rather dry dough to come together; and when it does, it'll be quite stiff. Only if necessary, drizzle in enough water to make the dough cohesive.

Drop the cookie dough by tablepoonfuls onto the prepared baking sheets (a tablespoon cookie scoop works well here), leaving 2" between them.

Use a fork to flatten each cookie to about 1/2" thick, making a cross-hatch design.

Bake the cookies for 12 to 16 minutes, until they're barely beginning to brown around the edges; the tops won't have browned. Remove them from the oven, and cool on a rack.

Yield: about 26 cookies.
Tips from our bakers
Substitute 1/2 cup butter for the 1/3 cup vegetable shortening, if desired. The cookies will be softer.
This recipe was developed to use traditional supermarket-style peanut butter. If you use all-natural peanut butter, grind your own, or use low-fat or low-salt peanut butter, the cookies won't turn out as described.
For a pretty circular design on top of your cookies, flatten with the end of a food processor's plastic "pusher" (if it has a circular design on the end).
Reviews
Dough was definately dry but worked out. I added a tb of pb powder and 1 tb water to boost pb flavor and wound up adding 2 tb cream to help bring dough together. Used flax meal egg sub and i weigh my ingredients. Jammy bits were neat addition. 15 min cook time.
These were fun to bake once, but I probably won't bake them again. Everyone who ate them thought they were good, but didn't have enough peanut butter flavor.

3/4 cup of peanut butter not enough for you? That's okay! Try experimenting with the brands you use, as some pack a more intense punch than others. Also consider adding 1/4 to 1/2 teaspoon of Peanut Butter Flavor to the dough to bring out the natural flavors even more. Happy baking! Kye@KAF
Just out of the oven...OMG!! What wonderful pockets of raspberry from the jammies. I used the whole 8oz bag as what am I going to do this the bit that was left. Used the 1/2 cup butter as I like softer cookies. KAF you did it again with another great recipe. Thanks so very much.
I am not a peanut butter cookie fan, but my husband enjoyed these cookies, as did my co-workers. I used shortening so the cookies (30) were very crisp; a combination of shortening and butter might have been nice. My husband did say that the cookies were so peanut buttery that the "Jam" was very subtle. Next time I might try leaving out the jammy bits and making a depression in the cookies when they come out of the oven, then filling them with jam or jelly.
Just made these. So easy to make and taste wonderful. Definitely a recipe to keep.
We love these! They are super fast to put together. I used the butter alternative and cooked them exactly 12 minutes and they came out lovely and chewy. I used a small cookie scoop and got over 60 cookies. The raspberry jammy bits are great in these.
Although there's a good chance that I did something wrong, I found these cookies very uninspiring. I waited in anticipation for the raspberry jammy bits, excitedly made the cookies, and then found them lacking in any amount of wow factor. So, at $7.95 for a very small bag of jammies, I say skip it. I much prefer the 5 star coconut hugs from this site. Everyone looooooves them.
Cookies should be delicious, not disappointing! We're glad you've found a favorite go-to recipe. Happy Baking - Irene@KAF
I made theses cookies with crunchy peanut butter since that is what I had on hand. I also flattened them with a meat tenderizer ( using the pointed side) that I dipped in KAF coarse white sugar. Taking these to the cabin for the big boys this weekend. They are delicious. Followed the recipe exactly using butter and got 3 dozen cookies. This is the second time I made this recipe. Couldn't wait until the raspberry jammy bits arrived this week.
These are fantanstic! Great flavor and texture. The raspberry jammy bits really make these a stand-out cookie. I used butter instead of shortening, and the cookies were a little soft in the center and just a little crisp around the edges. Perfect!
Another great recipe! I used about 3 tablespoons vegetable shortening (since that was all I had left) and about 2 tablespoons butter. I used raspberry jammy bits. This makes a wonderful cookie with a great peanut butter flavor. I will definitely make these again.