A customized print-friendly version of this recipe is available by clicking the "Print Recipe" button on this page.
Peanut Butter-Fudge Buckeye Cake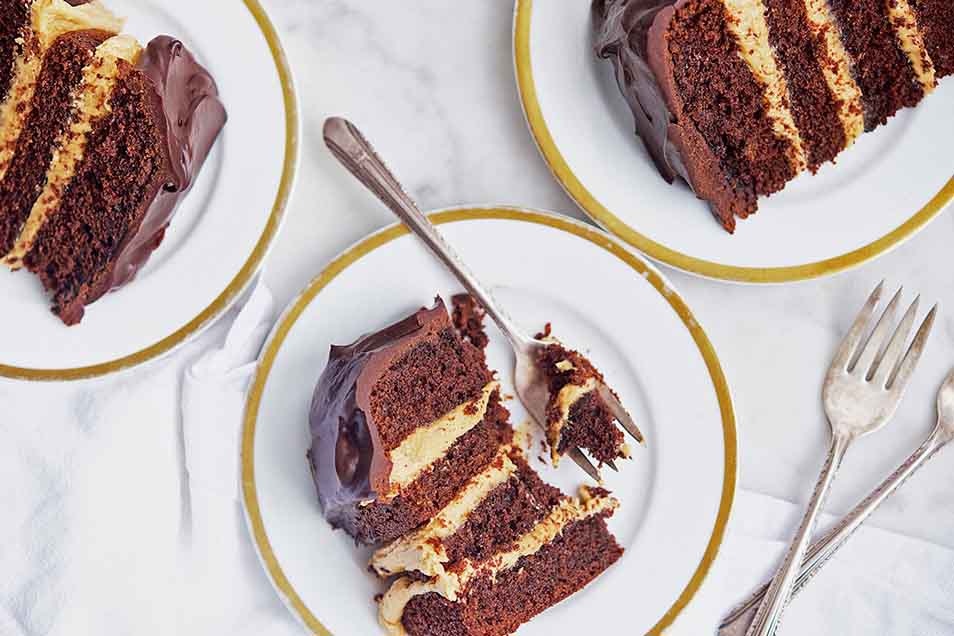 The state tree of Ohio is the buckeye; and if there were an official Ohio state candy the buckeye, a ball of sweet/creamy peanut butter enrobed in chocolate, would be it! We replicate the flavors of the classic buckeye candy in this towering four-layer cake, highly recommended for your next birthday party.
Ingredients
Filling
4 cups confectioners' sugar
1 1/2 cups supermarket-style smooth peanut butter
2 teaspoons vanilla extract
3/4 cup milk
Icing
1 1/3 cups chocolate chips or chopped semisweet chocolate
1/2 cup heavy or whipping cream
2 tablespoons light corn syrup
Instructions
Preheat the oven to 350°F. Lightly grease and flour (or grease, then line with parchment, then grease again) two 8" x 2" round cake pans. Note: These pans need to be at least 2" tall; if you have non-standard, shorter 8" pans, substitute 9" round pans.

To make the cake: Whisk together the dry ingredients. Add the eggs, oil, and vanilla, beating until smooth.

Gradually add the water, beating until smooth.

Pour the batter into the prepared pans.

Bake the cakes for 35 to 38 minutes (a bit less if you use a 9" pan), or until a cake tester inserted into the center comes out clean. Cool the cakes in the pan for 15 minutes, then turn them out of the pans to cool completely on a rack.

To make the filling: Mix the sugar, peanut butter, and vanilla until crumbly. Add the milk and mix until smooth, adding more milk if necessary to make a spreadable filling.

When ready to serve the cake, divide the cooled layers in half horizontally, to make four layers. Place one layer on a serving plate, and spread with filling. Repeat with the next two layers. Top with the final cake layer.

To make the icing: Combine the chocolate chips, cream, and corn syrup in a microwave-safe measuring cup. Microwave until the cream is very hot, and the chips are soft.

Stir until the chips melt, and the mixture is smooth.

Spread the icing atop the cake, letting it drizzle down the sides.

Serve in thin slices; the cake is very rich.

Refrigerate any leftovers for several days or freeze for longer storage.
Tips from our bakers
This cake can also be baked in four individual layers - whether to use shorter 8" cake pans (less than 2") or our rectangular celebration pans (as seen in the photo above), or to avoid having to cut layers in half. Simply pour 1/4 of the batter into your lightly greased pans (that's about 1 1/4 cups of batter, or, if you have a scale, it's 12 ounces), and bake the cakes for 18 to 20 minutes. Cool the cakes in the pans for 10 to 15 minutes, and repeat the baking process if necessary to complete the four layers. Finish the cake according to the recipe instructions.
This recipe was developed to use traditional supermarket-style peanut butter. If you use all-natural peanut butter, grind your own, or use low-fat or low-salt peanut butter, the frosting won't turn out as described.
We recommend assembling and finishing this cake (frosting and icing) shortly before serving. The frosting is quite soft and can cause the cake layers to slide around if it sits for too long at room temperature. If you need to assemble the cake ahead of time, it's best to keep it in the refrigerator.
Reviews
Excellent cake recipe! It was a big hit. The only change I made was to add 4oz of cream cheese to the filling to help stabilize it. I wonder if all the people who have trouble with the cakes shifting leveled their cakes first. When I took the Wilton decorating classes a few years ago, the first thing we were taught was to ALWAYS level cakes to be stacked. Yes there's waste, but I usually sandwich the two cake tops with leftover filling or frosting to make a giant whoopie pie. Sometimes that part is better than the actual cake.
My husband's comment "This is a keeper". Delish
I've been holding on to the recipe for months both waiting for the right occasion and fearful it was too fussy. I ended up making it for a picnic for foreign exchange students, all of whom have developed a fondness for american peanut butter. I normally am a horrible baker and forget anything with frosting. But this worked perfectly. I got two cheap sheet pans from Joanne's and cut each sheet in half. Also used cake flour. The result was showy and delicious. And I loved the title since we live in ohio!
The cake and icing are perfect. I did change the filling. I wanted butter in it (as some other readers mentioned) and I wanted it a little richer than I thought it would be as written. I added 1/4 C butter. Beat butter, PB and vanilla until smooth and fluffy. Added conf. sugar (beat until fluffy) and slowly added heavy cream. Delicious! I also chopped some Reese's PB cups and sprinkled a light dusting of them on the top. I will make this again.
This cake was a hit! I usually find frostings too sweet, so what I did was make 2 layers instead of 4 in a round cake pan, I halved the peanut butter filling and I used half of the peanut butter on top. I skipped the chocolate frosting. For me, this gave me the perfect ratio of rich chocolate cake to sweet filling. This cake disappeared very quickly in my house!
I baked this yesterday from the recipe the January 2018 catalog but I am wondering why the recipe here is considerably different, especially as the filling and icing are concerned. Is the website version a correction on the catalog?

We apologize for any confusion, Kevin. The recipe as its written in the catalog (and now online) is correct. Our Test Kitchen bakers felt that when using cake flour, a bit more was needed in order to achieve the right results so we've added that here as an option. Also, we scaled back the amount of filling and frosting the recipe made when featured in the catalog, as the full amount wasn't necessary when baking in the featured Celebration Pans. Thanks to your helpful feedback, this online version has been slightly updated. Happy baking! Kye@KAF
Used the bundle with the small square pans. If future: Might leave the filling in the refrig longer before adding it as a mess and cake 'moved' on it. Ended up using BBQ wood sticks through cake to hold in place while setting in refrig.
LOVE this cake! The chocolate cake is moist and rich. The filling is to die for and pairs nicely with the bittersweet ganache topping. Living in Texas where it is hot and humid, I think i will have to freeze the layers first, put a layer of filling, refrigerate, then repeat for each layer. The filling just doesn't like hot humid weather!
I'd like to know if butter can be added to the peanut butter filling to help keep it more solid once it sets. Seems like that might help with the sliding...Has anyone tried this? Thank you.

Ellen, you could try adding a few tablespoons of vegetable shortening (like Crisco) to the filling, which has a higher melting point than butter and is more stable. Another option is to add 2-3 tablespoons of Instant ClearJel (a culinary thickener made of food starch) to the sugar in the filling before it's added to the peanut butter. This may help deliver the consistency you're looking for. Kye@KAF
I made this in round pans; it was a mess, leaning every which way! I have made this 2 more times as cupcakes, and WOW!!! This is a lot of filling for the 21/2 dozen cupcakes, so I halve the filling portion of the recipe.