A customized print-friendly version of this recipe is available by clicking the "Print Recipe" button on this page.
Peanut Butter-Fudge Buckeye Cake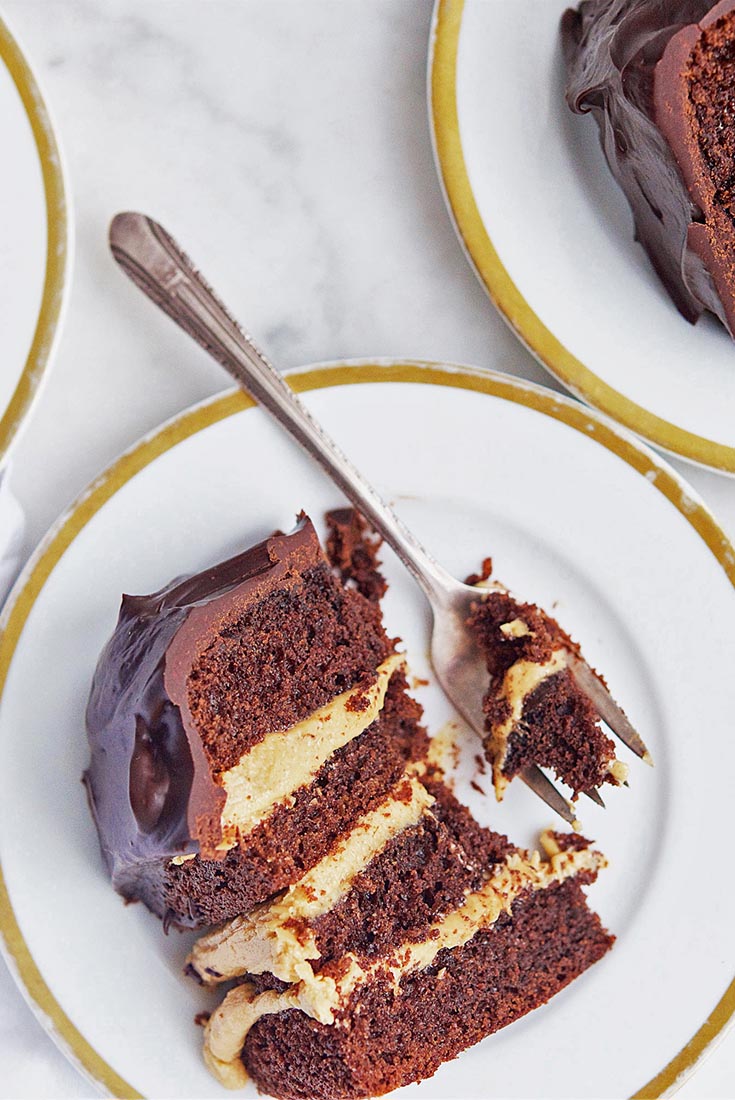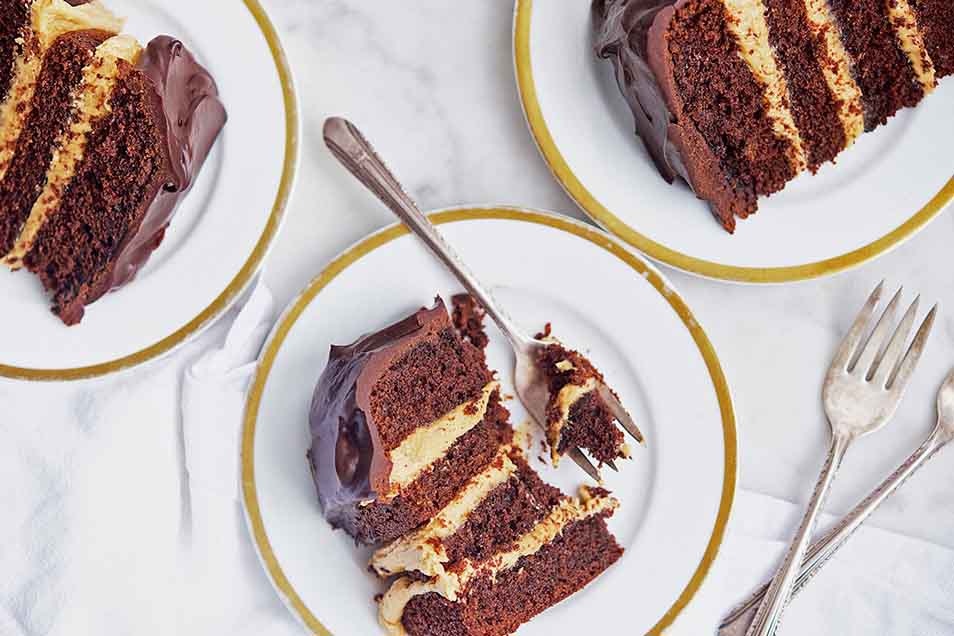 The state tree of Ohio is the buckeye; and if there were an official Ohio state candy the buckeye, a ball of sweet/creamy peanut butter enrobed in chocolate, would be it! We replicate the flavors of the classic buckeye candy in this towering four-layer cake, highly recommended for your next birthday party.
Ingredients
Filling
4 cups confectioners' sugar
1 1/2 cups supermarket-style smooth peanut butter
2 teaspoons vanilla extract
3/4 cup milk
Icing
1 1/3 cups chocolate chips or chopped semisweet chocolate
1/2 cup heavy or whipping cream
2 tablespoons light corn syrup
Instructions
Preheat the oven to 350°F. Lightly grease and flour (or grease, then line with parchment, then grease again) two 8" x 2" round cake pans. Note: These pans need to be at least 2" tall; if you have non-standard, shorter 8" pans, substitute 9" round pans.

To make the cake: Whisk together the dry ingredients. Add the eggs, oil, and vanilla, beating until smooth.

Gradually add the water, beating until smooth.

Pour the batter into the prepared pans.

Bake the cakes for 35 to 38 minutes (a bit less if you use a 9" pan), or until a cake tester inserted into the center comes out clean. Cool the cakes in the pan for 15 minutes, then turn them out of the pans to cool completely on a rack.

To make the filling: Mix the sugar, peanut butter, and vanilla until crumbly. Add the milk and mix until smooth, adding more milk if necessary to make a spreadable filling.

When ready to serve the cake, divide the cooled layers in half horizontally, to make four layers. Place one layer on a serving plate, and spread with filling. Repeat with the next two layers. Top with the final cake layer.

To make the icing: Combine the chocolate chips, cream, and corn syrup in a microwave-safe measuring cup. Microwave until the cream is very hot, and the chips are soft.

Stir until the chips melt, and the mixture is smooth.

Spread the icing atop the cake, letting it drizzle down the sides.

Serve in thin slices; the cake is very rich.

Refrigerate any leftovers for several days or freeze for longer storage.
Tips from our bakers
This cake can also be baked in four individual layers - whether to use shorter 8" cake pans (less than 2") or our rectangular celebration pans (as seen in the photo above), or to avoid having to cut layers in half. Simply pour 1/4 of the batter into your lightly greased pans (that's about 1 1/4 cups of batter, or, if you have a scale, it's 12 ounces), and bake the cakes for 18 to 20 minutes. Cool the cakes in the pans for 10 to 15 minutes, and repeat the baking process if necessary to complete the four layers. Finish the cake according to the recipe instructions.
This recipe was developed to use traditional supermarket-style peanut butter. If you use all-natural peanut butter, grind your own, or use low-fat or low-salt peanut butter, the frosting won't turn out as described.
We recommend assembling and finishing this cake (frosting and icing) shortly before serving. The frosting is quite soft and can cause the cake layers to slide around if it sits for too long at room temperature. If you need to assemble the cake ahead of time, it's best to keep it in the refrigerator.
Reviews
I made this recipe in January, a cold month. I made the cake in two 9" round pans and sliced each cake into two so I'd have four layers. The cake itself has an intense, chocolate smell and has a tender, airy crumb. I used regular all purpose flour (King Arthur brand). I made the filling and frosting two hours before eating the cake. I used "natural" peanut butter and used almost 3/4 cup of milk to get the right consistency. Nobody thought this filling was too sweet. In fact, it was just the right amount of peanut butter and sweetness. I made the frosting using the double boiler method so I could control the chocolate melting better. To avoid the frosting dripping down the sides, I let the finished frosting sit in the bowl a few minutes before frosting the top layer of the cake. Then I stored the entire cake in the fridge, uncovered, for about 45 minutes before bringing it out to come up to room temperature. I made this for a birthday and this cake is visually stunning, and delicious. It is rich but not overly rich in taste but it's best sliced thin. This recipe is a keeper and could feed 24 people easily (when made in 9" diameter pans).
Can't recommend this recipe, the cake was very dry and I made sure not to over bake it. I added 5-6 tbl of butter to the peanut butter frosting and it seemed to make it more stable and the flavor was very good. The frostings were good but this is just not a good cake recipe.

We're sorry to hear that you struggled with the texture of this cake, Lisa. We wonder if you might have encountered the common baking pitfall of flour measurement. For best results, we recommend measuring your flour (and other ingredients) by weight or by using the fluff, sprinkle, level method detailed under the "measuring standards" button. Our recipes are written for a relatively light cup of flour, and too much flour can result in dense, dry baked goods. If we can help to troubleshoot any further, please feel free to give our Baker's Hotline a call at 855-371-BAKE. Mollie@KAF
Great tasting but what a mess! Looked great when finished and placed in secure Tupperware cake container but the next day when removing the lid it had oozed apart.... No travel was involved. It sat on the kitchen island all night. Had to cut cake and scoop the peanut butter filling out and pile it on top. After reading reviews it seems I'm not alone. Either the recipe or the construction needs tweaking.

Hi Janet. Thanks for giving this recipe a go. We're glad it was delicious and hope we have some tips to help it stay pretty after assembling. One thing is to definitely use commercial peanut butter, not natural peanut butter, to achieve a stable texture. Second is to only use as much milk in the frosting as needed to make it spreadable. And third, if you're not serving the cake right away, storing it covered in the fridge will help keep the frosting stiffened in the cooler environment. We hope this helps and you can make this tasty treat again! Annabelle@KAF
I made this recipe into cupcakes. I cored out the center and piped the peanut butter filling into them and then dipped the cupcakes into the ganache. I sprinkled the tops with chopped peanuts. They were a hit. My neighbor's daughter asked me to make them for her birthday party.
The filling is much too sweet. Definitely chill this cake before serving, so that you can easily cut thin slivers, as it is super-rich. We have some real peanut-butter fans in this house, so I had looked forward to making and tasting this cake, but no one really liked the filling. When I tasted the cake scraps, I thought the coffee taste was too strong, but I when I tasted the completed cake I realized this was to counteract the over-sweetness of the filling.

We're sorry to hear that you found the taste of the filling a bit too much for your tastes. Feel free to reduce the sugar about 25% to make it a bit less cloying next time. I hope this helps! Kye@KAF
This is the perfect recipe when you need a major dose of peanut butter and chocolate, I've made this twice now to rave reviews. I did have a problem with sliding but I think that was due to the rounded layer tops (I seem to have misplaced my baking bands).
I have been a vegan baking mom for nearly 15 years and still get a hankering for a peanut butter cup from time to time. This recipe really hit the spot! I was able to easily veganize it, made two, and brought to our bi-weekly potluck to receive rave reviews.
My son requested 'pb cake' for his 28th birthday, and I chose this recipe on a whim - good choice! As a special celebration cake for more than a few people, it was fantastic. It took some effort and time - not to mention a huge mess to create, but so so deliciously rich. I did have trouble with the peanut butter filling being a bit soft and the layers sliding, but only on the 2nd day as leftovers. Definitely keep it in the fridge. My son thought it looked like an enormous moon pie before he cut it, and the first slice he served was about 5x too large....A little sliver is all it takes. I think you could easily and generously get 16 servings out of it. I didn't have espresso powder, so just used strong coffee instead of the water. The layers were slightly denser than I'd like, but all in all it's quite a winner.
A winner! I just made this for a potluck dinner last night. Two other people had brought desserts too, so I was thinking there'd be a lot left over. To my surprise, there were only 2 small slices left by the end of the evening. I even saw two people go up for (very large) seconds! Several people complimented me on the cake, one person saying they couldn't believe this was homemade, and another commenting on the very rich chocolate flavor. This was thanks to the Black Cocoa I had used (50/50 with regular Dutch Cocoa). I also thought it was delicious and will definitely be making it again. My only (small) gripe is that it was a bit hard to slice, as the cake tended to get crushed/crumbled by the pressure of the knife slicing through it. But it tastes so good that I won't let that stop me from making it again.