A customized print-friendly version of this recipe is available by clicking the "Print Recipe" button on this page.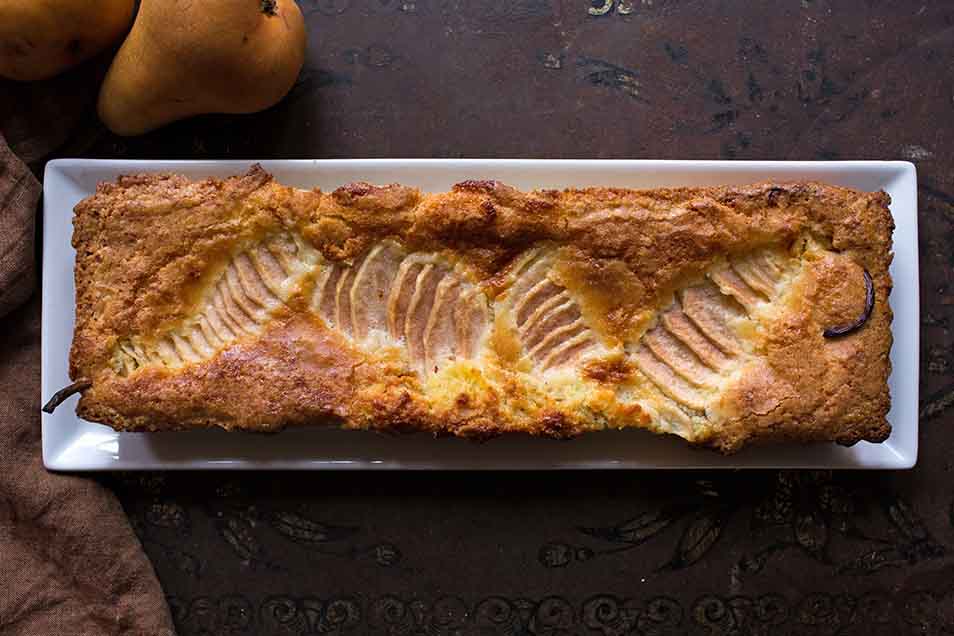 Pear and almond, a classic flavor match, complement each other beautifully in this tasty tart.
Instructions
Preheat the oven to 350°F.

To make the crust: Beat together the sugar, butter, salt, and flavorings.

Add the flours, stirring to make crumbs that cling together when squeezed.

Press the crumbs into the bottom and up the sides of a 4 1/4" x 13 3/4" tart pan; prick it all over with a fork.

Chill the crust in the freezer for 15 minutes, then bake it until it's just beginning to brown on the edges, 18 to 22 minutes. Remove it from the oven.

To make the filling: Beat together the butter, salt, sugar, flour, and almond extract.

Beat in the eggs, then add the almond flour, stirring just to combine.

To assemble the tart: Spread the filling in the bottom of the crust.

Place the well-drained pears on top of the filling, pressing them down gently so the edges are covered.

Brush the pears with melted butter and sprinkle with white sparkling sugar, if desired.

Bake the tart for 40 to 45 minutes, until the top is lightly browned. Cool slightly before serving.

Store any leftovers, well wrapped, at room temperature for several days; freeze for longer storage.
Reviews
Really enjoyed baking this. The finished tart looked elegant and tasted delicious. I poached pears the day before; the tart - crust, filling, and assembly - was easy.
Made this to take to dinner with friends. The husband, who usually doesn't have much to say about food, announced that it was really good. It took a bit of time to make (especially since I used fresh pears, which I had to poach first), but the crust didn't need to be chilled for 3+ hours like many pear tart recipes. The almond flour gives both crust and filling a delicious nutty chewiness. I didn't have the rectangular pan so used my usual round tart pan. Only accommodation I made was to use quartered pears. Made for a beautiful presentation. I will definitely make this again. Great recipe.
I have made this tart numerous times. Poaching my own pears or using canned, this tart always has perfect flavor and stunning results. I slice the pears and place them in a circle In an 8 inch round tart pan. One of my favorite Fall recipes.
Fantastic!! This recipe is perfect for a dinner party -- easy to make, fantastic presentation, sophisticated flavors and over all delicious. I used fresh pears and poached them in a simple syrup with cinnamon stick, vanilla pod and cloves -- it went perfectly with the almond and pear flavors. I served it warm with caramel sauce. Had a left over piece for breakfast the next morning and it was just as tasty room temperature.
Fantastic! I used fresh pears (bumper crop this year) that I poached in simple syrup until just slightly softened...then reduced the simple syrup afterwards and brushed it on the baked tart to glaze. Also used an 8" round tart pan so had to increase the filling recipe by half, but that was no problem. Looks beautiful, tastes delicious and pretty easy to make. I served it with vanilla ice cream. I'm going to try using this crust recipe for other things--it's so easy and the almond flavor is so good.
I made this recipe for a church supper. There are folks at church and some relatives who have food allergies, so I made this gluten-free subbing rice flour for all-purpose flour. There are dairy issues also, so I used Fleischmann's margarine (dairy is OK for these folk if baked, but this kept it minimal). I did not have the rectangular tart pan or a 9 inch round tart pan, so I used a 15 x 10 jelly roll pan and doubled the recipe. Our oven is an Amana propane gas oven (new in 2003) and the pan is dark metal, so I reduced heat to 325 F. I pressed dough to pan - very soft, difficult to get even and thin without tears or gaps, but I was able to get complete coverage using the back of a serving spoon and taking my time. I used slivered almonds pressed to the dough at the pan edges to stiffen, as I have had gluten-free dough soften and slide down the pan edge when baking before, even if chilled in freezer. I only baked crust for 10 minutes before removing and adding filling and pears, then baked an additional 40 minutes and removed it because it was nicely browned and I was afraid of burning. This was the best outcome yet for a recipe modified to be gluten-free! Appearance was very appealing, crust and filling were firm yet crumbly and tasty - I only told people who needed to know it was gluten-free, and got quite a few compliments! I find pear to be a complimentary flavor, not a dominating one, so the flavor balance was fine for me following the recipe amounts. Needed to use the big mixing bowl twice, but otherwise not a difficult preparation, and well worth the result. I will definitely make again for family and church events!
As many have stated, this is truly a fabulous recipe and it is well worth the little effort to make it. My only thought is this: it seems to me the almond flavor overpowers the pears; I used canned, don't know if using fresh poached pears would make a difference. In any case, it is wonderful!
Wow! Several steps, but not difficult & very well worth it. A lovely way to use up slightly sad pears. I didn't have any softened butter so used vegan margarine & egg replacer - no one could guess. Yet another incredible, easily adaptable KAF recipe. My tart pan is a 10" round so I increased all the ingredients slightly. Gorgeous & oh-so-tasty. The texture of the pear & the almond flour match, and the wonderful almond flavor...this is the hands down the best baked anything I've had with pears.
Wow! This is one of the best desserts I've ever made. I thought it was easy, but I did not make the carmel topping; I subbed vanilla ice cream. I also used fresh pears, cut the sugar in half, and sprinkled raisins on the top. Super!
I don't know about all the people who said it was easy. Not easy and it was time consuming, but the final product looked lovely and the taste was wonderful.