A customized print-friendly version of this recipe is available by clicking the "Print Recipe" button on this page.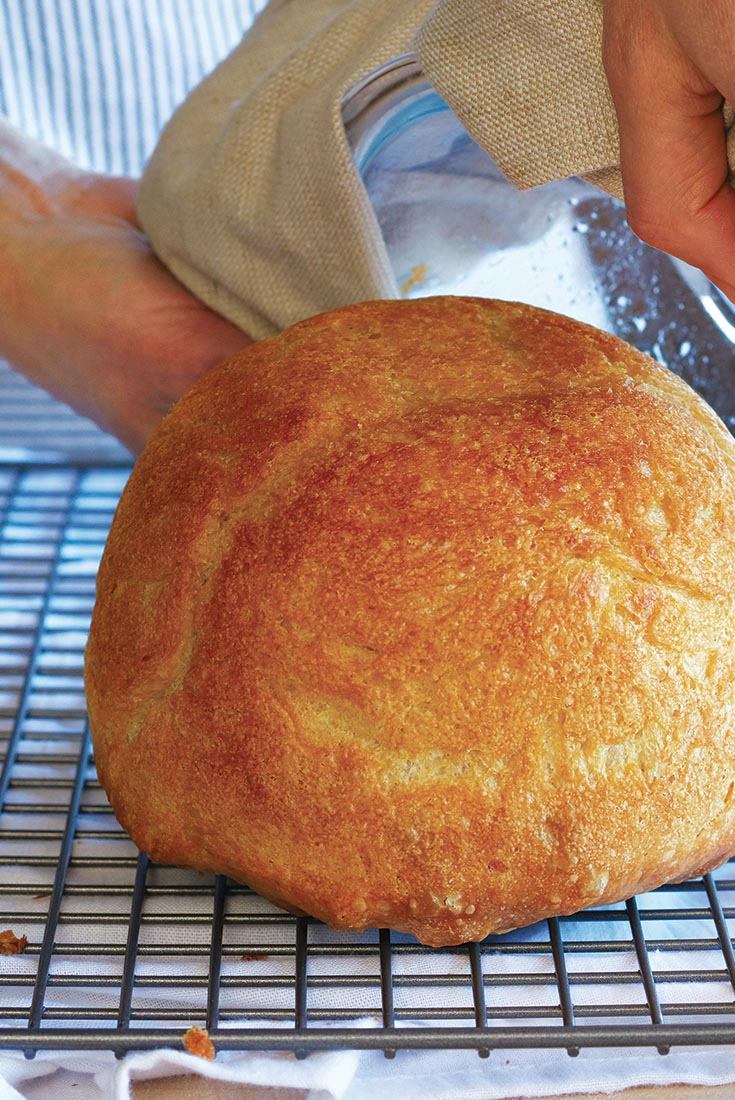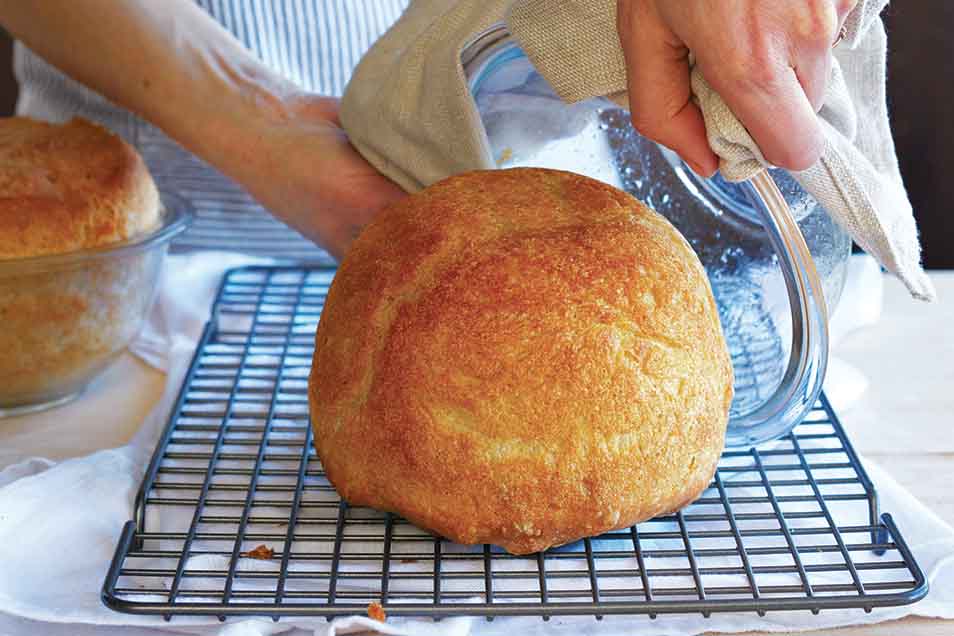 This no-knead bread recipe, which comes from Alexandra Stafford's cookbook Bread Toast Crumbs, is the foundation for an endless array of variations. It's simple to assemble, bakes into two small or one substantial loaf, and will easily become your favorite everyday bread.
Ingredients
2 teaspoons kosher salt or 1 1/2 teaspoons table salt
2 teaspoons sugar
2 1/4 teaspoons active dry or instant yeast
2 cups lukewarm water
softened unsalted butter, for greasing
Instructions
In a large bowl, whisk together the flour, salt, sugar, and yeast. Add the water and mix until the water is absorbed and the dough comes together in a sticky ball.

Cover the bowl and set aside in a warm spot to rise for 1 to 1 1/ 2 hours, until the dough has doubled in bulk.

Place a rack in the lower third of the oven and preheat it to 425°F. Use the butter to generously grease two 1-quart oven-safe bowls or a 3-quart casserole dish (for one large loaf).

Use two forks to deflate the dough by releasing it from the side of the bowl and pulling it toward the center. Rotate the bowl as you deflate, turning the mass into a rough ball. To make a single large loaf, pick up the mixing bowl, turn it over, and plop the dough into the larger casserole dish.

To make two small loaves, use your forks to separate the dough down the center, dividing it into two equal pieces. Use the forks to lift each half of the dough into the prepared bowls. If the dough is wet and hard to handle, try lightly greasing your hands and transfer each half to a bowl by hand.

Don't cover the dough. Let it rise on the countertop in a warm spot for 10 to 20 minutes, until the top of the dough just crests the rims of the small bowls, or is almost doubled in the larger casserole dish.

Bake the bread for 15 minutes. Reduce the heat to 375°F and bake for 17 to 20 minutes more for smaller loaves, or 25 to 30 minutes more for a single large loaf. When golden brown all over, remove from the oven and turn the bread out onto a cooling rack.

Store, well wrapped, at room temperature for several days; freeze for longer storage.
Nutrition Information
Serving Size

1 slice, 48g

Servings Per Batch

20 servings
Amount Per Serving:
Calories

90

Calories from Fat

0

Total Fat

0g

Saturated Fat

0g

Trans Fat

0g

Cholesterol

0mg
Sodium

176mg

Total Carbohydrate

19g

Dietary Fiber

1g

Sugars

0g

Protein

3g
* The nutrition information provided for this recipe is determined by the ESHA Genesis R&D software program. Substituting any ingredients may change the posted nutrition information.
Reviews
This bread is so wonderful and so easy! The fact that it's baked in a bowl that is coated in butter makes the crust phenomenal. When you toast this bread, the crust becomes all kinds of wonderful crunchy! It has a fabulous texture that gives great mouth-feel! It's my new go-to bread.
I baked this yesterday in a bowl as the recipe said. My family was so impressed that I doubled the recipe today and put it in loaf pans. It is in the oven as I type.. It was great with just butter on it and it was great as toast..Great recipe with very few ingredients..
I have made this several times, with all white unbleached flour (heavenly) and twice with half white whole wheat flour, with a quarter cup of wheat bran, one half teaspoon yeast, and an extra 3-4 T water added. I also floured the buttered bowls. I use two 1.5 quart bowls, since I do not have one quart bowls to bake in. 37 minutes total, (17 at 425 and 20 at 375) and they are gorgeous! This winter my husband was put on a lower carbs diet, so all the white breads he LOVES are now limited. I am working him up to at least half whole wheat bread. I only had white whole wheat flour in the house this week, so I used that, and added extra bran for more fiber. He was very happy with it. It didn't rise as much as when I make it with all white flour, but we never expect that. I got no oven spring at all, but it was so tasty. I love the two small loaves, just the size for one or 2 people to eat up. I gave one to a friend, (She liked it, too) and shared one with hubby. Looking around on your site, I have decided to get some vital gluten, to learn to make softer 100% wheat breads. But this recipe, both original and as I tweaked it, is very good.
Made this yesterday and shared one loaf with my neighbor. She came over this morning and ask for the recipe. If it lasts to the next day makes the best toast and grilled cheese sandwich.
This bread is fantastic! I ordered two bread bowls from Amazon. This is fun and easy to make. The crust is chewyprefect for soups and stews. My husband loves it for toast the next day.
Great recipe! I've used whole grain and semolina for 1 cup of the flour or added cinnamon and the fruitcake mix. Every loaf I've made has turned out perfect. Love it.
I made this bread for the first time about 4 years ago from Alexandra's website. This is fantastic and I would recommend it wholeheartedly.
I made this bread for the first time about 4 years ago from Alexandra's website. This is fantastic and I would recommend it wholeheartedly.
Excellent recipe - easy method - it feels almost criminal to have bread be this effortless. I enjoy the process of kneading and forming and such - but don't always have the time - this loaf has solved that. I love high hydration dough and this makes dealing with such a dough easy - almost full proof. Thanks for sharing this one - it stays filed with my 'frequently made' recipes.
This is a great, simple loaf of moist bread with great flavor. I was also concerned with such high hydration that it be too heavy. But it was perfect. I cooked one loaf in a 9' loaf pan. Fit perfectly and baked well. Making this again tomorrow and will sprinkle some Everything Bagel mix on top!