A customized print-friendly version of this recipe is available by clicking the "Print Recipe" button on this page.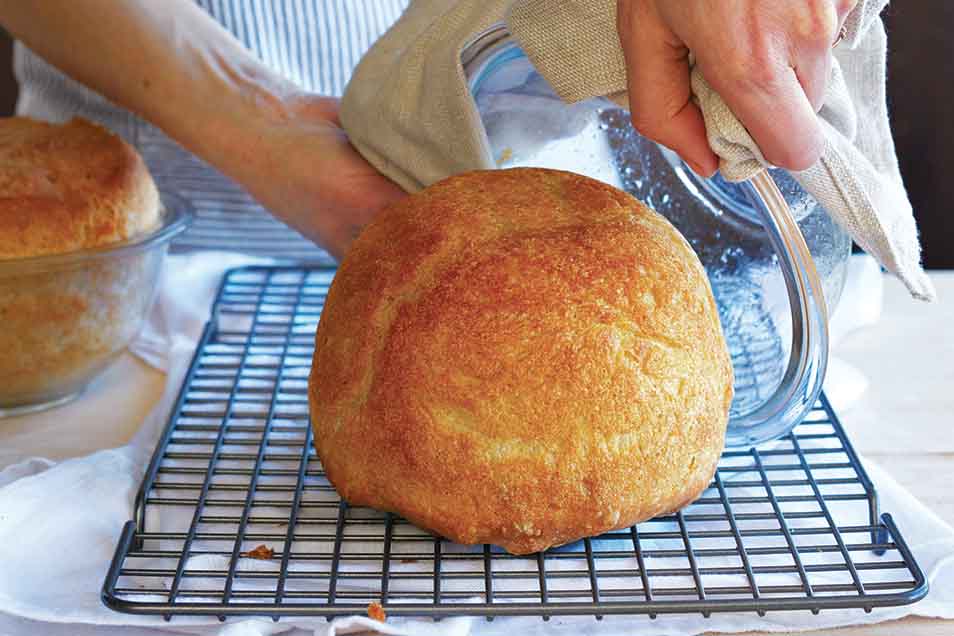 This no-knead bread recipe, which comes from Alexandra Stafford's cookbook Bread Toast Crumbs, is the foundation for an endless array of variations. It's simple to assemble, bakes into two small or one substantial loaf, and will easily become your favorite everyday bread.
Ingredients
2 teaspoons kosher salt or 1 1/2 teaspoons table salt
2 teaspoons sugar
2 1/4 teaspoons active dry or instant yeast
2 cups lukewarm water
softened unsalted butter, for greasing
Instructions
In a large bowl, whisk together the flour, salt, sugar, and yeast. Add the water and mix until the water is absorbed and the dough comes together in a sticky ball.

Cover the bowl and set aside in a warm spot to rise for 1 to 1 1/ 2 hours, until the dough has doubled in bulk.

Place a rack in the lower third of the oven and preheat it to 425°F. Use the butter to generously grease two 1-quart oven-safe bowls or a 3-quart casserole dish (for one large loaf).

Use two forks to deflate the dough by releasing it from the side of the bowl and pulling it toward the center. Rotate the bowl as you deflate, turning the mass into a rough ball. To make a single large loaf, pick up the mixing bowl, turn it over, and plop the dough into the larger casserole dish.

To make two small loaves, use your forks to separate the dough down the center, dividing it into two equal pieces. Use the forks to lift each half of the dough into the prepared bowls. If the dough is wet and hard to handle, try lightly greasing your hands and transfer each half to a bowl by hand.

Don't cover the dough. Let it rise on the countertop in a warm spot for 10 to 20 minutes, until the top of the dough just crests the rims of the small bowls, or is almost doubled in the larger casserole dish.

Bake the bread for 15 minutes. Reduce the heat to 375°F and bake for 17 to 20 minutes more for smaller loaves, or 25 to 30 minutes more for a single large loaf. When golden brown all over, remove from the oven and turn the bread out onto a cooling rack.

Store, well wrapped, at room temperature for several days; freeze for longer storage.
Nutrition Information
Serving Size

1 slice, 48g

Servings Per Batch

20 servings
Amount Per Serving:
Calories

90

Calories from Fat

0

Total Fat

0g

Saturated Fat

0g

Trans Fat

0g

Cholesterol

0mg
Sodium

176mg

Total Carbohydrate

19g

Dietary Fiber

1g

Sugars

0g

Protein

3g
* The nutrition information provided for this recipe is determined by the ESHA Genesis R&D software program. Substituting any ingredients may change the posted nutrition information.
Reviews
Easy to make, excellent taste, and will make this again. Wonderful!
I made the two smaller loaves. I used Pyrex's flat bottomed bowls that are for serving and storing and come with plastic lids. It made great loaves that I've eaten for two days so far (one loaf is in the freezer) and made french toast with this morning. I like the shape the flatter sides and bottom gave to the loaves for slicing and using. So easy!
I'm a new baker and this was my first shot at baking bread. Well, I'm in a lot of trouble because my family and friends went nuts over it and wanted more. I only made one loaf. Everyone can't wait for the next batch. Thanks for making look like a pro!
It was easy, it's got that for it. It was also bland. The lack of work put into the dough seems to have affected flavor development. It'd pick another recipe next time. It was nice to have bread with soup and my husband and daughter liked it enough to share the piece my son rejected.

We're sorry to hear you found this bread to be a bit flat and unimpressive, Misha. There are lots of ways you can boost the flavor if you liked the ease and convenience of this recipe. You can increase the amount of salt, add a blend of herbs and spices or other mix-ins like citrus zest, dried fruit, nuts, seeds, or even olives and cheese! Consider this recipe to be a blank canvas upon which to feature a whole host of other flavors and ingredients. We hope this helps make your next bake more satisfying. Kye@KAF
This easy peasy recipe is a keeper. I baked two small loaves yesterday and they came out perfect. My best advice is to use butter for greasing your bowl or pan. It truly does make a difference in the final product, especially if you toast the slices. Also, don't be afraid of how sticky the dough is, it will all even out during the second 10-20 minute rising. I will be making this again and again and again.
This recipe is so easy and very delicious. I live alone and bake this br
I have made this twice and it is delicious. I was looking for a quick recipe one day and decided on this one. It was so good, I made it again a few days later for our family dinner. It complimented the hearty soup perfectly. A rustic, yeasty bread that is great toasted the following morning. I made the large loaf both times. My ten year old grandson ate three pieces!
This is simply a delicious quick bread. It reminds me of "English Muffin Bread" in terms of its taste and texture. I don't bother with two small loaves. I've found that scaling the recipe up 50% (e.g. 6 cups flour, 3 cups water etc.) works perfectly for a single loaf cooked in a 3.3 L Le Creuset, which results in a perfect single loaf, baked at 425 for 15 minutes, then 375 for 25 min. To get a uniform crust, I brush the top of the risen dough with a small amount of melted butter before baking. Although it lacks the structure, texture, and complex flavor of long fermented or a biga bread, it more than makes up for in its simplicity - great for toast, grilled cheese, or fresh out of the oven!
Like the prior reviews...I too give this bread 5 stars as it is truly the easiest bread I have made. I used two 1 qt. glass bowls as suggested rather that the one 3 qt. bowl. With very little effort you too can make this bread on an as needed basis.
This bread is so wonderful and so easy! The fact that it's baked in a bowl that is coated in butter makes the crust phenomenal. When you toast this bread, the crust becomes all kinds of wonderful crunchy! It has a fabulous texture that gives great mouth-feel! It's my new go-to bread.