A customized print-friendly version of this recipe is available by clicking the "Print Recipe" button on this page.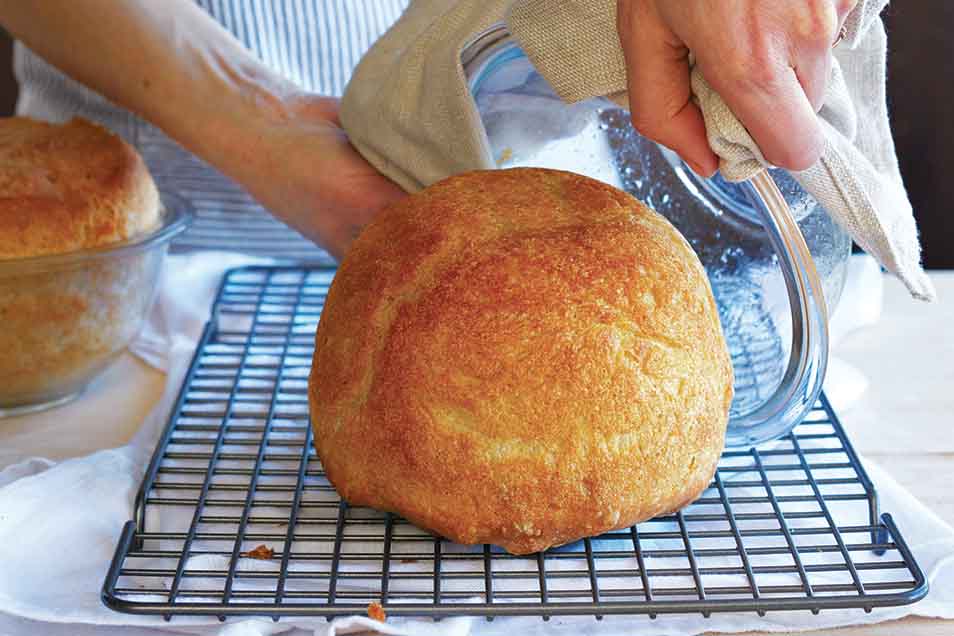 This no-knead bread recipe, which comes from Alexandra Stafford's cookbook Bread Toast Crumbs, is the foundation for an endless array of variations. It's simple to assemble, bakes into two small or one substantial loaf, and will easily become your favorite everyday bread.
Ingredients
2 teaspoons kosher salt or 1 1/2 teaspoons table salt
2 teaspoons sugar
2 1/4 teaspoons active dry or instant yeast
2 cups lukewarm water
softened unsalted butter, for greasing
Instructions
In a large bowl, whisk together the flour, salt, sugar, and yeast. Add the water and mix until the water is absorbed and the dough comes together in a sticky ball.

Cover the bowl and set aside in a warm spot to rise for 1 to 1 1/ 2 hours, until the dough has doubled in bulk.

Place a rack in the lower third of the oven and preheat it to 425°F. Use the butter to generously grease two 1-quart oven-safe bowls or a 3-quart casserole dish (for one large loaf).

Use two forks to deflate the dough by releasing it from the side of the bowl and pulling it toward the center. Rotate the bowl as you deflate, turning the mass into a rough ball. To make a single large loaf, pick up the mixing bowl, turn it over, and plop the dough into the larger casserole dish.

To make two small loaves, use your forks to separate the dough down the center, dividing it into two equal pieces. Use the forks to lift each half of the dough into the prepared bowls. If the dough is wet and hard to handle, try lightly greasing your hands and transfer each half to a bowl by hand.

Don't cover the dough. Let it rise on the countertop in a warm spot for 10 to 20 minutes, until the top of the dough just crests the rims of the small bowls, or is almost doubled in the larger casserole dish.

Bake the bread for 15 minutes. Reduce the heat to 375°F and bake for 17 to 20 minutes more for smaller loaves, or 25 to 30 minutes more for a single large loaf. When golden brown all over, remove from the oven and turn the bread out onto a cooling rack.

Store, well wrapped, at room temperature for several days; freeze for longer storage.
Nutrition Information
Serving Size

1 slice, 48g

Servings Per Batch

20 servings
Amount Per Serving:
Calories

90

Calories from Fat

0

Total Fat

0g

Saturated Fat

0g

Trans Fat

0g

Cholesterol

0mg
Sodium

176mg

Total Carbohydrate

19g

Dietary Fiber

1g

Sugars

0g

Protein

3g
* The nutrition information provided for this recipe is determined by the ESHA Genesis R&D software program. Substituting any ingredients may change the posted nutrition information.
Reviews
Loved this recipe. It was so easy to make. I used 3 cups white and 1 cupwhole wheat flour (King Arthur) of corse. The bread was so delicious. It also was very good toasted. Will be making it again and again.
I love to bake and I have tried just about every bread recipe King Arthur Flour has. This one is the very best. I make a small loaf 2 or 3 times a week. Absolutely effortless and much better than anything you can buy
Easy to prepare and delicious! I mixed 2 cups of KA Unbleached All-Purpose White Flour and 2 cups KA Whole Wheat Flour and baked in my Dutch oven. Great for dinner party and family meals!
Super easy and super delicious. My husband has gone back for more, twice. I didn't have the right size casserole dishes, so used a deep cast iron skillet. It worked well. I served it tonight with shrimp and grits, but I can see serving it with many different meals. A versatile loaf.
Made peasant bread this morning, really good and easy. would definitely make again. I like the fact that you do not need a mixer for this bread. I love to bake bread, it is my stress reliever. This is the easiest recipe I have ever done, would recommend for 1st time bakers
I need HELP, I followed all the directions, and my dough was DRY, not sticky like other people said. It never came together, never rised, raw after baking. I have read the recipe over and over, I did what it said. What happened??

Jenny, no worries, this just sounds like a classic case of too much flour. Extra flour makes for a dry, dense, dough that can't rise and often has a muted flavor.

Flour likes to pack itself into measuring cups. If you check out the "Recipe Success Guide," link next to the ingredients header above. You'll see that either measuring your flour by weight using a scale, or fluffing and sprinkling the flour into your measuring cup are the most accurate ways to measure flour.

It's also winter, so the air is dry. Our blog article "Winter to Summer Yeast Baking" explains that you might need 10%-15% more water in the winter, and 10%-15% less water in the summer to account for humidity.

If you ever have a question, please give our free and friendly Baker's Hotline a call at 855-371-BAKE (2253). Annabelle@KAF
Although it seemed to double in bulk in the bowl, it never rose any more in the oven. Like other commenters, I found the dough more like a batter but noted the reply that the high water content was on purpose. I made 1 large (but not really) loaf. I used new yeast but now it occurs to me, maybe not the right yeast for this recipe (SAF instant gold) fresh in December and stored air tight in the freezer. This is the second time a bread recipe has failed to meet my expectations. I used to be able to do this. What's your take?

Charlotte, your instincts on what's off with this recipe are precisely correct: you've got the wrong yeast for Peasant Bread. Saf-Instant Gold is for very sweet doughs that take a long time to rise. Saf-Instant Red is what you want for a bread like this. When using Gold, your bread will rise too much before going into the oven, leaving you nothing left for "oven spring." If you switch over to Red, you'll get just the results you're looking for. Happy baking! Kat@KAF
Easy peasy bread. I served it with a butter and radicchio salad, topped with crumbled goat cheese and pear vingrette dressing. A simple meal, but very tasty. It would also be delicious dipped in olive oil, balsamic vinegar and pepper. I baked a large loaf, but can't wait to try making two small ones. It has a texture similar to an English muffin, and would be very good toasted with butter and homemade jelly on top.
If you love this recipe as much as I do, buy the book "Bread, Toast, Crumbs" for other variations on this simple method that are just as yummy and easy! The cinnamon bread recipe is terrific and another favorite is the quinoa bread.
Can you bake this like other no-knead dough in a preheated dutch oven? This did not brown very much for me with the baking times in the recipe. I also like the crust a little more crunchy.

Nancy, feel free to bake this in your Dutch oven! The extra steam will help you get that crunchy crust you're looking for. Happy baking! Kat@KAF