A customized print-friendly version of this recipe is available by clicking the "Print Recipe" button on this page.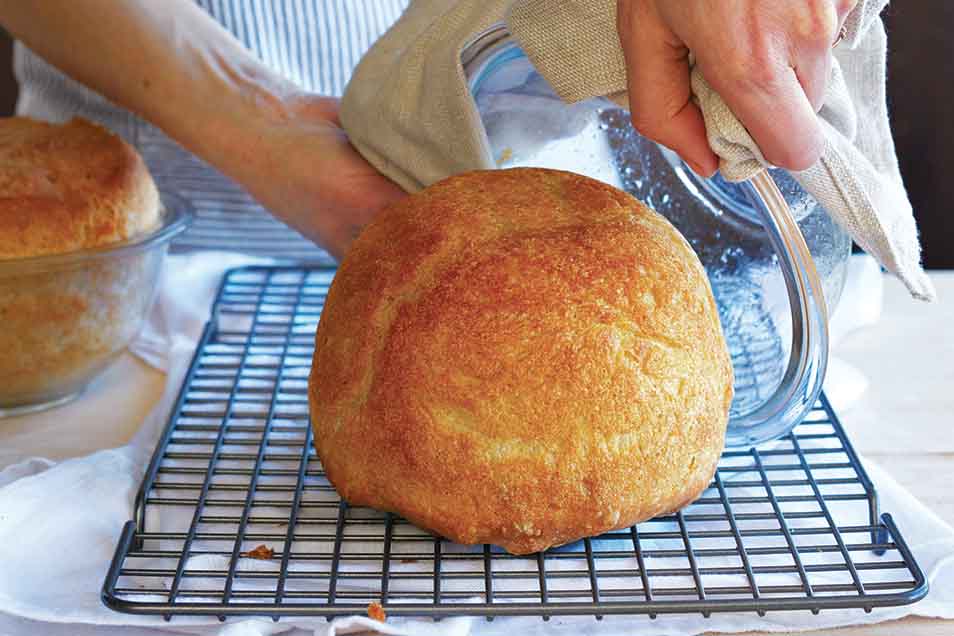 This no-knead bread recipe, which comes from Alexandra Stafford's cookbook Bread Toast Crumbs, is the foundation for an endless array of variations. It's simple to assemble, bakes into two small or one substantial loaf, and will easily become your favorite everyday bread.
Ingredients
2 teaspoons kosher salt or 1 1/2 teaspoons table salt
2 teaspoons sugar
2 1/4 teaspoons active dry or instant yeast
2 cups lukewarm water
softened unsalted butter, for greasing
Instructions
In a large bowl, whisk together the flour, salt, sugar, and yeast. Add the water and mix until the water is absorbed and the dough comes together in a sticky ball.

Cover the bowl and set aside in a warm spot to rise for 1 to 1 1/ 2 hours, until the dough has doubled in bulk.

Place a rack in the lower third of the oven and preheat it to 425°F. Use the butter to generously grease two 1-quart oven-safe bowls or a 3-quart casserole dish (for one large loaf).

Use two forks to deflate the dough by releasing it from the side of the bowl and pulling it toward the center. Rotate the bowl as you deflate, turning the mass into a rough ball. To make a single large loaf, pick up the mixing bowl, turn it over, and plop the dough into the larger casserole dish.

To make two small loaves, use your forks to separate the dough down the center, dividing it into two equal pieces. Use the forks to lift each half of the dough into the prepared bowls. If the dough is wet and hard to handle, try lightly greasing your hands and transfer each half to a bowl by hand.

Don't cover the dough. Let it rise on the countertop in a warm spot for 10 to 20 minutes, until the top of the dough just crests the rims of the small bowls, or is almost doubled in the larger casserole dish.

Bake the bread for 15 minutes. Reduce the heat to 375°F and bake for 17 to 20 minutes more for smaller loaves, or 25 to 30 minutes more for a single large loaf. When golden brown all over, remove from the oven and turn the bread out onto a cooling rack.

Store, well wrapped, at room temperature for several days; freeze for longer storage.
Nutrition Information
Serving Size

1 slice, 48g

Servings Per Batch

20 servings
Amount Per Serving:
Calories

90

Calories from Fat

0

Total Fat

0g

Saturated Fat

0g

Trans Fat

0g

Cholesterol

0mg
Sodium

176mg

Total Carbohydrate

19g

Dietary Fiber

1g

Sugars

0g

Protein

3g
* The nutrition information provided for this recipe is determined by the ESHA Genesis R&D software program. Substituting any ingredients may change the posted nutrition information.
Reviews
This receipe is a go to bread for everyone. Simple ingredients and delicious. I baked in two oven proof glass bowls. Results 2 beautiful loaves. As always another fool proof receipe from K A F. Thanks!
I was looking for something fast to go with a hearty soup and this recipe worked out great. I made one large loaf which I sprinkled with Kosher salt before popping in the oven using my 3.75 qt Le Creuset. Delicious. In my case, the bread has a consistency similar to English muffin bread and the leftovers made great toast. I am an experienced baker and typically make rustic breads that require kneading, so I was a bit skeptical going in. I trusted King Arthur as usual and ended up pleasantly surprised!
I think that this is a gateway bread because it is super easy to make and it is hard to mess up. It doesn't have as much flavor as other brands because it doesn't fermenters long, but these in making it is just wonderful my main question is why Is it necessary to lower the oven temperature towards the end of the bake
This loaf was super easy, quick, and delicious. I really liked using a bowl to bake in as it made for an easy crust. I'm excited to try it again using wheat!
I made a half recipe and it turned out great. Amazing to be able to bake a bread in so short a time. Had it with homemade chicken soup. I do agree with a previous post that it isn't as tasty as a bread with a longer rise time. I have toasted the bread and it was a little blah. Good to make if you are in a hurry but the overnight no-knead breads are, in my opinion, much better. I may try again and add some herbs and or cheese.
This bread is awesome! It's so easy to make. It had a nice crust, texture and it had a satisfying flavor. Good with butter, olive oil or have it with some jam. All around good bread.
Make this bread about once a week and usually doesn't last more than a couple of days. Have always made it as is but just added rosemary and turned out outstanding. Question? Missed the bit of olive oil in the rosemary bread. Any way to incorporate that or beat to just all it when serving?

Hi there, Mitch! We're happy to hear that you enjoy this bread! You could brush olive oil on the top, or serve the bread with oil for dipping. We think either of those options will be the best way to incorporate a little bit of olive oil flavor to this bread. Happy baking! Morgan@KAF
This was a simple and tasty bread. I have an illness which makes my hands hurt and the no kneading what terrific. Question.... if I am adding something to this bread, cheese, herbs etc... at what point would I add them? Thanks!!

We're so glad this recipe is a hit, Danielle! When adding goodies, they're typically added at the very end of kneading. Since this is a no-knead recipe, it'll be easiest to fold them in as you're shaping the finished dough. Annabelle@KAF
I've made this bread about a dozen times over the last few months so clearly I love it. However, it always seems to be a very wet dough, more of a batter. I can definitely pour it out of my mixing bowl. So, I end up adding extra flour, as much as 1/2 - 3/4 c. Every single time. I'm not really sure why. Even after adding extra flour, it's still a sticky dough. I measure by weight and have a pretty good scale. If I hadn't read all the other reviews and didn't see any others complain of this problem, I would have said the recipe is incorrect. But since I seem to be the only one, I don't know what to make of it. Nonetheless, it's easy, relatively quick, and very tasty. Great open crumb that makes fabulous toast.

Hi Elizabeth, this recipe is designed to produce a somewhat wet/sticky batter; that's why the recipe doesn't call for kneading but rather simply mixing the ingredients together. The high hydration is key to the open crumb (lots of holes in the middle of the bread). You can add more flour if you want a denser loaf, otherwise, resist the urge and try making the dough as it's written here. Be sure you're using a high protein content flour (King Arthur All-Purpose Flour for best results) so it can give the wet dough the support it needs to rise high. Happy baking! Kye@KAF
Easy to make, excellent taste, and will make this again. Wonderful!