A customized print-friendly version of this recipe is available by clicking the "Print Recipe" button on this page.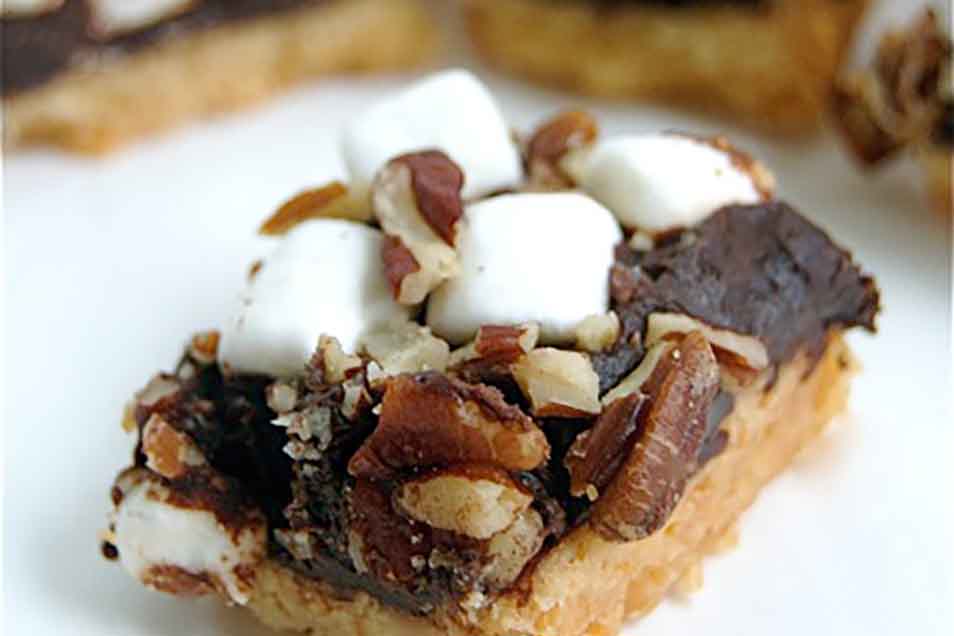 A buttery, crunchy shortbread cookie topped with creamy dark fudge, jam-packed with marshmallow and toasted pecans? now THAT'S our idea of what to do with a chunk of dark chocolate!
Ingredients
Topping
3 cups chopped semisweet or dark chocolate or chocolate chips*
3/4 cup heavy cream
1 cup toasted diced pecans
3 cups (half a 10.5-ounce package) mini marshmallows
*go ahead and use a 16-ounce bag of chocolate chips, if you like; the "missing" 2 ounces will simply produce a slightly softer topping.
Instructions
Preheat the oven to 300°F. Lightly grease a 9" x 13" pan, or line with parchment and grease the parchment.

To make the crust: In a medium-sized bowl, beat together the butter, salt, sugar, and vanilla, then beat in the flour. The dough will seem very dry, and won't seem to want to become cohesive at first. Just keep beating, and it'll eventually come together.

Press the dough into the prepared pan, smoothing the surface with your fingers or a mini rolling pin (pastry roller). The dough will feel stiff, but just keep pressing on it until you've covered the bottom of the pan. Prick the dough all over with a fork; this will keep it from bubbling up as it bakes.

Bake the crust for 35 to 40 minutes, until it's golden brown around the edges and beginning to brown on the top. Remove it from the oven, and loosen the edges with a heat-resistant plastic knife or a table knife. Make the topping while the shortbread begins to cool.

To make the topping: Place the chocolate and cream in a microwave-safe bowl, or in a saucepan. Heat in the microwave, or over low heat on a burner, until the cream is steaming and barely beginning to form bubbles.

Remove from the heat, and stir. The chocolate will gradually form a lump in the center of the bowl, then will start to expand as it absorbs the cream. Eventually the chocolate and cream will become one; keep stirring until it's very smooth. If all the chocolate doesn't seem melted, reheat very briefly, and keep stirring.

Spread the warm chocolate atop the cookie crust. Sprinkle with the marshmallows, then the pecans.

Cover the pan, and place the bars in the refrigerator for about 15 to 20 minutes, to set the chocolate a bit.

Using a sharp knife or baker's bench knife, cut 2" bars. Transfer to a serving plate, if desired; or serve right from the pan.

Wrap any leftovers airtight, and store at room temperature for up to a week. Freeze for longer storage; but be aware these bars are tastier fresh than frozen and thawed.

Yield: 2 dozen bars.