A customized print-friendly version of this recipe is available by clicking the "Print Recipe" button on this page.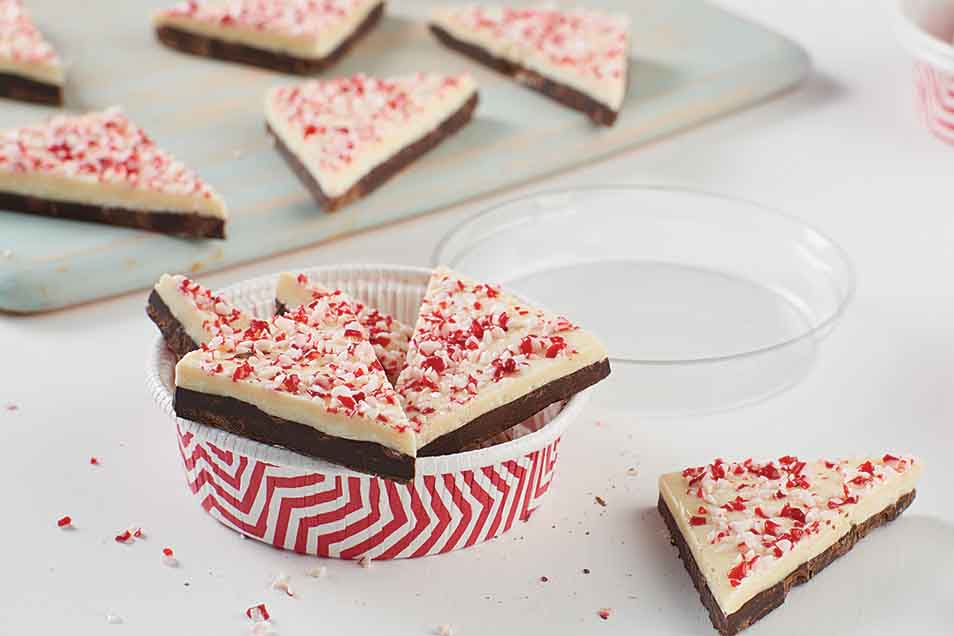 With its delicious white and dark chocolate layers, festive candy cane crunch, and refreshing peppermint flavor, this holiday candy is almost too good to give away.
Ingredients
2 2/3 cups chopped bittersweet chocolate
3 to 5 drops peppermint oil
2 cups chopped white chocolate
¼ cup peppermint crunch or finely chopped hard peppermint candies
Instructions
Gently melt the dark chocolate, heating it on very low heat or over hot water until it barely melts

Stir in the peppermint oil, then spread it into an 8" x 12" oval on parchment paper or foil.

Allow the chocolate to set, but not harden completely.

Melt the white chocolate the same way, and mix it with about half the peppermint crunch.

Spread the white chocolate over the dark chocolate.

Sprinkle the rest of the peppermint crunch on top, pressing it in gently.

Allow the candy to cool until hardened, then break or cut it into chunks.

Store airtight at room temperature for up to a week; freeze for longer storage.
Nutrition Information
Serving Size

35g

Servings Per Batch

24
Amount Per Serving:
Calories

190

Calories from Fat

100

Total Fat

11g

Saturated Fat

7g

Trans Fat

0g

Cholesterol

0mg
Sodium

15mg

Total Carbohydrate

12g

Dietary Fiber

1g

Sugars

11g

Protein

2g
* The nutrition information provided for this recipe is determined by the ESHA Genesis R&D software program. Substituting any ingredients may change the posted nutrition information.
Tips from our bakers
When chocolate chips melt, they're thicker, less pourable, and generally harder to handle than melted bars or chunks of chocolate. That's why we recommend bar chocolate, rather than chocolate chips, for this recipe.
Reviews
The first time I tried this recipe I waited until the dark chocolate was slightly cooled before I put on the white and the two separated once it was cool. This year I melted both at the same time over water, spread out the dark, then immediately put on the white carefully. Hor little mix and the two layers did not separate
Just made a batch of this candy, and it turned out great! I followed the directions for tempering, and my chocolate set up well, shiny, with the correct snap. No separation, held up really well as I cut it with a knife!
I should have read the reviews! I made this for the first time and it didn't work --total user error. I'm pretty sure I heated the chocolate too quickly. I don't love working with white chocolate as I've always struggled with it--I can never get it to melt smoothly. Based on the reviews, I will try again.

We're sorry to hear you too had trouble with this recipe. When it comes to working with chocolate, it's very important to heat the mixture slowly and evenly. It may take a bit more time and attention during the heating stage, but you'll be rewarded with a shiny, well-set chocolate at the end of things. Happy baking! Kye@KAF
I have made this every Christmas for the last 3 years. I just finished a batch again this year and it went smoothly as usual. I melt the chocolate in the microwave in a ceramic bowl. I set the microwave on for only 20-40 seconds at a time. DO NOT OVERHEAT. Once the chocolate begins melting 1/2 way, stop the microwave and gently fold the un-melted pieces into the middle and wait. DO NOT OVERMIX. It will continue to melt outside of the oven on it's own. Once it is ready I use a silicone spatula to lay the chocolate down on a silicone baking sheet. To spread it evenly I just tilt the pan to each side. Let the dark chocolate cool to the point of your finger being able to leave a mark but not able to make a "ripple". Wait until the dark chocolate is almost set as mentioned above, then the same steps above for the white chocolate layer. Be careful as the white chocolate needs to be evenly spread across the bottom layer QUICKLY or else you make swirls in the dark / white layers. Save a little bit of white chocolate / crunch mix to "touch up" the parts that have the bottom layer showing through and to cover the accidental "swirls". Merry Christmas
I followed the notes from KAF regarding heating the chocolate to 122 degrees and cooling it to 90 degrees in a comment below, and 90 degrees does not work at all. The chocolate is not even partially set at this temperature, and if you add the white, they just smear together. Still tasty, but not at all pretty -- frustrated and disappointed that I have an ugly first batch.

We apologize if our recommendation wasn't clear. It's important to let the chocolate cool to 90°F before working with it (spreading it on your baking sheet); it should then be left to cool until it looks slightly set before adding the white chocolate. (Although it certainly can look pretty if you swirl the two chocolates together artfully.) We hope this helps, and feel free to reach out to our Baker's Hotline for further assistance: 855-371-BAKE(2253). Kye@KAF
This is the first time for making peppermint bark and I used Ghirardelli semi-sweet chocolate for the bottom layer and their white chocolate for the top layer. Everything went smoothly and I was able to break it into pieces, however, when it come to room temperature, the brown chocolate layer became soft and pliable instead of brittle like. The white chocolate layer was perfect. It still tasted good. What did I do wrong?

It sounds like the chocolate might have been heated to too high a temperature, which prevents it from setting properly once it cools. If you're looking to make bark with a perfect snap and you're open minded to going about things a bit more carefully, you might try tempering your chocolate. For full instructions, check out the Learn part of our page, and then under Resources & References, click on 'How to temper chocolate.' This process includes heating the chocolate slowly and carefully to a precise temperature, and then adding back some "seed" (unmelted) chocolate, which helps ensure it sets properly. While this isn't necessary in order to get good results, it can help if you're having trouble achieving the snappy texture you're looking for. Kye@KAF
Made this for the first time last night! It tastes REALLY GOOD, but when I went to cut it up, the white chocolate top separated from the bottom. Can anyone give me some pointers for the next time I make this? (that will be today, lol) I didn't let the chocolate bottom set too much at all. It was still quite soft when I poured and spread the white chocolate on top. TOTALLY happy with the recipe and the flavor, just disappointed in myself that it doesn't look as delightful as it tastes!

Erica, it sounds like perhaps the dark chocolate was heated too much and began separating a bit while it was setting. This causes some of the fat to rise to the top of the dark chocolate and creates a layer between the dark and white chocolate. The fat won't hold the two layers together. Next time, try heating the chocolate more slowly, and/or use an instant read thermometer to bring your dark chocolate to 122°F, then let it cool to about 90°F before spreading, then let it set slightly before adding the white chocolate layer. We hope this helps! Kye@KAF
I melted my chocolate in the microwave (50% power). Worked perfectly. Tastes just like an expensive peppermint bark
After reading many of the reviews I followed this recipe to a tee the first time. After that, I reduced the dark chocolate by 1/3 of a cup of the layer was a bit thinner. I did hold back 5% of the chocolate and added it at the end of the melting process. I had several requests to please make more! Will definitely make this again and again.
Operator error! I let the dark chocolate layer COMPLETELY set as I was doing other cooking chores....so? White chocolate layer went on beautifully, but last night when I went to cut and package for gifts.....the white layer separated from the dark!

We're so glad to hear you can think of your little "mistake" as a opportunity to taste the products! A baker's treat. We hope you enjoy the final product just as much when you make the next time. Happy baking! Kye@KAF But looking at the potential error made me look and taste the boo boo....actually quite yummy having a dark piece (flavored with peppermint oil) and a sweeter peppermint crunchy piece! Will make again next week the "right" way as it's SO pretty!