A customized print-friendly version of this recipe is available by clicking the "Print Recipe" button on this page.
Peppermint Crunch Marshmallows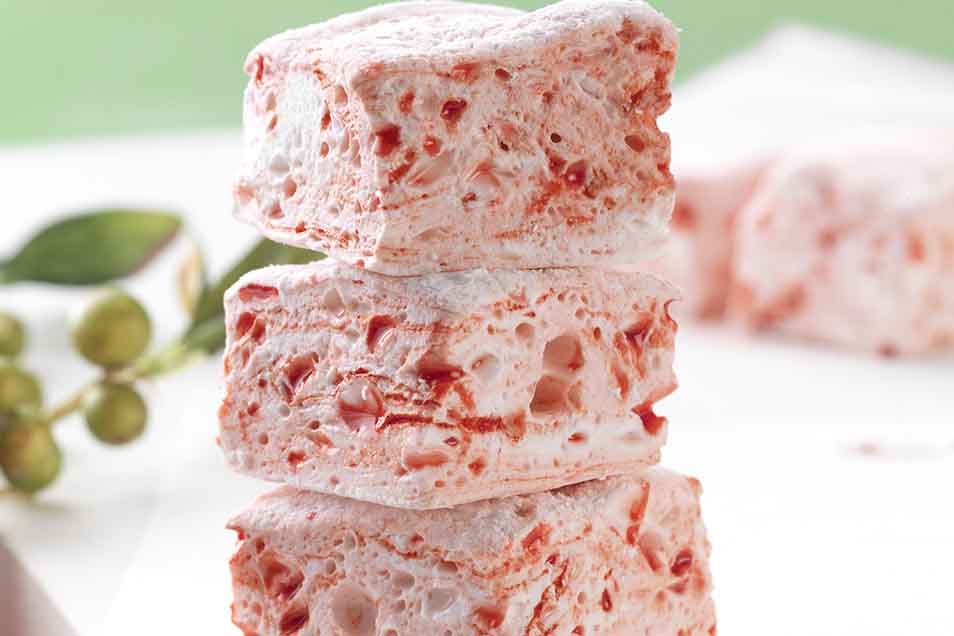 These rich, homemade marshmallows are a fun alternative to cookies when preparing homemade gifts. They pack lots of peppermint in every bite; for milder flavor, simply omit the optional peppermint oil.
Ingredients
3 packets (1/4 ounce each) unflavored gelatin
1 cup cool water, divided
1 1/2 cups sugar
1 cup light corn syrup
1/8 teaspoon salt
1/8 teaspoon peppermint oil, optional; for extra-strong peppermint flavor
1/2 cup peppermint crunch or crushed hard peppermint candies
5 to 10 drops red gel paste, optional; for richer color
glazing sugar or confectioners' sugar, to sprinkle on top
Instructions
Combine the gelatin and 1/2 cup of the cool water in the bowl of an electric mixer fitted with a whisk attachment. Set the bowl aside.

Combine the sugar, corn syrup, salt, and the remaining 1/2 cup cool water in a small, deep saucepan.

Cook the mixture over medium heat, stirring, until the sugar dissolves.

Raise the heat to high and cook, without stirring, until the syrup reaches 238°F to 240°F on a candy or digital thermometer. Remove from the heat.

With the mixer on low speed, slowly pour the sugar syrup into the softened gelatin. Increase the speed to high, and whip until the mixture is very thick and fluffy, and has cooled to lukewarm, 3 to 10 minutes (depending on the mixer and attachment you use; a stand mixer using the whisk attachment will work more quickly than a hand mixer equipped with beaters). The mixture should be cool enough that you can spread it into the pan without burning your fingers, about 95°F. Don't let the marshmallow get so thick that it forms a stiff ball inside the wire whisk; it shouldn't be as stiff as meringue icing.

Add the peppermint oil towards the end of the mixing time.

When the marshmallow is fully whipped, add the peppermint crunch and red gel paste, and mix just until you can see swirls of red and white.

Spread the marshmallow into a greased 9" x 13" pan (glass or ceramic is best) — a greased dough scraper is helpful here.

Use your wet fingers to smooth and flatten the marshmallow into the pan. Sprinkle glazing or confectioners' sugar over the top, and let sit for several hours (or overnight) before cutting.

Use a greased knife or cookie cutters to make squares or other shapes. Wrap marshmallows airtight, and store for several days at room temperature.
Nutrition Information
Serving Size

28g

Servings Per Batch

24
Amount Per Serving:
Calories

70

Calories from Fat

0g

Total Fat

0g

Saturated Fat

0g

Trans Fat

0g

Cholesterol

0g
Sodium

0mg

Total Carbohydrate

17g

Dietary Fiber

0g

Sugars

16g

Protein

1g
* The nutrition information provided for this recipe is determined by the ESHA Genesis R&D software program. Substituting any ingredients may change the posted nutrition information.
Reviews
I've made these three years in a row. They're fun to make and adorable when cut. I use smaller pans (and 8x8 plus one very small rectangular Pyrex) because I like them in chunkier portions. I line the bottoms with crushed candy canes before I pour the mix in, then sprinkle more crushed pieces on top. I let them sit uncovered for a few hours and then I flip them over to expose the bottom side for a few hours as well. This dries out the surface ever so slightly and makes them less sticky. I dust them liberally with confectioners sugar before slicing and dip the newly-cut sides in the sugar. This prevents any sticking. What I love about this recipe is that most people have NO IDEA how to make them and are so impressed that you do.
This is similar to the Alton Brown recipe that I have been using for several years. I also use a pizza wheel to cut up the block after I've flopped it out of the pan. Dredging the squares in a mix of pwd. sugar and cornstarch and then shaking the excess off in a wire strainer before bagging. Using a teaspoon of vanilla AND teaspoon of almond extract is one of our favorite variations. S'mores with cinnamon grahams, dark chocolate and almond marshmallows is awesome!!
Can you give me a substitute for corn syrup? I can't eat corn products.

Susan, you can give them a try with Lyle's Golden Syrup instead of corn syrup. It should do the trick! Mollie@KAF
After seeing the "hot chocolate toppers" selling for a fortune in the kitchen stores we decided to try this recipe! we made them in a half sheet pan, I lined it with parchment and sprayed it lightly. When they were set we cut out little stars and packaged them up in gift bags with lots of extra icing sugars sprinkled in to hopefully keep them from sticking. My daughter is giving them to her friends. A great result!
Third time making this recipe in the past two weeks and I love it! Some things I found while cooking: 1. Peppermint extract does work well, and you don't need much. I used probably less than a tsp. 2. Using an 8x8 (pour ALL batter in to one) is much better than the 9 x 13 for fluffiness, extraction, cutting nice squares. You get fewer, but they really stand up well. 3. I used some of the red gel paste on the top and ran a small spatula/knife through them to give it a candy cane look, also added crumbled starlight mints to top. 4. I put an acrylic/plastic cutting board on a cookie sheet, then put aluminum foil over the whole lot and dusted with confectioner sugar and used it as a cutting surface. Cutting was easy and cleanup was easy. 5. A dough scraper is a magical tool.
I wanted to follow up on my previous feedback. I have now made two variations: -- Cinnamon: I used 1/8 tsp. cinnamon oil and whole red hot candies. The cinnamon was a little more subtle than I was looking for, so I would either add more cinnamon oil or crush the red hots. --Chocolate peppermint -- I added 2.5 tbsp. cocoa powder in with the gelatin and water. It took a little longer in the beating cycle (with my stand mixer, making the regular recipe took about 3 mins. of beating; with the added cocoa, closer to 5 mins.) but very, very tasty. Still added the peppermint oil and crushed starlight mints -- good combination.
Can peppermint extract be substituted for peppermint oil?
Sure! Try 1 t. of extract. Elisabeth@KAF
Loved these! I used crushed up candy canes and didn't use the red paste for extra color. My favorite tips from other reviewers: lining pan with parchment paper and sprinkling crushed candy canes on the parchment paper first, before putting the marshmallow mixture in the pan (still put 1/2 cup in marshmallow mixture). Made them much prettier that way, so that all the peppermint didn't get lost in the middle of the mixture. I'm giving most of these away and will make a fresh batch for Christmas. They look gorgeous when they are melting in a mug of hot chocolate.
Loved this recipe -- next I am going to try it with red hot candies and cinnamon oil (I like cinnamon in my hot chocolate). Best tip in the comments was the lining the pan with parchment and popping the whole thing out to chop it. It made it very easy -- I would include that in the actual directions.
OMG these are amazing! I followed the recipe exactly and they are perfect. I love anything peppermint and these totally rock. My grandchildren loved them too. I wrapped each square individually in saran wrap to keep them fresh in the fridge. This inspired me to make the cocoa mix on your website and it is heavenly with these marshmallows on top. I think this is a keeper for any time of year.