A customized print-friendly version of this recipe is available by clicking the "Print Recipe" button on this page.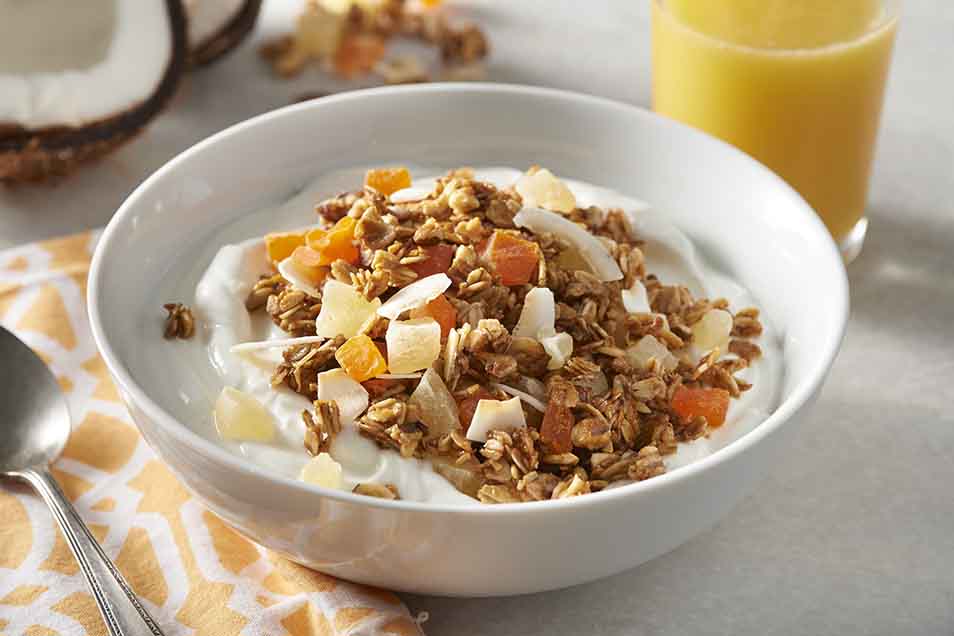 When it comes to breakfast, there's nothing easier than making your own granola. This one, using our new Tropical Fruit Blend, turns an indulgent cocktail into a crunchy, nutty, honey-sweetened topping for a bowl of plain or flavored yogurt.
Ingredients
1 3/4 cups traditional rolled oats
1/4 cup unsweetened coconut
1/4 cup wheat germ, optional
1/2 cup diced pecans
1/4 cup diced walnuts
1/4 cup slivered almonds
2 tablespoons vegetable oil
1/8 teaspoon salt
1/4 cup honey
1/4 teaspoon coconut flavor
1/8 teaspoon pineapple flavor
1/4 teaspoon vanilla extract
1 1/4 cups Tropical Fruit Blend, or mixed gold-toned dried fruit; diced pineapple, diced apricots, and/or golden raisins
Instructions
Preheat the oven to 250°F. Lightly grease a large rimmed baking sheet (half-sheet pan) or line it with parchment.

In a large bowl, combine the oats, coconut, wheat germ, and nuts.

In a separate bowl, whisk together the oil, salt, honey, flavors, and vanilla.

Pour the liquid ingredients over the dry mixture in the bowl, stirring and tossing till everything is well combined.

Divide the mixture between the pans. Bake for about 80 minutes, stirring the mixture every 15 minutes or so. You want to bring the granola at the edge in towards the middle, so it all browns evenly. Reverse the baking sheets in the oven (top to bottom, bottom to top) each time you stir.

When the granola is a light-to-medium golden brown, remove it from the oven and cool completely on the pans.

Transfer the granola to a large bowl, and mix in the dried fruit.

Store in a tightly closed container at room temperature for several weeks; freeze for extended storage.
Tips from our bakers
This recipe is easily doubled or even quadrupled. You can still bake on two large pans; it'll take a bit longer.
Reviews
for some reason i had this lying around for months before i made it, and i love granola! anyway it exceeded my expectations and i love it on my yogurt in the morning.
I see that THIS version of the recipe correctly states the expected volume of the product to be over 4 cups. The version I saw in your catalog says 5-6 cups. Thanks for being honest and realistic
Wonderful! I use agave instead of honey to decrease the glycemic index. It toasts very quickly with agave, so turn the oven down to 225 and watch it carefully. I eat it with Greek yogurt for breakfast and it's very filling and nutritious.
Love this granola! I am a granola addict, and always looking for something a little new and different! With the pineapple and coconut flavoring, and the coconut and dried pineapple chunks, this one was definitely unique, and very, very good! I copied the recipe both by measurement, and weight, and didnt find that they coincided. I recommend going by measuring cups.
If you like pineapple and coconut, this granola is definitely for you. There is a variety of subtle fruity and nutty flavors and if you don't overbake it, it will be far more tender than store-bought ones. Just from estimation, the cost of even doing this version yourself is probably half the cost than the same amount retail.