A customized print-friendly version of this recipe is available by clicking the "Print Recipe" button on this page.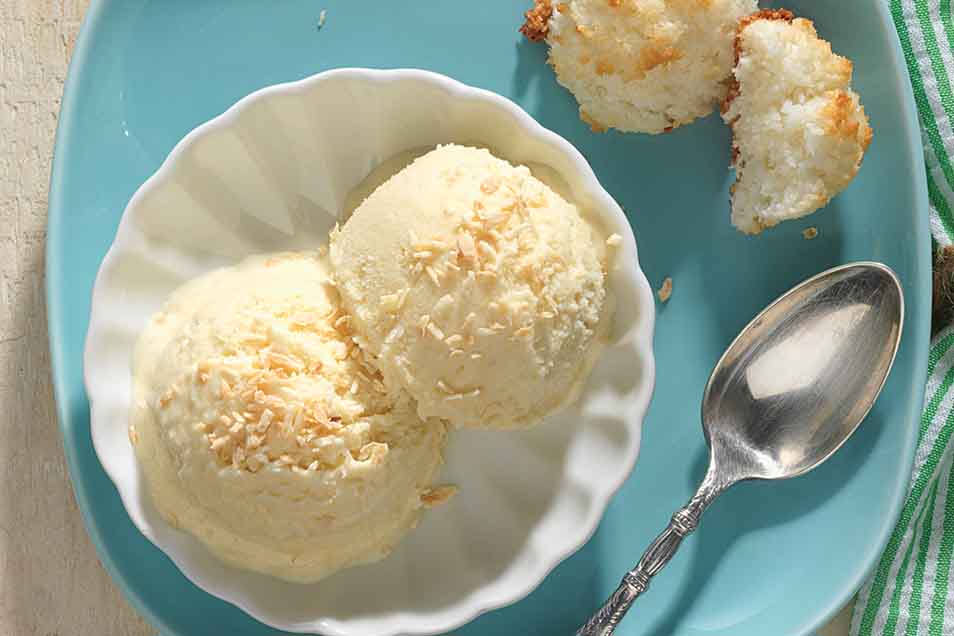 If the flavor of pineapple and coconut is a favorite, you'll love this frozen tribute to the piña colada. But is it gelato, as the name says? Well, it's made with gelato-type ingredients: milk rather than cream, with egg yolks for richness. But without a special gelato maker to create that Italian confection's thick, dense, smooth texture, we're not sure we can call this gelato. Still, it's supremely tasty — especially with the addition of the optional rum.
Ingredients
20-ounce can crushed pineapple in juice
13.6-ounce can coconut milk ("light" is fine), divided
1/2 cup sugar
2 tablespoons nonfat dry milk granules
2 tablespoons coconut milk powder, optional but tasty
2 large egg yolks
1 teaspoon vanilla extract or 1/8 teaspoon coconut flavor
1 to 2 tablespoons light rum, optional, for flavor*
*1 tablespoon rum adds delicious flavor; 2 tablespoons help keep the gelato soft and scoopable in the freezer.
Instructions
For best flavor, pour the crushed pineapple with its juice into a saucepan, and simmer for about 20 minutes, until most of the liquid has evaporated. If you want to skip this step, simply drain the pineapple, pressing to remove as much juice as possible, and discard the juice. Refrigerate the pineapple while you prepare the rest of the gelato base.

In a saucepan, whisk together 1 cup (8 ounces) of the coconut milk; the sugar, the nonfat dry milk, and the coconut milk powder. Set the remaining coconut milk aside; you'll add it later.

Cook over medium heat, stirring frequently, until the mixture begins to simmer. It won't be totally smooth, but whisk to remove as many lumps as possible.

While the milk/sugar mixture is heating, put the 2 egg yolks in a bowl, and whisk to combine.

Gradually pour about 1 cup of the hot mixture into the bowl with the egg yolks. Whisk to combine, then transfer the egg yolk mixture back to the saucepan.

Stir the custard over medium-low heat for a couple of minutes, until it thickens a bit; it should be about as thick as heavy cream.

Remove from the heat, and stir in the remaining 2/3 cup (approx.) coconut milk. Add the vanilla or coconut flavor. Don't worry, we didn't forget the rum; you won't use it until you freeze the gelato.

Transfer the custard to a food processor or blender, add the pineapple, and process until it's as smooth as possible; the pineapple won't become a purée, but there shouldn't be any large chunks.

Transfer to a covered container and refrigerate overnight. Make sure the canister of your ice cream maker is in the freezer, too.

Within about 4 hours of when you want to serve the gelato, pour it into the canister of the freezer, turn on the machine, and let it work for about 20 minutes, or until the gelato is thick enough to mound on a spoon without dripping. Towards the end of the time, add the rum, if you're using it. Make sure it's thoroughly combined with the gelato.

Enjoy the gelato immediately; or transfer it to an airtight container, and place in your refrigerator's freezer compartment for 3 to 4 hours. If it gets too hard, simply let it sit at room temperature for about 20 minutes, or until it's soft enough to scoop.

Serve with a garnish of toasted coconut and/or dried pineapple bits, if desired.

Yield: about 3 1/2 cups gelato, a scant 1 quart.
Tips from our bakers
Don't have an ice cream maker? Simply pour the chilled custard into a bowl, place the bowl in the freezer, uncovered, and stir the custard every hour. After about 4 hours or so, it'll be soft-serve consistency. Continue to stir and freeze until it's the consistency you like. While it won't be as creamy as churned gelato, it'll be absolutely delicious. After 6 or more hours in the freezer, it'll become quite hard. To serve, simply remove from the freezer for 15 minutes or so, to soften it enough to make it "scoopable."
Reviews
Nice and smooth very good flavor. Not icy either
I have a friend who is lactose intolerant. Can this be made without the dried milk, or is there a substitute you would recommend?
Adding more coconut powder in place of the milk powder would work. Another option is to use cake enhancer for substance and texture. Enjoy! Elisabeth@KAF
Do you have nutritional information on this recipe?

While we don't have the nutritional information for this recipe available, you are welcome to use a free nutrition calculator (we like the one provided by SparkPeople) to get an idea of the nutrition in this gelato. We understand that this information is important to many bakers, so we are working on making it available for more of our recipes. Look for the orange link that says "Nutritional Information" beneath the At a Glance column on the right hand side of the page--many of our newer recipes include it. Kye@KAF
This is a wonderful tasty gelato. I left out coconut flavor and left out light Rum. I replaced these two with Malibu Rum, 2 to 3 TBS. I like 3 TBS. You can taste to your likes. Thanks for sharing this recipe. I've made this twice.
This recipe is delicious. I used light coconut milk and 2 tablespoons of rum. Tastes just like a Pina Colada! Next time I will try it with full-fat coconut milk to increase the richness.
If you like Pina Coladas you should enjoy this ice cream. I did cook the pineapple down and omitted the coconut extract. However, I did add one vanilla bean to the party. I also utilized the 2 TBS of rum. I liked the softness of the ice cream that the alcohol promotes. This is a fun summertime treat that is different from your run-of-the-mill flavors.
I made this this past weekend. It is DIVINE! I cooked down the pineapple, used the full 2TBSP of rum, and froze it in my Cuisinart ice cream maker. Not that there is much left, but three days later it comes directly out of the freezer at the perfectly scoop-able, creamy, but not-too-soft consistency. I am inspired to use this technique to try other fruit combinations. Bravo KAF!!! Thank you for yet another wonderful recipe.
Yummy - made this last night for my family and it came out perfectly. Was rich and creamy despite the fact that I used light coconut milk. Very flavorful. I cooked down the pineapple as described, but omitted the coconut flavor (as I didn't have any) and the rum (as I was serving to children and adults). I used the dried milk, but I would love to hear if others have tried it without, as the seems to have great possibilities as a frozen treat for those with lactose intolerance or a milk allergy.