A customized print-friendly version of this recipe is available by clicking the "Print Recipe" button on this page.
Pineapple Upside Down Cake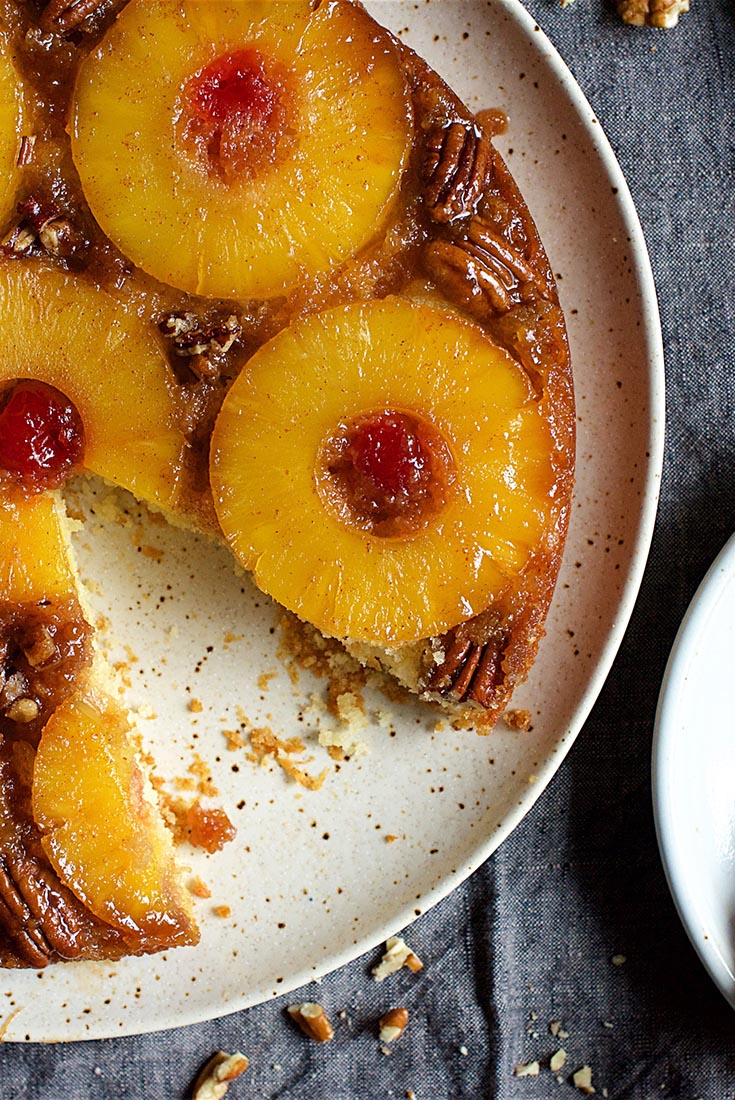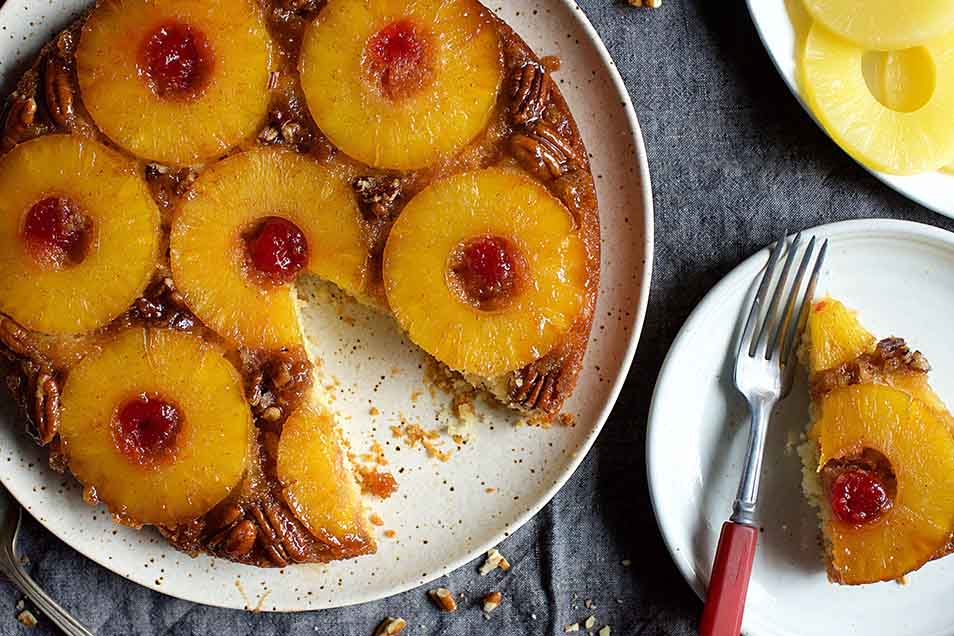 This classic cake, with its moist, flavorful topping of pineapple rings and cherries (nuts optional), has been an American favorite for at least 90 years. It became popular after an early 20th-century Dole engineer invented a machine that would slice that company's signature product — pineapple — into perfect rings; the first recipe appeared in print in 1923.

This particular recipe, baked in a 9" round cake pan, makes a thin layer of cake topped with perfectly spaced pineapple rings. Baking in an 8" pan would yield a taller cake, but the rings would be crowded together. Either way, the cake is buttery, brown sugary, and VERY tasty.
Ingredients
Topping
1/4 cup butter
1/2 cup light brown sugar, firmly packed
1/4 teaspoon ground cinnamon
1/4 teaspoon ground ginger
20-ounce can pineapple rings in juice, drained
candied red cherries or maraschino cherries
pecans or walnuts, halves or diced; optional
Instructions
Preheat the oven to 375°F. Lightly grease a 9" round cake pan.

To make the topping: Melt the butter, and mix with the brown sugar, cinnamon, and ginger. Spoon the mixture into the prepared pan.

Space the pineapple rings atop the brown sugar mixture. Place a cherry in the center of each ring. If you're using nuts, scatter them in any empty spaces.

To make the cake: Beat the butter and sugar until fairly smooth.

Beat in the egg, then the salt, baking powder, vanilla, and coconut flavor.

Add the flour alternately with the milk, mixing at medium speed and beginning and ending with the flour. Once the last of the flour is added, mix briefly, just until smooth.

Spoon the thick batter into the prepared pan, spreading it to the edges of the pan. It may not cover the pineapple entirely; that's OK.

Bake the cake for 30 to 35 minutes, until a toothpick or cake tester inserted into the center comes out clean.

Remove the cake from the oven, wait 3 minutes, then turn the pan over onto a serving plate. Wait 30 seconds, then lift the pan off. If anything sticks in the pan, just lift it out and place it back on the cake.

Serve warm or at room temperature.

Yield: 8 to 10 servings.
Reviews
I made this cake a thousand times and it is scrumptious my family wanted more and I made this for my dads birthday he said I'm the best daughter ever
This so delicious coconut flavoring really makes it!!!
It's so easy, and so delicious! Seriously...a beginner could make this and impress everyone!
It was delicious.They wanted seconds.
I tweaked the recipe. I took it the vanilla I definitely didn't add nuts or coconut extract. What I did do was put about 1/8th of almond extract instead. The flavor blended the brown sugar, the cherries, pineapples... everything so beautifully. I also add the cinnamon to the cake rather than the mixture I find it adds a little more that way
Just baked this for an early Mother's Day lunch. I used half milk, half pineapple juice in the cake. The cake was just a little bland and a little dry. Perhaps it needed the milk to keep it moist. Baked for 35 minutes exactly. Next time, I will try using all pineapple juice for flavor and start testing if it's done at 30 minutes. I will still keep baking this cake and tweaking the recipe. Everyone had two helpings and wished for more.
I love king Arthur flour and products, but this cake is just 'ok'. I made 2 and increased the topping on one, just to see if I anticipated correctly, that the topping is sparse. I did indicate that I recommend this recipe, but with some tweaking, especially the topping. I think I will stick with a recipe that I've used for decades. It produces a denser and much more moist cake. Just a note to some reviewers who thought there wasn't enough pineapple flavor in the cake...a classic upside down cake is usually just a yellow cake. That makes it interchangeable with other fruits such as peaches or pears. The coconut flavor (I used coconut extract) was a nice touch. Thank you, King Arthur, for your great website, recipes and products.
I made this, and it came out moist and delicious. The only issue I had was the cooking time. I had to leave it in the oven for at least 15 minutes over the suggested time. I'm not quite sure why, as this has never happened to me before. The only deviation I took from the recipe was substituting some of the milk for pineapple juice from the can.
This cake was easy to make, thanks to excellent directions. It looks beautiful and tastes delicious. Shelf life was 18 hours... all gone!
Oh my....the very best yet.