A customized print-friendly version of this recipe is available by clicking the "Print Recipe" button on this page.
Pineapple Upside Down Cake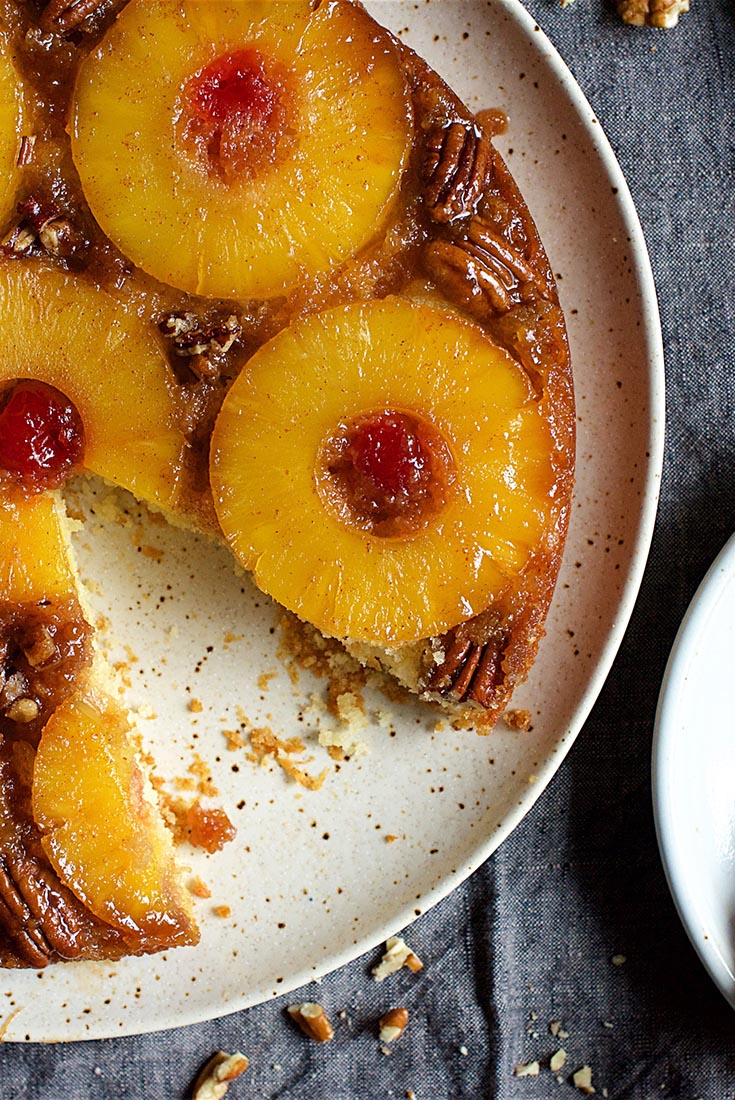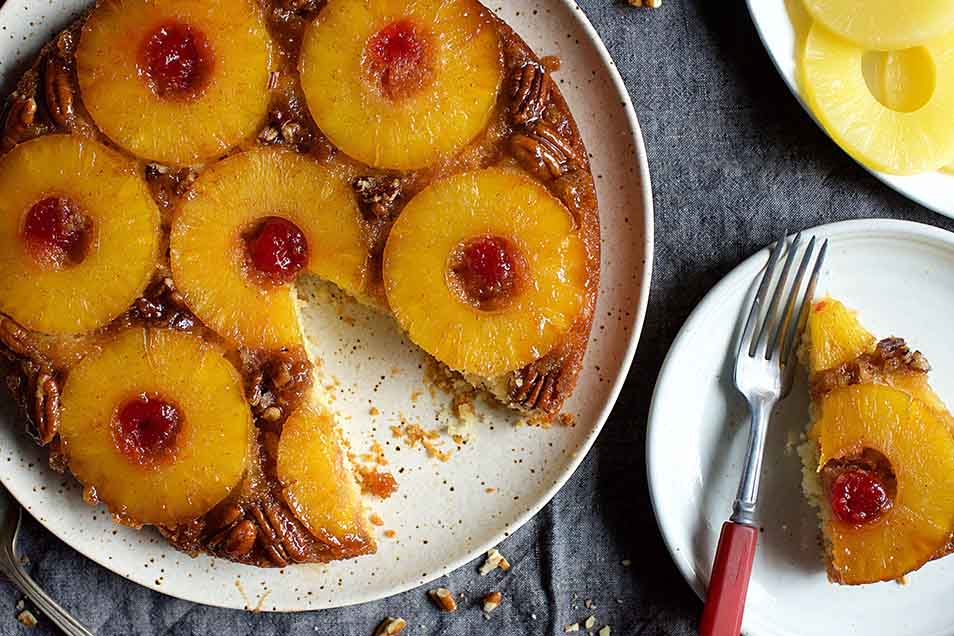 This classic cake, with its moist, flavorful topping of pineapple rings and cherries (nuts optional), has been an American favorite for at least 90 years. It became popular after an early 20th-century Dole engineer invented a machine that would slice that company's signature product — pineapple — into perfect rings; the first recipe appeared in print in 1923.

This particular recipe, baked in a 9" round cake pan, makes a thin layer of cake topped with perfectly spaced pineapple rings. Baking in an 8" pan would yield a taller cake, but the rings would be crowded together. Either way, the cake is buttery, brown sugary, and VERY tasty.
Ingredients
Topping
1/4 cup butter
1/2 cup light brown sugar, firmly packed
1/4 teaspoon ground cinnamon
1/4 teaspoon ground ginger
20-ounce can pineapple rings in juice, drained
candied red cherries or maraschino cherries
diced pecans or walnuts, optional
Instructions
Preheat the oven to 375°F. Lightly grease a 9" round cake pan.

To make the topping: Melt the butter, and mix with the brown sugar, cinnamon, and ginger. Spoon the mixture into the prepared pan.

Space the pineapple rings atop the brown sugar mixture. Place a cherry in the center of each ring. If you're using nuts, scatter them in any empty spaces.

To make the cake: Beat the butter and sugar until fairly smooth.

Beat in the egg, then the salt, baking powder, vanilla, and coconut flavor.

Add the flour alternately with the milk, mixing at medium speed and beginning and ending with the flour. Once the last of the flour is added, mix briefly, just until smooth.

Spoon the thick batter into the prepared pan, spreading it to the edges of the pan. It may not cover the pineapple entirely; that's OK.

Bake the cake for 30 to 35 minutes, until a toothpick or cake tester inserted into the center comes out clean.

Remove the cake from the oven, wait 3 minutes, then turn the pan over onto a serving plate. Wait 30 seconds, then lift the pan off. If anything sticks in the pan, just lift it out and place it back on the cake.

Serve warm or at room temperature.

Yield: 8 to 10 servings.
Reviews
I have been searching for this recipe my entire life slight exaggeration, but most of my 70+ years. This was my Dad's all time favorite, and my Mom's "TOP" secret (never to be shared) recipe. While the cake part is excellent, it's the topping that made the difference. Of the recipes I've tried in the past, all have come with this hard sugar crust top or a caramel like substance. Not creamy and rich like this one. My only changes were to increase the volume to fill a 9x13 pan and an absents of coconut flavoring (not available in my part of the Philippines). Great job KAF, you've made this old man and his family very happy. BTW: I first looked at the "Original Pineapple Upside-down Cake" recipe, but quit it as i had broke my hand mixer (required beating the egg whites) over the Christmas holidays and have not been to the city to replace it.
Oh my gosh, that was delicious!! Thank you for posting this recipe. God bless
I started baking less than 6 months ago and just recently made this cake. The instructions are clear and easy to follow. I live in Texas and had to bake for the full 35 minutes on an odd 20 degree day. The cake is not a sweet cake, which I enjoy. It reminded me a bit of shortcake. The flavor or sweetness is mostly in the topping which compliments the mild cake nicely in my opinion. My family and I enjoyed this very much.
A Dull tasteless cake that doesn't rise much. It just ends up being a heavy biscuit-like mess. Assembly order turns pineapple dark brown

Reid, we're equally disappointed and surprised to hear about the lackluster results you experienced with this recipe. It's generally well-loved, so we're wondering if perhaps too much flour was added to the batter, making it dry and heavy. To avoid this, we recommend clicking on the "Measuring Standards," link to the right of the ingredients header to see how to measure your flour (either by weight or volume). If you decide to give this recipe another try (or other bakers do), we emphasize careful flour measurement for best results. Kindly, Kye@KAF
This is by far the best pineapple upside down cake recipe I have ever used. The cake is moist! and I loved the crispy edges. I did however put the butter in a round cake pan and turned the oven on to preheat. I melted the butter in the oven, when melted I added the brown sugar and spices and used a whisk to mix. I also added three tablespoons of the pineapple juice from the can and whisked that in as well. The cake came out perfect! I also make one with a twist and prior to putting the pineapple rings in the pan I made some crispy bacon and crumbled and sprinkled on the top then laid the pineapple rings in the pan. It was a nice twist.
Greetings from Virginia: My cousin requested a pineapple upside down cake for her special event. I explained I didn't know how to make the cake nor do I even like that type of cake. Not wanting to disappoint her, I seatched the Internet for recipes. Not one single other recipe used ginger and cinnamon in the topping mix. Also, only two mentioned using buttermilk. Since I love to add depth of flavor & complexity & this was the most unique, I selected it. Everyone, I do mean everyone at the event raved about it. Someone asked for detailed instructions because her grandchildren have been asking for that type of cake. Of course, I happily obliged and gave them your website. Thank you for making my first attempt a huge success! Although I didn't eat it, it smelled heavenly and looked beautiful. I will definitely make it again.
Yummy and delicious! Light and fluffy cake with a sweet pineapple topping. I loved that the cake was not too sweet so that it complimented the top well. Loved it and would make again!
I made this cake exactly as written and was very disappointed. The resulting cake was dry and tasted like flour. Although I like to bake from scratch I have had Pineapple Upside down cake from the box that was 10 times better than this. I am sad that I have yet to have a successful cake from recipes on the KAF site :(

Fellow baker, we're sadden to hear about the results you experienced with this much-loved recipe. From your description of the flavor and texture, it sounds like you might be using a bit too much flour. To ensure you're using the right amount, we recommend either measuring your flour by weight using a scale, or fluffing and sprinkling the flour gently into your measuring cup one spoonful at a time before leveling off with a knife. This will help you measure light cups of flour that weigh about 4 1/4 ounces per cup. We hope this helps improve the results of any of our recipes you may use. Kye@KAF
I followed the recipe exactly as written and it came out perfect, everyone loved it!
Made this for my husband's birthday and we loved it. I highly recommend adding pecans. Also, I cut back the white sugar for the cake to 3/4 cup. We don't eat sugar very much, so this worked well for us. Still sweet!