A customized print-friendly version of this recipe is available by clicking the "Print Recipe" button on this page.
Pineapple Upside Down Cake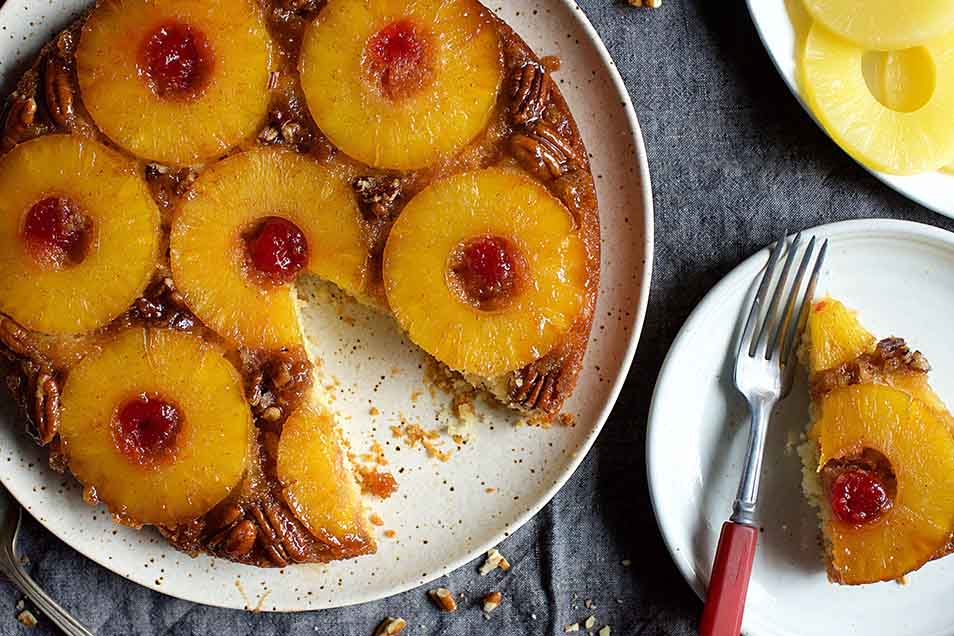 This classic cake, with its moist, flavorful topping of pineapple rings and cherries (nuts optional), has been an American favorite for at least 90 years. It became popular after an early 20th-century Dole engineer invented a machine that would slice that company's signature product — pineapple — into perfect rings; the first recipe appeared in print in 1923.

This particular recipe, baked in a 9" round cake pan, makes a thin layer of cake topped with perfectly spaced pineapple rings. Baking in an 8" pan would yield a taller cake, but the rings would be crowded together. Either way, the cake is buttery, brown sugary, and VERY tasty.
Ingredients
Topping
1/4 cup butter
1/2 cup light brown sugar, firmly packed
1/4 teaspoon ground cinnamon
1/4 teaspoon ground ginger
20-ounce can pineapple rings in juice, drained
candied red cherries or maraschino cherries
pecans or walnuts, halves or diced; optional
Instructions
Preheat the oven to 375°F. Lightly grease a 9" round cake pan.

To make the topping: Melt the butter, and mix with the brown sugar, cinnamon, and ginger. Spoon the mixture into the prepared pan.

Space the pineapple rings atop the brown sugar mixture. Place a cherry in the center of each ring. If you're using nuts, scatter them in any empty spaces.

To make the cake: Beat the butter and sugar until fairly smooth.

Beat in the egg, then the salt, baking powder, vanilla, and coconut flavor.

Add the flour alternately with the milk, mixing at medium speed and beginning and ending with the flour. Once the last of the flour is added, mix briefly, just until smooth.

Spoon the thick batter into the prepared pan, spreading it to the edges of the pan. It may not cover the pineapple entirely; that's OK.

Bake the cake for 30 to 35 minutes, until a toothpick or cake tester inserted into the center comes out clean.

Remove the cake from the oven, wait 3 minutes, then turn the pan over onto a serving plate. Wait 30 seconds, then lift the pan off. If anything sticks in the pan, just lift it out and place it back on the cake.

Serve warm or at room temperature.

Yield: 8 to 10 servings.