A customized print-friendly version of this recipe is available by clicking the "Print Recipe" button on this page.
Pineapple Upside Down Cake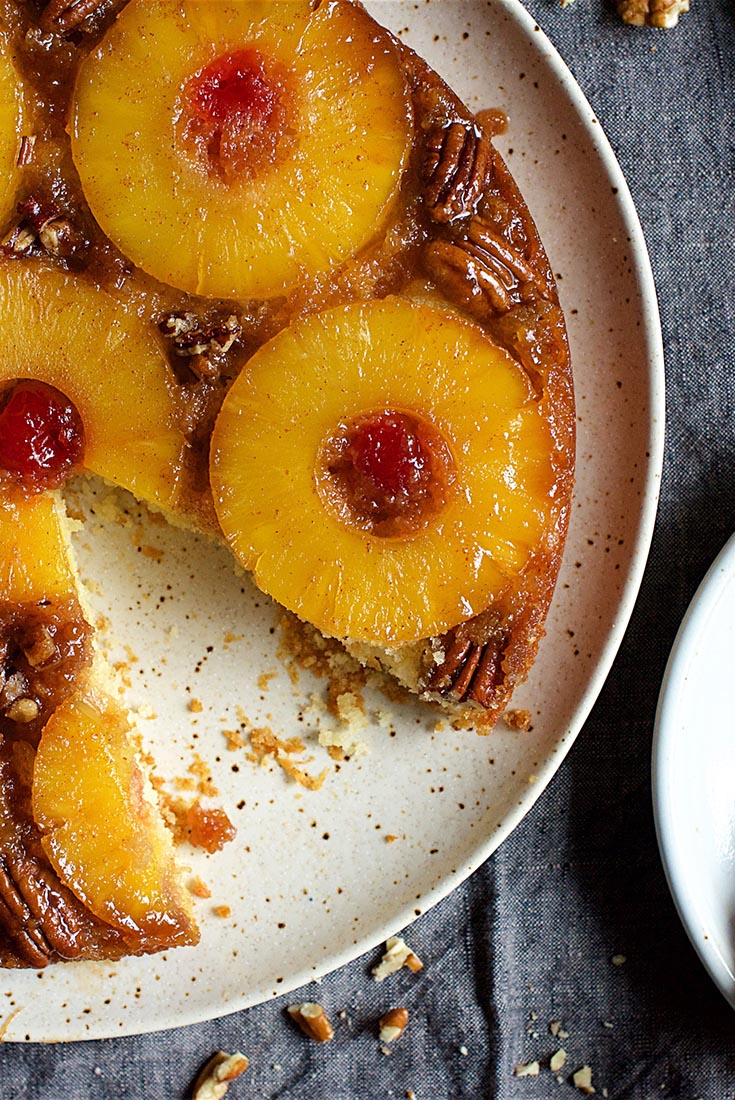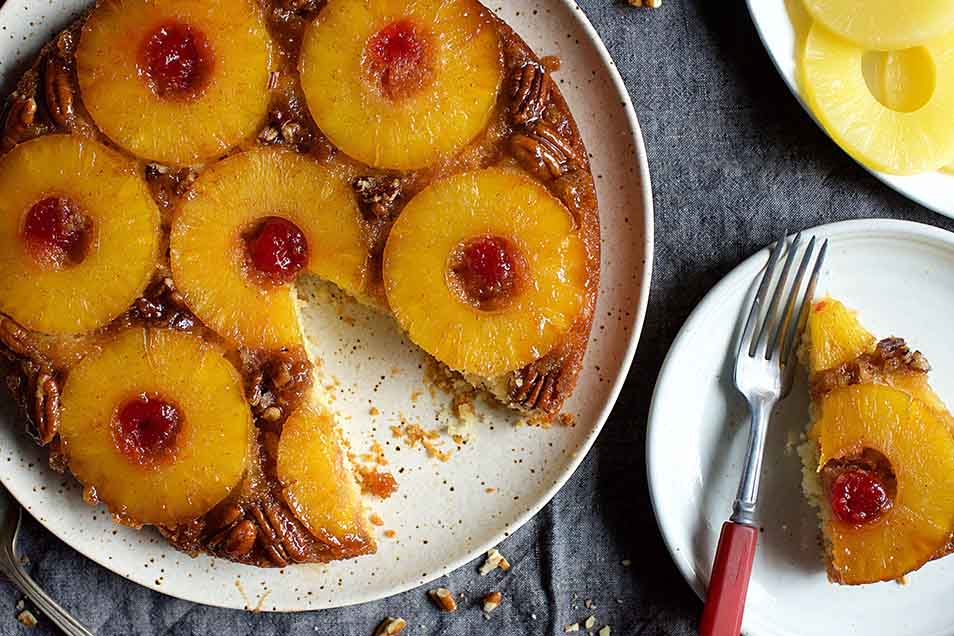 This classic cake, with its moist, flavorful topping of pineapple rings and cherries (nuts optional), has been an American favorite for at least 90 years. It became popular after an early 20th-century Dole engineer invented a machine that would slice that company's signature product — pineapple — into perfect rings; the first recipe appeared in print in 1923.

This particular recipe, baked in a 9" round cake pan, makes a thin layer of cake topped with perfectly spaced pineapple rings. Baking in an 8" pan would yield a taller cake, but the rings would be crowded together. Either way, the cake is buttery, brown sugary, and VERY tasty.
Ingredients
Topping
1/4 cup butter
1/2 cup light brown sugar, firmly packed
1/4 teaspoon ground cinnamon
1/4 teaspoon ground ginger
20-ounce can pineapple rings in juice, drained
candied red cherries or maraschino cherries
pecans or walnuts, halves or diced; optional
Instructions
Preheat the oven to 375°F. Lightly grease a 9" round cake pan.

To make the topping: Melt the butter, and mix with the brown sugar, cinnamon, and ginger. Spoon the mixture into the prepared pan.

Space the pineapple rings atop the brown sugar mixture. Place a cherry in the center of each ring. If you're using nuts, scatter them in any empty spaces.

To make the cake: Beat the butter and sugar until fairly smooth.

Beat in the egg, then the salt, baking powder, vanilla, and coconut flavor.

Add the flour alternately with the milk, mixing at medium speed and beginning and ending with the flour. Once the last of the flour is added, mix briefly, just until smooth.

Spoon the thick batter into the prepared pan, spreading it to the edges of the pan. It may not cover the pineapple entirely; that's OK.

Bake the cake for 30 to 35 minutes, until a toothpick or cake tester inserted into the center comes out clean.

Remove the cake from the oven, wait 3 minutes, then turn the pan over onto a serving plate. Wait 30 seconds, then lift the pan off. If anything sticks in the pan, just lift it out and place it back on the cake.

Serve warm or at room temperature.

Yield: 8 to 10 servings.
Reviews
Delicious! DH has been asking for a pineapple upside down cake. I made it this morning and it's already gone! The only complain DH has is he wants more brown sugar mixture on the cake.
Quite lovely. Not too sweet. I could see doing the same cake with fresh peaches or plums.
This was good but could have been better. I have always used a Better Homes & Gardens recipe for this cake but I love everything KAF, so tried this one with the modification of 1/4 cup milk and 1/4 cup pineapple juice for the liquid. Next time I will do all pineapple juice because there wasn't enough pineapple flavor to the cake as I like. Otherwise it's a very easy recipe and I like the addition of ginger in the topping.
I baked this cake for my husband's birthday. He loved it and so did I. We both loved the warm spiciness of the ginger in the pineapple topping. I have made this cake for many years but this is the best recipe I've ever tried. I made whipped cream for an extra touch but really the cake is delicious on it's own. The texture was very nice, just what you'd want in the cake. I use King Arthur flours for all my baking and find it a superior product.
This cake was awesome!!! The cake was really moist. Half of it is already gone! It baked it in the oven at 375 for 55 minutes. The top of the cake was a dark golden brown. My friend will be making this recipe tomorrow. Thanks for another awesome recipe!
Wow, this cake is so great. I happened to have coconut flavor on hand from another KAF coconut cake, and it really does elevate this cake to a spiritual experience. I also was a bit unclear about the instructions for creaming the butter/sugar and the egg, but I read somewhere that for upside down cakes, you really need to cream well and mix the egg till the batter is somewhat light, so I did both and it turned out nice and fluffy (just in case anyone else had the same confusion as I did!)
Great recipe, quick and easy. I use pineapple chunks rather than rings if that's what I have in the house and they work great. To the reviewer who commented that she used less than the amount of butter called for in the topping, read it again. The recipe only calls for 1/4 cup butter, not 1/2 cup. So, it's good.
I made this and it's simply delicious. I wanted a 13 x 9-inch pan, so I doubled the cake ingredients (but added one extra egg, for a total of 3; when I looked at the batter, something told me to add the extra egg and I've learned to trust my intuition). For the topping, I didn't use 1/2 cup of butter, but used 6 tablespoon because I felt that 1/2 cup would be too much. For a 13 x 9-inch cake at 375 degrees, mine was done in 41 minutes; keep in mind that oven temperatures will vary, so use that toothpick test. It's a good cake and I'll make it again.
Just baked and it's already gone!! Moist and delicious I add some crushed pineapple to the batter and sour cream.
Just baked and it's already gone!! Moist and delicious I add some crushed pineapple to the batter and sour cream.