A customized print-friendly version of this recipe is available by clicking the "Print Recipe" button on this page.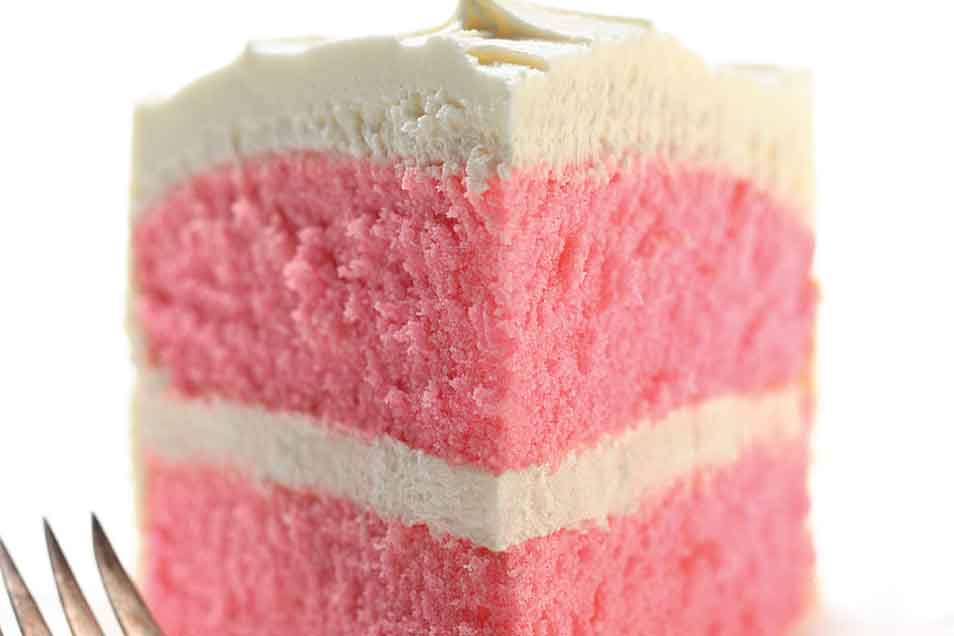 Pink lemonade is a summertime staple for many, and it inspires this cake. Note: As a result of reader feedback, we've retested this recipe and as of 11/16/18 have tweaked some of the ingredients, to yield better, more foolproof results.
Ingredients
Cake
1 3/4 cups granulated sugar
2 1/2 teaspoons baking powder
3/4 teaspoon salt
3 tablespoons Cake Enhancer, optional, for freshness and moist texture
grated rind (zest) of 1 large or 2 small lemons
3/4 cup (12 tablespoons) soft unsalted butter
4 large egg whites
1 large egg
1/4 cup freshly squeezed lemon juice (from 1 large or 2 small lemons)
1 cup milk
2 to 5 drops pink or red food gel or coloring
Frosting
3/4 cup (12 tablespoons) soft unsalted butter
pinch of salt
1 tablespoon meringue powder, optional, for stability
1/4 cup lemon juice fruit powder
4 cups glazing or confectioners' sugar
2 to 3 tablespoons milk
*Don't have lemon juice powder? Substitute freshly squeezed lemon juice for the milk.
Instructions
Preheat the oven to 350°F. Lightly grease two 8" or 9" round cake pans.

To make the cake: Stir together the dry ingredients, including the grated lemon rind (zest).

Work in the butter until the mixture is evenly crumbly.

Beat in the egg whites one at a time followed by the whole egg, beating and scraping the bowl after each addition.

Gently beat in the lemon juice; then the milk, in two additions. Stir in the food coloring. Pour the batter into the pans.

Bake the cakes for 25 to 35 minutes, until a toothpick inserted into the center of one comes out clean.

Cool the cakes in the pans for 10 minutes, then transfer them to a rack to cool completely.

To make the frosting: Beat together the butter, salt, and meringue powder.

Add the remaining ingredients and beat until light and fluffy.

Frost the top of one layer, top with the second layer, and frost the whole cake as desired.

Yield: one 8" or 9" round layer cake.
Reviews
I made cupcakes and mini cupcakes. Everyone loved them. I will make them again. I made exactly as the recipe said and used fresh lemon juice instead of milk in the icing.
Mine baked even across the top which is great. However it stuck in the pan and then when I got it out it fell apart. It came out very fluffy and moist, just didn't stay together.

Sounds like you might want to try lining your cake pans with greased parchment rounds before adding the cake batter. This should make removing the cake from the pan much easier, and the delicate cake structure should stay in tact next time. We hope you still enjoyed the cake, despite the cracks. Happy baking! Kye@KAF
This is a wonderfully tasting cake. That said, I have made this cake at least six times, each with varying poor results and analyzing each attempt afterward. Ingredients have been properly measured, at room temperature, oven preheated to correct temperature, have tried substituting the extra flour for the cake enhancer on the last try. This cake is just very dense, like a very heavy pound cake, and does not rise. Have absolutely no problem making the tender white cake recipe which turns out great every time. After studying the recipe it occurred to me that you use baking powder for leavening for regular baking and use baking soda for acidic batters. This is definitely an acidic batter due to the lemon juice, and this cake is not rising. Could this ingredient be missing from the recipe?

Thanks for sharing your thorough results with us, Doe. We're taking a look at this recipe again in the test kitchen to see if the leavener can be adjusted to produce a lighter cake. We'll be sure to add an editor's note about any changes we make so you'll be aware of the adjustments. Kye@KAF
I mixed and baked this cake carefully, using specified ingredients, and can't recommend it. The two layers were too flat for a layer cake, so I ended up having to bake a third. The recipe directs you to "lightly grease" the pans. I lightly greased two excellent quality pans, and the cakes stuck like glue. The texture of the cake is almost gooey, not what I hoped for.

We're so sorry to hear about this frustrating experience, Susan. We'd be interested to know if you made any ingredient substitutions as well as what kind of flour you used so we can help prevent this kind of disappointment in the future. If you'd like to share your thoughts with us so we can troubleshoot together, please give our Baker's Hotline a call at 855-371-BAKE(2253). We hope to help. Kye@KAF
The best combination of sweet and sour!!!
I baked this cake for a potluck at work. It was dense, dry and tough. A digital scale was used to weigh the flour, and the other measurements were carefully done. It was so bad that my co-workers wouldn't even eat it -- and they'll eat anything resembling food. I'm very disappointed. This was the second time I've baked this cake. The first time came out perfect -- light, tender, and moist. I greased the pans and used parchment paper; no trouble with the cakes turning out of the pans. It was just not very good. What can be done to compensate? The eggs were very fresh, as was the milk, cake flour & baking powder. I'd like to make this again -- the color and taste are so refreshing -- but have it turn out better.
Sorry to hear that the second batch did not turn out as well as the first. If the ingredients were all fresh, and the recipe has come out well before, it sounds like either an error in measuring, or in method. Give the hotline a call for troubleshooting help. ~ MJ
So, I went into baking this cake with much trepidation. There are several reviews which are very negative, with claims of poor results. I read all the replies to the negative results and followed all recommendations. I even reviewed the recipe for tender white cake. I am meticulous about my measurement also. I believe that can not be my error in execution. Sadly, I am disappointed with my end product as well. The cake is very dense and did not rise as high as pictured. It was a very soft, delicate crumb, but the density ruined it. I believe you need to amend the recipe instructions. My guess is I did not beat the eggs whites long enough, but how long should that be. Thankfully, my cake stayed together, but as one reviewer stated it did look like it could crumble to pieces. As it cooled the surface looked like the dry Serengeti. I would like to attempt this again after I hear back from the experts. BTW, the icing was delicious :)
It may well be that the cake batter could have used a little more beating after the addition of each egg. The technique for putting the Pink Lemonade Cake together is the same as for our Tender White Cake. Please take a look at the blog for the Tender White Cake. MaryJane took some wonderful photos of the batter and you can see just how light the batter is after beating in the eggs.~Jaydl@KAF
I made this cake yesterday for our Fourth of July dinner party. But I made it in a 9x13 pan. After reading all the reviews I followed the recipe ingredient-wise but followed the instructions for your Tender White cake, such as beating for two minutes after adding each egg white, etc.. I also combined the lemon juice, milk and food coloring, adding it by thirds. I had made the Tender White cake before for my son's birthday and it was spectacular. This cake has a very fine texture with tiny, moist crumb and a subtle lemon flavor. Delicious. It's even better today. I made the frosting w/o the meringue powder (none in house) and added zest from two lemons as I wanted a stronger lemony flavor. Finally, since I was adapting the cake to the 9x13 pan I contacted a KAF baker to ask how long to bake it. She said to start testing at 20 minutes. Just so you (and she) know the cake -- in a 9x13 aluminum pan -- took 40 minutes to reach temperature. By the way, I posted a pic on FB and already had a request for the recipe. You're welcome. ;-)
Thanks so much for your generous comments and your FB post! And we will take note of your 9X13 baking time. Barb@KAF
I'm in the process of making this cake, and forgot to order that lemon powder from KA. Can I substitute unsweetened lemon Kool-Aid instead?
I think that would give you a very different flavor, but it might work. For best results I would substitute lemon juice for the milk content in the frosting. Barb@KAF
I made this cake for my 4 year old Granddaughter's birthday and she said it was the best cake she ever tasted. The adults at the party loved it, even though it is pretty sweet. Yes, I definitely will bake this again as has been voted a family favorite.